The Curious Case Of California Income Caps
In a recent article, I challenged Elon Musk's claim that Tesla (NASDAQ:NASDAQ:TSLA) has succeeded despite subsidies. I contended Tesla is addicted to subsidies, and showed how demand for Tesla cars all but evaporated when subsidies disappeared in the State of George, and then Denmark, and now Hong Kong.
Elon Musk has it exactly backwards. Tesla continues to exist only because of subsidies, which take many forms: federal income tax credits, state tax credits, transferable tax credits, tax abatements, free land, discount electrical rates, ZEV and other regulatory credits, HOV lane stickers, tax laws that penalize Tesla competitors, etc.
We may now have another example of how crucial subsidies are to Tesla, and it's in Tesla's most important market: the State of California. Here's a Reuters report based on data from the information and analytics firm, IHS Markit.
IHS reported April Tesla registrations fell to 2,177 from 2,867 in California. Nationally they dropped nearly 10 percent to 3,911 from 4,334. For the first four months, California registrations rose to 6,926 from 5,804 and U.S. registrations rose to 15,288 from 10,937.
Before Tesla longs take heart in the four-month comparisons, they should consider that almost no Model X cars were delivered in the first four months of 2016.
How to explain the drop-off in April registrations? No doubt there is some Model 3 cannibalization going on. But take a look at this chart from Hedgeye Risk Management (using data from the California Air Resources Board, and reprinted here with permission):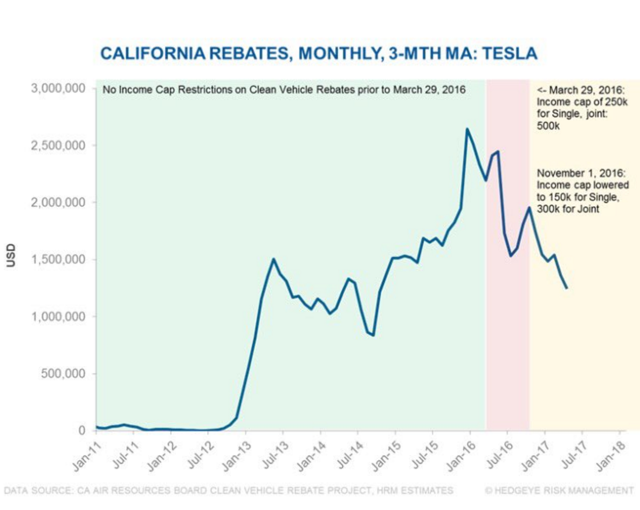 What we see, obviously, are dropping California registrations which are coincident with two successive income caps on California's $2,500 EV rebate.
Is this mere coincidence? Possibly. It's worth watching what happens in Q3 to see whether the trend continues. (I'm assuming that the number of Model 3 cars delivered in California during Q3 will not be consequential).
Toni Sacconaghi Begins to Have Doubts
Much has been written about Tesla's Q2 delivery report.
The explanation about a battery pack production shortfall does not square up neatly with the large number of cars added to inventory. Putting aside that puzzlement, the more serious question is why Tesla did not disclose the problem during its May 3 earnings call.
Toni Sacconaghi at AllianceBernstein is one of the most respected technology analysts out there. Up until now, as conference call transcripts reflect, he has been supportive of Tesla, and trusted in its guidance.
The July 3 delivery report, though, gave him some grave second thoughts:
Toni Sacconaghi, an analyst for Sanford C. Bernstein, said Tesla's sales report "raised more questions than answers" and asked why investors didn't find out sooner about the "severe production shortfall" of battery packs, which Tesla said caused production to average about 40% below demand.

"If production was so poor in April and May for its 100 kwh battery, why didn't Tesla executives discuss the issue on the company's Q1 earnings call on May 3?" Mr. Sacconaghi said in a note to investors.

Tesla spokeswoman Sarah O'Brien didn't respond to a request for comment.
Selective Disclosure Is No Longer Readily Forgiven
To my mind, an even larger red flag than Tesla's failure to disclose the battery issues was its failure to disclose, in its July 3 delivery report, the cars in transit number.
Tesla immediately caught lots of flak for the omission. After several days of plunging share prices, Tesla decided to come clean with a second 8-K filing.
The revised report revealed that the number of cars in transit has declined for the third straight quarter. There's no way around that statistic: it is cogent evidence of weakening demand, especially considering the aggressive incentives Tesla offered during Q2.
Will Tesla demand perk up in Q3? Perhaps. Right now, though, those two accomplished scholars of demand data, Bonaire and CoverDrive (both of whom came quite close in their Q2 delivery estimates) see a further weakening of demand as we enter Q3.
As EnerTuition has suggested in a provocative piece, Tesla may need to further scale back its production of the Model S and X cars, which in turn may entail layoffs or workforce reassignments.
But before we leave this topic, let's give some thought to what made Tesla believe it could get away with hiding the ball on the cars in transit.
I think the obvious explanation is that, up until now, Tesla has enjoyed such indulgent treatment from many analysts, and has basked in the adoration of a business press more interested in hagiography and stenography than investigative reporting.
Tesla just received its first inkling that for some of those analysts and reporters, the days of supine compliance may be coming to an end.
The Largest Problem Of All: An Erosion Of Trust
So, fewer cars and lower margins will translate to steeper and deeper losses. But that is not Tesla's largest problem.
Tesla's largest problem is that more and more analysts, reporters, and investors are coming to the conclusion they cannot trust Elon Musk. Yes, they can count on him to hype and exaggerate the positive. But they cannot count on him to come clean about the negative.
The list of highly hyped developments that proved to be hollow is growing:
Battery swapping
"Off the hook" Powerwall demand
Tesla Energy revenue and margin forecasts
Assurances about growing Model S demand
Solar-powered Superchargers
Gigafactory completion dates
"Partners" to share Gigafactory costs
Solar roof tiles by July
SolarCity merger synergies
I'm sure many of you can make some additions to the list.
Trust is the most vital capital asset any business firm has. Trust takes considerable time and effort to accumulate, but it is easily and quickly squandered. And, once squandered, it is almost impossible to recover.
The Trailing Four Quarters (TFQ) Graph
Let's update our Model S "Trailing Four Quarters" graph. This is where, for each quarter, we tally the deliveries during that quarter plus the prior three quarters. It's an excellent way to assess long-term demand trends: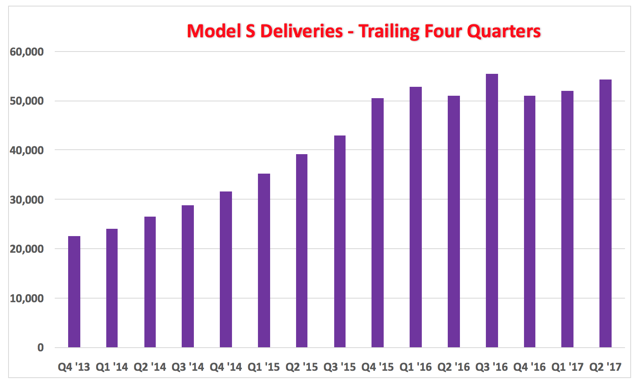 The graph tells the story. Despite aggressive incentives and discounting, Model S demand remains flat. The Model S growth story is well and truly over.
The trailing four quarters figures for the Model X will begin to become meaningful once we have Q3 2017 numbers, as Q3 2016 was the first quarter in which Tesla came close to a full production ramp-up of the Model X.
The Produced But Not Sold (PBNS) Graph
Let's also update our Produced But Not Sold graph, which tallies the extent to which, over time, the number of cars built by Tesla exceeds the numbers it has sold: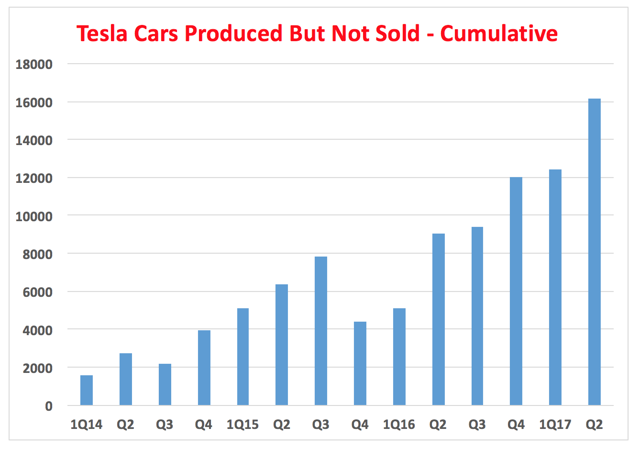 Obviously, the latest 16,145 figure overstates things a bit. Some of the cars may have been consumed in destructive testing or totaled in accidents. Still, the inventory growth has to be worrisome for Tesla, for all the reasons recently detailed by EnerTuition in the article I linked to earlier and by Donn Bailey in his superb piece.
As CoverDrive has pointed out, in addition to the overproduction of 3,700 cars in Q2, the number of cars in transit fell by 1,150. That means 4,850 cars – 19% of Tesla's Q2 production – was internally "consumed" into inventory.
The Dramatic Decline In Tesla EPS Forecasts
Charley Grant at The Wall Street Journal took a look at FactSet data and noticed that over the past year, Tesla analysts have revised their EPS forecasts for 2017 down by $8.43. What last July was a 2017 forecast of $2.62 per share is now a forecast of ($5.81) per share.
That's a $1.4 billion swing, and translates to a forecast of a loss in 2017 of $955 million.
My prediction: the analysts will continue to revise their estimates, and the loss will grow to more than $1 billion.
Model 3 SN#1
This week saw the big news about delivery of the first Model 3 production car. I understand Elon Musk is the proud owner.
I am told by auto industry veterans that standard practice is for an auto company to invite the press (with photographers) to watch the first cars of a new model roll off the production line.
That did not happen with Musk's Model 3. Any guesses why not?
Gone, but Not Forgotten
Kimbal Musk's stock broker has been very busy indeed.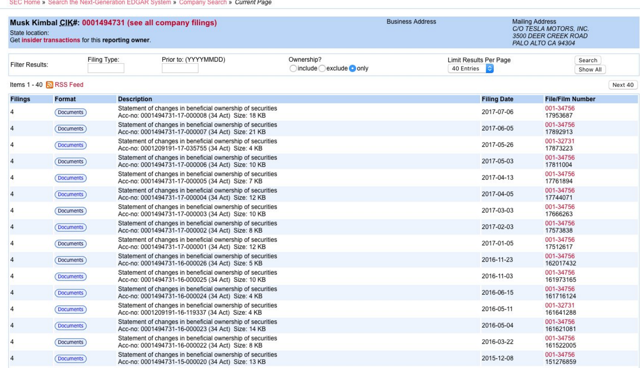 Evidently, Kimbal decided not to wait a spell and receive the lower long-term capital gains rate on these stock awards. What does that tell you about his view of Tesla's prospects?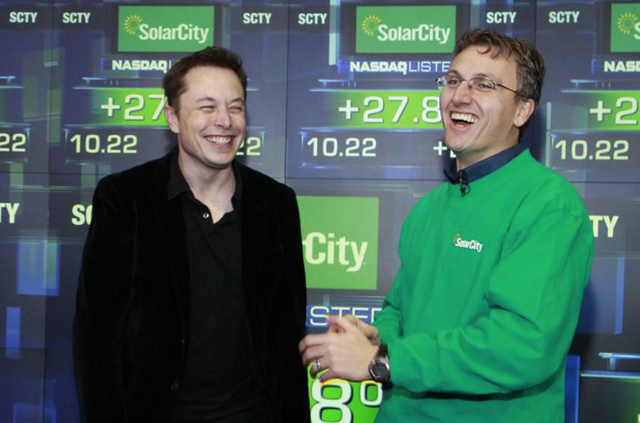 (The Cousins)
Would Tesla Be Better Off Without Elon Musk?
An intriguing piece by "Francesco Sagredo" (hmm) credits Musk for great accomplishments at Tesla, but argues the company would be far better off if he would now step aside.
Discuss and debate.