Most Tech People Are Too Young To Remember That Silicon Valley Hasn't Had A Real Crisis In 17 Years
Summary
My argument is that speculation is getting out of control.
When you have one bubble, others usually follow.
A handful of tech stocks have gone bananas.
Two weeks ago, I took a shot and called the top of the stock market.
My argument is that speculation is getting out of control. And not just on stocks—on Bitcoin, comic books, and all kinds of stuff.
When you have one bubble, others usually follow.
But the one that people are most focused on is the bubble (if you want to call it that) involving Facebook, Amazon, Netflix, and Google. Throw in Apple and Tesla for good measure, and maybe a few more.
A handful of tech stocks have gone bananas. So, let's do some basic blocking and tackling.
The Breaking Point
I spend no time on charts in The 10th Man (my free weekly newsletter), but technical analysis is important. The quality of the analysis often depends on the analyst, and one of the best is Frank Cappelleri at Instinet.
He has pointed out that on a short-term basis, the NDX (which largely tracks large-cap tech stocks) has formed a head-and-shoulders top and is breaking trend.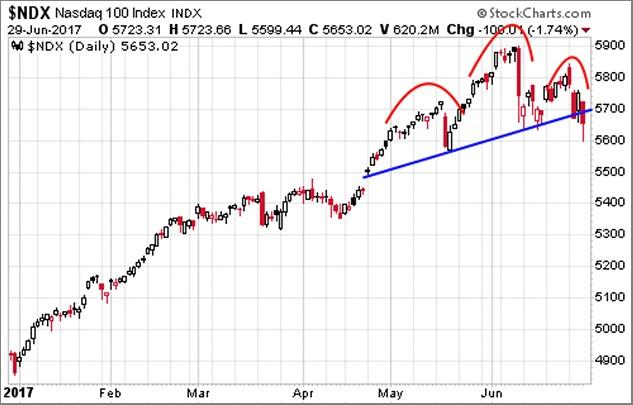 Source: Instinet
This is the first real weakness we've seen in tech in a really long time…
Though Frank is quick to point out that on a longer-time horizon, the trend is still firmly intact: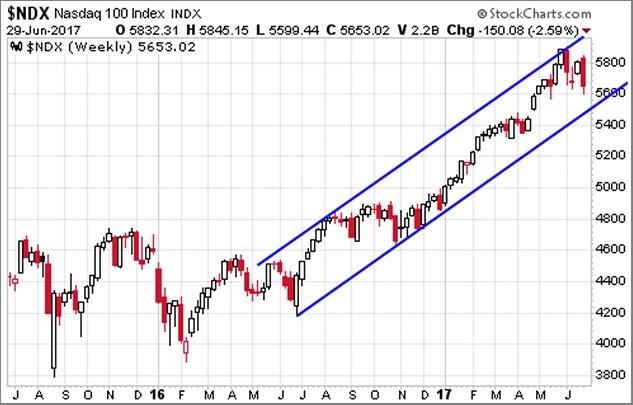 Source: Instinet
I don't think it is a coincidence that the short-term breakdown occurs during tumultuous times in Silicon Valley.
Uber is disintegrating before our eyes. Unless they go public (which they can't), they're going to have to do a down round. And it's not out of the question to think the company might cease to exist one day. That likely has implications for private valuations everywhere.
Also, the news broke of some pretty big sexual harassment allegations recently in tech-land. This is significant because public opinion matters. I can foresee a time when tech executives are viewed about as favorably as Wall Street was in 2011, when Occupy Wall Street began.
The Longest Bull Market… Ever
Keep in mind that Silicon Valley never really had a recession like the rest of the country did in 2008.
Sure, the VC business slowed down, but do you remember what was happening in 2008? Facebook had about a $15 billion private valuation, and it was spawning a whole ecosystem of tech startups like Zynga.
Silicon Valley went down the cleantech path for a few years, which was a dead end, but moved on to apps like Yo!, which apparently was not.
So Silicon Valley hasn't had a real, honest-to-goodness downturn since the dot-com bust. That was 17 years ago! Probably most people now working in the valley weren't even around when that happened.
That's the funny thing about cycles—they usually repeat when nobody remembers the last one.
Most people have no idea the sorts of excesses that are happening in the tech world. I don't either, but I have spies.
About a year ago, a friend of mine visited LinkedIn headquarters, went to their cafeteria, and told me of the incredible opulence there. The types of luxuries that are available to people in Northern California… you or I cannot even conceive of it.
Having Said That
It's hard to argue that things haven't gotten excessive, especially in startup financing (seed and pre-seed). Seems like all you need is a pitch deck and a dream, and you have yourself a $10 million valuation.
The old-timers know that's not normal.
The old-timers know there is a cycle.
The Fed keeping interest rates at emergency levels has allowed this to go on a lot longer than it should have. The down part of this cycle will be instructive, for a lot of people.
And I hate to pick on the FANG stocks, because at least they make money (more or less).
Even if you're not bearish on the overall market, I would bet strongly on tech underperformance. It seems likely that value will strongly outperform growth, for the foreseeable future.
That one is easy enough to implement.
This article was written by
I'm the editor and publisher of The Daily Dirtnap, strategist at Mauldin economics and author of the free 10th Man newsletter. In a previous life I was head of ETF trading at Lehman Brothers where I did a fair amount of trading proprietarily. I started my career in finance as a clerk on the floor of the Pacific Options Exchange, getting sandwiches. In a previous life I was a Coast Guard officer, where I did law enforcement stuff and counted fish. I'm really good at behavioral finance, though most people have a tough time figuring out what that is.
Analyst's Disclosure: I/we have no positions in any stocks mentioned, and no plans to initiate any positions within the next 72 hours. I wrote this article myself, and it expresses my own opinions. I am not receiving compensation for it. I have no business relationship with any company whose stock is mentioned in this article.
Seeking Alpha's Disclosure: Past performance is no guarantee of future results. No recommendation or advice is being given as to whether any investment is suitable for a particular investor. Any views or opinions expressed above may not reflect those of Seeking Alpha as a whole. Seeking Alpha is not a licensed securities dealer, broker or US investment adviser or investment bank. Our analysts are third party authors that include both professional investors and individual investors who may not be licensed or certified by any institute or regulatory body.