Bed Bath & Beyond (BBBY) breached an important $40 and even $35 level. From a technical perspective, the shares will now look for a next support level which may be at the price of $20, last seen during the financial crisis. From a psychological perspective, any bad news coming from a brick-and-mortar company will send the shares lower. First indications already point to another weakness in the retail sector. From a fundamental perspective, there is already a very negative scenario priced into the stock and further decline increases the margin of safety for a further decrease and increases the chance of share outperformance. My position is there is a high probability that the price can trade in a range between $20 and $25 coming into earnings release. Only three months ago, $20 would look like a laughable call. It does not seem that laughable now. Therefore, I am presenting a scenario why the shares may hit $20 from a technical and psychological perspective. If that happens, it could be a good entry point for a long contrarian trade.
Technical perspective
From a technical perspective, there is a strong bearish momentum. The stock declined from a January 2015 high of $79.6 to a current low of $29.0. It declined 65% in a matter of 18 months. First, it had a strong impulsive move from $79.5 to $42.5. Then, it was moving sideways for about a year in a range between $42.5 and $48.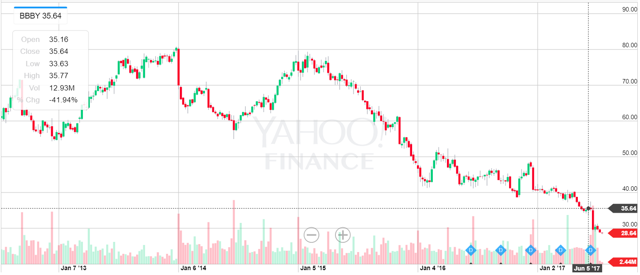 Source: www.finance.yahoo.com
In May 2017, the stock breached the range to the downside without stopping at the important $35 level. It is a strong bearish indicator since $35 was the previous low in August 2010. The bearish momentum will now look for a next support level.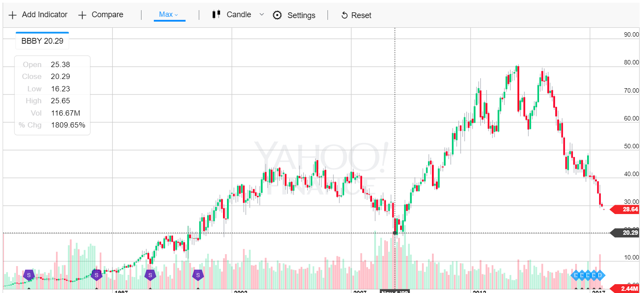 Looking at the chart, it can be the price between $20 and $25, the lows from 2008 and 2009. This would imply further fall of 15% to 30% which is not that unrealistic, given the market's sensitive reaction to any bad news in the brick-and-mortar exposed company.
Psychology perspective
The company does not expect to release earnings sooner than September. Therefore, in the meantime, it will be influenced by the earnings releases of retail companies such as Macy's (M), Target (TGT) or Kohl (KSS) that are expected to report in early August. Any weakness will send Bed Bath & Beyond shares much lower. Therefore, pricing in already very bad news coming into earnings release. Some reports already showed further weakness in retail stocks as L Brands (LB) reported 9% negative comps for the month of June, suggesting further weakness in footfall and consequently weakness in brick-and-mortar companies.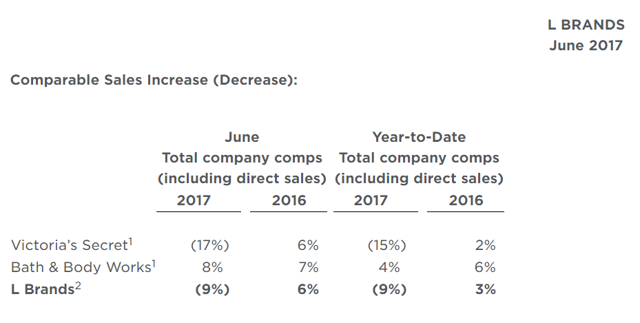 Source: L Brands June 2017 Sales Report
The herd behavior and the expectation that the whole sector may underperform can easily send the stock to further 15% to 30% decline. And so, even from this perspective, it is quite realistic $20 could be reached coming into earnings release. If that happens, there will be very pessimistic scenario already priced in and so there will be a high probability the company may outperform. From a fundamental perspective, the company is already trading at very depressed valuations and further weakness increases the margin of safety for a potential further decrease in price.
Fundamental perspective
The reason for the stock decline is the sharp decline in profitability. As I highlighted in my last article about BBBY (Waiting For Signs Of Stabilization), the operating margin declined from 16.5% in 2012 to current 9.3% reported in 2017. Further decline is not unlikely given the profitability has been mitigated through the revenue growth driven by more store openings. Something which may change going forward. However, if the market sends the company to the price of $20 it will be a very negative scenario already priced in. The operating margin would need to fall to 5.5% in a no-growth scenario to justify that price. (5.5% has been calculated using next year expected free cash flow and Gordon growth model to get the final terminal value estimate with inputs 0% growth and 7.5% required rate of return till perpetuity.)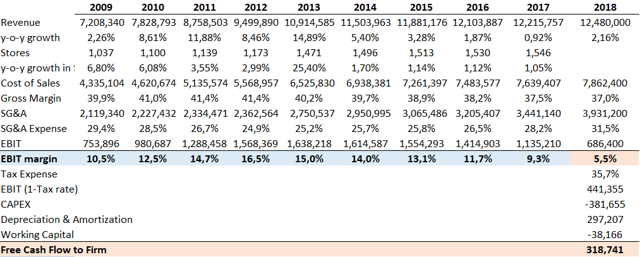 Source: Author's Calculation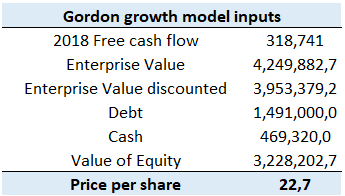 Source: Author's Calculation
In my point of view, 5.5% operating margin offers quite a margin of safety for the business stabilization and also a good probability of outperformance. Therefore, the price of $20 may be a good combination of technical support and fundamental valuation for a good contrarian entry.
Takeaway
The price of Bed Bath & Beyond currently does have a strong bearish momentum. The technical indicators point to further downside and the psychology accelerates the negative momentum. Therefore, further 15% to 30% decline is not unlikely. If that happens, it may be a good opportunity to buy the shares of the company. The strategy would be a contrarian trade playing the combination of technical indicators, psychological aspects of herd behavior overreaction and very attractive fundamental valuation as well as an attractive margin of safety for further decline.
Disclosure: I/we have no positions in any stocks mentioned, and no plans to initiate any positions within the next 72 hours.
I wrote this article myself, and it expresses my own opinions. I am not receiving compensation for it (other than from Seeking Alpha). I have no business relationship with any company whose stock is mentioned in this article.