Delcath Systems (NASDAQ:DCTH) is an interventional oncology company focusing on the treatment of liver cancer. It is still doing trials on its Melblez Kit filter system that was failed to be approved by the FDA way back in 2013. The stock is up 1000% over the past month on no news, just recently created hype. The stock closed yesterday at $0.18, reached over $0.30 on June 21st, and was trading between $0.02-$0.04 between May 11th and June 8th.
Delcath is currently engaged in death spiral financing. Even though the stock only trades at currently $0.18, we recommend shorting shares. The trading volume is very high, which will likely prevent a reversal to the upside during its constant dilution of shares and dumping on the open market. The company burns $4M every quarter, and for a struggling company, management spends money luxuriously. Because of its high cash burn, low stock price, and ineffective technology, the company's death spiral financing will likely continue into the foreseeable future.
Delcath's Death Spiral Financing
Wikipedia defines death spiral financing as:
"A process in which convertible financing used to fund primarily small cap companies can be used against it in the marketplace to cause the company's stock to fall dramatically, which can lead to the company's ultimate downfall…Companies willing to agree to financing on these terms are often desperate and could not obtain funding through any other means."
The above Wikipedia definition precisely describes the financing that Delcath is going through now.
Delcath started engaging in death spiral financing in June, 2016. Delcath had increased its outstanding shares by over 10x between February 10, 2017 and June 5, 2017. Delcath has issued hundreds of millions of shares at below $0.05 per share in that time period.
In a filing that DCTH released on June 5, 2017, it states that its outstanding shares were a whopping 374.4 million at the close of June 5, 2017.

Delcath issued over 130 million shares between February 10, 2017 and May 8, 2017. And then, from May 8, 2017 until June 5, 2017, the company issued another 205 million shares! Then, between June 5, 2017 to July 5, 2017, the company issued another 65.4 million shares, to total 439.8 million.
Wait – this dilution gets even worse! DCTH was only trading between $0.02 and $0.04 per share between May 8th-June 5th, as shown in its price history below: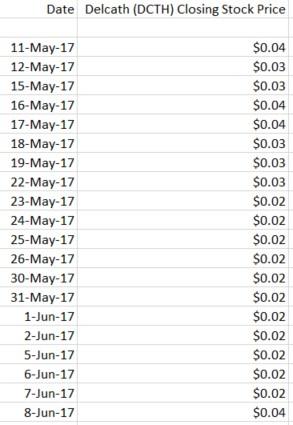 This means that the 205 million shares that were issued in that time period were issued between the prices of $0.02 and $0.04, at a 15% discount to the market price of the shares (this is one of the death spiral financing conditions we document later in this report).
The following are presentations from the company that show how many shares outstanding there were.
From its February 2017 shareholder presentation:

From its June 2017 shareholder presentation:

Next, as we showed above, DCTH reported 374.4 million shares outstanding on June 5, 2017.
Then, on July 6th, 2017, DCTH filed a preferred stock offering that further dilutes the common stock. The filing states that after the offering, the total common stock outstanding will be 439,840,450 shares.
DCTH's rally from $0.02 to $0.20 in one month (a 1000% gain) came from no news, only promotions.
The following are Delcath's news from June 5th until today:
On June 5, 2017, Delcath presented a slide show from its Annual Shareholders Meeting.
The highlights from the slide are:
Delcath attained national reimbursement coverage in Germany for its CHEMOSTAT.
Delcath is working on three trials for cancer tumors: Ocular Melanoma (OM), Intraheptatic Cholangiocarcinoma (ICC), and Hepatocellular Carcinoma (HCC) .
$35M in convertible notes issued in June 2016 are subject to certain equity conditions.
Commenting on the above highlights:
CHEMOSTAT sales in Germany has been very meager despite selling there since 2012. This new coverage doesn't change the sales very much.
The trials are for the same technology that the FDA failed to approve in April, 2013.
The $35M in convertible notes are the main part of Delcath's death spiral financing. It ends by December 29, 2017, in which Delcath will likely have no choice but to agree to another death spiral financing deal in order to survive.
Note that the day the above slide was presented, June 5th, DCTH was trading at $0.02 per share, and continued trading there for the next few days, which put its market cap at only $3.37M. It's clear by this price action that shareholders didn't find the slide's news impressive, and considered it old news. The same company news and updates, but with more detail about the trials, were presented in Delcath's Investor Presentation on February 2017.
The company didn't do a reverse split that would cause this meteoric rise. The rise likely came from a sudden spotlight on the company from penny stock promoters and buzz from the shareholders meetings. On June 6, 2017, Delcath announced that the 6/5/17 annual shareholder meeting was adjourned without any business being conducted. They continued the meeting on 6/16/17 to give shareholders a chance to vote on all of the proposals described in the proxy statement. The shareholder meeting commenced on 6/16/17, and nothing significant happened. The votes were recorded in a filing.
Delcath is currently in discussions with shareholders to have a reverse split to maintain NASDAQ compliance at over $1 per share. This split will allow it to have a higher share price for more death spiral financing. It's reminiscent of the notorious stock Dry Ships (DRYS) and its endless dilution and reverse splits.
DCTH's cash burn rate is about $4M per quarter. The company only has enough cash to last a few more months. The convertible notes will expire by the end of 2017. At that point the company will have to do another death spiral financing.
Delcath's Death Spiral Financing
Delcath started getting engaged in what we can call a death spiral financing by its convertible debt financing. It is described in its notice to shareholders on June 21, 2016 (emphasized bold print ours):
On June 6, 2016, we entered into the Securities Purchase Agreement with the investors listed therein pursuant to which we agreed to issue $35.0 million senior secured convertible notes that are convertible into shares of our Common Stock at the Conversion Price (as defined below). On June 13, 2016, we consummated the issuance of the Notes. In addition, on such date, we issued Series C Warrants to acquire an additional 85% of the number of shares of Common Stock into which the Notes are initially convertible.
Despite actively seeking to identify sources of equity and debt financing, including discussions with advisors about private placement and public offering alternatives in the capital markets, the Company has been unable to identify alternative sources adequate to sufficiently enable Delcath to satisfy its liquidity requirements.
This above (bolded by us) paragraph means that the company could not find other financing alternatives and had to go with the death spiral financing. It shows the company's desperation.
The Notes are senior secured obligations of the Company. Unless earlier converted or redeemed, each Note will mature on December 29, 2017.
The above means that the rest of these notes will be converted by December 29, 2017.
Liquidity Clause (page 43). This is to ensure to the convertible note holder that there is enough volume in the stock in order to successfully sell shares on the open market.
as of such applicable date of determination , (A) the aggregate daily dollar trading volume of the Common Stock on at least fifteen (15) trading days during the twenty (20) trading day period ending on the trading day immediately preceding such date of determination and on each of the last three (3) trading days in such period (the "Equity Conditions Ending Period"), is not less than (I) $50,000 during the period beginning on the six-month anniversary of the issuance date (the "Start Date") through and including the thirtieth (30th) calendar day thereafter
Conversion Clause (page 44).
The conversion clause means that the convertible note holder has a perpetual at least 15% discount to the current market price. They can sell their shares in the market at any time.
Conversion of installment payments
Conversion of Installment Payments The price at which we will convert principal amounts equal to the installment amounts is equal to the lowest of:
● (i) the then prevailing Conversion Price, and
● (ii) initially, 85% of the arithmetic average of the lower of (X) the three lowest daily
weighted average prices of the Common Stock during the twenty (20) consecutive trading
day period ending on the trading day immediately preceding the Installment Date and…
Delcath Promoters
(Update 7/13/2017: CNA Finance has reached out to Seeking Alpha to inform us that they were not paid for any content in cash or stock, associated with DCTH. Had CNA Finance been paid by a publicly traded company for public research, they would have provided an additional disclaimer at the bottom of their article explaining that they were paid, the amount of the payment, and what was expected of them as a result of the payment.)
Part of the reason why DCTH went from $0.02 to $0.20 within a couple months, before falling to $0.14, is from promotional stock websites. CNAfinance.com is one of the promoters. See its DCTH articles here.
CNA Finance disclaimer:
● "Disclaimer- CNA Finance is NOT an Investment Advisor. Our goal is to bring both news and under discovered stocks to the attention to investors to assist in making smart decisions in the market. CNA Finance is a for profit company. That profit is generated through three (3) different types of relationships. First and foremost, we work with pay per click and CPM advertisers on banners. We also have affiliate relationships with various companies where we earn a portion of the sales we refer. Finally, we may have relationships with some of the companies or IR firms that represent companies mentioned within our works in which we are compensated in cash and or stock for consulting, investor relations, and Press Release services."
Some of CNA Finance's statements are not accurate in our opinion.
Take a look at a CNA Finance article published on June 15, 2017 here. It says:
First and foremost, a data release is expected from the company as soon as later this month. The data release has to do with the Phase 2 clinical trial that combines Melphalan with the company's Hepatic Delivery System.
The above statement is not true, there will be no release of Delcath's Phase 2 trials of Melphalan/HDS in the near future. What their might be, as the company stated in its Q117 10-Q, is a retrospective data collection from previous trials might be released "when publically available." That doesn't say much about what should be expected and when, and it's only retrospective data from old trials, so there likely won't be anything very new there. All other data releases are expected by the end of the year at the soonest, and they are only safety analyses, not efficacy.
A DCTH article from Oracle Dispatch here.
From Blue Horseshoe Stocks: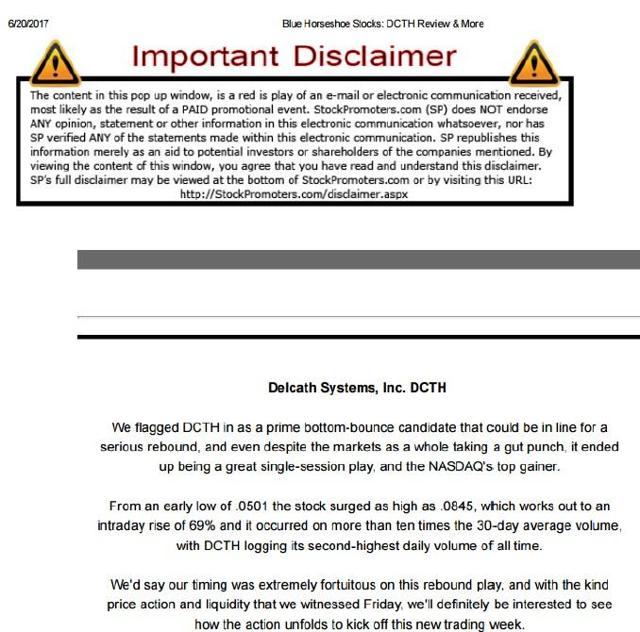 One can see from these promotions that the stock has been promoted heavily since it was below $0.10 per share, to get over $0.20 per share. It stayed at $0.20 per share for about a week before declining. $0.20 appears to be the resistance point before the downward reversal.
Delcath Financials
Delcath is burning cash at $4M per quarter:

Despite the company's large cash burn and troubles, management pays themselves very well. The following are their salaries and bonuses in 2015 and 2016. From the PRE 14a filing:

Management continues to live large despite the company always running out of money and engaging in dilutive financing.
This company review from Glassdoor says it all: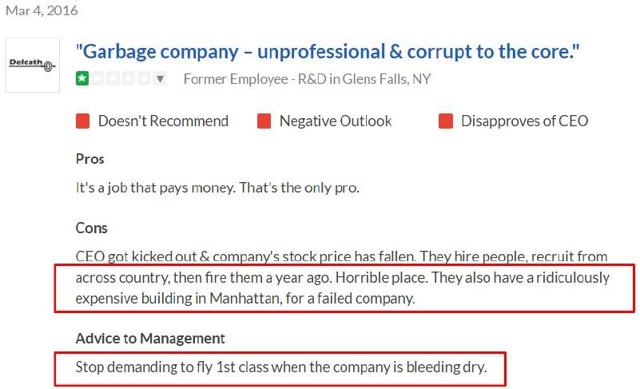 As stated by the former employee above, management flies first class, which isn't right for a company in death spiral financing. They should be scrimping every penny. Delcath's office is located in an expensive location at 1633 Broadway in midtown Manhattan: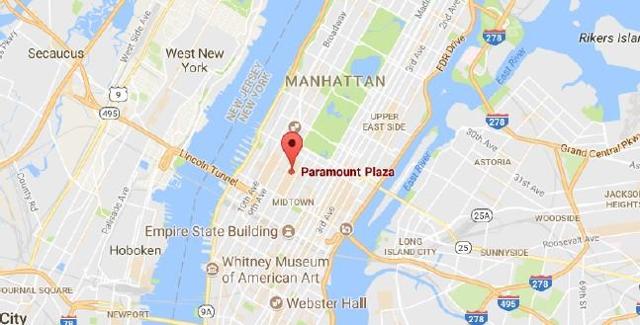 Update 7/12/17 4:20 PM: Note that in 2013, Delcath moved its R&D department to Queensbury, NY as part of a cost-cutting program.

Delcath Financial Results
From Q117 Financial Results:
Q117 revenue of $0.74M, a 100% increase compared to $0.37M the prior year quarter.
Did over 100 CHEMOSTAT treatments in the UK, looking to get approved there.
Announced an agreement with the FDA for the design of a pivotal trial of Melphalan/HDS to treat patients with intrahepatic cholangiocarcinoma.
Notes on the above facts:
$0.74M was Delcath's liver chemotherapy system, CHEMOSTAT, sales in Germany. This is a tiny amount, considering that CHEMOSTAT has been commercially available in Germany since 2012. It shows that it isn't a good product and it's not gaining popularity. Note that the sales was double last year's sales because they got a new reimbursement plan under the ZE system. But the numbers are still small.
With its low sales numbers in Germany, getting approved in the UK won't improve the bottom line very much. In fact, it will increase the losses and cash burn during a UK launch, if it does get approved there.
This trial is the same technology that didn't work in 2013. It likely won't work now either, four years later.
Delcath's Trials
Delcath has three ongoing trials right now: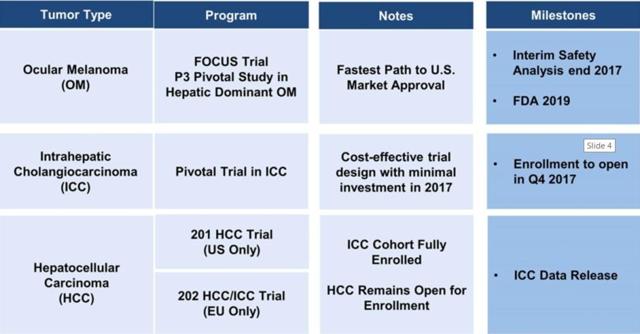 Source: Delcath's June 5, 2017 Investor Slide Show
These trials are for Delcath's Melblez Kit technology that already failed to get approved by the FDA in 2013. It's the same, failed technology that's being kept alive to keep the company going because it's all they have.
From the FDA briefing document on the Melblez Kit from May 2, 2013:
The Melblez Kit is a drug/device combination product containing melphalan hydrochloride and the Delcath Hepatic Delivery System, which is indicated for the treatment of patients with unresectable metastatic ocular melanoma in the liver
Adam Feuerstein from Thestreet.com reviewed this briefing document when it came out. From the review:
Delcath Systems (DCTH) is in serious trouble two days before an FDA advisory panel meets to review its medical device-chemotherapy system known as Melblez. In a scorching review, the FDA makes it fairly clear that Melblez will not be approved until Delcath conducts a new clinical trial.

FDA spells out its demand on pages 28-29 of the Melblez briefing document made public Tuesday morning.

The substantial increase in the incidence and severity of the adverse reactions seen in patients treated with the Melblez kit using the Clark filter as compared to the Asahi filter was not predicted by the battery of in vitro tests or by the limited PK data collected in the clinical trials.

FDA concludes that other, unidentified factors caused the increase in toxicity observed in the change from Asahi to Clark filters. Therefore, any new filter introduced as a new component of the device (Delcath HepaticDelivery System) for this combination product must be evaluated in a clinical trial in order to have confidence in the safety profile of that iteration of the Melblez Kit. Bolded emphasis mine.
When Delcath's Trial Data Is Expected
As stated in the presentation slide above, enrolling is open in Q4 2017 for the ICC Phase 2, and the data readout is a long time away. There will be an interim safety analysis of the Ocular Melanoma trial by the end of 2017. The actual efficacy readout won't be until 2019 at the earliest.
Conclusion
With managements lavish spending, $4M per quarter in cash burn, and the company's death spiral financing, we believe this 1000% runup is just a temporary hiccup. In only a matter of months, or even weeks, the stock will likely make new lows below $0.02 per share, adjusted for the reverse split. The increase in share count over the past few months has truly been extraordinary. The next share count will be on the Q217 report, which will come in early August. It's anyone's guess how many shares will be outstanding by that point. What's going on with DCTH is similar to what has happened to DRYS with their endless dilution. DRYS turned out to be the best short ever. Don't miss your chance to short DCTH.
Supporting Documents
Editor's Note: This article covers one or more microcap stocks. Please be aware of the risks associated with these stocks.