AutoZone: About Goldman Sachs's $715 Price Target
Summary
On May 30th, Goldman Sachs strongly defended the dip in shares of AutoZone.
Goldman Sachs's rebound calls have proven to be "early".
O'Reilly Automotive's July 3rd lower-than-guidance Q2 same-store sales have led to the recent leg down in the sector.
This article first appeared on my premium site, Market Adventures. It was published there on June 13th, at 6:21 AM.
On May 23rd, AutoZone (NYSE:AZO) reported disappointing earnings results. Driven by slower growth and an ugly negative 80 basis points same-store sales figure for Q3, shares were down sharply. As readers are aware, this second back to back underwhelming miss prompted me to buy a mighty 1 ORLY August 2017 $230 put contract for $7. I wanted to buy an AZO put(s), but given the $600 share price, even one put option was prohibitively expensive.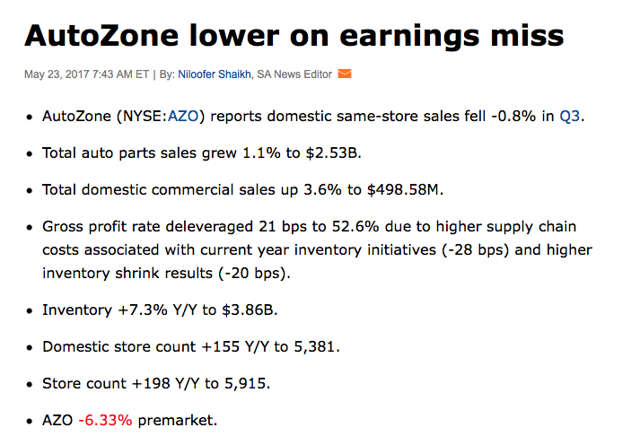 Lo and behold, on May 30th, the "great" Goldman Sachs defended the stock with a $715 price. If you didn't already know, as a general rule, I tend to do the exact opposite of whatever GS is recommending.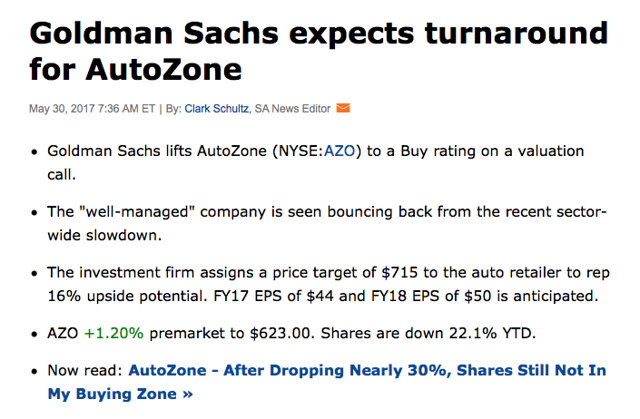 As an aside, a friend of mine had been pitching me shares of Micron (MU) earlier in 2017 when shares were trading at $17. He was long was a boatload of MU calls and nailed the call. That said, I'm not really a technology investor, per se, so the name never intrigued me, given the past highly cyclical memory chip boom and bust cycle of years past. He argued that this time is different as market has become a global oligopoly with only four players. My bandwidth is often constrained, so I never got a chance to truly kick the tires myself, as I'm done buying anything blind anymore. My long-winded point is that when MU shares experienced profit taking after the March 23rd earnings beat, he was steadfast that he still loved it and that it was worth $33-35. Again, I was slightly skeptical but didn't get a chance to kick the tires. However, on May 8th, when Goldman downgraded shares at $28, I knew my friend was right, and I almost bought shares that day solely because of the GS downgrade. Lo and behold, MU shares recently hit $32.93 before last Friday's big tech selloff.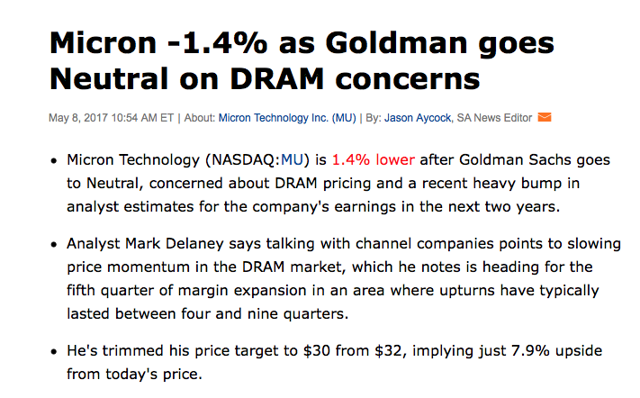 Enclosed below, let's review some highlights from AutoZone's May 2017 Q3 release.
Same-store sales were up only 20 basis points for the 36-week period.

It is continuing to grow its store footprint despite deceleration, as management views this as a short-term pause.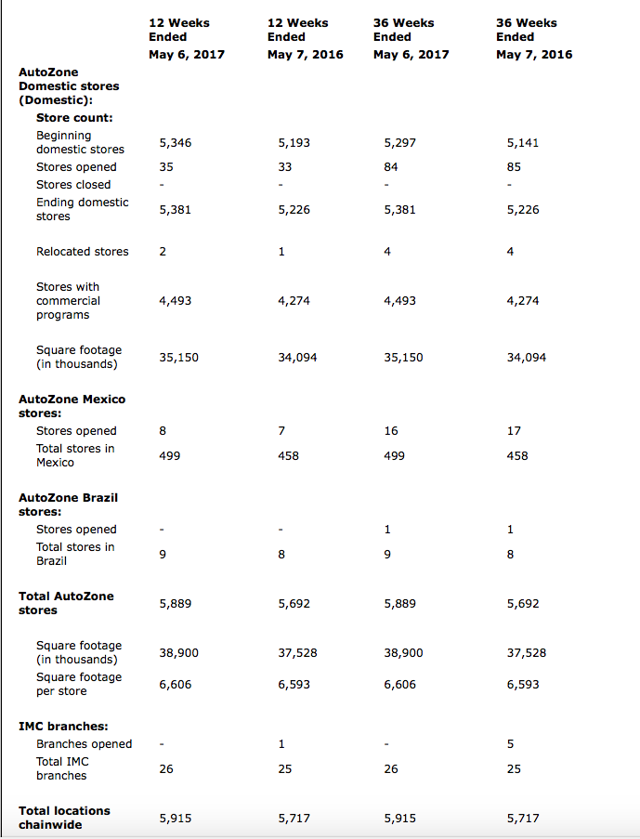 I am somewhat concerned about AZO's $5 billion in debt, which has been driven by share buybacks. Note that since FY 2012, AZO has spent $6.6 billion buying back 13.4 million shares of stock.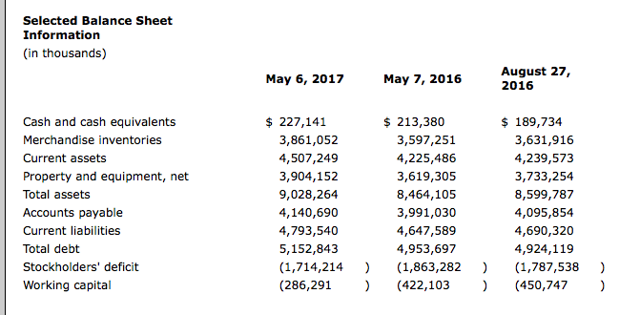 Here are AZO's financials. Its fiscal year ends in August. At face value, results have been really strong, but I think we are at an inflection point with slower growth ahead.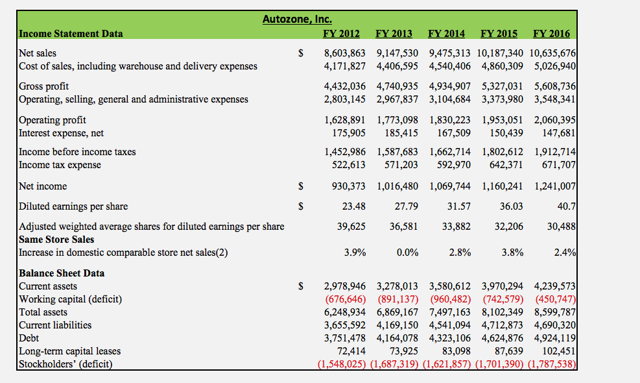 Enclosed below you can see the cash flow from operations activities and how it has been earmarked for buybacks.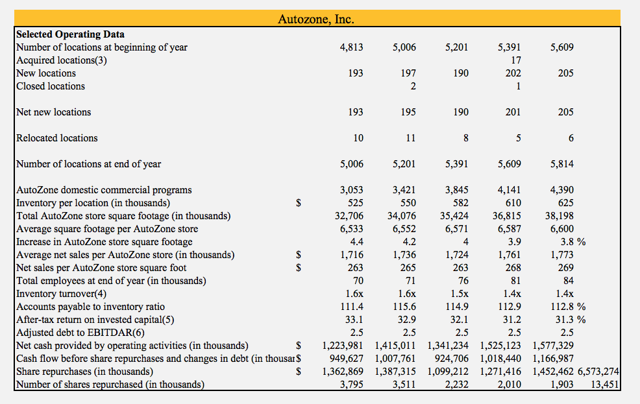 As I argued in the premium site piece, Five Years Why O'Reilly Is A Compelling Short - as well as the public site piece, A Key Negative Catalyst That The Sell Side Might Be Missing - if the management teams at the big three aftermarket parts companies think Amazon (AMZN) don't have a bull's eye on their backs, given fat gross margin dollars, then they are delusional. Also, as I recently argued, with the collective average age of America's automotive fleet at 11.7 years, it should make more sense for consumers to buy shiny new used cars that just rolled off of low mileage leases than to keep putting money into their "beater".
Also, AZO's debt ratios, at least at present, aren't problematic. $5 billion in debt is nothing to sneeze at and certainly compresses AZO's earnings multiple.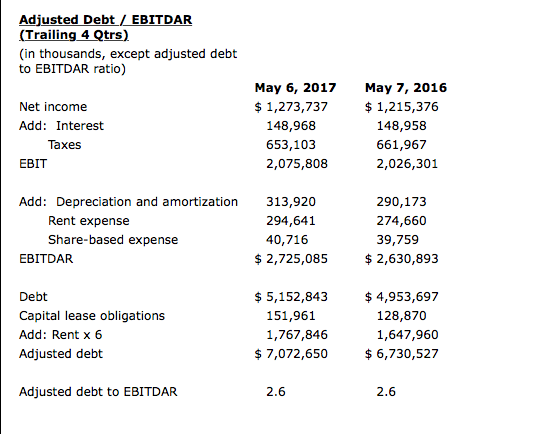 Let's now turn to the Q3 2017 conference call:
This was a more worthwhile call than ORLY's, as it provides greater color and context than ORLY's persistent complaining about delayed tax refunds and a more mild winter.
CEO, Bill Rhodes, even admitted that tax refund dollars never materialized.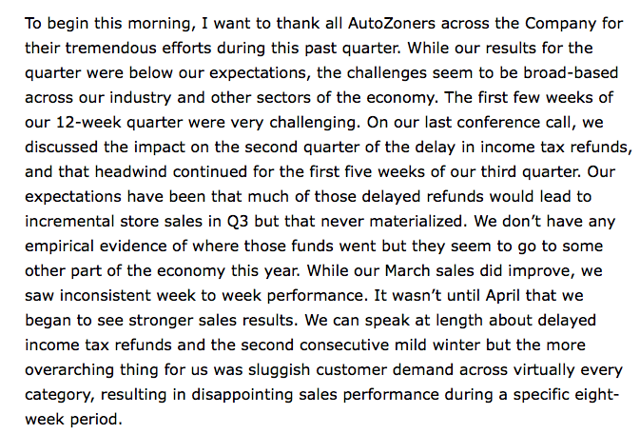 Weakness in the Northeast, Midwest, and Mid-Atlantic regions was blamed for the decline in same-store sales.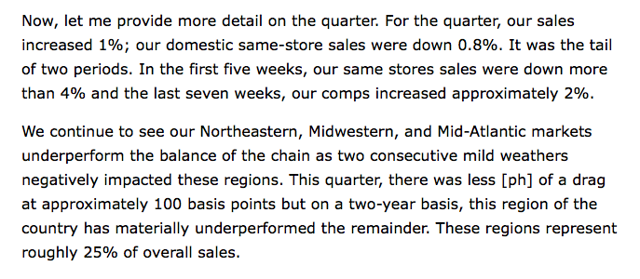 83% of AZO's domestic stores now have a commercial program.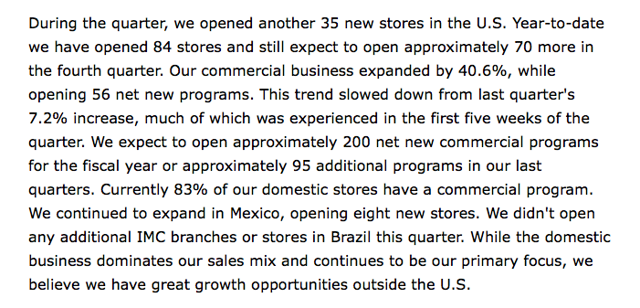 AutoZone is investing in Mega hubs.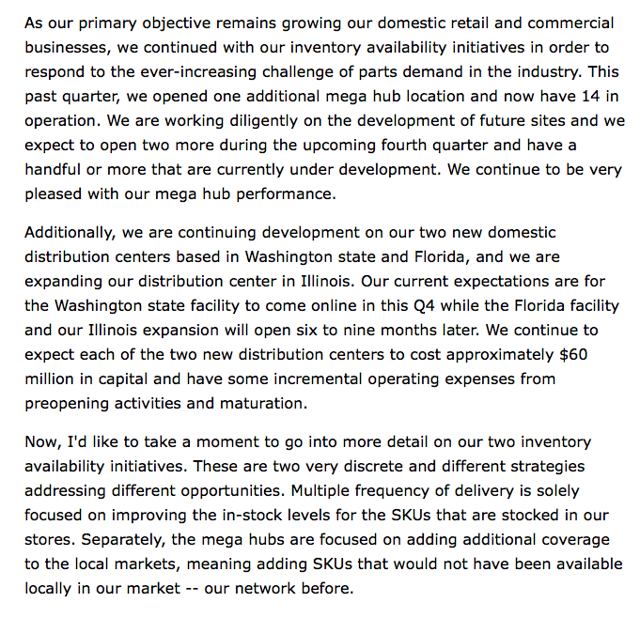 Mega hubs are 4X larger than regular AutoZone stores.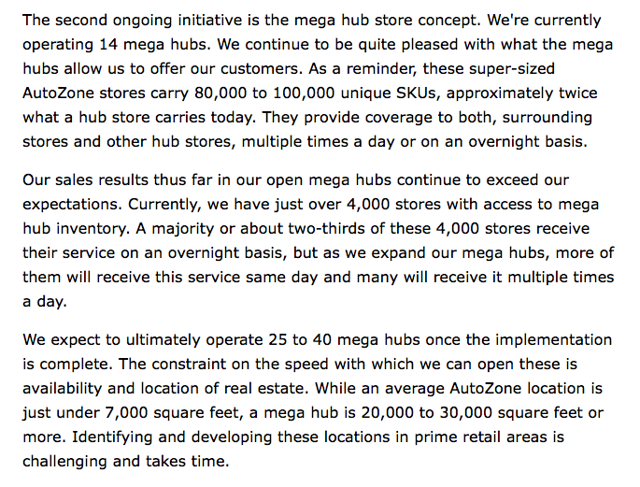 Technology investments and threat of the internet: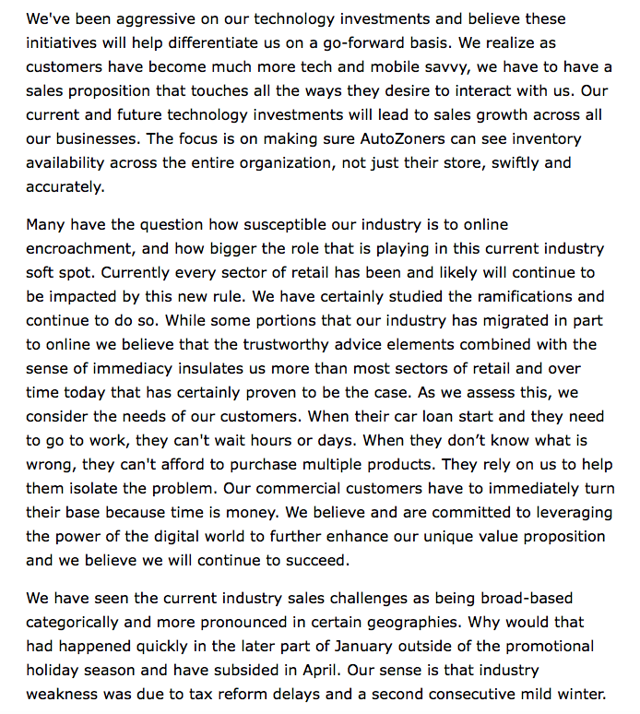 AZO has 184 hub stores, which can't be confused with Mega hubs.

Stock repurchases and inventory levels per store. AZO is spending money on repurchases like money is going out of style.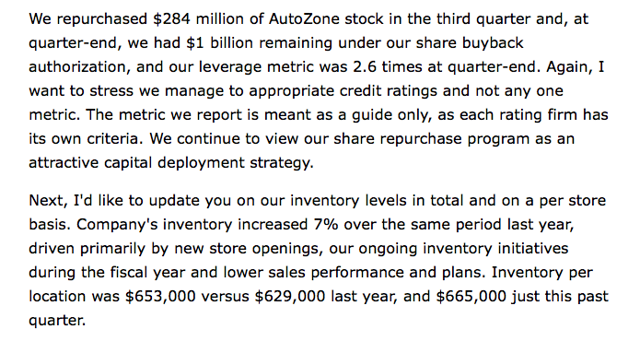 On the analyst Q&A, management admits a "deceleration" in commercial sales.

Frequency of delivers: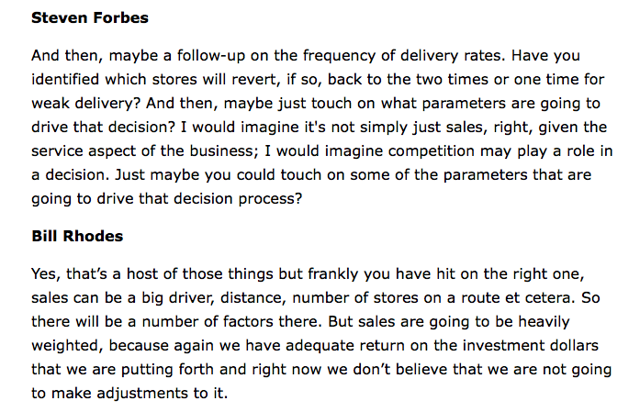 Management admits weaker DIY sales in Q2 2017.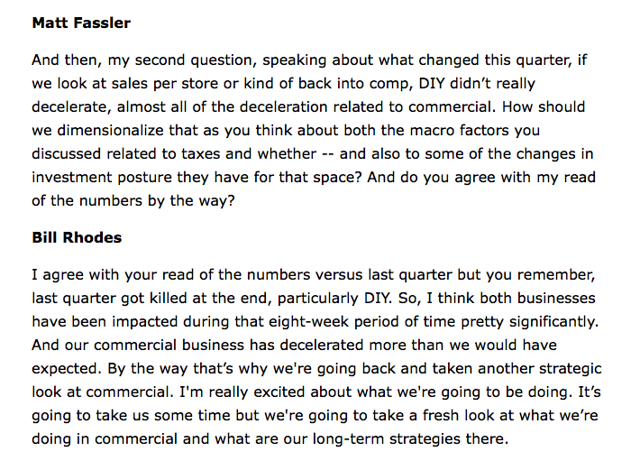 High gas prices hurt miles driven, which makes sense. Interestingly, although maybe not intuitive, demand is countercyclical as high employment leads to growing aftermarket auto parts sales. As I argued, if you don't have a job, then you can't qualify for a new car loan or justify allocating your new savings to a new or used car, so you hang on to your old beater a little longer.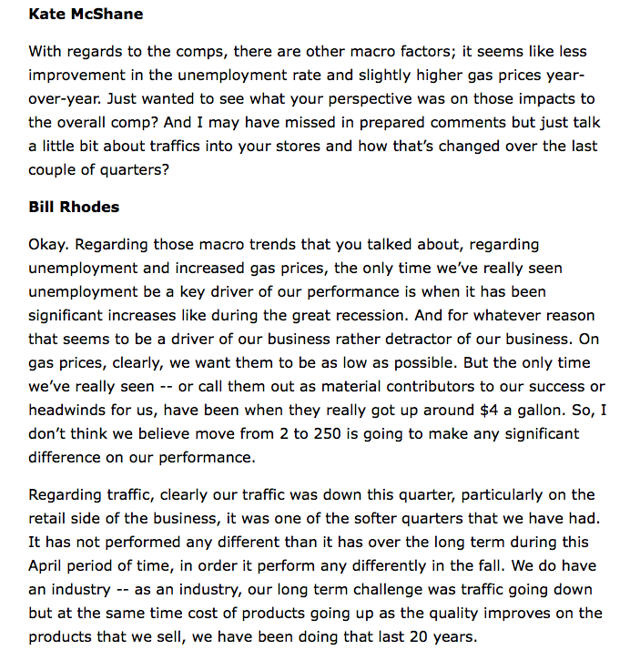 Takeaway
A subscriber specifically asked me about bottom fishing AZO around this $600-615 level. I am not inclined to get long AZO, given two consecutive weaker quarters as well as noticeable weakness in the entire group including ORLY and AAP. Given the long in the tooth 11.7 average age for the U.S. consumer automotive fleet, virtuous tailwinds have shifted to vicious headwinds. Similar to a battleships, this sector and cycle turn slowly, so management is at the mercy of strong cross currents. I would look for another leg down over the next six to twelve months, despite Goldman Sachs's recommendation to buy the dip.
This article was written by
A career wanderer and journeyman, with a passion for deep value and contrarian investing. I spent five years on the buy side in investment grade bonds on a team that managed $50 billion of assets, 3.5 years as an energy credit analyst for an energy company, and had multiple stints in corporate finance, most recently as a strategic financial analyst. I have an undergraduate degree in Finance (UMass Amherst) and earned an MBA (Babson College).
I actively invest my own capital and for a few family members.

Favorite quotes:
"When you are inspired by some great purpose, some extraordinary project, all your thoughts break their bonds: Your mind transcends limitations, your consciousness expands in every direction, and you find yourself in a new, great and wonderful world. Dormant forces, faculties and talents become alive, and you discover yourself to be a greater person by far than you ever dreamed yourself to be." (Author - Patanjali)
"Tentative efforts lead to tentative outcomes. Therefore, give yourself fully to your endeavors. Decide to construct your character through excellent actions and determine to pay the price of a worthy goal. The trials you encounter will introduce you to your strengths. Remain steadfast...and one day you will build something that endures: something worthy of your potential." (Author - Epictetus)
"Hope sees the invisible, feels the intangible, and achieves the impossible." (Author - Unknown)
"When I stand before God at the end of my life, I would hope that I would not have a single bit of talent left, and could say, 'I used everything you gave me." (Author - Erma Bombeck)
Analyst's Disclosure: I/we have no positions in any stocks mentioned, and no plans to initiate any positions within the next 72 hours. I wrote this article myself, and it expresses my own opinions. I am not receiving compensation for it (other than from Seeking Alpha). I have no business relationship with any company whose stock is mentioned in this article.
Seeking Alpha's Disclosure: Past performance is no guarantee of future results. No recommendation or advice is being given as to whether any investment is suitable for a particular investor. Any views or opinions expressed above may not reflect those of Seeking Alpha as a whole. Seeking Alpha is not a licensed securities dealer, broker or US investment adviser or investment bank. Our analysts are third party authors that include both professional investors and individual investors who may not be licensed or certified by any institute or regulatory body.