Recently, I wrote an article about why I was going short in Nvidia (NVDA)... then the crypto madness kicked off. Rather than get in the way of a mania, I closed my position and now I'm going long in Nvidia and expanding my AMD (AMD) position.
A Picture Is Worth A Thousand Words

Simply put, the mania going on in crypto currency is unlike anything I have ever experienced in the GPU world. Sure, we have had demand-related blips in the past, but the current unbridled demand is spreading across entire product lines for both AMD and Nvidia.
AMD has been completely unable to meet demand - thus miners have went to Nvidia. The corresponding impact result is that prices for Nvidia cards are rising and various cards are become increasingly expensive and harder to find. Here is the situation illustrated:

Best Buy (BBY) - Mississippi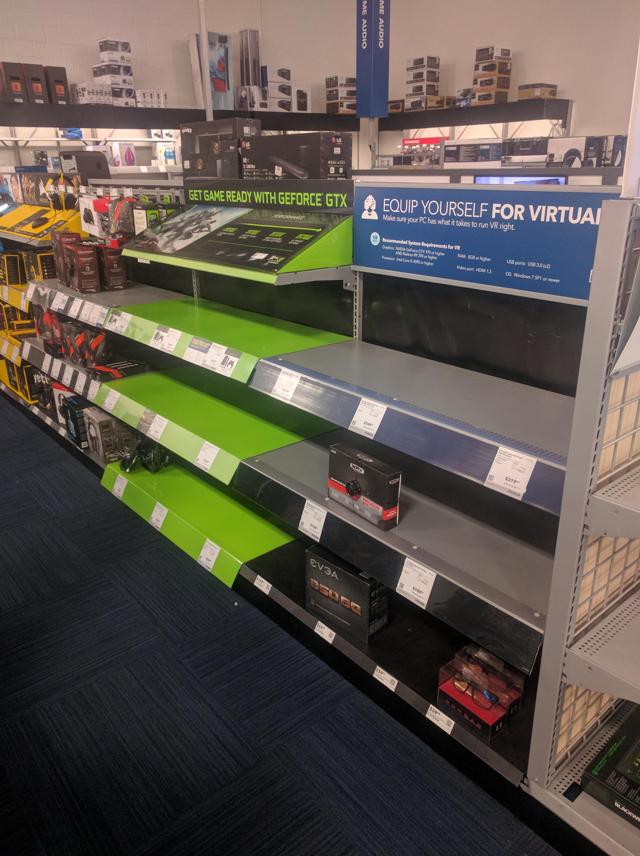 Nvidia GPUs were 100% sold out on the shelves. The Best Buy sales associate told me in a hushed whisper that while they did have some Nvidia 1080s in the back from a recent delivery, they would not last long once they hit the shelves.
AMD was equally sold out of all of its cards, except one lone R7 240 (a very very low-end card unsuitable for mining and arguably for gaming - but i digress).

The situation in Vermont was not any better.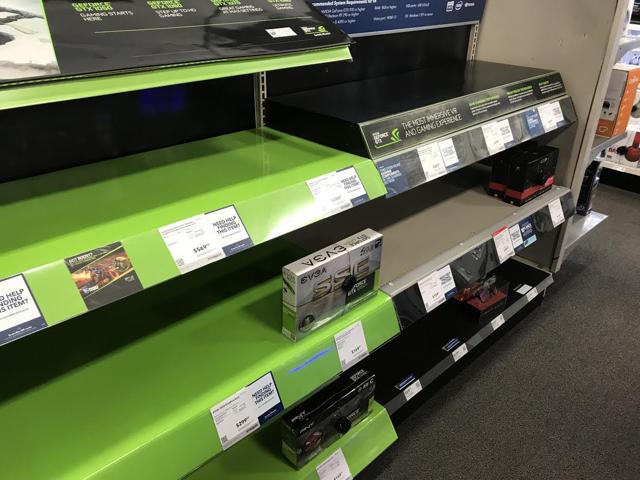 Eth Prices In Fluctuation

Eth prices are recently retreating from highs while difficulty has increased. This impacts miners' bottom lines. Will this also impact the demand for mining cards? It is hard to say, but some miners are grumbling about how profitability has dropped for Eth mining.
Due to decreased profitability and increased difficulty, I think that the new miners might just return GPUs to the retailers rather than sit on overly-powerful hardware. Other miners might seek to move to another currency in a bid to find greener mining grass. Perhaps the mania has peaked. It will all depend on the price of Eth and how profitable it is. Per CoinWarz.com, the difficulty in Eth mining has risen 81% from June 12th to July 11th.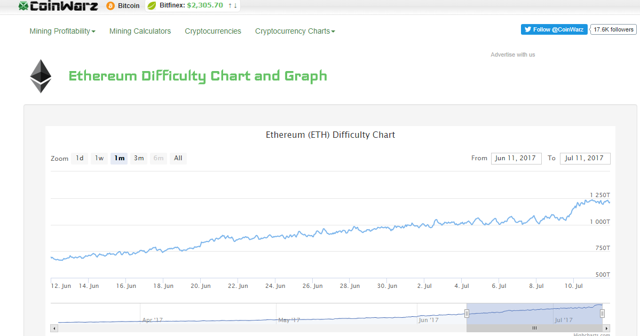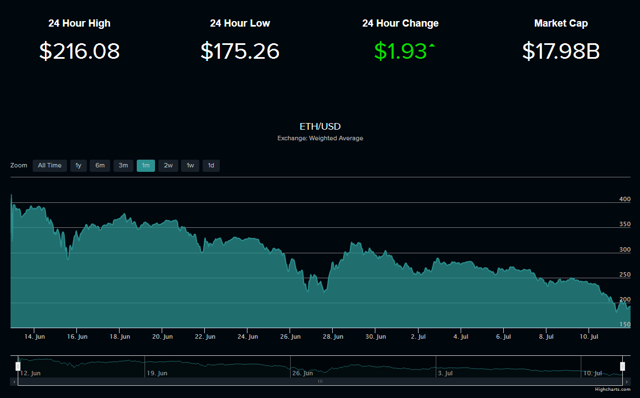 What Does This Mean For Investors

The Best Buy pictures paint the demand - demand was increasing (at least as of last Friday). Finding AMD cards is still Mission Impossible and Nvidia cards are becoming more difficult or more expensive. Maybe miners will move on to other coins and the mania will continue. Maybe with increasing difficulty of Eth being profitable, along with sinking prices, this will impact sales of GPUs. It is hard to say at the moment, but we will consult our Chinese mining contacts ASAP and post how they are responding in the comments.

Earnings

AMD reports earnings on the 25th of July, followed by the Vega announcement on the 30th. This should be a good period of excitement that we can trade. It appears AMD is going to report before Intel, which usually is not the case. This might be a good indicator that AMD expects positive news and wants to get it out before Intel. Short interest in AMD remains high. An update should be out in a few days, but as it stands 18.6% of the stock is short. This could trigger another short squeeze as prices continue to drift northward.

Conclusion
Some have speculated the stock may pull back after the hype is over and this is very possible. We will have puts in place just in case, but on the other hand, maybe this stock has room to run. Crypto demand may soak up Vega if it mines well from an ROI prospective (assuming mining remains profitable).
Looking a little bit out - Threadripper, Ryzen OEM deals, Eypc, Raven Ridge, and a console refresh are all in the works, which will provide long-term opportunities to trade based on hype.

For Nvidia, they are going to shatter earnings due to crypto sales. Nothing more to say on that. That is as simple as it gets.

If you liked the article follow me.




Disclosure: I am/we are long AMD.
I wrote this article myself, and it expresses my own opinions. I am not receiving compensation for it (other than from Seeking Alpha). I have no business relationship with any company whose stock is mentioned in this article.
Additional disclosure: We own various calls for the OCT / Jan time frame along w/ common AMD stock. We will open a small position in Nvidia today as a long term holding.