Apple's (AAPL) decision to start accepting PayPal (PYPL) as a payment method for purchases made on the iTunes App Store and Apple Music fortifies my previous buy rating for PayPal. Apple's backing is going to be a long-term tailwind for PayPal. There are around 728 million iPhones active today. Some of us iPhone/iPad owners have been longing for an alternative to the old credit/debit card-only payment method when shopping for iOS apps/in-game items.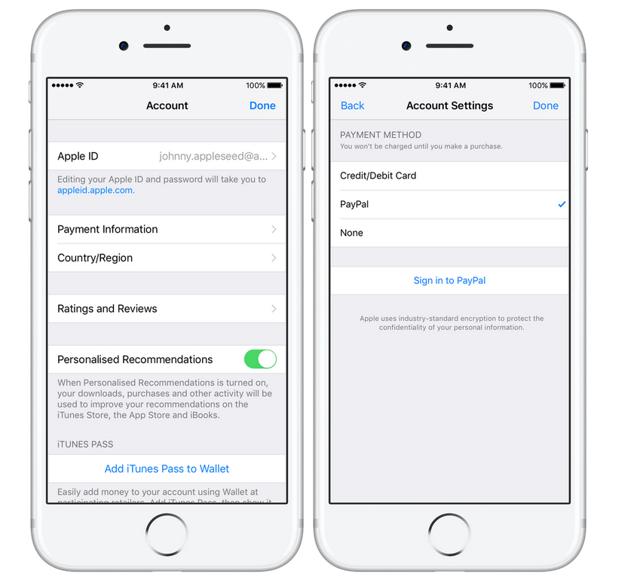 (Source: Apple/PayPal)
The combined online purchasing power of 728 million iPhone users is worth more than $20 billion/year. There will be tens (or even hundreds) of millions of iPhone owners who will embrace PayPal as their default payment method when shopping at the iTunes store. PayPal is definitely more secure than using a credit card to do online/mobile purchases.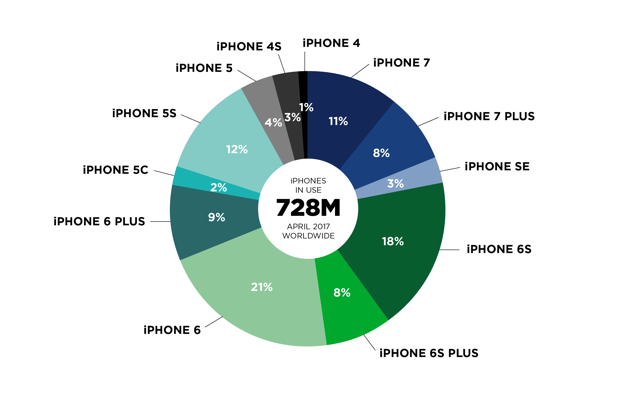 (Source: Newzoo)
After our country's Commission on Elections got hacked last year, I hated using my Visa (V) credit card on online purchases. The last time I used it was to buy a game for my four-year old daughter. That was over a year ago. With PayPal on the scene, I might start buying again from the App Store. I switched to buying apps/games on Google (GOOG) (NASDAQ:GOOGL) Play Store since it supported PayPal and carrier billing for many years now.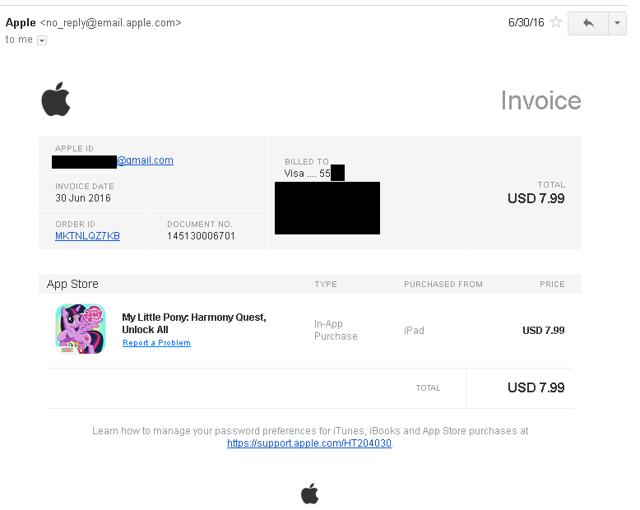 (Source: Motek Moyen)
My point is that Apple and PayPal have reciprocal benefits from this new partnership. Enabling PayPal as an alternative payment method could inspire more security-conscious iOS device users to spend more on the iTunes App Store. In return, PayPal will make money from Apple's customers. It charges merchants like Apple for online purchases processed through PayPal.
PayPal usually charges online merchants a 2.9% fee on the purchase amount plus a fixed fee based on currency rate.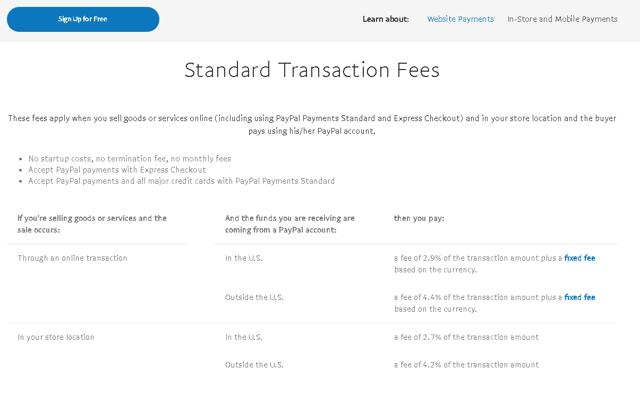 (Source: PayPal)
How PayPal Will Benefit
I do not know the financial terms between Apple and PayPal. What matters more is that Apple operates the most profitable App Store on the planet today. Even if we guesstimate that Apple agreed to give PayPal a flat 1.5% fee, PayPal is already in for a good ride.
As per App Annie's chart below, the iOS App Store is expected to do $40 billion in transactions this year. This is expected to grow to $60 billion by 2021.

(Source: App Annie)
Let's assume that 50% of that $40 billion app purchases will be processed through PayPal.
$20 billion x 1.5% = $300 million
Three hundred million dollars of new revenue just for processing iOS app store purchases is already a notable economic benefit for PayPal. Its previous quarterly revenue was only $2.98 billion. Processing $20 billion worth of iOS app store purchases can also help increase PayPal's $99 billion/quarter payment volume.
Conclusion
More than just the economic benefits, PayPal also won a lot of PR (publicity) points when Apple accepted it as a payment method for the app store, iTunes Store, and Apple Music transactions. Tim Cook finally acknowledged that PayPal's global presence (and more secure payment processing) can help Apple's loyal horde of customers.
I look forward to Apple also eventually allowing PayPal as an alternative payment method for its online and offline retail stores. Next only to Amazon (AMZN), Apple is the second-biggest e-commerce vendor in the U.S.A. It will be safer for some security-conscious Americans to buy the latest iPad or iMac from Apple's online store using a PayPal account.
I might unload some AAPL and/or AMZN to buy more PYPL. PayPal's stock is outperforming Apple's anyway.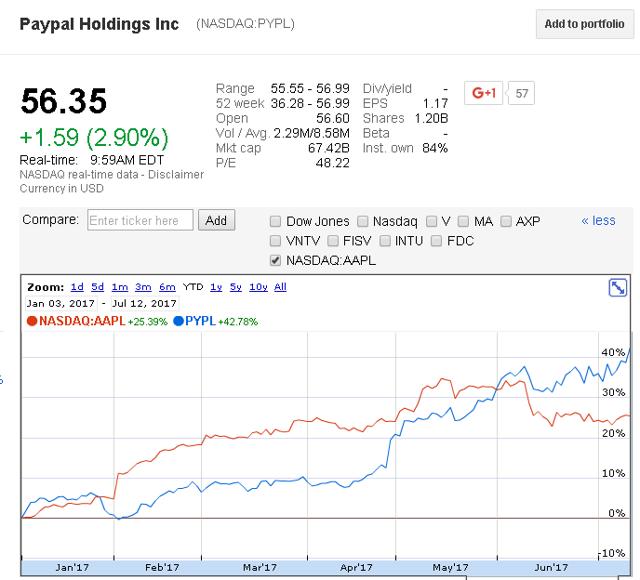 (Source: Google Finance)
Apple's acceptance of PayPal as a payment method could also inspire Amazon to accept it soon. The rumor earlier this year was that Amazon and PayPal were negotiating.
Disclosure: I am/we are long PYPL, AMZN, AAPL, GOOG, V.
I wrote this article myself, and it expresses my own opinions. I am not receiving compensation for it (other than from Seeking Alpha). I have no business relationship with any company whose stock is mentioned in this article.