ETF Trends: International - 7/12/17
Natural Gas, Semiconductors, and Solar are this week's most notable outperformers in the universe of ETFs that we track. A multitude of countries have also made solid gains over the past week, such as Turkey, Mexico, and China. On the other hand, Retail has become a regular underperformer as of late, surrounded by Telecoms, Vietnam, and Coffee.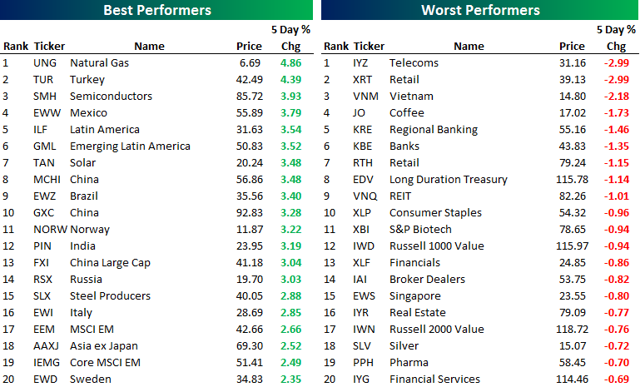 Thanks for reading the article. Follow our account to get our articles as soon as they're posted to Seeking Alpha. To get our full newsletter, sign up for Bespoke Newsletter PRO. Subscribers to that service get access to Bespoke's model stock portfolios, actionable data-driven insights, and in-depth analysis of everything that drives the markets, among other things.
This article was written by
Bespoke Investment Group provides some of the most original content and intuitive thinking on the Street. Founded by Paul Hickey and Justin Walters, formerly of Birinyi Associates and creators of the acclaimed TickerSense blog, Bespoke offers multiple products that allow anyone, from institutions to the most modest investor, to gain the data and knowledge necessary to make intelligent and profitable investment decisions. Along with running their Think B.I.G. finance blog, Bespoke provides timely investment ideas through its Bespoke Premium (http://bespokepremium.com/) subscription service and also manages money (http://bespokepremium.com/mm) for high net worth individuals. Visit: Bespoke Investment Group (http://bespokeinvest.com/)