In previous articles (see here and here), we have argued that financial crises are not "black swans." Instead, they are endogenous to the operations of the financial system, especially since markets were liberalized and deregulated. Thirty years ago, this view was considered radical, but (especially after the crisis of 2008) no longer.
Mainstream economic models missed the boat in 2008. Sadly, Robert Lucas, Nobel Prize winner and an advocate of micro-foundations as the basis for macroeconomic models, stated in the Economist Magazine in 2009:
The charge is that the forecasting model failed to predict the events of September 2008. Yet the simulations were not presented as assurance that no crisis would occur, but as a forecast of what could be expected conditional on a crisis not occurring."
If mainstream macroeconomic models are irrelevant when crises hit but useful when they do not, how does this benefit investors? Hyman Minsky (well known for the "Minsky Moment") stated: "….it is necessary to have an economic theory which makes great depressions one of the possible states in which our type of capitalist economy can find itself." In our effort to protect capital during crises, we know where we stand on this question.
So why do mainstream economic models ignore the financial sector?
Two hypotheses:
First, economics as it has been practiced over the past thirty years has become a theology, based on firm belief in free markets. Accordingly, finance gets grouped as just another sector in the economy. As we have argued elsewhere, financial markets are distinct due to positive feedbacks between credit growth and asset prices, especially post-liberalization. This generates serial boom-bust cycles (see below) that eventually came crashing down in the 2007-2009 crisis.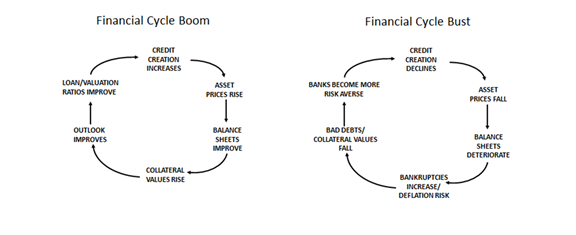 Interestingly, Henry Simons and the conservative Chicago School (other notables included Milton Friedman and Irving Fisher) referred to the failure to treat finance separately from other goods and services sectors as a "category error." Finance is unique (see here).
Second, in the immediate aftermath of World War II, banks were subject to stringent regulations (interest rate restrictions and various limits on permissible activities) that curbed credit growth and financial stability. During this economic "Golden Age," finance facilitated capital formation and production of goods and services. The view that finance was nothing more than a "veil" over the real economy may have evolved during this period. However, as markets were liberalized and deregulated in the 1980s, this perspective should have shifted – but the belief system remained in place and so finance became a persistent source of instability.
Throughout much of this period, the Federal Reserve and regulators were champions of liberalization (Greenspan's admission that his "ideology had failed him" came a bit too late to make a difference). Policymakers, regulators and central bankers were under the spell of the marketplace from 1980 to 2008 (I had a seat as a mid-level government economist from 1985 to 1995), failing to properly understand the risks introduced by these structural changes.
Last week, Janet Yellen noted that she does not expect another crisis in her lifetime. We do not know what prompted her to make this assertion, though it may reflect her belief, as an economist, that markets are inherently stable. With private sector debt ratios at 150% of GDP, stocks overvalued, the Fed aiming toward normalization of rates/reduction of its portfolio, we remain cautious, with a 24% cash holding in our multi-asset portfolio.
In our opinion, we need to embrace and understand the pathology associated with financial crises, rather than ignoring them. They clearly matter today, especially for those of us investing for retirement and other purposes. The stock market has declined by 40% twice since 2000, and further declines from current levels cannot be ruled out. The insistence that economies are inherently stable and shocks exogenous ("black swans") must yield to a more interdisciplinary approach that melds macroeconomic and financial stability risks.
Treating the financial cycle as if it is neutral, in our opinion, makes no sense.
Disclosure: I/we have no positions in any stocks mentioned, and no plans to initiate any positions within the next 72 hours.
I wrote this article myself, and it expresses my own opinions. I am not receiving compensation for it. I have no business relationship with any company whose stock is mentioned in this article.