It has long been noticed that emerging market can be one of the main victims of tightening US monetary policy. Emerging markets ('EM') have, once again, gauged on debt, especially more dollar denominated debt. Here is a little backdrop on emerging market debt from Reuters:
Global debt levels have surged to a record $217 trillion, driven by a $3 trillion borrowing spree in the developing world, the Institute of International Finance said, warning of risks to emerging markets from short-term debt repayments. The IIF, one of the most authoritative trackers of capital flows, said in a note late on Tuesday that global debt amounted to 327 percent of the world's annual economic output (GDP) by the first quarter of 2017 and the rise was driven principally by emerging market borrowing. While advanced economies continued to deleverage, cutting total public and private debt by over $2 trillion in the past year, the report found total debt in developing countries had risen by $3 trillion to $56 trillion. This amounted to 218 percent of their combined GDP, five percentage points above the first 2016 quarter. China accounted for $2 trillion of this rise, with its debt now at almost $33 trillion, led by households but also company borrowing the IIF said...

The IIF report found that emerging markets had over $1.9 trillion of emerging bonds and loans falling due by end-2018, and 15 percent of this was denominated in dollars. The biggest redemptions were in China, Russia, Korea and Turkey, it said. Emerging hard currency-denominated debt rose by $200 billion in the past year - growing at its fastest pace since 2014 - and 70 percent of this has been in dollars, the report found. "Rollover risk is high," the IIF added.
Figures differ somewhat, depending where one looks and which countries are included, but the figures are generally high and increasing, for instance, the BIS (from UNCTAD):
"According to the Bank for International Settlements, the debt of non-financial corporations in these economies increased from around $9 trillion at the end of 2008 to just over $25 trillion by the end of 2015, and doubled as a percentage of gross domestic product (GDP) - from 57 percent to 104 percent."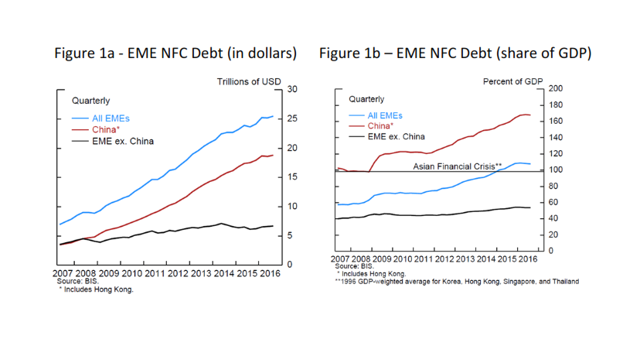 By no means is all of this dollar denominated, but enough of it is in order to create serious problems, which would be a little ironic 20 years after the Asian crisis. Normally, US tightening leads to a triple whammy for emerging markets:
Higher interest rates increasing the cost of refinancing.
A higher dollar, raising the domestic currency value of debt.
Lower commodity prices (as a result of a higher dollar) busting EM's exports, impairing their ability to finance existing debt.
This can lead to severe debt crisis, most notoriously the Mexican crisis in the early 1980s and the Asian crisis in the mid 1990s. Given the dollar debt levels and Fed tightening, there are once again reasons to be concerned.
First, it should be noted that not all periods of Fed tightening necessarily lead to universal mayhem in emerging economies, even when their dollar debt levels are high. For instance, emerging market equities, at least, are not necessarily the victim in periods of Fed tightening: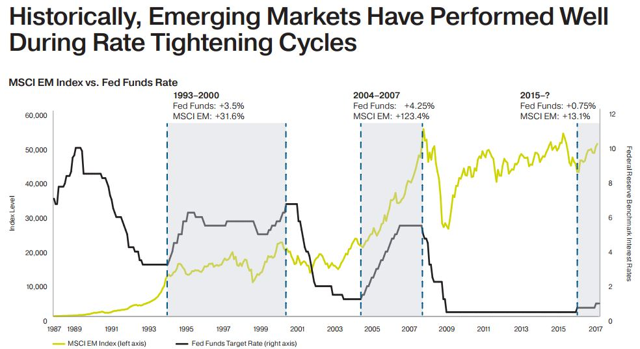 EM bonds, via the iShares JP Morgan USD Em Mkts Bd ETF (EMB) have had a more rocky ride, especially since the Trump election, but they recovered from that until recently: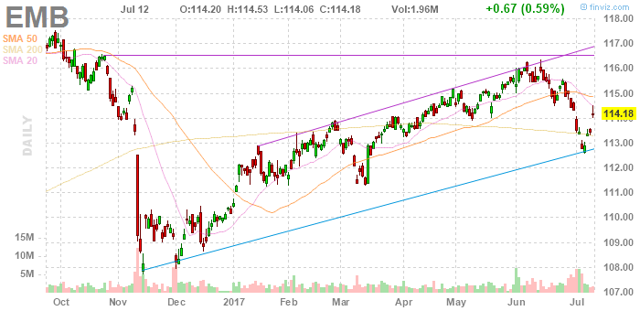 So far, emerging markets seem to have escaped much, if any, damage from Fed tightening. One of the main reasons is that the rise of the dollar has been arrested lately and monetary conditions are still quite benign.
However, there are other forces at work. The Fed shrinking its balance sheet, in combination with increasing rates will tighten bank balance sheets and credit, and this already seems in the cards (from The Telegraph):
The global 'credit impulse' has fallen as dramatically over recent months as it did during the onset of the Lehman crisis, signaling serious headwinds for the world economy and asset prices just as the US Federal Reserve tightens monetary policy. A key UBS tracking indicator shows that the impulse has plummeted by 6pc of GDP since peaking last year, driven by powerful swings in China and the US. The two economic superpowers are both suffering from credit saturation.
We know that this causes a dollar squeeze through complex international bank funding, here is Hyun Song Shin of the BIS explaining this:
"...if a global bank lends to EME corporates as well as engaging in hedging operations that accommodate local life insurance companies and pension funds, then any pickup in measured risks in the corporate lending book will erode its risk-taking capacity to provide hedging services to these pension funds and life insurance companies."
That is, a complex web of global hedge contracts automatically forces banks in Europe and Japan to shrink their balance sheets when the dollar rises, cutting off oxygen for emerging markets and debtor regions in a process known as the global dollar shortage.
Should the Fed tighten more aggressively than elsewhere, this isn't unrealistic. And that doesn't seem unlikely, from CNBC:
The dollar took a bruising this year as the elation that Trump could quickly bring about fiscal stimulus and tax reform faded. Analysts say the dollar is now looking elsewhere in Washington for support, and it should follow Treasury yields higher with Federal Reserve policies as a driver. The Treasury market began its move two weeks ago, as central bankers around the world all sounded suddenly more hawkish. The Fed, gearing up to reduce its balance sheet and raise rates, sounded the most hawkish of all.
Or according to Joshua Younger from JPMorgan (from FTAlphaville):
That said, the re-pricing of the front end of the curve has been rather mild by comparison. Focusing on the U.S., term premium in 2-year OIS, for example, has increased by less than half what we've seen in 10-year swaps by our estimates. And the next Fed hike is still not fully priced until May next year (relative to 3Q 2018 a month ago). That rate expectations would lag when the primary focus is central bank balance sheets is not surprising given the greater impact on longer maturities. However, we continue to believe the market is underpricing the risk of a more aggressive path for policy rates, which though very mild by historical standards would result in a considerably steeper front end.
Emerging market debt
Despite worries about tightening US monetary policy, EM debt has actually been rallying: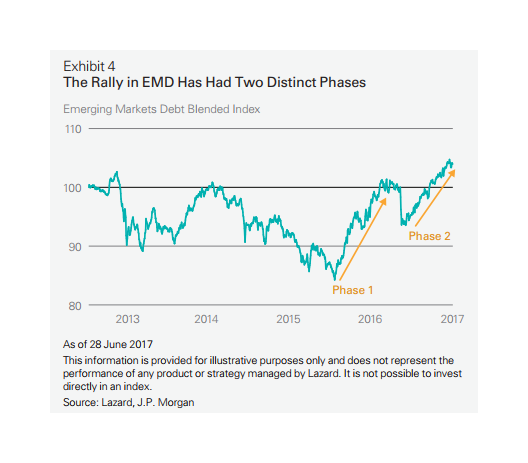 The first phase was due to commodities bottoming out and you can see from the little crash between phase 1 and phase 2, caused by the surprising election of Donald Trump what the perspective of a reflation trade and the prospect of a higher dollar can bring about in emerging market debt.
Here is Lazard on the Phase 2 rally:
This phase has been characterized by an unwinding of nearly all of the risks related to Donald Trump's election. More specifically:

• No signed trade agreements have been cancelled thus far

• While inflation did indeed continue to increase through February 2017, it has strongly reversed since

• The Fed has been noticeably dovish in its market commentary, acknowledging that only one rate hike is likely in the second half of 2017 and that NAIRU¹ and the terminal rate are likely lower than initially thought
We also noted a more or less synchronized upturn in the world economy, which has also underpinned the rally.
How vulnerable are EM's?
Since the Fed is an important driver of US interest rates and the value of the dollar, it is to be expected that they at least assess the situation and one might be happy to know they did just that.
In a study by Daniel Beltran, Keshav Garud, Aaron Rosenblum, they even performed a stress test:
We find a moderate degree of vulnerability at present. Only a few EMEs exhibit significant levels of risky corporate debt as a share of total debt. The results become even more positive when we scale the share of risky debt by GDP to gauge systemic importance. By this metric, outside of China, risky debt for most EMEs is around a tenth of GDP, which is considerably lower than the share of 50 percent for the East Asian economies before the Asian financial Crisis. That said, the amount of risky debt appears quite sensitive to earnings, interest rate, and exchange rate shocks. Under our stress exercise, risky debt rises to notable shares of GDP in a number of countries, importantly China but also Brazil, Turkey, India, and Korea. For EMEs overall, the earnings and interest rate shocks are the most material. EME corporates appear less vulnerable to currency devaluations, because the portion of EME corporate debt denominated in foreign currency has been steadily declining for over a decade.
This is a general picture, it doesn't mean all is well. An interest rate coverage (IRC, the level of earnings to interest expense) below 2 is generally deemed a danger zone.
And while firms in Brazil, Argentina, Chile, China, India, South Africa, and Turkey appear to be the most vulnerable with earnings declining and/or leverage increasing and falling IRCs, the latter are still above the danger zone of two. This isn't all determining though:
An aggregate interest‐coverage ratio of 8 may mask significant risks if a few large firms have extremely low coverage ratios; conversely, a much lower interest‐coverage ratio may still be consistent with solid financial conditions, if the preponderance of firms meet adequate standards.
The paper goes on to research the balance sheet and income statement data from Capital IQ for a sample of roughly 8,500 publicly listed firms(!) in 15 emerging market economies but concludes:
Even so, the share of risky EME corporate debt is considerably lower today than it was for the East Asian countries preceding the Asian financial crisis. Excluding China, the share of risky debt has trended down very recently, as earnings have started to recover from their post‐crisis lows, and is now below its pre‐GFC level.
The research contains a nice table splitting countries and sectors according to risk factors: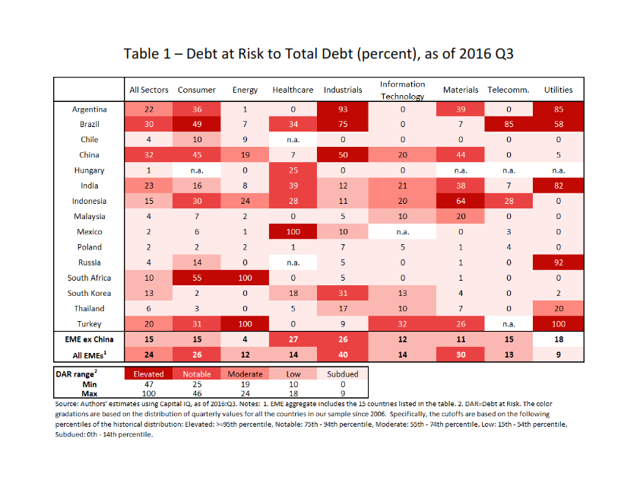 So there are a number of risky sectors in some countries but overall systemic risks seem to be contained, apart from.. China:
China stands out as having both the largest share of risky corporate debt and the highest corporate debt‐to‐GDP ratio
However, as we noted some time ago, China seems better able to deal with these because it's four large banks are in government hands, limiting the possibility of bank runs and there are considerable restrictions to capital flight, limiting the risk of a debilitating fall in the currency.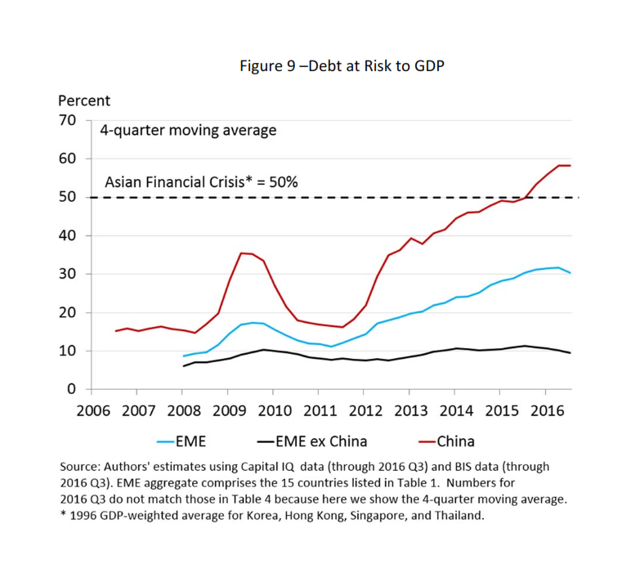 Before we get too complacent it has to be put out that subsequent stress tests (subjecting EM's to shocks like higher borrowing costs, currency depreciations, and slower growth) show that the riskiness of the corporate debt can materially increase if circumstances change for the worse.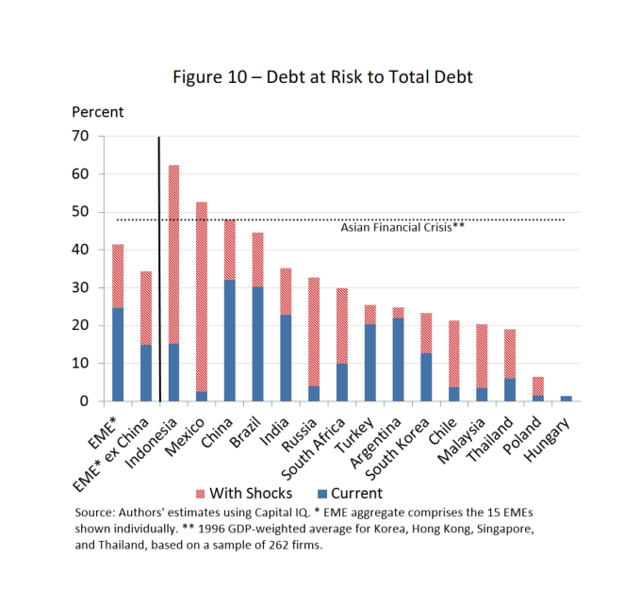 Indonesia, Mexico and China seem most at risk, closely followed by Brazil (which, given the economic and political turmoil it's experiencing already, isn't surprising).
Conclusion
While debt in emerging markets is very high, it seems we have not yet reached levels where garden variety economic headwinds could wreak havoc and cause some kind of systemic crisis.
But that doesn't necessarily mean that we can be complacent by any stretch of the imagination. We have seen during the Asian crisis, now two decades ago, how contagion from the riskiest area can quickly spread towards what seemed to be financially sounder parts. All it needs is the initial spark.
Disclosure: I/we have no positions in any stocks mentioned, and no plans to initiate any positions within the next 72 hours.
I wrote this article myself, and it expresses my own opinions. I am not receiving compensation for it (other than from Seeking Alpha). I have no business relationship with any company whose stock is mentioned in this article.