I have been saying for a while that despite all the hype surrounding Tesla (TSLA) and its Autopilot system, at least among car manufacturers, the most interesting company is Volkswagen (OTCPK:VLKAY) and the work they are doing with their Audi division. Audi announced on Tuesday that its next A8 sedan will be the first production vehicle to ship with Level 3 self driving technology. In this article I will take a quick look at why this is an important step towards the path to full autonomy and compare it with two rival solutions - Tesla's Autopilot and GM's (GM) Super Cruise.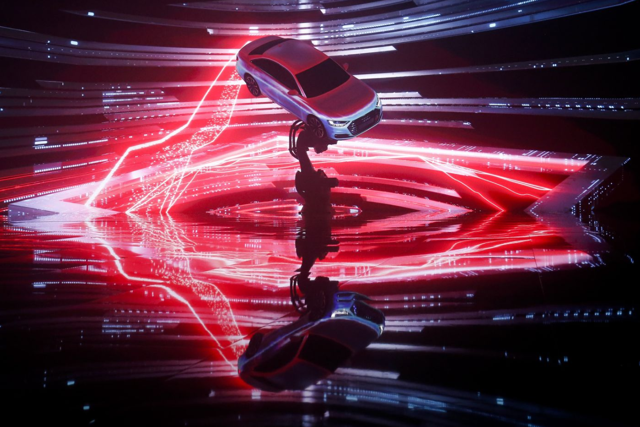 Source: Audi A8 Unveil
Audi's Solution
Lets first take a look at what Audi is offering. Audi's forthcoming version of the A8 sedan is the first production automobile to arguably achieve Level 3 autonomy. If you are not familiar with the SAE levels of automation, you can find some information directly from the source here. The key point in moving from Level 2 to Level 3 autonomy is that Level 3 expects that the user only has to intervene whenever the car is not able to handle a situation and asks for the user to take over. The vehicle for its part must be able to perform all activities related to driving the vehicle at other times.
Now to be clear, Audi's solution has certain limitations. For one it is only meant to be activated in relatively slow moving traffic (upto 60 km/hr) and only on divided roads where a physical barrier separates vehicles driving in the opposite direction.
The new A8 is the first production automobile to have been developed specially for highly automated driving. The Audi AI traffic jam pilot takes charge of driving in slow-moving traffic at up to 60 km/h (37.3 mph) on freeways and highways where a physical barrier separates the two carriageways. The system is activated using the AI button on the center console. - Audi Press release
That being said there are some production firsts in Audi's solution:
The new Audi A8 will be the first production vehicle to use LIDAR along with

cameras, radar and ultrasonic sensors. I will discuss why this is important later when I compare it to Tesla's Autopilot.

Audi's solution is the first of its kind to require absolutely no monitoring of the vehicle as long as the driver is available to take over when the vehicle asks him/her to. While the vehicle is driving itself, the customer is free to do anything else, for example even watch a movie on the on-board TV screen. Note the laws across many countries/regions may still require the user to pay attention but the car itself is able to handle the driving tasks all by itself. This is what makes it the first production vehicle to potentially achieve Level 3 autonomy.
The traffic jam pilot manages starting, accelerating, steering and braking. The driver no longer needs to monitor the car permanently. They can take their hands off the steering wheel permanently and, depending on the national laws, focus on a different activity that is supported by the car, such as watching the on-board TV. As soon as the system reaches its limits, it calls on the driver to take back control of the task of driving. - Audi Press release

Comparisons to Tesla's Autopilot
Tesla created a lot of buzz last year when it announced that all its production cars going forward will support hardware for fully autonomy. Now I have written several articles on Tesla talking about why I believe Tesla is overplaying its capabilities with the Autopilot system. The key point to remember here is all that Tesla has done is added surround cameras to its production cars. To make a reasonable claim that this is sufficient for full autonomy, it has to be able to demonstrate at least some capability towards demonstrating that its computer vision system is as capable as a more precise LIDAR based system. I'm not saying LIDAR _has_ to be a requirement for autonomous driving. However, LIDAR does give you a very precise model of the vehicle's surroundings. If Tesla wants to instead use a significantly cheaper solution, it has the burden of proof to show that it can produce as good a world view with its technology. From all indications so far, this is nowhere near the case.
Tesla's Autopilot also requires the user to keep their hands on the steering wheel and asks the user to monitor the actions of the car. This makes it a SAE Level 2 solution at best. They are currently trying their best to reach parity with Mobileye/Intel's (INTC) Level 2 solution from 3 years back. They have a long way to go in reaching Level 3, let alone full autonomy.

Comparison to GM's Super Cruise
GM made a big splash earlier this year when it announced that its upcoming CT6 sedan will be the first production vehicle to support hands-free autonomous driving. Clearly the hands-free part of this messaging is to contrast their solution vs their competitors (such as Tesla) that require the user to keep their hands on the steering wheel. GM instead uses a small infrared camera to monitor the driver's head position and ensure he/she is paying attention to the road. Indeed the user does not have to keep their hands on the steering wheel but they still need to monitor the car's behavior at all time. This again makes it a SAE Level 2 solution.

GM also tried to talk up its use of LIDAR map data. Note this is not the use of LIDAR sensors in the vehicle. This is merely the use of high precision LIDAR maps (generated separately) to give the vehicle a better world view. While this may be useful to some extent to localize the car and better help the system in identifying the driving lane, it does nothing to help in identifying other obstructions on the road (such as other vehicles) which are not invariant between when the maps are generated and when the vehicle consumes them.
The road to recovery from dieselgate
Volkswagen stock took a beating in 2015 from its emissions scandal and has not really recovered from it since. There were some valid concerns raised at the time about the long term strategy of the company given they were heavily invested in the small "clean" diesel engines in their cars as the path forward. For their part, they are now looking to move towards mild hybrid and electric cars as the way forward to replace their small diesel engine powered vehicles.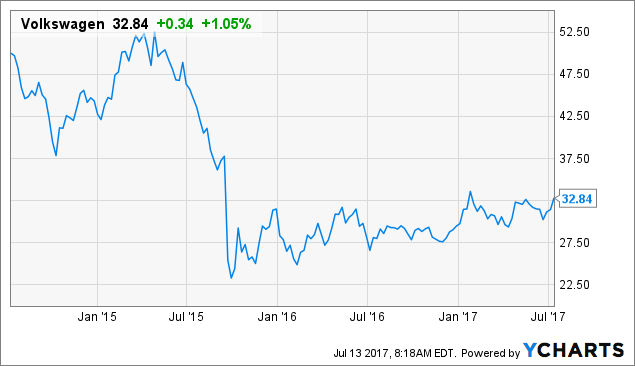 VLKAY
data by
YCharts
We compared the technology of three companies in this article. However from a valuation standpoint, only two of these are really comparable. Everybody realizes Tesla is a story stock and my personal opinion is that today's levels it is grossly overvalued. But what about General Motors? I wrote an article recently talking about why GM offers excellent value especially considering today's low rate environment if you are willing to hold on to the stock through the cycle for say the next 7-10 years. Over at FundamentalSpeculation, we currently only cover US companies but there is no denying Volkswagen is now starting to look attractive as well.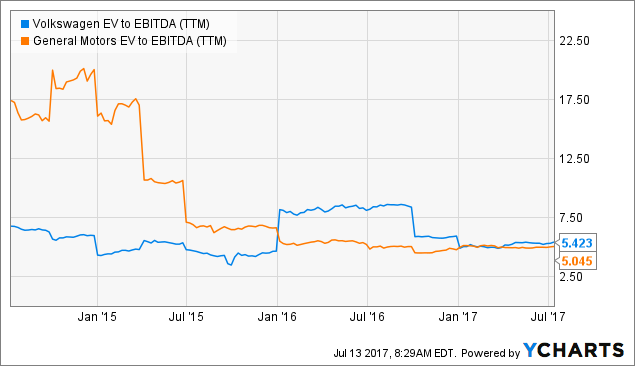 VLKAY EV to EBITDA (NYSE:
TTM
) data by
YCharts
The only thing holding me back from making a more full throated call on Volkswagen are allegations that in some instances they have not really learnt their lesson from dieselgate. The allegation this time is that their larger Porsche Cayenne diesel SUV continued to run code that tried to detect if it was on a dyno. Volkswagen really needs to put all this behind them. To be clear these are just new allegations at this point and nothing is proven but it surely does bring back memories of the past.

Conclusion
By all indications, Volkswagen via its Audi division has beaten Tesla, GM and other car manufacturers in bringing a Level 3 autonomous driving solution to market. The new Audi A8 will be the first production vehicle to have LIDAR sensors and more importantly the first vehicle which does not require the user to pay attention to the road while the vehicle is in control of driving operations. The user just needs to be available to take over control when the vehicle asks him to. I have always looked to Audi to bring the first production solutions in autonomous driving to market and they have not disappointed me. Shareholders should start looking at this IP as a significant asset to the company going forward. Remember while this is currently being introduced in their large premium sedan, there is no reason this technology cannot filter down into their lower cost products down the line creating a clear distinguishing factor for customers.
Editor's Note: This article discusses one or more securities that do not trade on a major U.S. exchange. Please be aware of the risks associated with these stocks.