I've spent a lot of time compiling an extensive list of Tesla's (NASDAQ:TSLA) failures, guidance points and other predictions that have turned out to fall extremely flat. A lot of this is in relation to the company's spectacular growth plan, but we haven't seen this story play out as expected. One of the key areas I've been following is in regard to one item the bulls say separate the company from its competitors, and that is Tesla's superchargers. For the second straight year, it seems as if growth plans will not be achieved.
2016 was probably Tesla's worst year in terms of performance versus original guidance, as the company missed on deliveries, profitability and cash flow forecasts just to highlight the headlines. The company also said in its Q4 2015 investor letter that it expected to energize about 300 new supercharger locations. Roughly a year later, the company showed this graphic: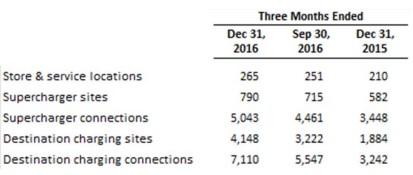 (Source: Tesla Q4 2016 investor letter)
In total, the company energized 208 new sites, more than 90 less than it said it was going to open, a more than 30% difference on the expected total. Almost three months ago, the company had a blog post where it talked about making charging a priority, a key part of the company's expansion as it approached the launch of the Model 3. Here's the biggest part of the plan:
We started 2017 with over 5,000 Superchargers globally and by the end of this year Tesla will double that number to total more than 10,000 Superchargers and 15,000 Destination Charging connectors around the world. In North America, we'll increase the number of Superchargers by 150 percent, and in California alone we'll add more than 1,000 Superchargers. We're moving full speed on site selection and many sites will soon enter construction to open in advance of the summer travel season.
At that point, Tesla was just over 5,400 superchargers. Since we are already a month into the summer season, you would think that the plan has moved at a great pace. Well, you would be wrong, according to one site that tracks all of Tesla's superchargers, providing more up to date info than Tesla's page that's only updated a few times a month. Tesla has recently broken the 6,000 supercharger mark, but that means less than 700 in less than three months. The chart below shows the weekly additions according to the site linked above.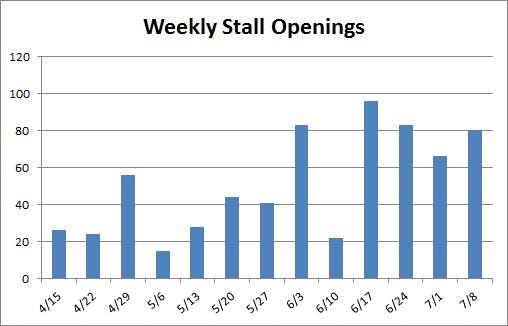 While the growth numbers have picked up in recent weeks, Tesla has only opened about 1,000 new superchargers in the first six and a half months of the year. To get to the point where it has doubled its base this year, it needs to open 4,000 new stalls in the last five and a half months of the year. The math gets even tougher when you look at these facts:
Last three months: Average of 51 stalls opened per week.
Largest opening week in last three months saw 96 new stalls.
Tesla needs to average over 163 new stalls per week for each of the remaining 24 weeks in the year!
While I do expect we'll see some more impressive growth in the back half of the year, especially as stations that contain a larger number of superchargers are opening, the math is getting tougher by the week. Three months ago, Tesla needed to average 130.5 new stalls per week to hit its 2017 target, and now look where we are. Every week that Tesla does not hit that average only makes it even harder for the company to crack the 10k number by the end of the year. It likely will also get much harder once weather in certain US states or countries gets worse, and we have holiday periods coming up.
So will Tesla's supercharger promise for this year become just another item in the long list of growth failures? It seems very hard to fathom the company adding almost 4,000 new stalls in less than half a year when it hasn't even done 1,000 so far in 2017. Perhaps the company has decided to scale back its plans after it seems the Model 3 forecast was lowered again.