Nvidia: Plenty Of Upside Left
Summary
Despite the strong performance of NVIDIA's stock, I believe that it could go higher.
A recent investment in a startup in cyber security shows how much effort the company puts into making AI a success.
After keeping its rating at "hold", SunTrust recently upgraded their rating to "buy", which can cause the uptrend to resume.
NVIDIA: Investing in growth
NVIDIA (NASDAQ:NVDA) is a company that has a lot of hype behind it that has resulted in an extraordinary share price performance. Because of the extraordinary performance of the stock, a lot of investors disagree about whether NVIDIA has risen too far, too fast. I believe, however, that NVIDIA's stock still has room to go up further. And now that the stock is beginning yet another upward move, I believe more investors will join the trend once again.
Artificial Intelligence presents great possibilities
NVIDIA has enjoyed tremendous growth of both its financial results and its stock price. This is partly because of the growing revenue it derives from the GPU's used for gaming, but mostly because of the potential that artificial intelligence (AI) has for the company. The company is seeing revenue grow quickly in this area as I mentioned in my previous article:
"During the most recent quarter, the company saw its data center revenue almost triple, reflecting the huge increase in interest in AI. All major internet and cloud service providers throughout the world are now working with Nvidia Tesla-based GPU accelerators. Think of names like Facebook (NASDAQ: FB), Alphabet (NASDAQ: GOOG) (NASDAQ: GOOGL), IBM (NYSE: IBM), and Microsoft (NASDAQ: MSFT But again, although recent successes in the AI area are nice, the real thing to get excited about is what AI might bring in the future:

"The opportunities that AI offers companies seem to be endless. For example, the autonomous car industry is in its early days with manufacturers developing and testing their own versions. But autonomous cars need AI and therefore this new industry will become a source of growth for Nvidia as well. It is expected that autonomous cars will eventually completely take over regular cars, which indicates a tremendous increase in the demand for Nvidia's products."
Plenty of growth ahead
But this is just a fraction of what AI has to offer. The market is currently quite young and does not provide a lot of opportunities to generate massive amounts of revenue for anyone. How much this will change can be clearly seen in the graph below.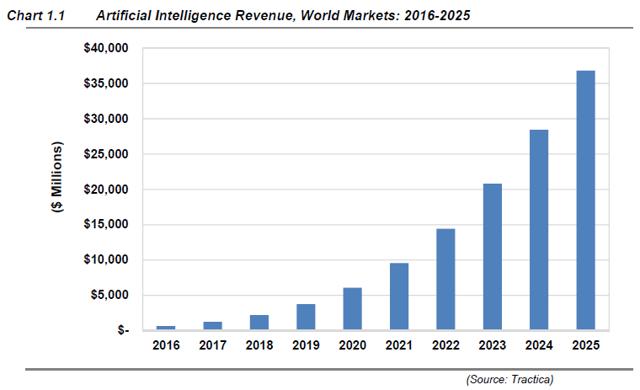 The AI market is currently not worth much, but is expected to easily surpass $36 bln by 2025. The company that positions itself the best will reap the most profits. Therefore it is good to see that NVIDIA keeps investing in this market and generates new ideas on how to best profit from this trend. Multiple investments have been made in the past in companies that will help to lay the foundation to make its AI endeavors a success. Among those investments are an AI data-mining company and AI retail analytics company.
Deep Instinct
Recently, NVIDIA announced that it invested in yet another a company that will help NVIDIA to secure a good position in the AI market. The company's name is Deep Instinct. Deep Instinct is a startup that uses deep learning to prevent cyberattacks. The detection rates of Deep Instinct achieve 99% by implementing a GPU-based neural network and CUDA. Conventional cyber security software only achieves about 80%. From the above-linked announcement:
"Deep Instinct is an emerging leader in applying GPU-powered AI through deep learning to address cybersecurity, a field ripe for disruption as enterprise customers migrate away from traditional solutions."
This investment could turn out to be a big winner as the need for improved cybersecurity is always increasing. It is expected that this market will grow steadily every year. According to Statista, the industry is expected to grow 65% between 2016 and 2021.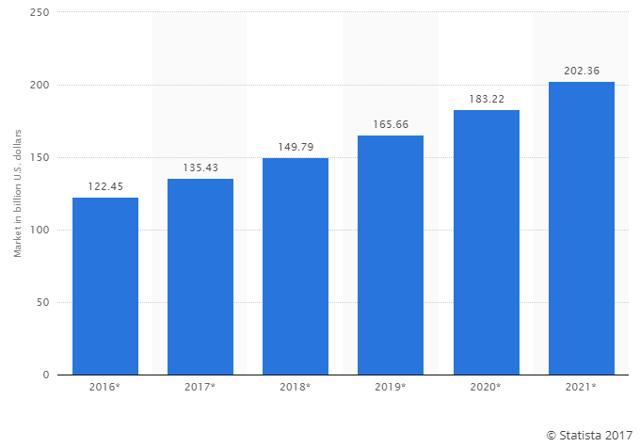 According to NVIDIA the company's software can automatically detect and defeat the most advanced cyberattacks, which means that the company could gain a big market share in this large and growing market with some help of NVIDIA.
Analyst upgrade
Around roughly the same time that the Deep Instinct investment was announced, an upgrade for NVIDIA's stock was announced as well. Thanks to an upgrade from SunTrust, the stock gained some momentum yesterday. It changed its standing to buy, from hold and gave the stock a price target of $177 vs the earlier price target of $124.
"While we have been keenly aware of [NVIDIA's] growth opportunities in the datacenter, gaming and automotive end markets in the year since we launched coverage, we've under-forecasted the growth potential in these markets,"
This change of stance was a reason for a lot of investors to start buying the stock it seems as NVIDIA's shares increased by over 4% during the day.
Conclusion
NVIDIA has shown time and time again that it is willing to do what it takes to position itself for the amazing growth spurt the AI market is about to experience. This latest investment is just one of many that lay the foundation of NVIDIA's future success.
I believe that the recent upgrade and the reaction of investors to it indicate that more people are turning into believers of the real potential of NVIDIA's growth story. After this upgrade the stock closed at the highest close ever at $162.51. The AI growth rate, NVIDIA's investment policy and success, and the upgrade by SunTrust will more than likely cause the uptrend to resume to make even more new highs.
This article was written by
I am an investor with professional experience analyzing stocks. My portfolio often consists of a handful small, micro and nano caps. I will discuss most of the stocks that I hold in my portfolio on Seeking Alpha, while also writing about larger stocks that interest me.
Analyst's Disclosure: I/we have no positions in any stocks mentioned, and no plans to initiate any positions within the next 72 hours. I wrote this article myself, and it expresses my own opinions. I am not receiving compensation for it (other than from Seeking Alpha). I have no business relationship with any company whose stock is mentioned in this article.

If you liked this article, please click "follow" for more.
Seeking Alpha's Disclosure: Past performance is no guarantee of future results. No recommendation or advice is being given as to whether any investment is suitable for a particular investor. Any views or opinions expressed above may not reflect those of Seeking Alpha as a whole. Seeking Alpha is not a licensed securities dealer, broker or US investment adviser or investment bank. Our analysts are third party authors that include both professional investors and individual investors who may not be licensed or certified by any institute or regulatory body.