Why My Subscribers Shorted Advance Auto Parts At $131
Summary
To complete the trifecta, I am sharing my research on Advance Auto Parts.
AAP is my least favorite aftermarket auto parts stock of the group.
Some of my Market Adventures subscribers took my advice and bought September AAP puts, when AAP was trading around $130-$131.
Note: This article first appeared on my premium site, Market Adventures, on June 16, 2017, at 6:13 a.m. ET.
For the benefit of my subscribers, I finally wrote an article on the third largest publicly traded aftermarket auto parts name, Advance Auto Parts (NYSE:AAP). Let me be clear: At least in my view, AAP ranks a distant third place out of the group. Perhaps the only positive is that AAP has underperformed O'Reilly Automotive (NASDAQ: ORLY) and AutoZone (NYSE: AZO) for so long that perhaps expectations are lower.
Let's look at management's guidance for FY 2017. As you can see, management guided full year comps at flat to up 2%.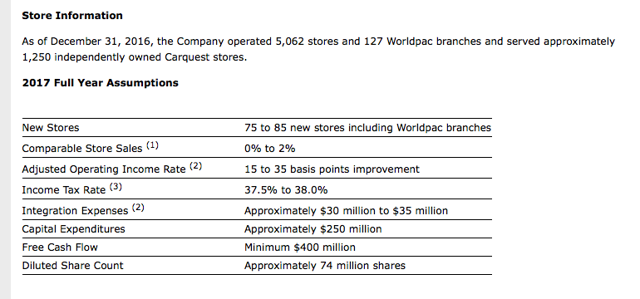 Yet, FY 2017 Q1 comps were down 2.7%. Even more disconcerting was that operating income was only 6.2%, down from 9.1% YoY.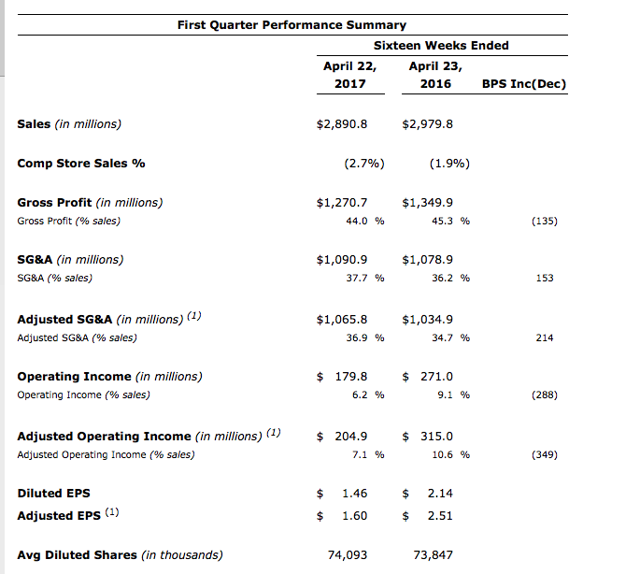 On the conference call, CEO Tom Greco tried to explain away the results saying that investors need to combined Q4 FY 2016 and Q1 FY 2017. Gee, that's funny -- you gave full-year guidance for comps at flat to up 2%.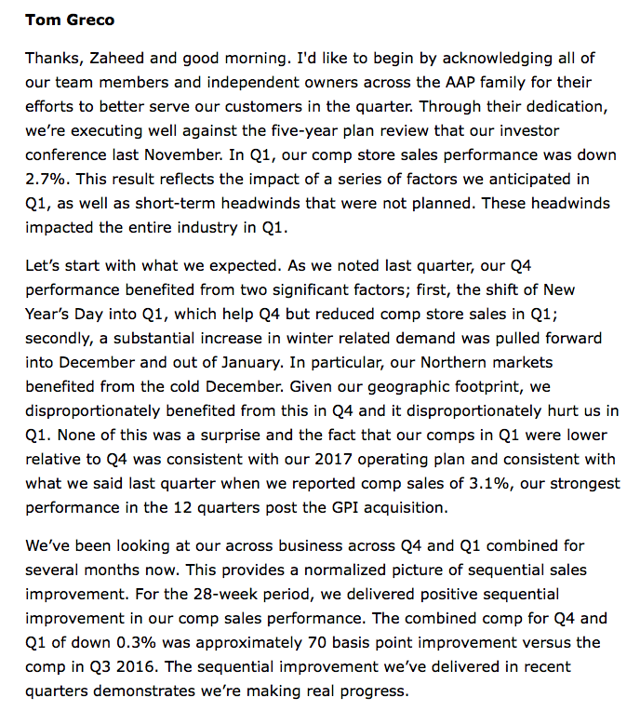 Incidentally, Tom is a former potato chip and snack foods executive from PepsiCo/Frito-Lay North America. I'm not sure what selling high-fat and caloric junk foods has to do with selling aftermarket auto parts.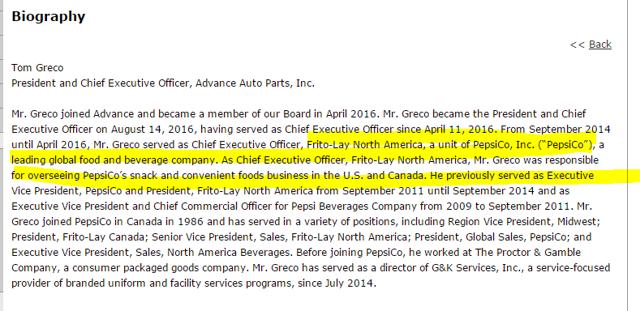 Let's look at recent consensus estimates for FY 2017 for AAP. This company, which has much worse historical financial performance than AZO and ORLY, is still selling for 19x FY 2017 earnings. That's way too expensive for an underperformer and the laggard of the group.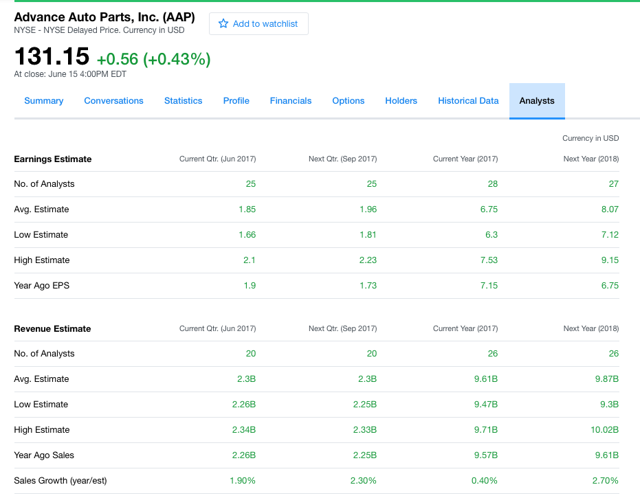 Here are full-year historical results for AAP's income statements: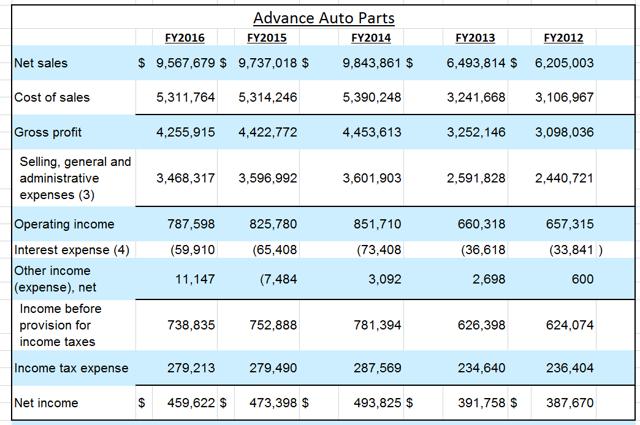 Earnings per share data:
Cash flow metrics: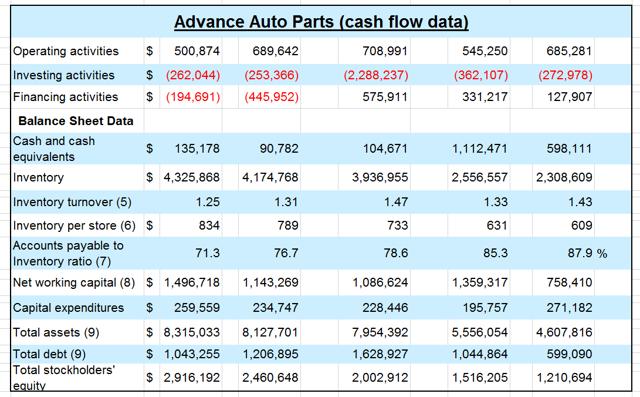 Next, let's turn to AAP's Q1 FY 2017 conference call. There's a lot of ground to cover here.
First there's the classic "we love our people and our team" platitudes.

Phase 1 turnaround objectives: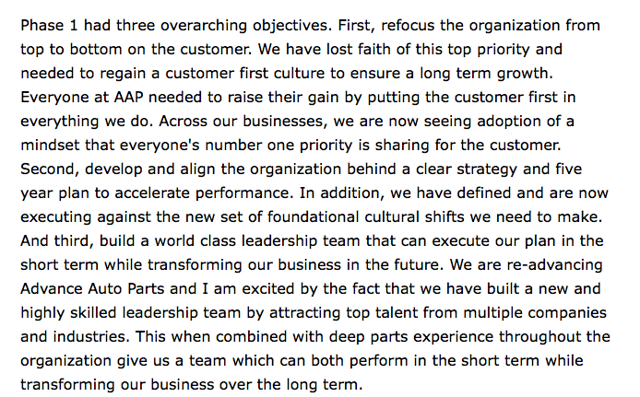 Phase 2: $750 million in gross (not net) productivity savings over four years. Will Greco even be the CEO in four years?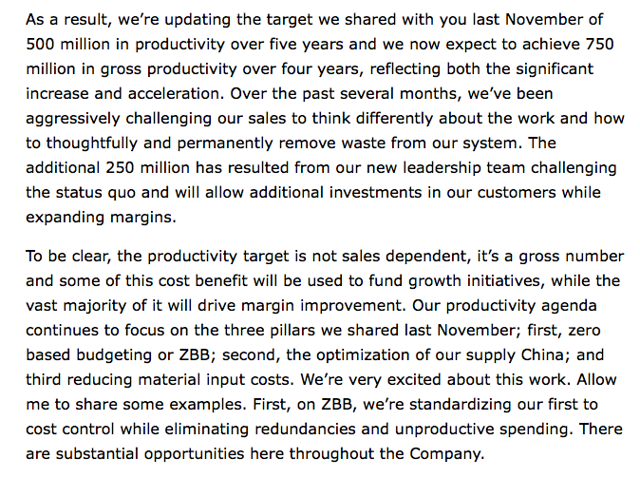 Second part of Phase 2: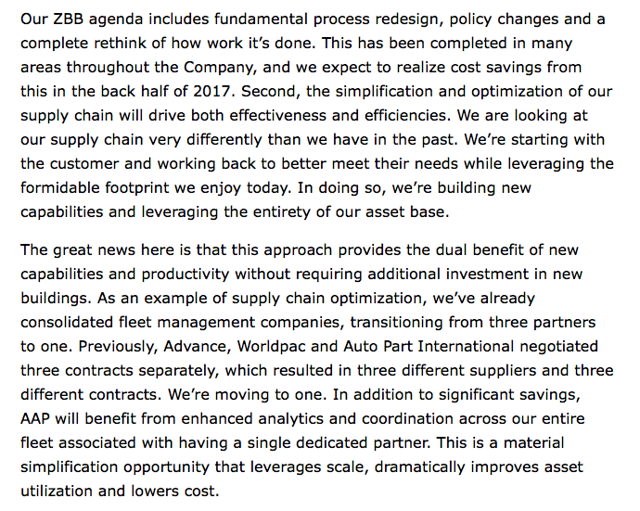 Third part of Phase 2: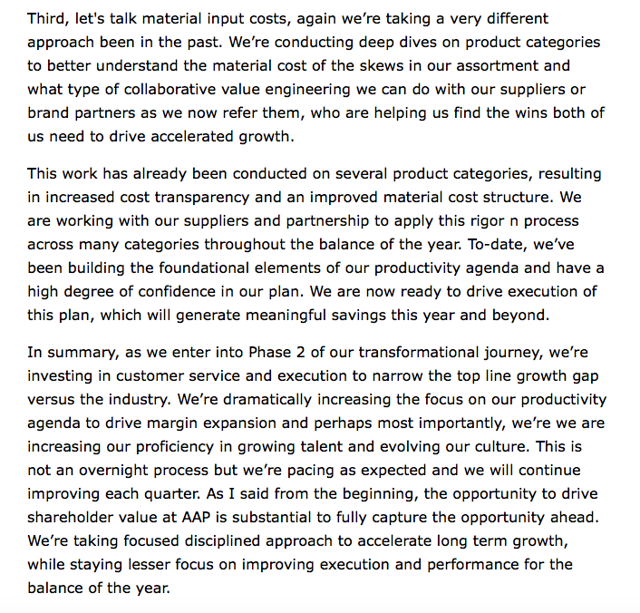 Here's a discussion of why operating margins were down 349 basis points: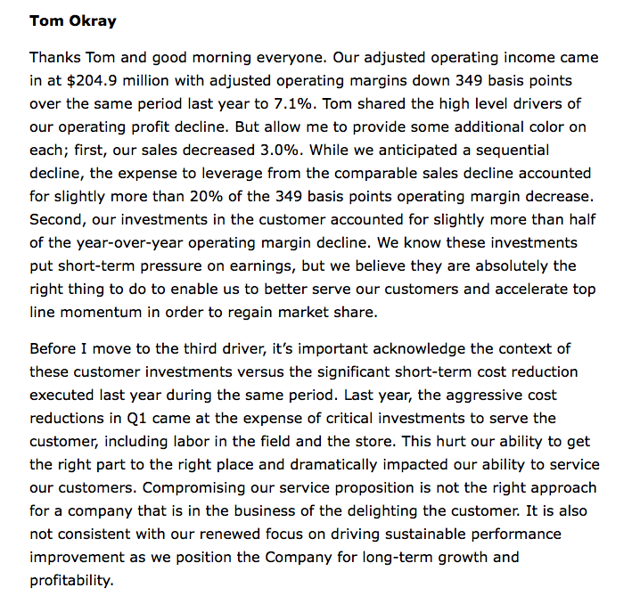 Then there's the Q&A section. Customer service is suddenly really important, so that's why operating margins were lower.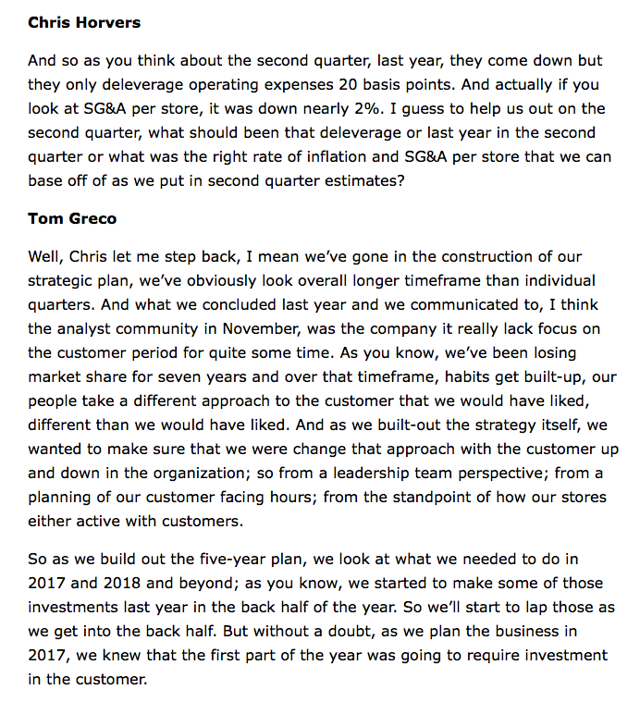 The new executive team: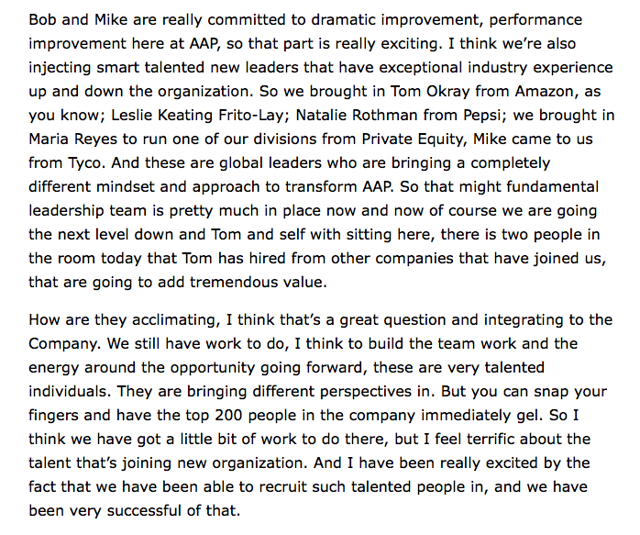 I highlighted the CEO's biography earlier. Here is some info on the CFO, Tom Okray, and Executive Vice President Bob Cushing.


AAP wants to improve productivity, but needs to move faster.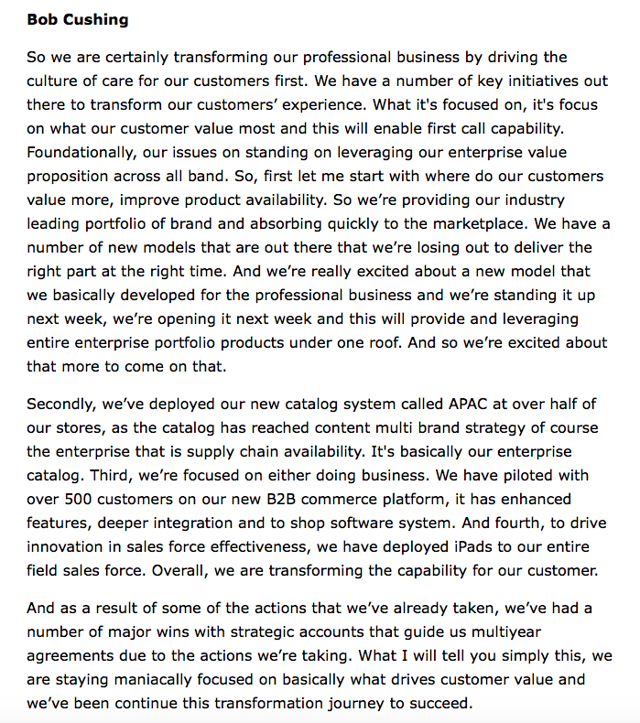 Questions regarding the operating margins: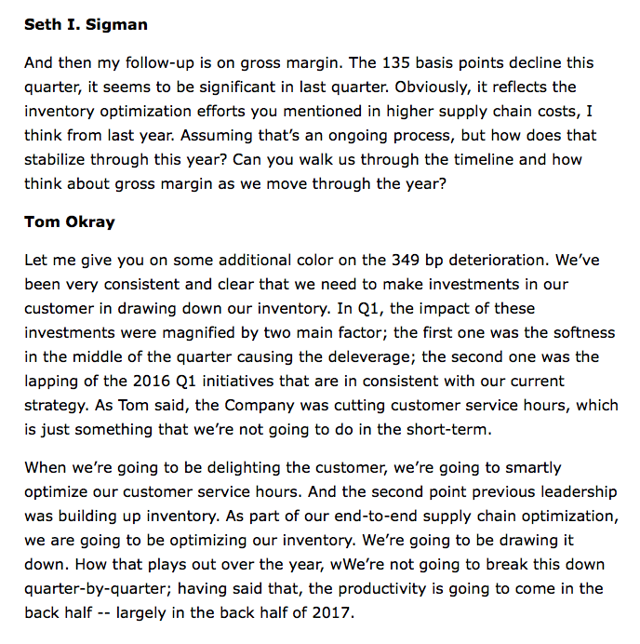 Gross vs. net: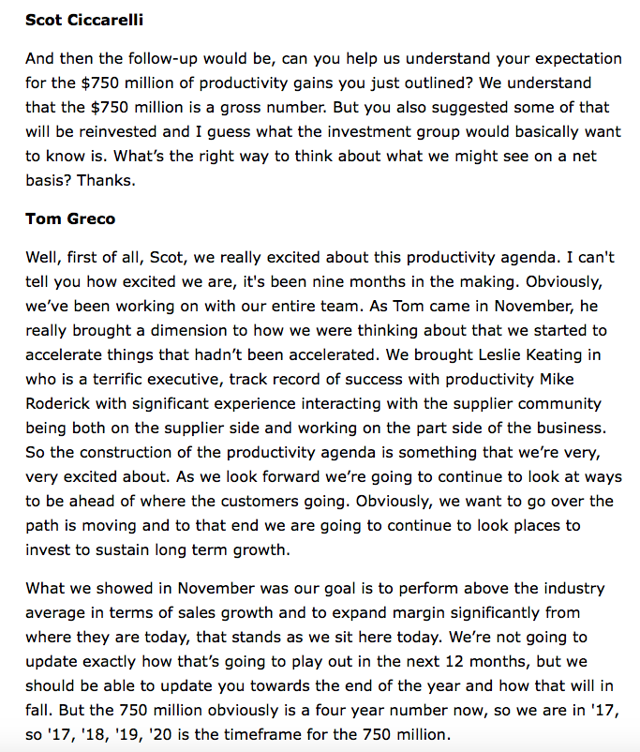 Labor expenses:

Okray's response: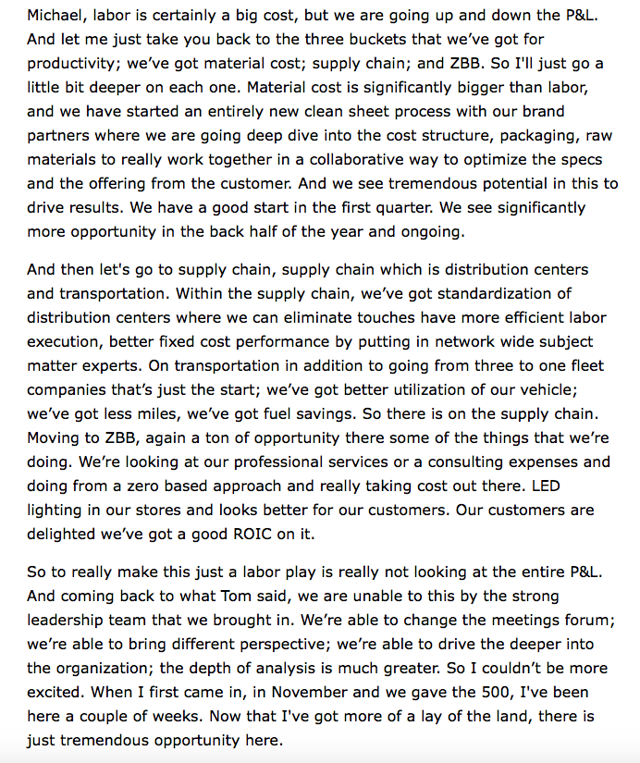 And a question about vehicle aging - my favorite driver of results: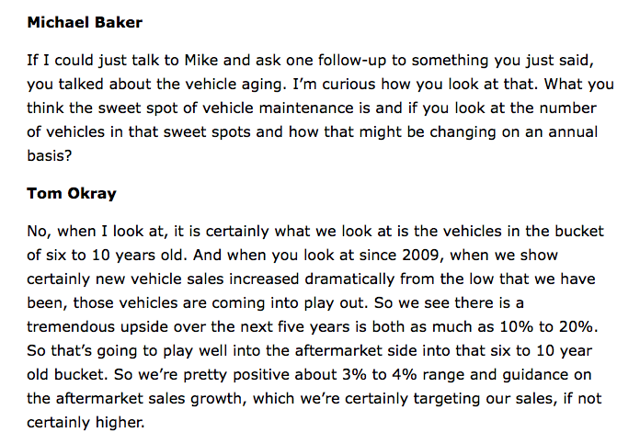 Questions on promotions:
Part 1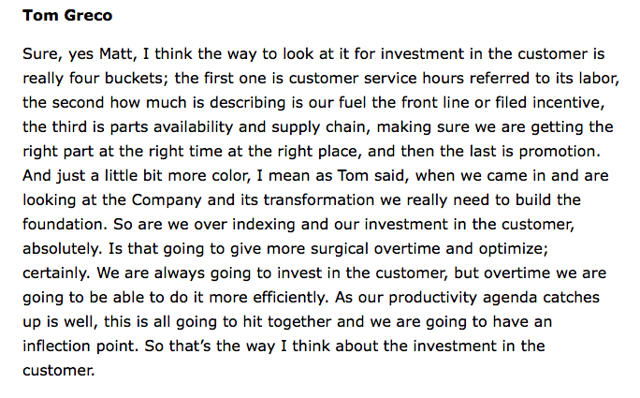 Part 2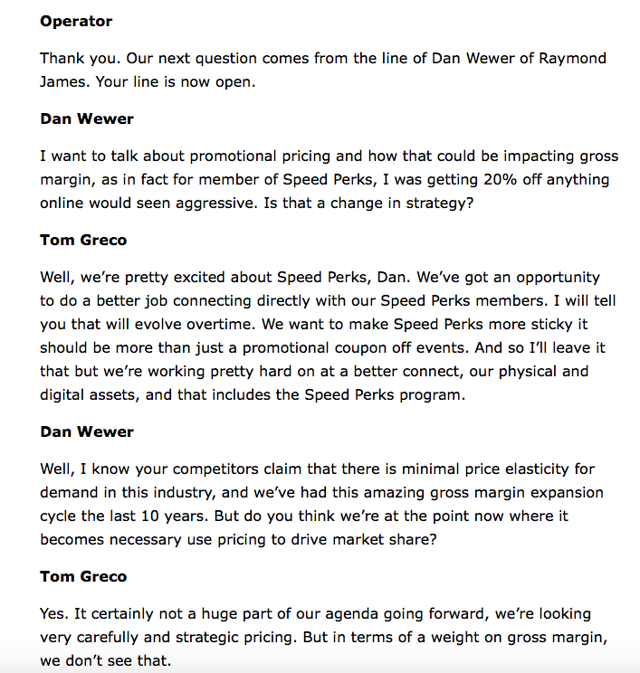 Here is snapshot of the 20% off when I visited AAP's website.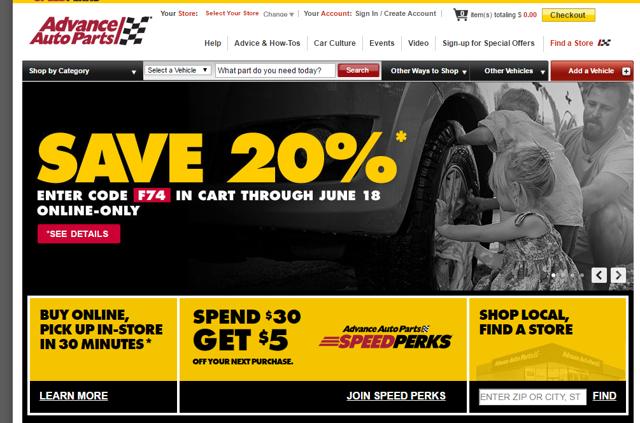 For context, AAP bought General Parts International in January 2014 for $2 billion.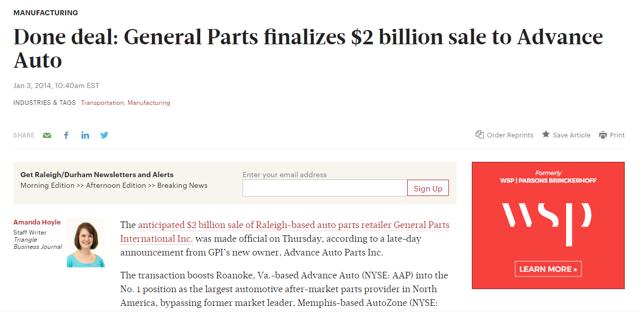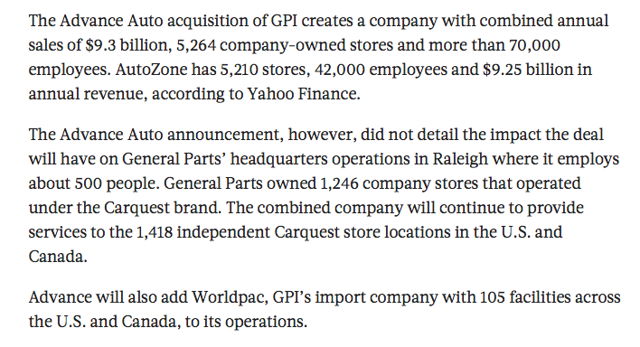 Source: Amanda Hoyle's Triangle Business Journal Article (Jan. 3, 2014)
Takeaway
I think AAP is still a good short at $131. It is the clear laggard of the group and 19x earnings isn't cheap. The company's conference call was unimpressive and at times incoherent and disjointed. I have no idea what a former chip and snack foods company executive is doing selling customer service and aftermarket auto parts. The snack foods business is about marketing and distribution. As I argued in two ORLY pieces and recent AZO piece, I expect the industry headwinds to remain stiff, making it difficult for these companies to hit guidance for both full-year earnings and same-store sales.
This article was written by
Idea generation, value investing, small caps and under the radar stocks.
A career wanderer and journeyman, with a passion for deep value and contrarian investing. I spent five years on the buy side in investment grade bonds on a team that managed $50 billion of assets, 3.5 years as an energy credit analyst for an energy company, and had multiple stints in corporate finance, most recently as a strategic financial analyst. I have an undergraduate degree in Finance (UMass Amherst) and earned an MBA (Babson College).
I actively invest my own capital and for a few family members.

Favorite quotes:
"When you are inspired by some great purpose, some extraordinary project, all your thoughts break their bonds: Your mind transcends limitations, your consciousness expands in every direction, and you find yourself in a new, great and wonderful world. Dormant forces, faculties and talents become alive, and you discover yourself to be a greater person by far than you ever dreamed yourself to be." (Author - Patanjali)
"Tentative efforts lead to tentative outcomes. Therefore, give yourself fully to your endeavors. Decide to construct your character through excellent actions and determine to pay the price of a worthy goal. The trials you encounter will introduce you to your strengths. Remain steadfast...and one day you will build something that endures: something worthy of your potential." (Author - Epictetus)
"Hope sees the invisible, feels the intangible, and achieves the impossible." (Author - Unknown)
"When I stand before God at the end of my life, I would hope that I would not have a single bit of talent left, and could say, 'I used everything you gave me." (Author - Erma Bombeck)
Analyst's Disclosure: I/we have no positions in any stocks mentioned, and no plans to initiate any positions within the next 72 hours. I wrote this article myself, and it expresses my own opinions. I am not receiving compensation for it (other than from Seeking Alpha). I have no business relationship with any company whose stock is mentioned in this article.
Seeking Alpha's Disclosure: Past performance is no guarantee of future results. No recommendation or advice is being given as to whether any investment is suitable for a particular investor. Any views or opinions expressed above may not reflect those of Seeking Alpha as a whole. Seeking Alpha is not a licensed securities dealer, broker or US investment adviser or investment bank. Our analysts are third party authors that include both professional investors and individual investors who may not be licensed or certified by any institute or regulatory body.