RH: The Perils Of A Crowded Short
Summary
Despite a well argued short thesis, the Masters of the Universe have lost money shorting RH.
A very high short interest, combined with strong institutional ownership/support and share buybacks, has goosed shares of RH.
RH is a dangerous short.
Please note: this piece was originally published on July 11, 2017 at 6:20 AM on my premium site, Market Adventures. On that morning, RH shares opened for trading at $61.25. I am sharing this piece on the public site as it should give the Masters of the Universe pause when it comes to shorting stock with highly elevates short interests as a percentage of their floats.
As I am very intrigued by high short interest shorts, measured as a percentage of their float, this morning, I write to discuss Restoration Hardware Inc. (NYSE:RH). SA Contributor, Ioannis Tsoutsias, CFA, wrote an interest piece on June 12, where he shared his short thesis. Generally speaking, I am a fan of Ioannis's work as I find that it is logical and offers a nice blend of qualitative and quantitative analyses. However, I happen to disagree with this short due to the setup.
Incidentally, on June 12th, the day Ioannis's report was published, shares of RH opened for trading at $50.53. Despite his well-argued and logical short thesis, if you had blindly followed Ioannis's short recommendation then, at least of through yesterday, you would have found yourself upside down 10 points if you had shorted it at the June 12th opening price.
For perspective, my article isn't an in-depth review of the merits of RH's business model nor I do I disagree with Mr. Tsoutsias's overall thesis, per se. Instead, my point is that I have no idea why the Masters of the Universe (MOTU) enter into these crowded short bets. The volatility in shares of RH is yet another case in point that it is simply too hard to be short any stock when the overall market is already super bearish towards the name.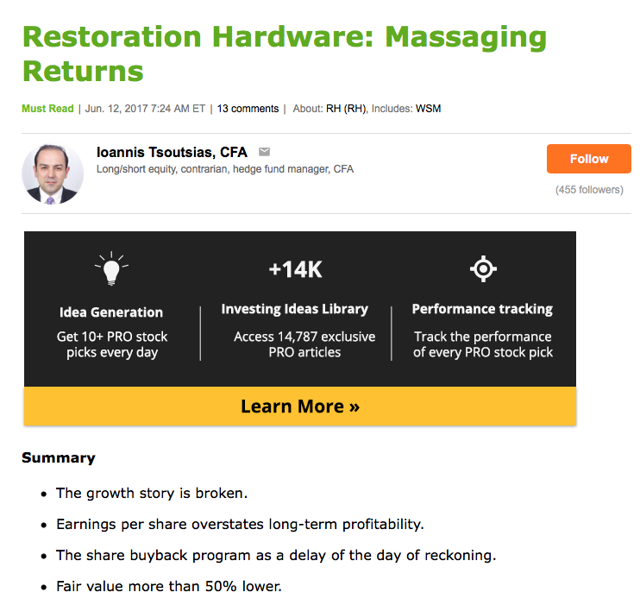 If we look at the short interest data, the MOTU were aggressively adding to their short bet from August 15, 2016, through March 31, 2017. As you can see, short interest leaped from 10.68 million shares on August 15, 2016, and hit a high watermark of 18.24 million on March 31, 2017.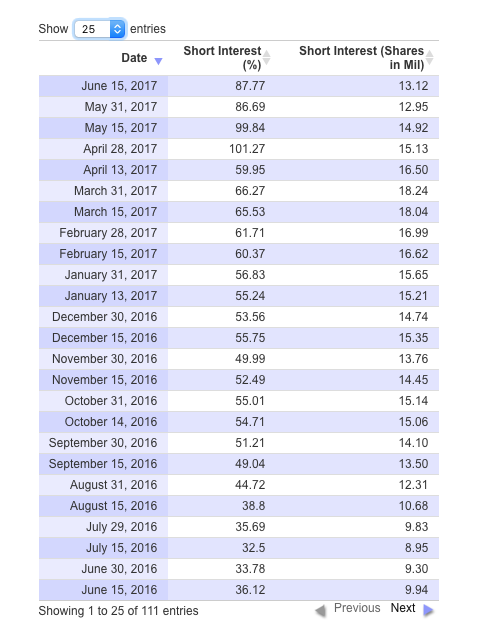 Source: GuruFocus
Not surprisingly, as the MOTU were building their short position, from August 15th - March 31st, notice how RH's stock traded in a channel from as low as $25 to $40, with lots of volatility. As shares of RH recently hit $69 and they still closed above $60 in yesterday's trading session, the "second-wave shorts," as I recently phrased in my latest GNC Holdings Inc. (GNC) piece, lost money in this crowded short trade. And, we know they actually realized losses because some members of the MOTU clandestine organizations actually covered 5 million shares.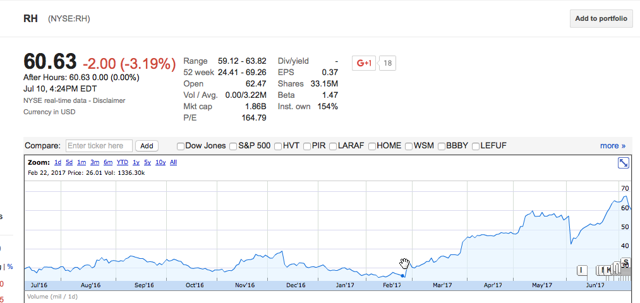 Source: Google Finance
Moreover, let's isolate the time period of March 31, 2017, through May 31, 2017, as this coincides with when the MOTU covered 5 million shares. Over that time period, RH's shares increased by 27%.
With the benefit of hindsight, RH shares hit a low watermark of $24.41 in late February. Whether or not RH's stock stepped over a bar of low expectations is academic, and the trading volume signaled a distinct bottom.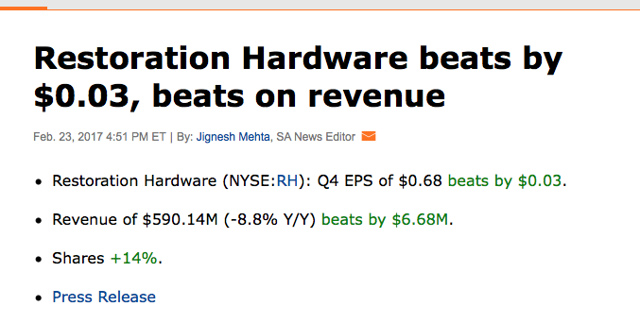 Source: Seeking Alpha
Here is the 27% return from March 31, 2017, through May 31, 2017.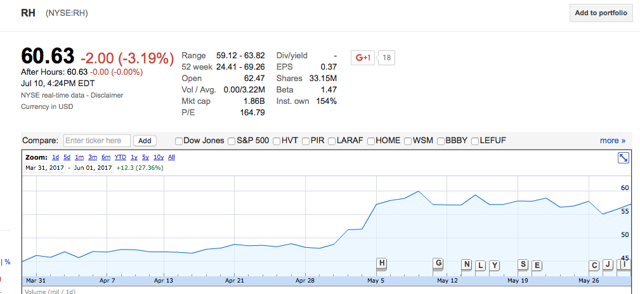 Source: Google Finance
For more context, despite the shorts covering 5 million shares, as of June 15, 2017, RH was still the 9th most shorted stock as a percentage of its float, just behind GNC.

Source: WSJ
Now, what has helped RH - and has been noticeably absent for us when it comes to GNC - has been the steady institutional ownership. As you can see, some big shops own a large percentage stakes in RH (at least of March 31, 2017)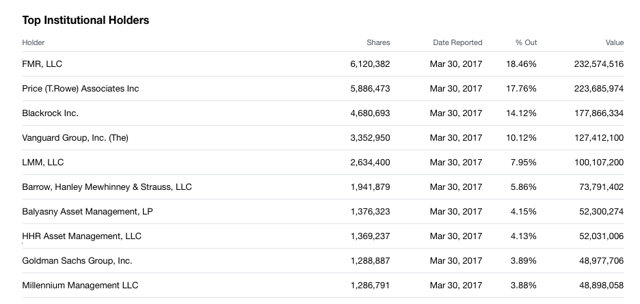 Source: Yahoo Finance
Another factor helping fuel the short squeeze, despite the clear overvaluation and questionable business model, is that RH has been aggressively buying back its own shares.
Check this out - on December 2, 2016, RH had 40.8 million shares outstanding.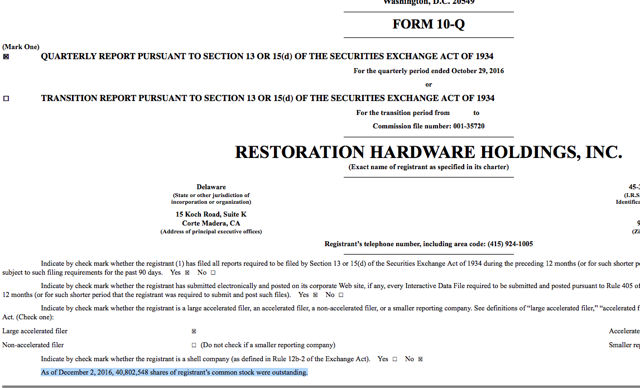 For context, as of May 31, 2017, RH only had 33.147 million shares outstanding. In other words, management bought back 7.65 million shares.
Ultimately, this buyback strategy will probably backfire, as RH doesn't have the internal free cash flow generation to justify the aggressive share buybacks, so it had to lever up its balance sheet to fund it. That said, it goes to show you that it is stupid for the shorts to attend a theatre in a venue that is very crowded and that doesn't have good lighting or enough emergency exit points.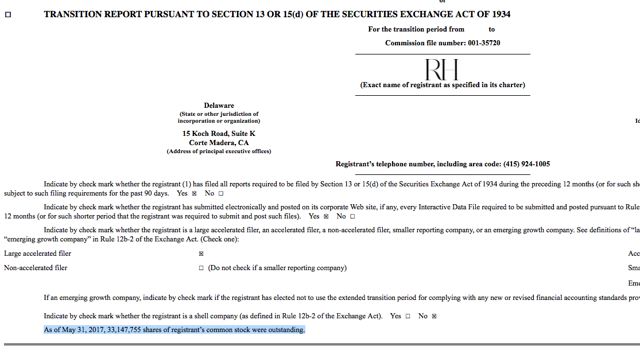 In terms of RH, as a company, its profitability deteriorated in the full year earnings period ending January 28, 2017.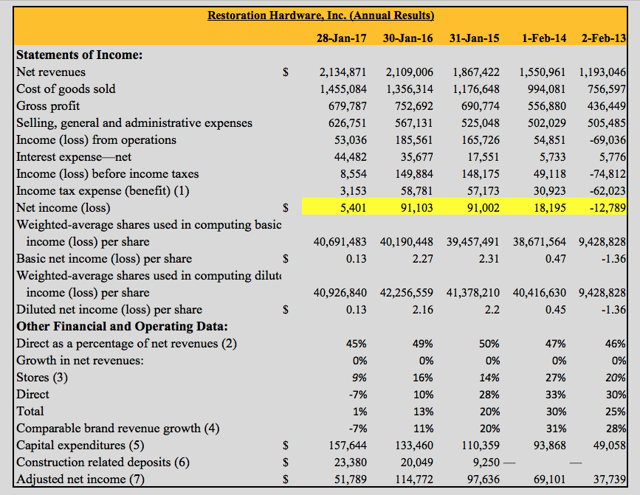 The Street is forecasting a big rebound in earnings this year, but the jury's still out.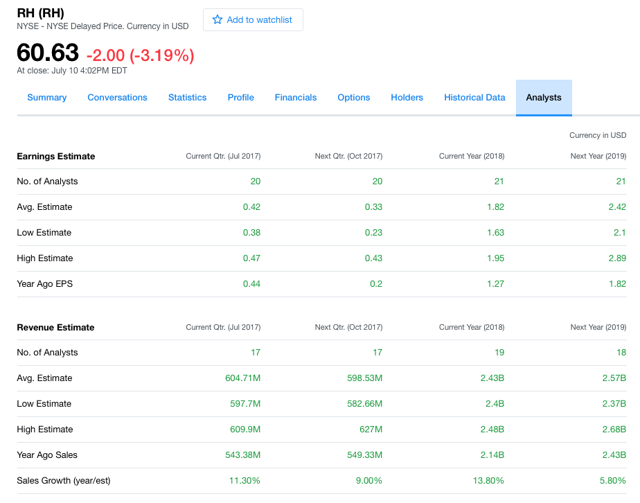 Source: Yahoo Finance
As Ioannis points out in this chart that he created, RH trades at a big premium to Williams-Sonoma Inc. (WSM).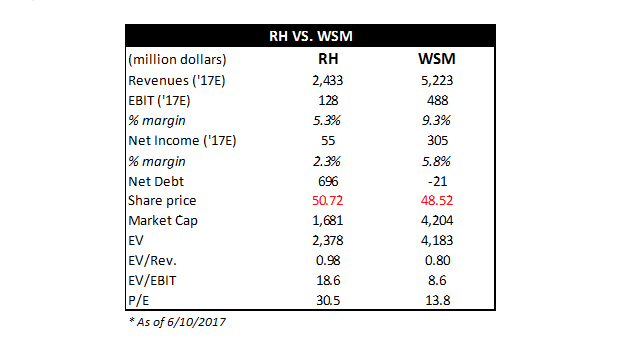 WSM owns "west elm" which is somewhat similar to RH.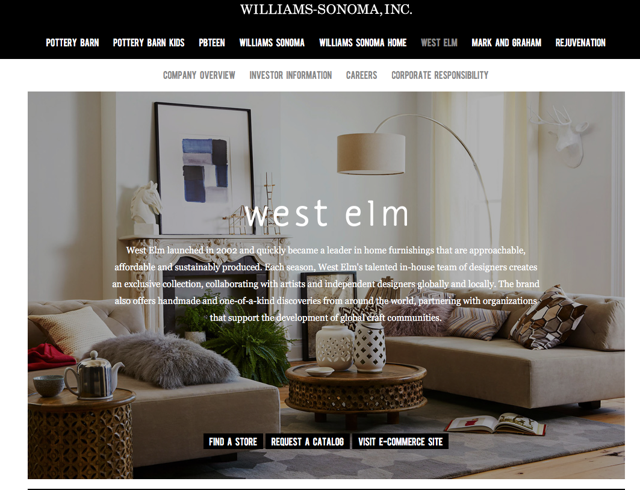 Moreover, I looked at Urban Outfitters (URBN), which owns 225 Anthropologie stores. Arguably, Anthro's brand is urban hipster and sells some higher end furniture, yet it still trades at a much lower multiple than RH.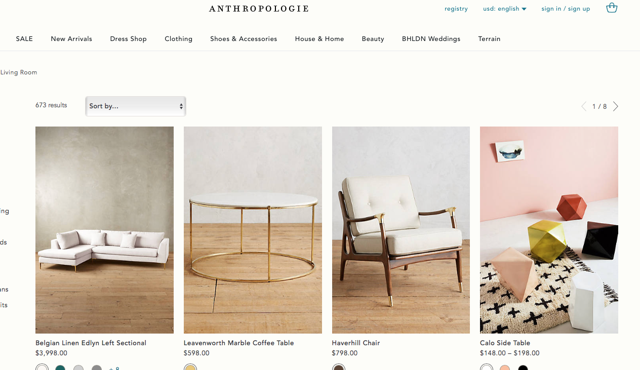 Takeaway
On an enterprise value basis, I am in agreement with the shorts that RH is overvalued and that it faces lots of competition, yet I wouldn't short it. That said, I definitely wouldn't touch the stock from the long side, at least at current valuations. However, I wrote this piece to showcase to readers how foolish it is for the MOTU to short a stock when its short interest as a percentage of its float gets above 30%.
On June 1, despite RH missing analyst estimates, in only a few weeks' time, RH's stock price quickly recovered and was trading north of $60 on June 26th. I would argue that GNC has far better fundamentals and is actually executing a turnaround. I still have no idea what the MOTU are thinking when it comes to GNC.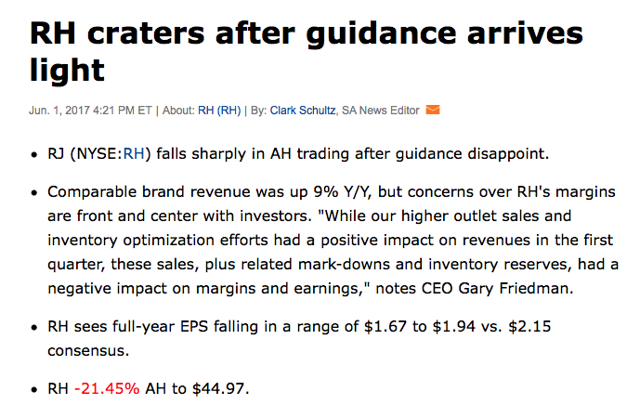 This article was written by
Idea generation, value investing, small caps and under the radar stocks.
A career wanderer and journeyman, with a passion for deep value and contrarian investing. I spent five years on the buy side in investment grade bonds on a team that managed $50 billion of assets, 3.5 years as an energy credit analyst for an energy company, and had multiple stints in corporate finance, most recently as a strategic financial analyst. I have an undergraduate degree in Finance (UMass Amherst) and earned an MBA (Babson College).
I actively invest my own capital and for a few family members.

Favorite quotes:
"When you are inspired by some great purpose, some extraordinary project, all your thoughts break their bonds: Your mind transcends limitations, your consciousness expands in every direction, and you find yourself in a new, great and wonderful world. Dormant forces, faculties and talents become alive, and you discover yourself to be a greater person by far than you ever dreamed yourself to be." (Author - Patanjali)
"Tentative efforts lead to tentative outcomes. Therefore, give yourself fully to your endeavors. Decide to construct your character through excellent actions and determine to pay the price of a worthy goal. The trials you encounter will introduce you to your strengths. Remain steadfast...and one day you will build something that endures: something worthy of your potential." (Author - Epictetus)
"Hope sees the invisible, feels the intangible, and achieves the impossible." (Author - Unknown)
"When I stand before God at the end of my life, I would hope that I would not have a single bit of talent left, and could say, 'I used everything you gave me." (Author - Erma Bombeck)
Analyst's Disclosure: I am/we are long GNC. I wrote this article myself, and it expresses my own opinions. I am not receiving compensation for it (other than from Seeking Alpha). I have no business relationship with any company whose stock is mentioned in this article.
Seeking Alpha's Disclosure: Past performance is no guarantee of future results. No recommendation or advice is being given as to whether any investment is suitable for a particular investor. Any views or opinions expressed above may not reflect those of Seeking Alpha as a whole. Seeking Alpha is not a licensed securities dealer, broker or US investment adviser or investment bank. Our analysts are third party authors that include both professional investors and individual investors who may not be licensed or certified by any institute or regulatory body.