Is TSCO a good investment partner?
The Tractor Supply Company (TSCO) is a company that is focused on being the most dependable supplier of basic maintenance products for the lifestyle needs of recreational farmers and ranchers. As a dividend growth investor searching for companies that are selling at a value I like to look at companies outside of the traditional blue chip dividend companies. One of my readers recently asked me to look at TSCO, and this article is the results of that review. The nearly 50% drop in price of the shares might represent a good opportunity to pick up the shares while they are on sale or at least well valued.
Whenever I look at making an investment, I look for 4 characteristics in the company I am investigating. As a dividend growth investor, I want companies who can pay and support a growing dividend. I have found that companies that are growing markets or sales, are growing profits, are managing debt well, and are growing the dividend over time are the ones that best help me meet my investment goals. One place I look for information on a company is its annual report. Below are the slides from the annual report I think best show how TSCO does at meeting my 4 requirements.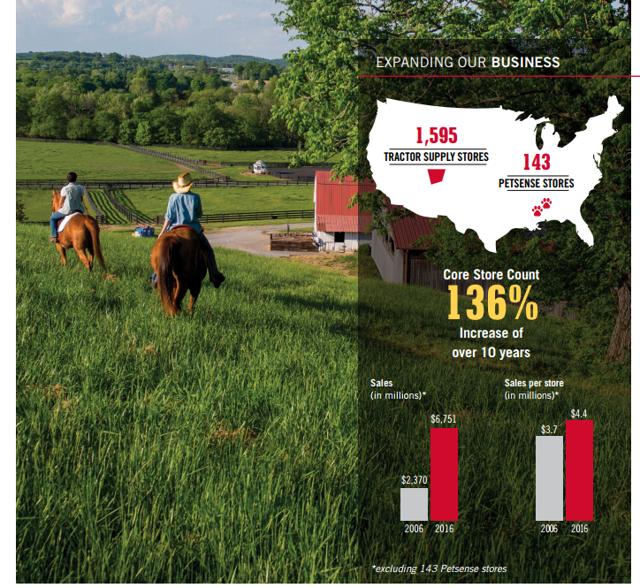 This first slide shows how well TSCO is growing their sales. I think it's quite impressive that they have managed to grow their store count by more than double. Making this even more impressive is that they have also managed to grow the sales per store at the same time. Many of the retail chains that are currently in financial trouble built a lot of new stores, which did increase their sales, but this was done at the expense of individual store performance. Also, from looking through the annual report it looks to me like TSCO builds few of its own stores and leases most of its space. This allows them to grow the store count without locking up a lot of capital in buildings.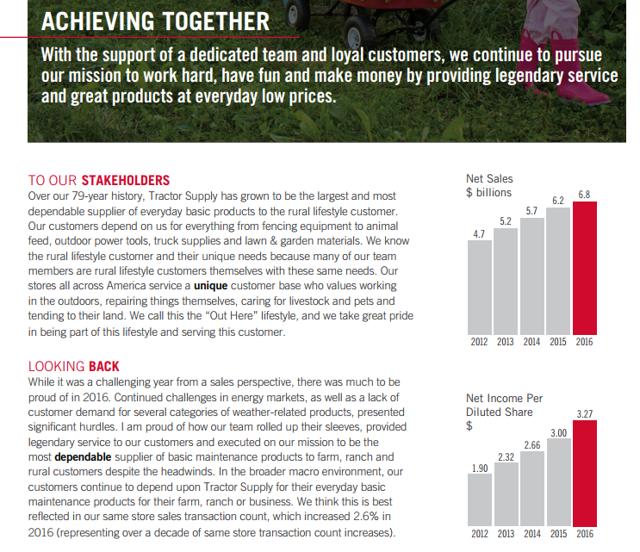 This next slide addresses my requirement that a company be increasing its profits. I particularly like that management saw 2016 as a difficult year when the only grow profit by 9% and sales by 10%. I particularly like that net income is up around 70% from 2012 to 2016. Based on this data, TSCO is clearly a company that is growing in a profitable way.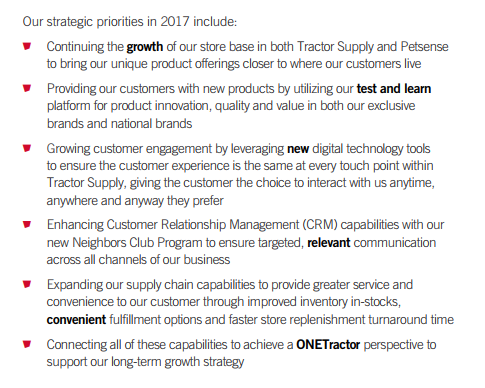 The slide above, apart from showing that management has a growth plan for the current fiscal year, shows how management plans to address some issues with e-commerce. So without ever actually saying it directly, TSCO has a plan to try to keep and even benefit from customers who might buy on-line. Being a convenient fulfillment center allows those customers who want to purchase on-line but pick-up in person to do so quickly and easily. The store benefits from in-person pickup because often enough the customer makes additional purchases. Another draw for customers to come into the store is the test and learn platform. One thing that customers seem to prefer is going to the store when they need to test or try on a product, so having a specific platform to enhance the customer experience is likely to bring in customers. I also like seeing further plans to develop digital and other methods of reaching customers. I think retail companies that have a broad range of ways to interact with customers will do the best and will beat even purely on-line competitors.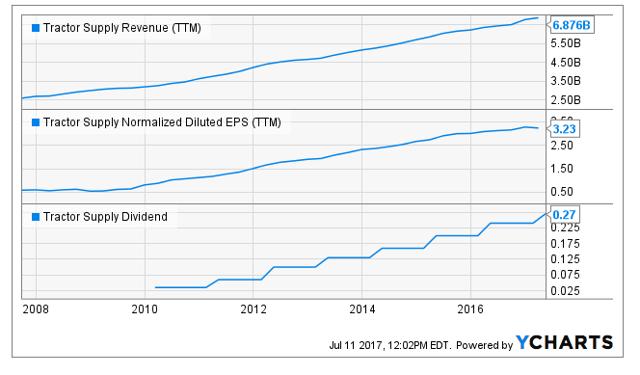 While the annual report did give me some figures for the last 5 years, I like to look back further than that. This YChart graph show a nice upward trend in revenue since 2008, in EPS since just before 2010 and in the dividend since it was started in 2010.
One characteristic that gave me some trouble to find was how the company was managing its debt. TSCO has not issued any bonds and I could find no credit rating from either Moody's or S&P. Eventually I looked into the annual report where a copy of the 10-K was included. On page 19 of the 10-K, I found that TSCO has long term debt of approximately $290 million which compares favorably with its approximately $2.7 billion in assets. Looking on page 35 I found the information below:

Debt looks to be a fairly small portion of total long term obligations, rent being far higher. From what I could see the interest rates they pay on this debt is either fixed, at a rate that is below 4%, or is swapped out to a fixed rate. Based on these numbers the debt and its handling look reasonable and I see no red flags. There does seem to be a larger payment required in 2020 and 2021 but it doesn't seem huge as it is still less than half the rent and the company has time to address it.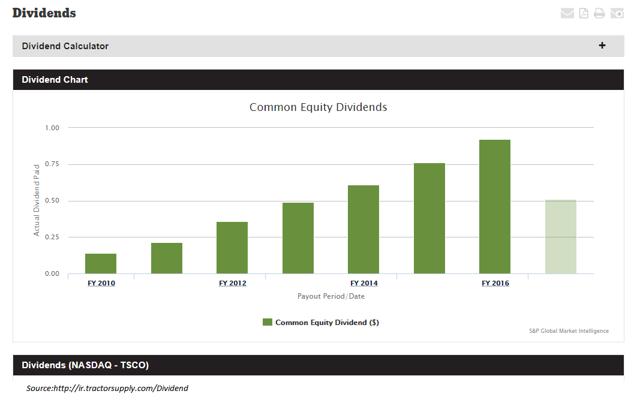 This last slide is a page from the TSCO website. I have already discussed the history of dividend increases, but this slide is important because I like it when a company recognizes that its dividend history is important to investors. I particularly like it when a company finds its dividend history so important that it devotes a page to just that, as TSCO does.
What does the latest earnings report say?
Looking at the transcript of the earnings report teleconference, I see that Q1 EPS came in at $0.46, which missed expectations by a penny. Revenues came in at $1.56 billion which also missed expectations by $10 million. The misses are small enough to not be of concern unless they are part of a pattern. So far they are not, as in the last few years TSCO has reported in-line or with modest beats of expectations. Of more concern is that while revenues grew a bit more than 6% from last year, earnings were down. Management explains this as weather related, as early in the quarter the weather was unusually warm, thus cutting into sales of winter items, and that later in the quarter the weather was unusually cold, which cut into sales of spring items. Management further explains that because of how various seasonal changes fall, rather than quarter to quarter comparisons, comparing each half year to the one a year ago is more comparable. So looking forward I will not only want to see that Q2 of 2017 beats the 2016 number but that the sum of the results from Q1 and Q2 beat the 2016 figure.
I don't see anything that will alter my assessment that TSCO is a good investment partner, although I do want to watch earnings next quarter. And since I always keep an eye on earnings anyway, I don't see this as a problem at this time.
I see no problems that would indicate a big drop in share price is warranted other than general fear of companies in the retail sector. At this time even the decline in EPS, while revenues increased doesn't seem to warrant a big drop in price. I think this just exacerbated the fear of investors already fearful of specialty retail companies. So while the price is lower, that doesn't mean it's now a buy. In the next section I will do a DDM calculation to see what a good price actually is.
What is a good price?
To figure out a good price, I do a DDM calculation using my Excel® based DDM calculator (pictured below, you can see the web-based calculator I based it on here and read a discussion on how the formulas were developed here). Looking at the David Fish's CCC List (which contains a data on companies that have raised their dividend each year for 5 or more years) I see that TSCO has been raising its dividend each year for 8 years and currently pays a yearly dividend of $1.08. In trying to figure out what rate is reasonable for dividend growth, I see several factors. Looking at the DGR numbers, they are all over 20%, which I don't think is reasonable to expect from TSCO over the next 5 years. That leaves me with the rate of the last dividend increase, 12.5%, and the projected rate of EPS growth, 13.5%. With the payout ratio below 40%, I see no reason that TSCO can't raise the dividend by the same amount as the EPS for the next 5 years. In addition, I see a pattern in the amount of the quarterly raise of one at 3 cents followed by 2 at 4 cents. Using the EPS growth rate as my initial dividend growth rate in the DDM calculation puts the next couple of dividend increases fairly close but still below the average of that trend. So I will use 13.5% for the dividend growth rate. Based on the yield I will use 3% for my terminal growth rate.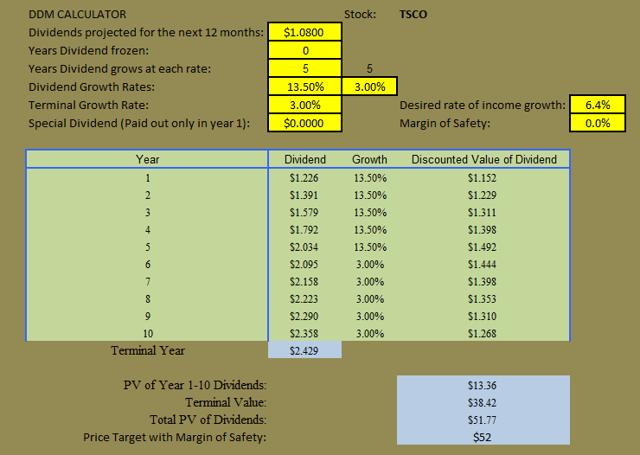 Based on those parameters, I get a NPV for the projected dividend payments of $51.77. That makes my buy price anything below $52. With TSCO trading between $50 and $51, that makes it a buy at the current market price. Given the dollar amount of the dividend has more than doubled since 2013, I don't think the 4 year average yield is useful for valuation in this case.
Can options help?
Given that my buy price isn't much more than 2-3% higher than the current market price it's possible that options could be used to make a big difference in the cost to get into a position in TSCO.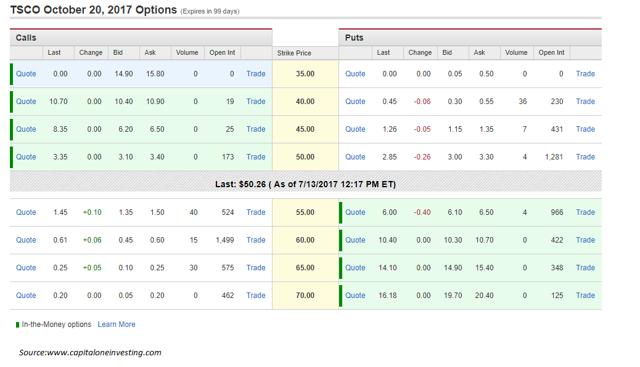 The October 20th (monthly) expiration date offers a both a nice put and a nice call contract. The premium is at least $3 (be sure to use a limit order to avoid any surprises) and with a Delta of -0.43 there is approximately 43% chance of getting the shares below the current market price. If you are willing to buy shares of TSCO, I think it's well worth collecting close to 3 years of dividends while waiting just over a quarter to see if you get the shares below the current market price. As the risk is very similar to being long the stock, be sure you are okay with paying $50 for the stock even if it is a lot lower at the expiration date. One thing to remember is that by writing the put rather than buying the shares now, not only do you risk not getting the shares, but since the next ex-div date is around August 18th, you will miss one dividend payment.
Writing a call (either as part of a buy write action or as a covered call on already purchased shares) will allow you to collect at least $1.35 premium. That is well above my buy price and with a Delta indicating about a 1 in 3 chance of the shares being called it's a risk but I don't think a big one. One additional risk to consider is that the Q2 earnings report is coming up shortly (last year Q2 was released on July 20th).
Conclusion
TSCO is down almost 50% in price over the last year. But earnings are still doing pretty good and more than cover the dividend. The price drop actually makes this stock a buy for a dividend growth investor. I will want to see Q2 EPS come in at $2.24 or higher. That figure is derived from the increase in EPS for Q2 between 2015 and 2016 and the 4 cent shortfall in Q1 EPS from the prior year.
Note: I hope you all got something out of this article. I do appreciate the time you took reading it. If you are one of those who follow me here, I appreciate it; if you'd like to include yourself amongst those individuals, please hit the "Follow" button next to my name as well as following other contributors whose work you enjoy. As always, please leave any feedback and questions you may have in the comments below.
Disclaimer: This article is intended to provide information to interested parties. As I have no knowledge of individual investor circumstances, goals, and/or portfolio concentration or diversification, readers are expected to complete their own due diligence before purchasing any stocks mentioned or recommended. The price I call fair valued is not a prediction of future price but only the price at which I consider the stock to be of value for its dividends.
Disclosure: I/we have no positions in any stocks mentioned, and no plans to initiate any positions within the next 72 hours.
I wrote this article myself, and it expresses my own opinions. I am not receiving compensation for it (other than from Seeking Alpha). I have no business relationship with any company whose stock is mentioned in this article.