Sentiment Speaks - XIV Closing In On The All Time Highs Once Again
Summary
Price action over the prior week.
Anecdotal and other sentiment indications.
Price pattern sentiment indications and upcoming expectations.
Price Action Over Prior Week
After striking a bottom on June 6th in what I had been counting as a smaller degree ending diagonal this week the XIV has continued to push higher trading 12% higher from last week's low into the close on July 13th. We are now once again within striking distance of seeing a new all-time high in both the XIV as well as the SPX. This move up off of last week's low in the XIV does fit well with the larger degree pattern that we are watching on the XIV as the preferred path is looking for another high over the June 27th high prior to making a larger degree top.
This move up off of last week's low in the XIV does fit well with the larger degree pattern that we are watching on the XIV as the preferred path is still looking for another high over the June 27th high prior to making that larger degree top.
Anecdotal and Other Sentiment Indications
Along with both the July and August futures contracts, the spot VIX Index is also trading down significantly from last week's intraday high of 13.07 closing yesterday back under the 10.00 level at 9.90. The July VIX futures contract expires next week and as long as the SPX is able to hold over it's shorter term support level and continue to grind higher, then we should see both July and August futures move lower into next week's OPEX. This will then keep the pressure on the XIV to continue to follow through on it's own shorter term bullish pattern giving it enough juice to potentially propel it back over that June 27th high.
Price Pattern Sentiment Indications and Upcoming Expectations
In the article, I wrote last week I had focused on the larger degree pattern on the XIV. In that article, I had noted that the XIV is currently trading in our longer term target zone which currently resides at the 73.45-99.61 zone. I also had said that:
"…we do have what could be enough waves in place on the XIV to consider a top being in place for this large degree third wave right now at current levels. With that being said from a purely structural perspective I would prefer to see yet one more high back over the 87.54 level prior to topping in this larger degree third wave"


This statement remains to be the case this week but I will note with the move higher off of last week's low and given that we are now within 1 percentage point of reaching the 87.54 level the probabilities of following through and moving back over the 87.54 level prior to seeing the top for our larger degree top are quite high at this point in time. Furthermore, with the break of the 88.18 level, we have now broken through all of the smaller degree Fibonacci resistance levels that would have made the alternate path a more reasonably probable outcome.
On these shorter timeframes, I really would prefer to see the XIV hold over the 83.98 level to follow-through on it's most immediately bullish path and I expect to see the XIV hit the 87.76 -91.53 zone into next week with the potential to even see a move into the mid 90's prior to making it's final larger degree top. A break of this 83.98 level would be an early warning sign that we may not be following through on our impulsive path up off of last week's low. Furthermore, a break of this level would complicate the smaller degree structure a bit and open the door to several other alternatives on this timeframe. A break of 83.98 would not necessarily suggest an immediate breakdown all on its own but again it would complicate things a bit on the smaller degree timeframes.
Although I am still looking for the smaller degree pattern to fill out and take the XIV to higher levels prior to making this larger degree top, I do have to caution that both the XIV and the VXX are trading in the final stages of a potential Ending Diagonal pattern. Follow-through on this pattern would likely see a sharp and deep reversal initially down towards the 60 area on the XIV and potentially even lower before the entire corrective wave structure is completed.
So as long as this Ending Diagonal pattern remains in place I will remain extremely cautious in attempting to trade XIV to the long side or volatility in general to the short side. With that being said I do still think it is a bit early to jump onto the long volatility bus just yet, but I am certainly keeping my eyes on the smaller degree pattern that to give us the signal that the setup is in place to do just that. Until that setup does present itself I am content sitting on the sidelines with my guns holstered and powder dry.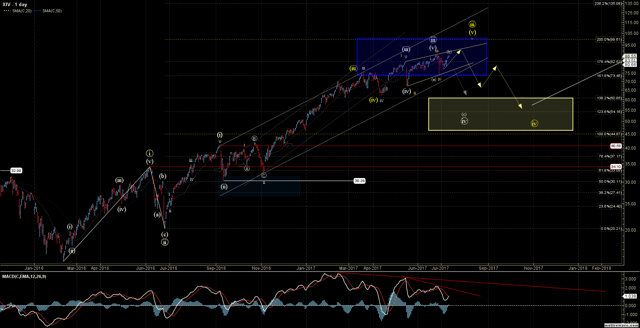 This article was written by
The #1 Service For Market and Metals Direction!
Michael Golembesky is a senior analyst at ElliottWaveTrader.net who focuses on the both the Forex Markets as well as the U.S. Equity and Volatility markets.
Mike is a renowned practitioner and educator in applying Elliott Wave analysis to trading forex and volatility instruments. He is a popular speaker at financial forums and conferences in the U.S., including The Traders Expo and The Money Show, and widely syndicated on sites including MarketWatch, Seeking Alpha, and Nasdaq.com.
Mike can be found in the main room at ElliottWaveTrader.net as well in the volatility (VIX room) and the Forex service within ElliottWaveTrader.net. Along with analysis on the XIV and VXX ETFs, the volatility service also has a model portfolio and trade alert component.
Michael is also a contributing analyst to the Market Pinball Wizard.
Analyst's Disclosure: I/we have no positions in any stocks mentioned, and no plans to initiate any positions within the next 72 hours. I wrote this article myself, and it expresses my own opinions. I am not receiving compensation for it. I have no business relationship with any company whose stock is mentioned in this article.
Seeking Alpha's Disclosure: Past performance is no guarantee of future results. No recommendation or advice is being given as to whether any investment is suitable for a particular investor. Any views or opinions expressed above may not reflect those of Seeking Alpha as a whole. Seeking Alpha is not a licensed securities dealer, broker or US investment adviser or investment bank. Our analysts are third party authors that include both professional investors and individual investors who may not be licensed or certified by any institute or regulatory body.