Investment Thesis
Semiconductors have been the "must have" investment for the past 18 months, however, the focus has been on key players such as NVIDIA Corporation (NASDAQ: NVDA) and Advanced Micro Devices, Inc. (NASDAQ:AMD) - both showing well over 100% upsides. But the company that most likely made your High school calculator, Texas Instruments Inc. (NASDAQ: TXN), is another tech name you should have your eyes on. Their core business of analog chips has fueled a dividend yield that has nearly tripled in just five years and a payout of 2.5% isn't something to turn your nose up at.
What Does The Sox Index Rise Tell Us?

(Source – Google Finance)
The "boom" we currently see is bigger than your average in the cyclical chip industry. In just the past 12 months, the Philadelphia Semiconductor Index (Sox) is up 64% compared with a 23% rise in the S&P 500. The index tracks the sector's 30 biggest companies, so we can thank the likes of NVIDIA for the ridiculous growth seen since early 2014. Over the next two years, Credit Suisse estimates the index to surpass its dotcom bubble peak. Despite the Nasdaq Composite surpassing its 2000 peak in 2015 and Microsoft reaching theirs last year, the bubble could be seen clearer in the semiconductor industry than elsewhere and hence this is a huge milestone. As the consumption of electronic components for safety, navigation, infotainment, and fuel efficiency continues to rise, another fast-growing emerging market is automotive - this is completely disregarding the hugely popular electric car movement, another thing that TI can use their products for. Along with TI's secular strength in this EM, its chips are used in most day-to-day devices, making its earnings a good proxy for the demand across the economy. Forward momentum is almost a given so for companies such as Texas Instruments, we can expect stock prices to steadily increase along with that substantial dividend yield.
Electric Car Market
The global electric vehicles market is estimated to grow at an impressive CAGR of 15.6% in terms of revenue generated over the next 15 years; this is primarily driven by the growth of eco-friendly alternatives and the rising regulations that automotive companies face on emissions. Almost all automotive companies with international outreach now manufacture and supply electric vehicles, showing the already vast space that electric vehicles have created. The world leader in analog semiconductor sales has historically not been renowned for technical innovation in the automotive sector, but more recent developments point to TI becoming a key player.
One such development is the availability of TI's new 0.25 um, high-voltage analog process technology (LBC7HV). The first products using this process technology were released in November 2012. Able to support operation up to 700 volts, the LBC7HV process enables TI to now produce products suitable for the higher voltage applications in the EV environment.
Growth in this sector is not to be missed with Bloomberg predicting "Electric vehicles to be 35% of global new car sales by 2040." The fact that TI is already becoming a big name in this industry is promising to say the least, and I can't imagine that their innovation and product line will cease to exist in the coming years.
Multiples Valuation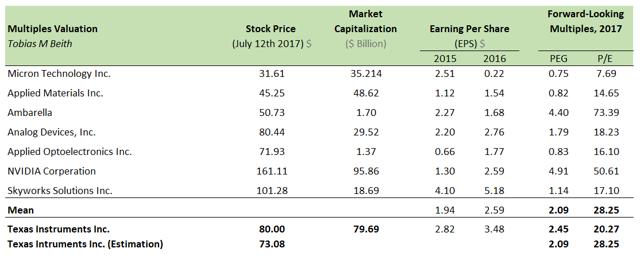 (Authors Multiples Valuation, Data – Financial Times & Nasdaq)
Comparing Texas Instruments against its rivals using a basic multiples model, it was clear to see that despite TI currently sitting with a lower P/E ratio than the mean, its metrics weren't all that bad. Looking forward, although its P/E currently stands just under 21, historically looking at previous ratios, this is reasonable but Texas Instruments is not to be considered as a value stock. Valuing the company compared to its peers yielded a share price of $73.08; this isn't far off the price that a DCF valuation points Texas Instruments towards, but nevertheless, observing the 5-year outlook via Monte Carlo simulation makes this still a promising investment.
Monte Carlo Simulation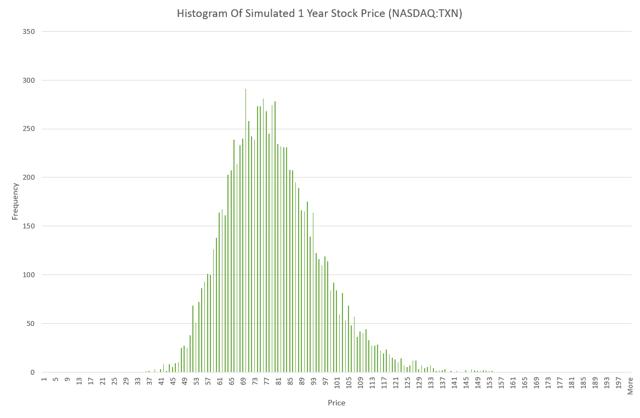 (Authors Monte Carlo Simulation, Data – Yahoo Finance)
Analyzing the risk of investment at its current price further, I carried out a Monte Carlo simulation to provide a set of probable outcomes based on the previous year's data. As seen in the histogram above, normality exists around the $73-$89 region making Texas Instruments an expensive stock at the moment – however at $70 this would be a perfect buy. Although Monte Carlo simulation ignores factors that aren't built into the basic price movement (Macro Trends, Company Leadership etc.), this is a good way of observing future stock performance based on a "perfect market". Realistically, with the sector that Texas Instruments is sitting within, tapping into new areas such as electric cars, and focusing on the Internet of Things ((IoT)) enables the company to keep up with the sector growth and can only lead to upsides given its current market share.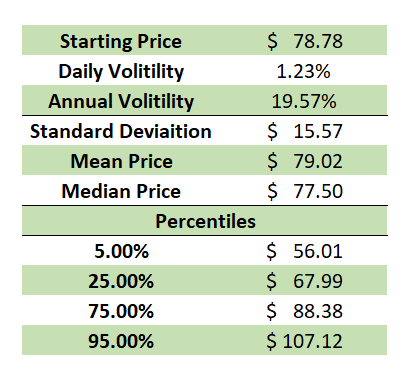 (Authors Monte Carlo Simulation, Data – Yahoo Finance)
After simulating 10,000 independent trials, the prices displayed are more than accurate enough to draw conclusions from. We can be 95% sure that the price won't drop below $56 in the coming year and also that it won't exceed $107 unless something major changed investor confidence. Now looking at the mean and median values, each is below today's trading price which is why I suggested waiting to invest at $70 - however one could also invest and simply reap dividend payments and not worry about strong share price growth. Running the simulation for the next 5 years pointed towards a price per share of $130-£150, so long term growth is something to consider.
Conclusion
TI serves a wide range of end markets that balance things like seasonality within the personal electronics business with their automotive segments. The company serves individuals, corporations, industrial customers, and infrastructure providers which makes its revenue stream relatively steady despite the vigor in each of the markets it's exposed to. This is crucial for Texas Instruments due to the huge facilities under ownership that come with high running costs resulting in the balance sheet being heavily leveraged. At the end of 2016, the net debt position was $2455m; since the debt cap is just 25.6%, this is not a massive risk. TI operates in potentially the most competitive industry in the market. As displayed above, there are competitors of all sizes, such as Broadcom, Micron, Analog Devices and Intel. The fragmented nature of the industry allows firms to find niches where they can concentrate their efforts, and given their differentiated product line, TI is here to stay.
Recommendation - Buy at $70 and Hold
Current Price - $79.99
Elsewhere on Seeking Alpha by the same author:
Disclosure: I/we have no positions in any stocks mentioned, and no plans to initiate any positions within the next 72 hours.
I wrote this article myself, and it expresses my own opinions. I am not receiving compensation for it (other than from Seeking Alpha). I have no business relationship with any company whose stock is mentioned in this article.