If you thought things have gone badly for Toshiba (OTCPK:TOSBF) so far, it's about to get worse.
As this recent article here notes, Western Digital (NYSE:WDC) was granted a court order "requiring Toshiba to give Western Digital employees access to chip samples and related shared databases" after Toshiba had moved to block Western Digital's access to certain databases starting 28 June. This decision is significant for a number of key reasons - 1) It prevents Toshiba from impeding the shipment of engineering wafers and samples to WD, 2) it allows WDC employees to access shared databases (Toshiba had previously attempted to block "certain" employees) and 3) the restraining order was ruled upon by the same judge who is about to rule on the 14th July injunction hearing - Harold Kahn.

(Source: San Francisco Superior Court)
With the 14th July hearing already upon us, the Harold Kahn factor is a big swing factor here. Here's a recap of Toshiba's key arguments per legal filings in early July:
#1 - The California court has no jurisdiction
This seems flimsy at best. For one, Toshiba's breach goes back to the Master Agreements, which explicitly state that they "shall be governed by and construed in accordance with the internal laws of the State of California".
Here's an excerpt of key points from the Master Agreement's anti transfer provision:
"Except as otherwise permitted by the [Operating Agreement] and this Agreement, [a Party] shall not Transfer or permit any of its Affiliates to Transfer all or any portion of its… Shares (or all or any portion of its interest in any Affiliate through which it beneficially owns its… Shares), to any Person without the consent of the other Party..."
There are no exceptions in the anti-transfer provision in the Master Agreements, which are governed by California law.
Meanwhile, Toshiba's case is built on a line from the Operating Agreements, which state that "they shall be governed by and construed in accordance with the laws of Japan". But this would contradict the specific details in the overall Flash Ventures' Operating and Master Agreements with regard to disputes handled under arbitration in San Francisco, CA.
#2 – TMC's JV Ownership
Toshiba's other key argument is that the "interests" at dispute are not held by Toshiba Memory Corp. (TMC), thus TMC should not be considered party to this litigation. Toshiba claims that FV is merely a financing vehicle and has no claim over the land, facilities, IP, R&D, etc.
I wrote about this issue here and here. Here's a brief recap:
"Here's how Toshiba attempted to circumvent the agreement - 1) it would spin off its JV interests to the newly formed affiliate, and 2) it would sell an interest in that affiliate to a third party.

Effecting a purported change of control of that affiliate is really Toshiba's last ditch effort to get a better hand, but make no mistake, Toshiba has breached the agreement."
Followed by:
"On June 2nd, Toshiba reversed its prior move, reverting its NAND JV assets back to the parent company from the subsidiary Toshiba Memory Corporation ("TMC") that it is trying to monetize."
Here's the fact - the premise on which this argument is built is a violation of the agreements in the first place. By transferring the key assets into a separate affiliate entity without WDC's consent, Toshiba has already breached the agreements.
Here's an excerpt:
"No Unitholder (nor any permitted transferees of any Unitholder) may transfer any interest in the Company, including any of such Unitholder's units, to any Person, except by a Change of Control; provided, that any unitholder may Transfer all of its interest in the Company, including all of its Units, to any one (1) of their respective Affiliates, with the prior written consent of every other Unitholder, which consent shall not be unreasonably withheld."
Besides, Toshiba has already shot itself in the foot with this argument. To understand why, here's an excerpt from Toshiba's legal filings:

(Source: San Francisco Superior Court)
By arguing that FV generates only $13m and carries a book value <$1b, WDC could thus be obligated to buy out Toshiba's share of the JV at precisely that (vs. the ~$18b INCJ bid) in an "event of default" (which Toshiba has already triggered by failing to "uncure" transferring JV assets to Toshiba Memory without WDC's consent).
Now, ignoring Toshiba's move to revert the JV assets back to its parentco (an implied validation of WDC's consent rights) and the absurd notion that SanDisk has pumped in billions in capex for share in a mere financing vehicle, this claim should not even exist as it was built on a blatant violation of the agreements in the first place.
#3 - WDC has already waived its consent rights
This claim goes back to a December 4 Undertaking argument in which WDC proposed that Toshiba relinquishes its consent right over SanDisk's transfer of its Flash Ventures Interests to wholly-owned subsidiaries of Western Digital. Here's an excerpt of the draft Undertaking:
"Notwithstanding, anything to the contrary in any Underlying Agreements, for a period of two years following the date first written above, Toshiba's and SanDisk's direct and/or indirect interests in the JVs may be freely sold, transferred, and/or assigned to…"
This would be a convincing argument - if it was true.
Here's what really happened - WDC and Toshiba had an "Undertaking" in place where both parties would waive their consent rights. But, when WDC learned of Toshiba's intention to sell off its share of FV, and before any agreement was signed, WDC had objected to the draft. Per WDC:
"Our rights to consent to any transfer of JV interests must be preserved, including the consent rights described in Section 2.3 of the last draft of the Undertaking. Accordingly, we propose removing Section 2.3 from the Undertaking, thereby preserving both parties' consent rights as they currently exist in the relevant Master Agreements and Operating Agreements". (Source: San Francisco Superior Court)
This is important for two reasons - 1) WDC had already intentionally preserved its consent rights a few months ago for this very reason - to corner Toshiba and get FV on the cheap, and 2) Toshiba has been aware of WDC's playbook for a while now but has not been able to effectively counter WDC's consent rights in any way.
Just how weak is Toshiba's argument here? The overwhelming evidence lies at the top of the pages of Toshiba's provided "Undertaking" exhibits:

(Source: San Francisco Superior Court)
The Hynix factor
Make no mistake about this - Hynix's (OTC:HXSCF) participation is a major problem for Toshiba. How big? Toshiba has left Hynix out of not just one, but two press releases referencing the INCJ bidding consortium.
Toshiba's rationale is that Hynix is simply a loan provider and will not be receiving voting rights. How absurd is that? The open secret is that, while Hynix seems to be currently hiding behind Bain Capital in the consortium, the company is pushing for a bigger role in the future.
Here's a great illustration of the "real" structure as it stands: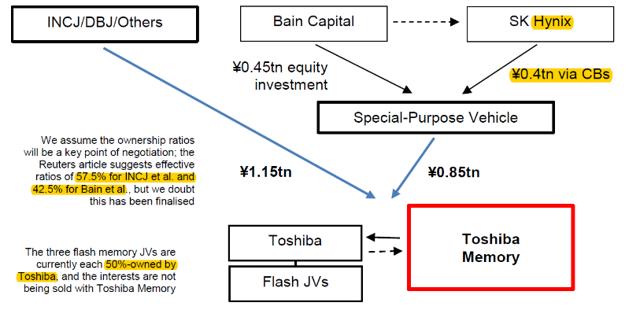 (Source: Macquarie)
INCJ is currently assumed to be the majority contributor of capital with Hynix set to contribute through convertible bonds. Now, with the exception of Hynix, every other player in the consortium is a financial buyer with zero strategic interest in the asset. That's a problem for Toshiba, WDC and Japan, Inc. not just near term but especially once the PE guys exit in a few years.
For one, Hynix has a history of IP theft with the very same party it is buying from - Toshiba. Here's an excerpt from my previous article:
"After all, it was only 3 years ago on July 21 2014 when SK Hynix publicly disclosed in a regulatory filing that the company had received official notice of a lawsuit from Toshiba (filed earlier in March), seeking W1.1tn in damages over the alleged leak of NAND flash technology.

The 2014 lawsuit wasn't even Toshiba's first legal scuffle with SK Hynix; it was the second such incident. In 2004, Toshiba sued SK Hynix for violations of its memory chip patents, but eventually resolved the litigation through a licensing deal in 2007."
Second, Toshiba's claim that SK Hynix is being altruistic enough to provide debt assistance in exchange for zero interest in the asset is rubbish. According to the Hynix CEO himself, Hynix has no plans to relinquish its aim of obtaining an equity stake in the business. In fact, his insistence that its investment in the flash memory unit be via convertible bonds, which could lead to an equity stake, is threatening to sink the deal.
Thirdly, there is a huge conflict of interest at play here. Hynix is not committed to obtaining its flash wafers from Yokkaichi, having a competing NAND flash memory business in place already. In fact, Hynix would have to choose between investing in its own facilities or Fab 6 and other JV facilities where Hynix would have only a partial interest. No prizes for guessing the outcome there. Hynix's most likely motive behind the transaction is IP. As things stand, Hynix's technology is one or two years behind Toshiba-SanDisk's (and has been for a while). Participation in this transaction would give Hynix access to FV's more advanced IP, which would benefit Hynix at the expense of the remaining JV partner, WDC.
The question remains - why did Toshiba select Hynix in the first place? If the court filings are to be believed, it's not good. What Hynix is doing behind the scenes is as follows - 1) Promise existing Toshiba management new jobs, 2) grant assurances of employment to key Toshiba personnel post transaction and 3) promise to grant equity interests to key Toshiba personnel if the transaction goes through. Meanwhile, WDC seems to have focused on the rank and file employees, which while noble hasn't quite appealed to key Toshiba decision makers as much.
The Tiff With Broadcom
Another interesting tidbit from recent filings is WDC's revelation regarding its opposition to Broadcom's (NASDAQ:AVGO) participation in the bidding process (recall that Broadcom was one of the highest bidders in the initial round). As it turns out, the problems began after LSI was acquired by Broadcom (Avago). WDC claims that Broadcom cut off its supply of HDD preamplifiers (preamps) when it learned that WDC had been qualifying a new preamp supplier, demanding that WDC agree to a glide path to acquire 100% of preamps from it. Broadcom later backtracked, but the experience has left WDC in vehement opposition to any Broadcom participation in the NAND JV.
WDC To Win - Eventually
The overhang over WDC is unwarranted. If WDC's watertight case doesn't convince you of a very high probability win at the injunction, bear in mind that the injunction will be presided by the same judge who ruled for the American company earlier for the restraining order. So, the base case in my view is that WDC wins the ruling.
The key question though will be whether Toshiba will be ordered to suspend the sale of the joint venture interests only or the entire JV. And if it is ordered to suspend the sale process, whether Toshiba will actually abide by the court ruling considering the extremely tight March 2018 deadline for Toshiba to remain a viable public company.
Thinking big picture, if Hynix (IP theft), Broadcom (poor WDC relationship) and Hon Hai (regulator disapproval) can't participate, that leaves WDC in the clear driving seat without even considering the legal implications here. The outcome of today's ruling, which I believe will be in WDC's favor, should scare off potential bidders anyway, which would give WDC exclusive negotiating rights over Toshiba's share of FV. It should then come down to what terms WDC will be able to squeeze out of an increasingly desperate Toshiba.
In any case, it's a great time to be invested in WDC.
Disclosure: I am/we are long WDC.
I wrote this article myself, and it expresses my own opinions. I am not receiving compensation for it (other than from Seeking Alpha). I have no business relationship with any company whose stock is mentioned in this article.
Editor's Note: This article discusses one or more securities that do not trade on a major U.S. exchange. Please be aware of the risks associated with these stocks.