We said in our articles "Fight till last man standing at Bank of East Asia" and "Hang Seng Bank, a resilient play in Hong Kong, for now" that we did not expect the Hong Kong economic situation to deteriorate in the short term.
Our assessment was based on the evolution of the Chinese economy. We did believe that the fundamental imbalances in the Chinese economy should become apparent in the midterm, combined with a devaluation of the yuan and distress in the Chinese and Hong Kong banking systems.
We wrote at that time that excessive investment in fixed capital, an economy imbalanced towards exports, fundamental credit allocation problems and political interference in the economy made a deep restructuring unavoidable.
Nevertheless, the policy of lubricating the economy with public debt and private debt controlled by public entities - mainly banks - has continued in mainland China. This policy has optically stabilized GDP growth but has increased public and private debt significantly too. Chinese public debt has increased from 34.3% of GDP in 2012 to 46.2% in 2016, while private debt has also increased significantly.
The situation in China exemplified the problem of calling the top of a bubble: it is very difficult as bubbles may - almost till the breaking point - always be inflated a bit more.
As China and Hong Kong are the same country, the policy described above in Mainland China has fueled Hong Kong GDP. Yearly GDP growth has shot up from 2% at the end of 2016 to current levels of 4.3% - according to the latest data -.
Therefore, selling pure upside volatility in Hong Kong banks, Bank of East Asia (OTCPK:BKEAF) and Hang Seng Bank (OTCPK:HSNGY), even if it still makes sense on a 3 year horizon, might be painful in a shorter time frame.
A more palatable option would be to exploit differences in fundamental growth expectations between Hong Kong and the US, selling upside volatility in Hong Kong banks to buy upside volatility in US banks, always keeping exchange rates covered. This is a carry trade that could be very profitable in the midterm.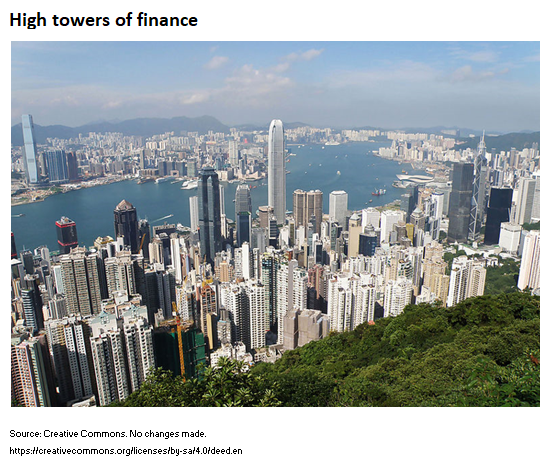 The Chinese economy, stabilized with more debt
Chinese public investment has increased significantly since 2012 (Data from Datastream, Bloomberg, Trading Economics), steepening the already important path upwards that can be seen since 2003. This has generated a significant budget deficit - around -3.8% of GDP at the end of 2016 - that is covered with public issuances of instruments, usually subscribed by Chinese banks.
The policy has allowed Chinese GDP growth to stabilize around 6%. Even if the manufacturing sector in China is probably in a recession already, public investment impacting services, construction and transportation is probably keeping nominal growth numbers high.
On top of funding the State, Chinese banks have ramped up credit to SOEs - big publicly owned companies - and to the whole Chinese economy. We can see this in the balance sheet of Chinese commercial banks, with a sustained loan growth since 2015 of around 14%, very high even for a developing market.
Finally, tougher capital control measures have significantly curbed the flight of capital and new initiatives related with the issuance of Chinese companies stock in Hong Kong try to facilitate fresh investments in mainland China while preventing foreign capital invested in the mainland from leaving.
The result has been a stabilization of Chinese growth rates, as explained above. The crux of these measures has been a worsening of basic imbalances in the Chinese economy: inefficient fixed capital investment, negative real rates of returns on invested capital, inefficient banking credit allocation.
This situation cannot continue forever, but it may certainly buy some time.
… and its impact on Hong Kong
Hong Kong's economy is closely linked to China in many ways; from a manufacturing centre Hong Kong has become a top Asian financial centre and a Real Estate emporium (See article "Hang Seng Bank, a resilient play in Hong Kong, for now".
That means investment opportunities for Hong Kong banks are limited within the territory mainly to financial ventures and real estate development projects; as a consequence Hong Kong is prone to real estate and banking boom and busts, usually triggered by events in mainland China.
So far the Chinese economy is being kept artificially stable but, as we have seen above, underlying imbalances are increasing dangerously. Therefore, the impact on the Hong Kong economy and Hong Kong banks of worrying Mainland Chinese underlying trends will be kept under the surface for a while, but it will eventually resurface.
We can see that in the numbers of the Hong Kong economy (Data from Bloomberg, Datastream, Trading Economics). Optically they look good, with a GDP growth of around 4.3 percent inter annual, low unemployment - 3.2% -, controlled inflation - 2% - and healthy public accounts - 38.4% public debt over GDP and a government budget surplus of 4.8% of GDP at the end of 2016 -.
Nevertheless, the small size of the Hong Kong economy and its traditional dependence on China means the situation could quickly unravel. An interesting way of seeing the underlying dynamics in Mainland China - Hong Kong is studying the impairments evolution of Hong Kong banks exposed to Mainland China, particularly those of Bank of East Asia and Hang Seng Bank.
Bank of East Asia is the Hong Kong lender with more extensive lending in Mainland China and has traditionally presented efficiency and profitability issues; impairments related with China exposures have multiplied by 10 since 2013, from around HK$280 million to current levels of HK$2.8bn; worryingly, the rate of impairments increase is still very high.
Bank of East Asia could hold a loan book of around HK$180 in mainland China, backed by a consolidated equity of HK$86bn. Therefore, if impairments in China keep piling up a significant hit on equity levels is a possibility, even taking into account profits of HK$3.8bn in 2016.
Bank of East Asia's impairments have increased in Hong Kong too but a slower path, from HK$159 to HK$550 million, or 3.4 times.
Hang Seng Bank shows a more positive impairments evolution, even if negative as well, with loan book impairments multiplying by 2.44 times between the period 2013 - 2016, mainly due to non performing loans from Mainland China.
We may infer from this analysis that, despite the nominal high growth rate of the Chinese economy, bankruptcies and funding problems are expanding quickly in Mainland China; this trend has not yet had a visible impact on Hong Kong's macro numbers, but impairments from Hong Kong banks loans granted to HK companies do show a significant accumulated increase during the last three years. This is a growing trend that seems to be worsening.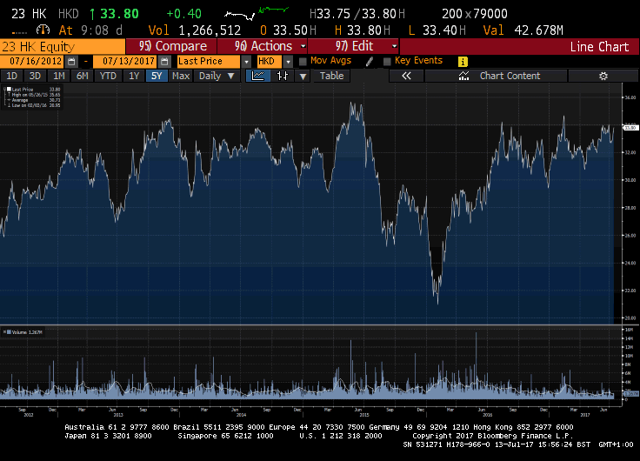 Hong Kong banks and stock price
How have Hong Kong banks stock prices reacted to the reality described above? Since we published our articles on Hong Kong banks in mid 2016 global bank stock prices have increased 35 percent in the US and 40 percent in Europe.
Interestingly enough, Hang Seng Banks index has increased only 4 percent while the generic Hang Seng has recovered around 20 percent of its value from that date.
Looking at individual names, Bank of East Asia stock price has barely moved from its former HK$30 to current Hk$32.5; for Hang Seng Bank the stock price rise has been bigger, from HK$45 to HK$52, or a 12 percent increase.
In our view, these price dynamics mean that the market has calibrated implicit problems within the Hong Kong economy and, as a consequence, within its banking system.
Nevertheless, as investors expect these problems to manifest later on in the P&L of banks prices have not fallen yet; but they have not increased either.
What is clear is that, even if the Chinese economy manages to keep its GDP growth afloat for a while, Hong Kong banks should continue suffering via manufacturing and services non performing loans from Mainland China.
Therefore bank stock prices will at best increase moderately, particularly compared with commercial banks operating in an economy with far better fundamentals and an important potential upside such as the American one.
Therefore, a carry trade involving the sale of upside volatility at Hang Seng Bank and Bank of East Asia to buy call options at leading US banks Bank of America (NYSE:BAC) and JPMorgan Chase (NYSE:JPM) could be lucrative for a banks investors in the context of a diversified portfolio. Locking the HKDUSD exchange rate the trade may be very profitable during next 3-5 years.
Disclosure: I/we have no positions in any stocks mentioned, and no plans to initiate any positions within the next 72 hours.
I wrote this article myself, and it expresses my own opinions. I am not receiving compensation for it (other than from Seeking Alpha). I have no business relationship with any company whose stock is mentioned in this article.
Editor's Note: This article discusses one or more securities that do not trade on a major U.S. exchange. Please be aware of the risks associated with these stocks.