Zymeworks: Synonymous With Best In Class?
Summary
Newly IPO'd Zymeworks promises to design '"best in class" antibody and protein therapeutics.
Using bioinformatics and computational design, the company is targeting HER2-cancer therapies with ZW25 and ZW33.
An impressive list of collaborations has potential milestones far above $1 billion.
Early stage gives plenty of time to keep watch on ZYME.
We're not yet committed to buying the stock, but placing it on watch.
What Is Zymeworks?
The Canadian company Zymeworks (NASDAQ:ZYME) recently IPO'd on NYSE and TSX, with a closing of $58 million on 4.5 million shares, followed by an over-allotment of 394,467 additional shares sold for an extra $5.2 million.
However, at first glance it is difficult to really probe what makes ZYME different. Targeting HER2 therapies certainly isn't novel or unique, but the company insists that it can make best in class therapies using an engine to design antibodies and proteins in silico (on the computer). The engine, ZymeCAD, is depicted as a new breakthrough in biological design - having what the other platforms (Schrödinger, Amber, etc) do not.
Whether that is actually the case is difficult to see 1st hand - everything is proprietary and they do not out-license the software. Instead, the company seeks to make collaborations with Big Pharma to produce in-house therapeutics that rival the current best-in-class.
ZymeCAD engine has been utilized to make multiple platform technologies.
Collaborations
The collaborations, which are extensive and can be viewed here, paint a very bullish picture for the potential of the company's platform.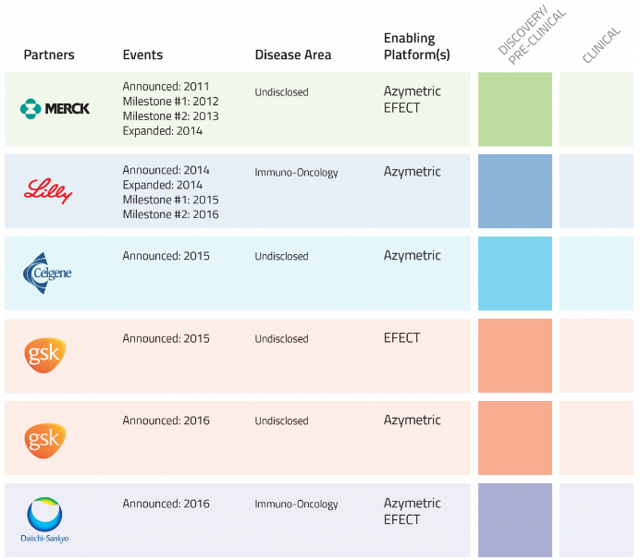 The Lilly and GSK collabs are the largest, with GSK being potentially the largest and looking at a minimum of 4 targets, with milestones totaling over $1 billion. However, we find this number to be unlikely, but still, as we will discuss later, model approximately 2 targets being followed into clinical phase trials.
At any rate, this amount of collaborations at IPO rivals most of what we're familiar with. Given the platform-value of ZYME, we may see more partnering later this year. Most of these partnerships were announced between Oct-Dec each year, so we intend to take a position in ZYME before then. It is worth noting that Pieris (PIRS), which has skyrocketed in the past year, has a similar platform-based value, and boasts 7 partnerships in pre-clinical and clinical studies. In some respects we believe PIRS and ZYME are good comparisons. Both are valued at high discount compared to potential.
ZW25 + ZW33
Zymeworks' proof of concept is definitely going to be ZW25, which intends to be better than any HER2 antagonists on the market. However, ZW25 is likely one reason the stock has been trading down since IPO. At ASCO in June 2017, (with abstracts likely released before), the total efficacy of ZW25 was not what investors expected, or hoped.
First there did not seem to be a clear dose-response; better efficacy was not observed at the highest dose. This is reasonable, however as being a bi-specific, there may be stoichiometry issues that warrant a lower dose actually providing better results. This remains to be fully examined and discussed by the company.
Secondly, metastases were observed, brain to be exact, which is not something you'd like to see in this cohort. However - the company did not screen for metastases at dosing, so it is possible those existed before, only to be observed at the end of treatment.
With that said, these patients were heavily pretreated for HER2, but still retained a 63% disease control rate (stable or responded), which is very positive for such a sick and pretreated cohort. ZW25, given this data, could still be best in class.
ZW33 has not made it to clinical trials yet, but should be followed closely, as it has the potential to be more effective (unsure for safety) as ZW25. We do not model these separately as they are both for the same indication, we expect the company to follow through with the most efficacious and safest candidate - or if they release both, we envision a total market adoption for both similar to that of one.
Valuation
We value the company in a sum-of-parts, by adding up the current collaborations, discounted in an NPV fashion, as well as the potential revenue from ZW25.
Interestingly, we find that approximately half the NPV of the company comes from collaborations, and half from ZW25 potential revenues.
Here are the major considerations we used in evaluating the company, and should be taken as a very rough estimate:
Most collaboration payouts are discounted to 20-30%, with the majority of payments being paid out after 2022 (See below)
We give ZW25/ZW33 a 20% success rate through FDA approval
ZW25/ZW33 can penetrate up to 40% of the HER2 market
Operating expenses grow from this year at 5% compounding y/y
The company will dilute shares 1.5x within the next 2 years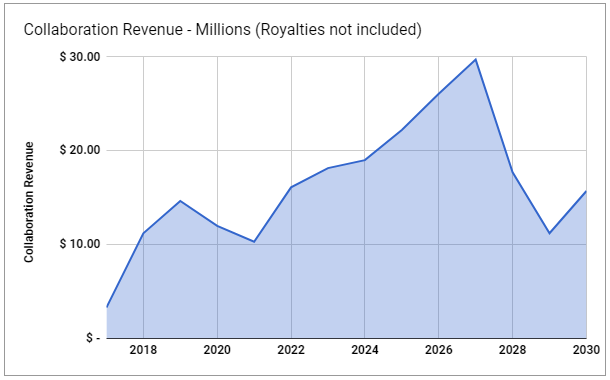 The above is the risk-adjusted milestone payouts total for Zyme for all of the collaborations signed to date. Notice that while these collaborations could sum beyond $1 billion, our model only accounts for a maximum of $30 million (after risk adjustment!). We believe this is fair, but could be highly conservative.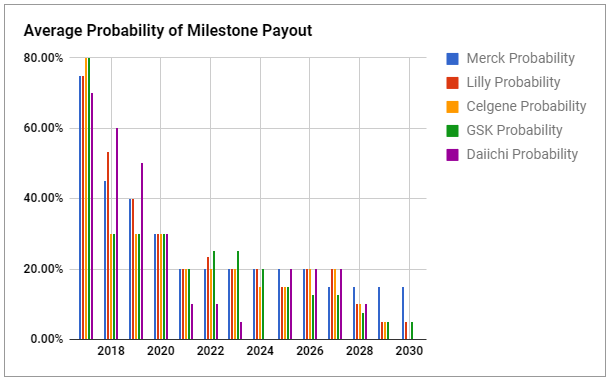 And here is how we are looking at the probability of these payouts - notice that the probability becomes extremely slim nearing the time of any drug approvals - ~2023-2026.
Together, these collaborations, discounted towards 2030 in an rNPV method, give approximately $4/share value. Any new milestones coming in (looking at you Lilly) could dramatically change this landscape, at least in the immediate few years out, potentially providing significant upside and pushing out the risk of dilution in the coming 18 months.
We believe the company could hit ZW25 to market by 2024 if they move quickly and efficiently - no foot dragging! And with a projected 30% market penetration and a price competitive to herceptin (current market price), we see peak sales just reaching $1 billion by 2030. However, if this drug proves to be best-in-class, those sales could easily double as premium pricing rolls out and market adoption increases.
Our NPV projection gives ZW25 a value of about ~$4/share with dilution approximated to 10 million shares (double the current common shares). This alone provides upside potential for the company, and interestingly is exactly at IPO prices.
Thus we reach a price target of $4/share for the collaborations plus $4/share for ZW25: $8, right at where the market seems to have placed it. However, we believe this is heavily discounted given the present FDA atmosphere, and a success rates below the average drug-approval rate. Thus, while we are not yet set on buying into the stock, and significant downward momentum from here would be good buying opportunities from our perspective.
Ownership, Buyouts, and Perspective
Zyme is an interesting company, as half of its value is modeled here to come from collaborations that utilize the company's software package. Additionally, they are taking on a pretty tough and competitive target with their first drug prompting either doubt or extreme confidence, depending on your perspective.
Further, the company's extensive collaborations make a buyout difficult, and given that some of the Lilly collaboration defends against a buyout, we believe the company wants to go it alone.
Lilly shall have the right to terminate the agreement or specific target pairs in the event of the Company undergoing a change of control, while retaining certain rights. If the affected research programs have not completed specific research stages, Lilly's obligations to the license payments, milestones and royalties shall be reduced in a tiered fashion ranging from 25-75%
Here we see (from Zyme's most recent 10-Q) that they publicly address the fact of change in ownership being material to Lilly's agreement. This lowers the price of a buyout, but also the value of a buyout - if Lilly's collaborations do well, and a buyout is initiated, the buyer is going to lose a significant value of Zyme's income statement because of a dramatic loss in the Lilly collaboration revenue. The other agreements do not mention change in ownership, and thus we cannot be sure what their terms are for this.
So why would this be public, and why would Lilly do this? Maybe its important to look at ownership of the company... Maybe Lilly wants to keep close ties with Zyme, or maybe Lilly wants Zyme to itself, eventually...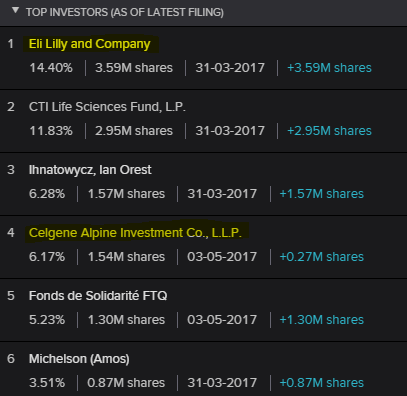 Turns out, Lilly is the largest holder of shares in Zyme, with 14.4% ownership - not something to ignore. Celgene also owns a significant stake through a subsidiary. Lilly's large stake might indicate that, indeed, Lilly has some interest in controlling the company. However I highly doubt a buyout is in the cards - but if Zyme's collaborations with Lilly show significant value (which would likely require at least completion of a Phase 1), then I wouldn't bet against a possible acquisition, since the platform would then largely be validated.
Risks
Every investment has risks and biotech is an excellent example. However, with great risk comes great reward - and this company holds both of those. Risks to be aware of is this company has approximately $95 million in cash as of the most recent filing while their cash burn is likely to be around $60 million this year - that leaves less than two years of cash, even with many possible milestones being hit, we still should anticipate dilution to happen by early 2018. These preclinical studies may also take a fair bit of time to progress and it may be months or years before any progress becomes public.
ZW25 and ZW33 are entering into highly competitive breast cancer treatment landscapes and will have to show best in class to gain investor trust. While they still can provide that, it isn't set in stone and we will need to watch carefully and compare to other trials.
Summary
While we aren't confident enough to submit a buy rating, we are adding the company to our watch list and will be monitoring the price closely. We do see significant upside potential for the stock, but to unlock it we will need to see some progression from the collaborations and some type of superiority for ZW25 and ZW33, which may take some time to mature.
Personally, I will purchase the stock if we dip below $8 with the idea of holding for long term, likely over 12 months.
Having personally talked with one of the co-founders (no longer with the company), I have good faith that the platform technology does have merit and the company deserves attention. We plan to follow up with Zyme upon any significant news.
This article was written by
We used to write here before joining the capital markets / IB industry. Nothing here is a reflection, view or opinion of our employers.
Analyst's Disclosure: I/we have no positions in any stocks mentioned, and no plans to initiate any positions within the next 72 hours. I wrote this article myself, and it expresses my own opinions. I am not receiving compensation for it (other than from Seeking Alpha). I have no business relationship with any company whose stock is mentioned in this article.
Seeking Alpha's Disclosure: Past performance is no guarantee of future results. No recommendation or advice is being given as to whether any investment is suitable for a particular investor. Any views or opinions expressed above may not reflect those of Seeking Alpha as a whole. Seeking Alpha is not a licensed securities dealer, broker or US investment adviser or investment bank. Our analysts are third party authors that include both professional investors and individual investors who may not be licensed or certified by any institute or regulatory body.