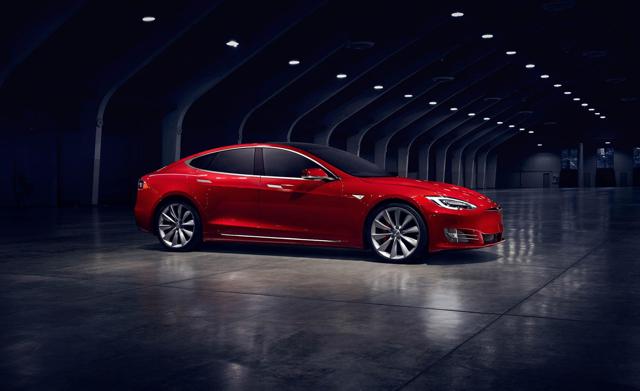 Still looking pretty. However, many aspects are outdated and the model will need to be replaced, without ever having paid for itself. And that was on a near-free factory, to boot.
Tesla's (TSLA) Q3 2017 revenue consensus will be cut in the next couple of months. Most likely, this will happen just as Tesla reports on its disastrous Q2 2017.
The reason for me saying this is very easy to explain. Let me summarize it:
The present consensus for Q3 2016 Tesla revenue is $2.82 billion (Source: Yahoo Finance).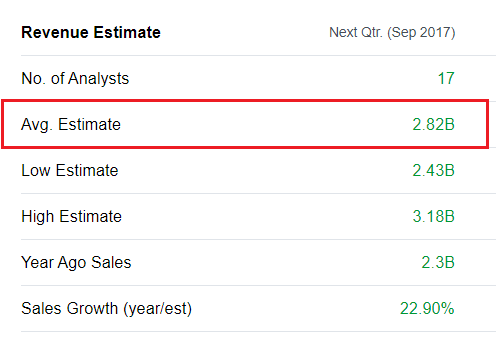 During Q3 2016, Tesla delivered 24,821 Model S + X. This allowed it to show revenues of $2.3 billion, including service and other revenues.
Those Q3 2016 revenues did not include SolarCity. Solarcity allowed for another $214 million in revenues during Q1 2017 (including minimal revenues from energy storage).
Those Q3 2016 revenues did not include Model 3 revenues. If Tesla delivers 1,000 paid Model 3 during Q3 2017, this would allow for another ~$60 million in revenues.
Tesla's service revenues are increasing and we can model $60 million more in such revenues during Q3 2017 versus Q3 2016.
However, here's the problem: Tesla's Model S and X constitute most of Q3 2016 revenues. Tesla delivered just 22,000 of these vehicles during Q2 2017, and guided for H2 2017 deliveries of around the same as during H1, which was ~47,000 vehicles. Already:
The H2 2017 guidance implies no sequential growth from H1 2017 or year-on-year growth from H2 2016.
The guidance implies an average of 23,500 Model S+X per quarter during H2 2017. 23,500 is lower than the deliveries Tesla had during Q3 2016 (24,821).
Moreover, typically Tesla's sales will be slanted towards Q4 versus Q3. 2016 was the exception. This has a reason to be: there are usually fiscal incentive changes near the end of the year, which prompt temporary demand. So, even those 23,500 average quarterly deliveries look aggressive.
They also look aggressive if one considers that Tesla entered Q3 2016 with 5,150 cars in transit, which constituted 20.7% (a low for the past 4 quarters) of the cars it ended up delivering in the quarter. This time, Tesla enters Q3 with just 3,500 cars in transit.
The result of the above is that even 23,500 Model S + X deliveries are difficult for Tesla to attain during Q3 2017. And even those, again, look aggressive if we consider the increasing Model 3 cannibalization which is sure to happen.
However, we'll be generous here. 23,500 is very hard for Tesla, but we'll consider the same Automotive revenues (plus those additional 1,000 Model 3) as Tesla attained during Q3 2016. What does that leave us with? Let's see:
$2,298 million in optimistic S+X+service revenues (same as Q3 2016).
Plus ~$220 million in Solarcity revenues.
Plus ~$60 million in optimistic Model 3 revenues.
Plus ~$60 million in additional service revenues.
This adds up to $2,638 million. Of course, the consensus stands at $2.82 billion, so this is a $182 million shortfall, or 6.5% of consensus – which needs to be cut.

Conclusion
Even if we optimistically assume that Tesla will somehow attain the same Model S+X sales in Q3 2017 as it did on Q3 2016, we still see that Tesla will miss Q3 2017 revenue consensus by a large margin. This revenue consensus will thus need to be cut.
Moreover, the assumptions really are very optimistic, because Tesla is coming from a quarter where it consumed 1,150 cars in transit to deliver just 22,000 cars. It thus starts Q3 2017 with lower sustained demand than 22,000 cars per quarter, as well as 1,650 fewer cars in transit. Tesla isn't thus likely to reach the 24,821 Model S+X cars delivered during Q3 2016. As a result, the 6.5% revenue shortfall is something of an lower range for the shortfall.
Disclosure: I am/we are short TSLA.
I wrote this article myself, and it expresses my own opinions. I am not receiving compensation for it (other than from Seeking Alpha). I have no business relationship with any company whose stock is mentioned in this article.