Snapchat's Future: Forget Facebook, Look To Etsy
Wall Street is in a tizzy over the news that social media darling Snap Inc. (Snap), commonly called "Snapchat", has seen its shares plunge.
Shares have fallen 36% since the March 2017 IPO.

Investors are distressed that the shares have dropped below the initial IPO price.

Many stock market pundits have been comparing the difficulties the stock is having in its first several months as a public company to Facebook (FB), which also saw its shares sink on disappointing financial results soon after its IPO in 2012.

But that's where the similarities end.

For investors looking for a ray of hope in Facebook's turnaround, they should really look elsewhere.

Snap is no Facebook

The biggest difference between the two companies?

Facebook was always profitable, even in its first year being public.

In 2012 it made $0.16 and earnings have been moving higher ever since. This year, the Zacks Consensus Estimate is calling for $4.91.

Instead of living off of false hopes of being like Facebook, Snapchat investors should really be comparing themselves to what happened at global creative online site Etsy (ETSY)since its 2015 IPO.

Here's why Snapchat's future could play out like Etsy's.

1. Similar Anti-Silicon Valley Culture

Brooklyn Loyal
Etsy was founded in 2005 in Brooklyn as an online store for artists and those selling unique, homemade goods. Its headquarters remains in Brooklyn, despite many online companies being headquartered in Silicon Valley.

It's seen the gentrification of Brooklyn into a hipster neighborhood over the last 12 years. In 2016, it moved into a new 200,000 square foot corporate headquarters complete with twice weekly locally catered meals, a breathing room with yoga classes, and artwork on the wall created by the site's artists.

Working at the Beach
Snap was founded in 2011 and is now located in the Venice Beach neighborhood of Los Angeles, supposedly specifically to avoid being in Silicon Valley.
It doesn't really have a headquarters, as it still occupies the small original bungalow steps from the beach and many other spaces in Venice and nearby Marina del Ray.

Snapchat has also witnessed the gentrification of Venice since it set up shop. It offers vouchers to employees to eat in local restaurants which have turned more trendy since its arrival in the neighborhood.

2. High Costs of Perks

Both Etsy and Snapchat have generous employee perks. Both have internship programs that are among the best in the country with Etsy paying $6,000 per month as well as providing travel expenses and housing.

Snapchat is known to pay up to $10,000 a month, at least for engineers, as well as $1500 a month for housing.

Brimming with cash after an IPO, no one usually cares much about the cost of perks, including free drinks, food, and internship programs.

3. Neither is Profitable
Etsy's Earnings:

Etsy has not been profitable in 3 years.

2014 earnings: loss of $0.36
2015 earnings: loss of $0.21
2016 earnings: loss of $0.07

In 2017, activist investors forced changes at Etsy with the hope of finally making some money.

Upper management, including the CEO, were replaced and 22% of the workforce was cut. The internship program for the summer of 2017 was mostly canceled, with the exception of a few engineering interns.

The good times were over.

But the earnings estimates have been turning around. It's possible the company may even suddenly turn a profit as soon as this year.

2017: expected earnings of a loss of $0.01
2018: expected earnings of $0.17
Snapchat's Earnings:

Snapchat's earnings history is looking very similar to Etsy's.

2017: expected earnings of a loss of $2.66
2018: expected earnings of a loss of $0.66

Analysts looking forward into 2019 also expect a third year of losses.

Sound familiar?

4. Both Are Niche Products

Etsy's main competitors are eBay and Amazon. But compared to either one of them, they are small potatoes. In the first quarter of 2017, revenue was just $96.9 million.

Snapchat is similarly a smaller player in its industry. As of the March 2017 IPO, its app reached 158 daily active users.
That's not too shabby but when Instagram, its main competitor, is seeing 700 million monthly users, it looks like Snapchat is falling behind in that race.

That doesn't mean that niche products can't survive. Both companies have strong sales growth.

Etsy sales growth:

2016: 33.4%
2017: expected to be 19.1%
2018: expected to be 17.7%

Snapchat sales growth:

2017: unknown- no estimates
2018: expected to be 93.7%

Etsy's Shares Turn Around: Will Snap's?

After making the corporate changes and slashing costs, the stock started to recover from its recent lows. Etsy shares are up 29% year-to-date.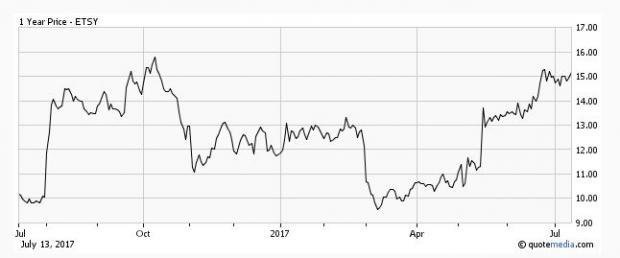 Snap is new at the earnings report game. It disappointed last quarter. It's not surprising the shares have sunk.

For investors looking for a quick turnaround, however, it may be a while.

Just ask Etsy.

[The author of this article owns shares of Facebook in her personal portfolio.]

More Stock News: 8 Companies Verge on Apple-Like Run

Did you miss Apple's 9X stock explosion after they launched their iPhone in 2007? Now 2017 looks to be a pivotal year to get in on another emerging technology expected to rock the market. Demand could soar from almost nothing to $42 billion by 2025. Reports suggest it could save 10 million lives per decade which could in turn save $200 billion in U.S. healthcare costs.

A bonus Zacks Special Report names this breakthrough and the 8 best stocks to exploit it. Like Apple in 2007, these companies are already strong and coiling for potential mega-gains.

This article was written by
Zacks.com brings the decades of study and stock picking expertise of Zacks Investment Research to individual investors. Now, you don't to be an investment bank or brokerage firm to get the professional power of Zacks' research. It's all available on Zacks.com. Learn more about Zacks' history and company below.