Costco: Why This Brick-And-Mortar Retailer Will Not Crumble
Summary
Costco is still posting comp store sales gains in the face of a challenging retail environment.
The recent drop in the stock is unjustified.
I expect the stock to achieve strong double-digit gains over the next year.
Most retail stocks have been underperforming recently as investors fear Amazon (AMZN) will continue to take sales away from traditional brick-and-mortar retailers. Amazon's threat is evident as some retailers such as Macy's (M), Target (TGT), and J.C. Penney (JCP) have been struggling with year-over-year negative comp store sales. One bright standout brick-and-mortar retailer that remains strong in this environment is Costco Wholesale Corporation (NASDAQ:COST).
Costco continues to achieve comp store sales gains. The company achieved a 5% increase in comp store sales for Q3. Costco's comps increased 3% for the past 36 weeks. I think Costco is not as susceptible to Amazon's threat as some of the other retailers. Costco offers many heavy bulk items such as cases of water and other beverages and dog food that is too expensive to purchase online because the high cost to ship it is passed on to the consumer.
Although you can buy a case of water on Amazon, the price is more like buying a case of beer. Only the most homebound people would fork over $14 to over $20 for a case of 24 bottles of water (Amazon's prices) to be delivered to their door. That's $0.58 to $0.83 a bottle. With bulk purchases at Costco, customers can get water for as low as $0.20 per bottle.
Costco also has attractive displays for fresh food such as meat, poultry, seafood, etc. Most consumers prefer shopping in physical stores for groceries instead of online according to a Market Track survey. That's probably why Amazon is in the process of acquiring Whole Foods Market (WFM). There are numerous opinions on this acquisition, but I think Amazon just wants to have a physical grocery store presence, which may include store to home delivery services.
Business Insider did a study and found that Costco's prices are 19% lower than Amazon's prices on 19 items. Another study showed that Costco's prices were lower by an average of 12% on over 170 items. Of course, Amazon has the advantage of having a wider selection of products than Costco. However, customers going for pure savings are more likely to favor Costco for key bulk items that they can save on for regular purchases such as cases of beverages and other regularly consumed products.
I think Costco is also somewhat immune to Amazon because of products such as gasoline, auto services, eye exams, etc. Plus, customers know that they can get free samples during their trip to Costco. These are things that aren't available at Amazon.
Costco also features special buys for a limited time. So, while customers make their routine purchases such as groceries and paper products, they are also enticed to purchase the specially featured items. This creates an in-person shopping experience that is different than an online experience.
In addition to price advantages and product differentiation, Costco achieves higher returns than Amazon. For example, Costco has an ROE and ROIC of 23.7% and 17%, respectively, as compared to Amazon's ROE of 14% and ROIC of 11%. Costco achieves higher returns on equity and investment because most of its products are sold in bulk. So, it has a faster inventory turnover.
Obviously, both companies have their place in the market for certain items. I think Amazon is a great business, offering customers the convenience of online shopping for a wide variety of products. Overall, I think Costco will not be significantly affected by Amazon. Costco has enough differentiators to make the stores a desirable destination.
Costco typically trades with an above average valuation. The stock is trading at 24X expected 2018 EPS of $6.40 (consensus). This is above the S&P 500's forward PE of 18.8. However, Costco is trading about 16% below its 52-week high of $183. I think the stock was unfairly punished along with other retailers due to the Amazon threat.
Costco is still achieving strong comp store sales gains and I expect this to continue. The typical Costco customer earns $100,000 per year. My thesis is that as the economy continues to grow, more people will be moving into this higher income range. The Millennial generation is becoming more established in their careers, forming families. About 27% of the Millennials have not married or had children yet. So, there is room for growth in family formation.
As more families are formed and as careers and pay advance, more potential Costco customers will become available. As families grow, they are likely to seek out good values for regular purchases, which can be found at Costco by buying in bulk. This is what will drive Costco's comp store sales increases in the future in my opinion.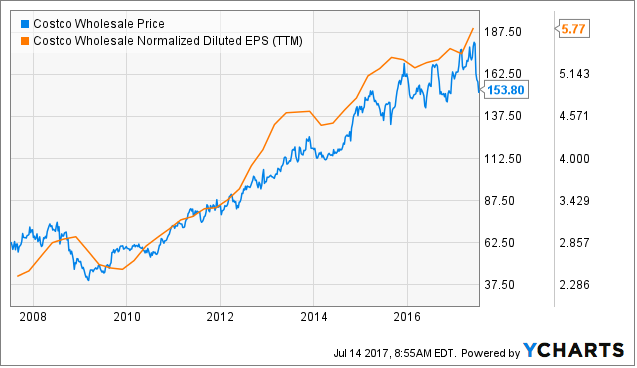 If you look at the chart above, you'll notice that Costco's stock typically trades along with earnings growth as most stocks do over the long term. Currently, there is a large gap between earnings and the price of the stock. The stock should be trading above $180 in my opinion.
Costco is expected to grow earnings at a strong double-digit pace of 11% in 2018 (consensus). That growth will help drive the stock to new highs over the next 12 to 18 months.
Conclusion
Costco has enough differentiators to grow comp stores sales gains in the face of a challenging retail environment being threatened by Amazon. Lower prices, special buys, free samples, and in-person services place Costco on a solid brick-and-mortar retail foundation for the future.
I expect Costco's stock to rise back above $180 over the next 12 to 18 months as the price resumes trending along with earnings growth. That's about an 18% to 20% gain over the current price. The company's earnings reports will be the likely catalysts to drive this price action. I expect to see further gains in comp stores sales, leading to continued earnings growth in future quarters.
This article was written by
Through diligent analysis, he is ranked in the top 1% of blogging analysts on Tipranks.com for performance and accuracy. David previously contributed to Kirk Spano's Margin of Safety Investing [MoSI] Marketplace Service and Risk Research Inc.David focuses on growth & momentum stocks that are reasonably priced and likely to outperform the market over the long-term. He is a long term investor of quality stocks and uses options for strategy. David told investors to buy in March 2009 at the bottom of the financial crisis. The S&P 500 increased 367% and the Nasdaq increased 685% from 2009 through 2019. He wants to help make people money by investing in high-quality growth stocks.
Analyst's Disclosure: I/we have no positions in any stocks mentioned, and no plans to initiate any positions within the next 72 hours. I wrote this article myself, and it expresses my own opinions. I am not receiving compensation for it (other than from Seeking Alpha). I have no business relationship with any company whose stock is mentioned in this article.

If you like my analysis, click on FOLLOW at the top of the article near my name. That will allow my articles to display on your homepage as they are published. The article is for informational purposes only (not a solicitation to buy or sell stocks). I am not a registered investment advisor. Investors should do their own research or consult a financial advisor to determine what investments are appropriate for their individual situation. This article expresses my opinions and I cannot guarantee that the information/results will be accurate.
Seeking Alpha's Disclosure: Past performance is no guarantee of future results. No recommendation or advice is being given as to whether any investment is suitable for a particular investor. Any views or opinions expressed above may not reflect those of Seeking Alpha as a whole. Seeking Alpha is not a licensed securities dealer, broker or US investment adviser or investment bank. Our analysts are third party authors that include both professional investors and individual investors who may not be licensed or certified by any institute or regulatory body.