Last Time Out
It is usually a disconnect with the field, bad incoming data or skewed perceptions, that precipitates a tactical or strategic error by detached management and investors. After which many scratch their head and ask, "what in the hell were they thinking?" Usually followed by, "Oh, they weren't...."

- Of Oil Bears and Wal-Mart (Mayweather) Vs. Amazon (McGregor)
Sometimes you're the windshield and sometimes you're just one of those....
Mosquitoes?
The thematic accompaniment for tonight's informative and entertaining journey is the Bard of Barstow's second solo album, following the split of his original band "Wall of Voodoo" and his first solo outing "The Big Heat". Is it rock? Is it country? Is it new wave? Is it synth-pop? It's none of those, it's Stan Ridgway.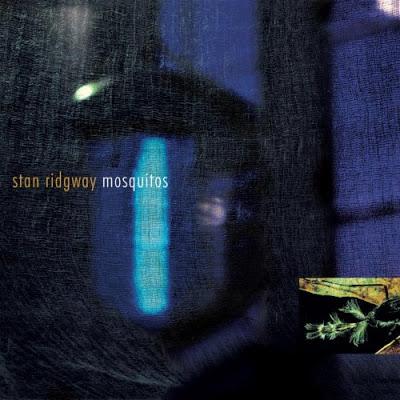 Stan writes wryly witty story songs, and this is one of my favorite storytelling albums of all time, with only one "Dog" out of 10 tracks. Highlights include:
#3 the piledriving "Goin' Southbound", where a criminal boss gives instructions to a new recruit about handling contraband. Don't worry "bout the police, 'cause they're in on it now."
#5 "Can't Complain", which is Stan at his most darkly humorous. Two old guys talk, and one of them, Burt, catalogues his woes, while constantly saying "all the same, I guess I can't complain". In the end, Burt gets a music lesson, "keep your eyes peeled to the sky, it could be a brand name".
And #9, "The Last Honest Man", which is arguably my favourite Ridgway song ever. An astute observation on the hypocrisy of corporations, politicians, radio talk show hosts and TV evangelists. Paraphrased from Definitive Ridgway.
IMHO, over the years, Stan's songwriting, lyrics and storytelling music have been phenomenal and highly underrated. In the late '80s, Ridgway was set to tour Adelaide, but he cancelled because only 200 tickets were sold.
The MSM oft talks up Dylan, Seeger, Guthrie and Springsteen, and we believe Ridgway has a niche on that list of great musical poets. With regard to observing the sweaty downside of American life, some would say Ridgway's musical storytelling has somewhat of a...
Morbid Fascination?
What Spock might say at the Paris cemetery? And putting a Nattering spin on something not so trivial...
Caixin PMI, Chinese private sector small and mid size, 7-month low in April, May below 50 for the first time in 11 months on increased unemployment.
Confirming Dollar Woes: Big Trouble in Little China... Standard Chartered's Chinese PMI hit a 16-month low. Yet, Chinese RMB had its best week versus King Dollar since 2005. Not wholly unrelated, Japan's IP tanked -3.3%, the lowest read since 2011.
The Nattering One was amused with the MSM spin put on last week's UK inflation... All that "inflation" is because since Brexit ruminations back in 2015, the sterling has taken a POUNDING by the King (Dollar), pun intended. Along with the post commodities flash crash $25 rebound in oil, this has raised the cost of imported goods to the emerald island, while wages are not keeping up, which you can bank on...

- Coffee, Crude Tea Or Me?
Aside from the misconception that UK inflation is of a healthy type, BOE Carney's comments last week were taken out of context by the MSM.
Pound jumps as Mark Carney says rate hike debate is building... The Bank of England governor said some removal of monetary stimulus could become necessary.

- The Guardian
At the same time, Mario Draghi was quite certain ECB policy is working:
"We can be confident that our policy is working and its full effects on inflation will gradually materialize."
Not to be outdone, Fed Head Yellen chimed in with what could be famous last words:
"Will I say there will never, ever be another financial crisis? No, probably that would be going too far. But I do think we're much safer and I hope that it will not be in our lifetimes and I don't believe it will."
In this day and age of politicos, executive management and central bank double talk, would it not be refreshing to find The Last Honest Man?
Global Contraction?
Despite ECB Draghi's disingenuous jawboning, Europe is stagnant.

Above, Eurozone Real GDP barely stands 59 billion Euros above Q4 2007. That's nine years with average annual growth of 2.5 tenths of a percent, or .0025. Is that what Draghi means by gradually?
Yet, in the last two weeks, King Dollar was also at a 14-month low versus the euro. When you're the go-to for liquidity, you pay the price.
With Eurozone Real GDP growth having declined since 2000 and lower than 2011, Draghi better hope an economy "materializes" out of thin air and soon. Probably not gonna happen, and here's why...
We have seen what is now claimed to be the longest economic expansion of its type over five years of "recovery". What you see on the balance sheet and statements is a product of financial engineering, viz. stock buybacks etc. What makes the world go round?


Money as in above, Corporate Profits from Current Production, and below, Corporate Net Cash Flow.


Newsflash - both are below Q4 2011 levels, as in no growth. How much of that decline could be attributed to oil and energy profits tanking in 2015? When oil went from a bubble of $108 to $29 then back to $53, some reality was going to seep into the numbers.
Spare cash is, from the view inside of boardrooms, better either hoarded or "invested" in share repurchases. Committing to expansion is, under these circumstances (liquidity preferences), the highest risk scenario - meaning high risk and little expected return.

- Jeffrey P. Snider
In any event, shrinking profits and cash flow, with all-time high P/Es? That's not an expansion or recovery, it's a massive bubble in the midst of a contraction. Tip o' the hat to Jeffrey P. Snider's inspiring missive, "Near Record Expansion (Really Reduction)", which leads us to contemplate a potential...
Bubble Liquidity Gap?
Ceteris paribus, value investors buy more as prices decline, while market cap weighted index funds do exactly the opposite, buy more of what they already hold, at prices rising higher and higher.

Price sensitive assets such as bonds, equities and housing are being treated the same as fundamentally sound, safe, liquid asset holdings and cash. A problem with this investment methodology, it only works as long as those asset prices continue to increase.

Why? The purchase decision and price paid is based on the assumption that the valuation of the asset at the time of the loan will not decline.

- Platform Value: The Fall?
At the end of the day, think debt, leverage, high yield (NYSEARCA:HYG), mortgage, merger, corporate bond issuance (NYSEARCA:LQD) and buybacks. If one assumes those stocks are worth more than they were at end of 2011, bully for them and the greater fool they might sell them to.
What if those valuation assumptions (modeled in VARs - vector autoregression) decline? Like all the leading indicators above, things other than contraband could be going southbound and fast....

Like Draghi and the central bankers, better hope there's not a wake-up call, which might include some...
Dollars and Sense on the QT?
Of late, some forex traders are looking for a stronger euro versus dollar (NYSEARCA:UUP). In the case of UST, primary dealers are required to absorb a certain amount of issuance. With MBS, it's open season. In either case, somebody buys them or they sit.
I thought this was about dollars? Alex!!! Let's look at some bond sale factors which could have a potential effect on the dollar.
Trebek: What happens when your biggest bond customer stops rolling over their bond and MBS purchases to the tune of $10 billion a month and intends to ramp that GAP up to $50 billion a month?
Answer: What is a larger float of available bonds for others to purchase and perhaps less bond purchases? If not the number of transactions, then at least the dollar volume thereof (declining prices, rising yields).
Under normal circumstances, when bonds get bought, dollars get taken out of circulation. Less dollars, higher dollar. Now consider the answer above, then reverse the last statement. Potential for less dollar volume in bond sales, more dollars floating, lower dollar.
When taking QT (quantitative tightening), be mindful of deleterious side effects. Open market effects can include rising yields and lower bond prices, viz. higher cost of loan funds and operating costs, further reducing profits and cash flow. Less loans, less dollars.
In addition to rate diarrhea, economic capital asphyxiation may occur. Fed purchases drain "idle" liquidity; however, bank and private purchases consume dollars which might have been used for other productive purposes, viz. loans for investment in expansion and new activity. The resulting deleterious effect? Diminished potential and real GDP. Bank and private purchases, less dollars.
Beware of balance sheet palpitation, constriction and angina. Depending who steps up, and if they do, in the case of dealers and commercial banks, precious balance sheet capacity gets squeezed, viz. liquidity and the ability to PPT or speculate elsewhere will suffer, and perhaps other holdings might have to be liquidated? Potential for both less and more dollars floating.
Taking Stock or Leaving Bonds?
Bonds (NYSEARCA:AGG), eurodollar, ROC (rate of change) in monetary velocity and aggregates have been screaming lowered economic expectations for several years. The great monetary policy fueled economic contraction continues unabated. Could the mustard be coming off the hot dog?
Since June 8th, NAS, NDX (NASDAQ:QQQ), RUT (NYSEARCA:IWM), SMH and SOX all sent clear signals that something is astray. YTD commodities have sent a clear signal. More details in "History Repeating?", "Fed Devil In The Details?" and "Coffee, Crude Tea or Me?"
We have been steadily beating the drum on why the cost of loan funds will rise and what the effects will be on leverage, debt, housing and the economy. Where's your sign?
Note the chart above. The US 30-yr bond yield (NYSEARCA:TLT) on last July 6th saw a bottom at 2.11%; one year later it was at 2.90%, having just crossed the 50-and 200-DMA, with the 10-yr following suit.
In the last two weeks, a global bond pullback has been in progress, of which the "synthetic" effects are spreading into equities, viz. margin requirements on leveraged derivative positions are necessitating asset liquidation. Again, bond sales mean additional dollar float and, depending on disposition of those dollars, a lower dollar.
FOMC Minutia
Participants noted that, with the process of normalization of the level of the federal funds rate continuing, it would likely become appropriate this year for the Committee to announce and implement a specific timetable for its program of reducing reinvestment of the Federal Reserve's securities holdings. Participants expressed a range of views about the appropriate timing of a change in reinvestment policy.

- July 5th Release
No specifics as to when in this release. Perhaps later this year in one of the four meeting announcements or release of minutes. In other words... watch future Fed announcements and minutes very, very closely.
In the meantime, ask your doctor if QT is right for you. What is that large whooshing and snap-crackle-pop sound in the distance? Just some debt-ridden mosquitoes getting fried up in a bug zapper?
Mr. Ridgway might advise not to be like Burt... keep your eyes peeled to the sky, as it could be a name brand, and remember you really can't complain and out.

Happy Trails?
Hope you folks enjoyed yourselves, catch you later on down the trail. Would like to thank you folks fer kindly droppin' in. You're all invited back again to this locality. To have a heapin' helpin' of Nattering hospitality. Naybob, that is. Set a spell, take your shoes off. Y'all come back now, y'hear!
This is our 125th in a series of thematically related missives which will attempt to identify the macroeconomic forces with potential to adversely affect capital, commodity, equity, bond and asset markets.
I wish to dedicate this missive to one of my mentors, Salmo Trutta, who is a prolific commenter on SA. Without Salmo's tutelage and insistence on not masticating and spoon-feeding the baby ducks, as in learning the hard way by doing the leg work and earning it, this missive would not have been possible. To you, "Proximo"... "win the crowd and win your freedom" - Spaniard.
Disclaimer?
Investing is an inherently risky activity, and investors must always be prepared to potentially lose some or all of an investment's value. Past performance is, of course, no guarantee of future results.
Before investing, investors should consider carefully the investment objectives, risks, charges and expenses of an investment vehicle. This and other important information is contained in the prospectus and summary prospectus, which can be obtained from the principal or a financial adviser. Prospective investors should read the prospectus carefully before investing.
Market Plays?
As for how all of the above ties into the potential and partial list of market plays below... the market as a whole could be influenced, and this could tie into any list of investments or assets. Those listed below happen to influence the markets more than most.
There are many macroeconomic cross-sector and market asset correlations involved that affect your investments. Economic conditions, the eurodollar, global dollar debt and monetary policy all influence the valuation of the above and market plays below, via King Dollar's value, credit spreads, swap spread pricing, market making, liquidity, monetary supply and velocity, just to name a few. For a complete missive series listing covering those subject and more, click here.
The potential global economic developments discussed in this missive could affect numerous capital and asset markets, sectors, indexes, commodities, forex, bonds, mutual funds, ETFs and stocks.
A list of additional potential market plays (long or short?):
Apple Computer (NASDAQ:AAPL); Google (NASDAQ:GOOG); Facebook (NASDAQ:FB); Microsoft (NASDAQ:MSFT); Citigroup (NYSE:C); General Electric (NYSE:GE); Cisco (NASDAQ:CSCO); Bank of America (NYSE:BAC); Amazon (NASDAQ:AMZN); Tesla (NASDAQ:TSLA); S&P 500 Trust ETF (NYSEARCA:SPY); Ford (NYSE:F); Starbucks (NASDAQ:SBUX); Intel (NASDAQ:INTC); ATT (NYSE:T); IBM (NYSE:IBM); Exxon Mobil (NYSE:XOM).
Disclosure: I/we have no positions in any stocks mentioned, and no plans to initiate any positions within the next 72 hours. I wrote this article myself, and it expresses my own opinions. I am not receiving compensation for it (other than from Seeking Alpha). I have no business relationship with any company whose stock is mentioned in this article.