At the end of June 2017, traders in the gasoline market saw an exceptionally bearish signal reigniting supply concerns in the EIA's east coast region (PADD 1). The Colonial Pipeline, a 1.3 million barrel a day piece in the U.S.'s refined products infrastructure, saw two straight five-day shipping periods of underuse, according to Reuters. This bearish signal hasn't appeared since 2012 and may usher in a new period of pessimism in the gasoline markets through the end of the year.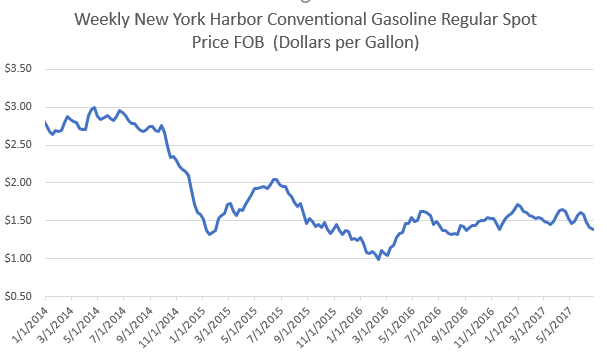 From EIA
Since 2014, oversupply concerns have suppressed New York Harbor spot prices well below $2.00 a gallon. The trend closely follows patterns in the crude oil market that resulted from the proliferation of shale production from 2012 to 2014. Although prices have fallen significantly, the expected surpluses of demand did not come, and traders have lodged gasoline prices around the $1.50 a gallon price. This narrative is not new, and in fact, should be well-known to participants in these markets, but the underuse of the Colonial Pipeline reveals something new about these participants' beliefs.
The Colonial Pipeline operates on a bidding system that requires its users to maintain a certain level of activity to reserve its capacity for use. That means commodity firms with a claim to some of the capacity on the Pipeline must pay even if they are not using that capacity. Since these products typically have sizeable profit margins, firms were willing to tolerate the reservations costs for future profits. However, because firms are abandoning their claims on the Colonial Pipeline's capacity, major energy players are signaling that they don't think they will make enough (if any) profits to justify reserving the capacity. Interestingly enough, this under allocation of the Colonial Pipeline comes at an interesting time where spot prices have stabilized and risen off of all-time lows from five quarters ago.
So why have the Pipeline's users decided that the extra investment was just now not worth it?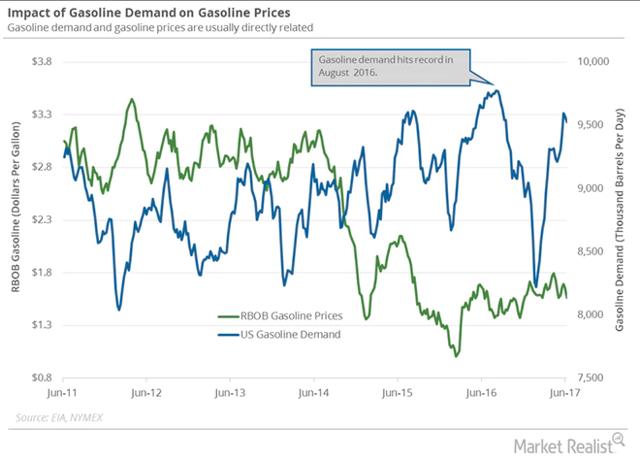 From Market Realist
Fundamentally, the unfinished motor gasoline has entered a new period of weakness, and weakness that seems more deep-seated than usual. The chart above chronicles a disappointing demand story despite a steady seasonal growth rate from 2014 to 2016. After an unusually low drop-off in early 2017 demand, May and June numbers came in slightly lower, down 0.5 percent from last year. Flat numbers shouldn't be so disappointing, but stagnating demand growth came despite RBOB prices almost 50 percent lower than June 2014. Even though demand for energy products is typically inelastic, economists expected a significant increase in demand to mitigate the oversupply problems. Unfortunately, the reaction in consumption was underwhelming and midstream and downstream companies have stopped believing that demand will grow.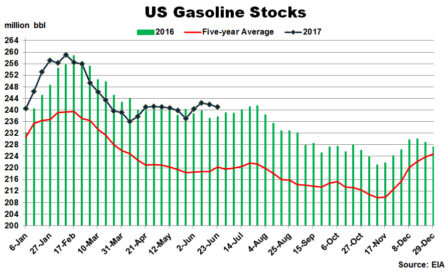 From Convenience Store Decisions
Despite cuts that were implemented by OPEC to slow down the oil and gas supply problem, stocks of just about every energy commodity have rocketed about their 5-year averages. In the chart above, the black line represents gasoline stocks in the beginning of 2017 which is in line, and even a bit higher at some points, with 2016 stock levels. OPEC action was futile. In a Merrill Lynch publication, the investment bank made the comment that "by increasing output in 4Q16 ahead of cuts in 2017, OPEC's credibility has taken a big hit," according to a Convenience Store Decisions article. It's true. OPEC has completely mishandled the supply situation, and U.S. shale producers have responded logically. With more barrels coming out of the ground, naturally, refinery capacity needed to keep up.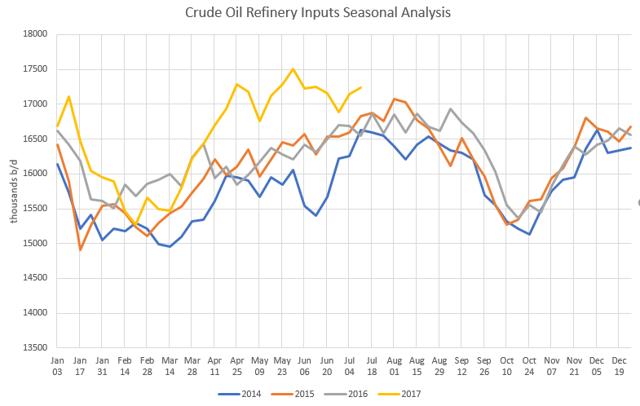 From EIA
Over the past three years, crude oil input numbers show that refineries have ramped up production to seasonal highs. Beginning in April, U.S. refineries have produced gasoline production at the highest level in the 2014-2017 period (the time frame of the crude glut). In fact, at its peak in late May 2017, refinery inputs were 6.7 percent higher than the second highest year 2015. Based on these numbers, it makes sense for Colonial Pipeline users to doubt the investment in reserving capacity. Refineries are churning out motor gasoline at record levels, demand isn't expanding like they expected it to, and pricing is entering bear territory.
What's worse? At the start of the month of May this year, whispers of a gasoline tax to help pay for infrastructure improvements appeared after Trump told Bloomberg he would "certainly consider" it. No legislation has been put forth currently, but the fact that Trump has considered endorsing the tax should keep downstream companies on edge, and investors wary of abrupt political changes. One thing is certain, petroleum product margins are slim, and they show no sign of improving.
With the Colonial Pipeline flashing bearish signals and the rest of the market following in kind, it might be safer to stay away from midstream oil and gas companies that are heavy participants in the energy products market (particularly gasoline components like RBOB). Some that immediately come to mind are Valero (VLO), Tesoro (TSO), Phillips 66 (PSX) and Hess Corp. (HES). Of course, it's always a good idea to keep an eye on the oil majors as well, Chevron (CVX) and Exxon Mobil (XOM), as they have operations in these segments as well.
Disclosure: I/we have no positions in any stocks mentioned, and no plans to initiate any positions within the next 72 hours.
I wrote this article myself, and it expresses my own opinions. I am not receiving compensation for it (other than from Seeking Alpha). I have no business relationship with any company whose stock is mentioned in this article.