This was one exceedingly amusing week.
If you were curious as to whether the central bank "put" is indeed out-of-the-money as more than a few commentators have suggested, Janet Yellen's testimony on Capitol Hill seemed to suggest that the answer is in fact "no."
Mario Draghi's comments on "transitory" weakness in inflation (and "transitory" has become the go-to descriptor for policymakers when it comes to lackluster data) in Sintra, Portugal, on June 27, were supposed to have marked a turning point beyond which markets should give central banks the benefit of the doubt regarding the extent to which their push to normalize policy could be taken seriously. Have a look, for instance, at this header on a new BofAML note out late this week:

Yes, "assume Sintra."
And rates have been "assuming Sintra" - in a big way. Here's a two-month chart of US, German, UK, and French yields:

That's a monumental move higher. Yes, rates are still low by historical standards, but in percentage terms, that's a mini-tantrum and you need only look at the subsequent performance of CTAs and risk parity to understand that it had a very real and very dramatic impact.
The average CTA, for example, experienced a five-sigma drawdown during the week that followed Sintra: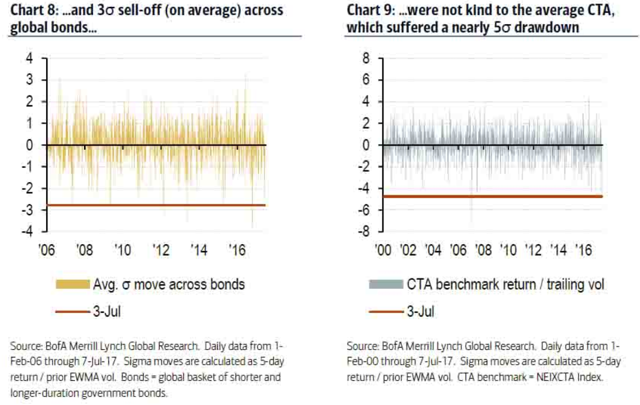 (BofAML)
Don't think this was lost on DM central bankers.
And so, heading into this week, they found themselves faced with a rather daunting task: squeeze in a rate hike from the Bank of Canada, make sure Janet Yellen gets the message just right on Capitol Hill, and hope for the best out of the CPI print in the US due Friday.
It would be difficult to overstate how precarious that setup was. Think about how quickly the BoC rate hike was cobbled together. Here's Bloomberg's Canada guy Luke Kawa to explain:
Just one month ago there wasn't a single analyst surveyed calling for a July hike.

Then, in June, exactly one month away from the Bank's next decision, the nation's top monetary policy makers briskly laid the foundation for an imminent interest rate hike with a one-two punch. First, Senior Deputy Governor Carolyn Wilkins indicated the Bank would be "assessing whether all of the considerable monetary policy stimulus presently in place is still required;" the following day, Poloz added that the rate reductions in 2015 had "done their job."

These remarks fueled the biggest two-session increase in the Canadian two-year yield since former Governor Mark Carney last tightened policy at the central bank in 2010.
The BoC did indeed hike on Wednesday. And think about the timing. The decision was scheduled at 10:00 a.m. EST. So a full 90 minutes after Janet Yellen's prepared remarks to Congress hit the wires.
Can you imagine what we would have seen in DM rates had Janet Yellen come across as overly hawkish in her remarks and then Stephen Poloz would have hiked into a falling Treasury market? It would have been a bond (TLT) bloodbath. DM yields would have gone through the roof.
So, do you know what they did? Well, they realized that the BoC could either be fuel on the proverbial fire, or something no one outside of Canada traded on - and which one it would be depended on how Janet Yellen came across when her remarks hit at 8:30 a.m. EST on Wednesday morning.
If her remarks were dovish, yields would fall and Poloz would be free to hike with impunity 90 minutes later because let's be honest, if you're trading, what do you care more about, a dovish Janet Yellen when everyone was expecting more hawkishness or a rate hike from the Bank of Canada?
Sure enough, Yellen's prepared remarks were dovish. Specifically, this was what everyone traded on in the pre-market on Wednesday:
There is, for example, uncertainty about when — and how much — inflation will respond to tightening resource utilization.

I see roughly equal odds that the U.S. economy's performance will be somewhat stronger or somewhat less strong than we currently project.
Yields fell immediately:

And can you guess what equity futs did? They rallied, of course:

That greenlighted Canada's rate hike, which came 90 minutes later.
Of course, the loonie surged on Poloz, but as long as you weren't one of the few people still hanging around short CAD (we would later learn that specs trimmed their net CAD short by 30,375 contracts to just 9,581 in the week through Tuesday, a hilarious example of the "smart" money getting caught woefully offsides, as that position was the most stretched on record as of late May), you probably didn't care. You were too busy getting long more risk because Yellen was dovish.
And that was the beauty of this whole thing. Policymakers knew good and well that the slightest dovish lean from Yellen would preserve the euphoria in US stocks (SPY) and in emerging markets (EEM). But what Wednesday allowed them to do was point to the rate hike in Canada and say "see? we're actually pulling the trigger on normalization, and if you're still trading off two sentences from prepared remarks by Janet Yellen, well then you just aren't paying attention." A disingenuous thing to (implicitly) say, but "good cop/bad cop" was the only way they could go here if they didn't want to risk exacerbating the rates mini-tantrum.
If you need further evidence of just how happy risk assets were with Yellen's dovish lean, have a look at what we saw this week in the The Direxion Daily EM Bull 3X Shares ETF (EDC) and the ProShares UltraShort MSCI Emerging Markets ETF (EEV):

If you're an EM bull, a dovish Janet Yellen is perhaps the most important pillar holding your carry trade up.
Repeat after me: "all hail the queen."
On Friday, the CPI print came in soft (again). And guess what stocks did? Have a look at Nasdaq futs when the number hit:

Again: bad data is good news as it just further underpins the idea that the Fed can't get too aggressive.
And so, by the time the week was over, the S&P was at a record high. And the VIX was sitting comfortably at a 9-handle:

I think it's important that you understand everything said above because the message you should get from it is pretty simple: central banks don't look like they're going to be able to unwind this.
As I wrote on Thursday morning and as Deutsche Bank echoed late Friday night, "if what we saw in rates and systematic strats heading into this week is what happens as a result of some jawboning, then imagine what's going to happen when the ECB starts unwinding and the Fed starts tapering the balance sheet. It's a recipe for rolling tantrums."
I'll leave you with a quote from Deutsche Bank excerpted from a note entitled "The Limit Is Near" (more color from that note here):
The market's ability to adjust to a changing monetary policy environment is going to depend on how well each central bank takes the actions of the other into account in making its own policy decisions.

For the time being, we think the central banks are not going to be able to go too far on their paths to normalization.
Disclosure: I/we have no positions in any stocks mentioned, and no plans to initiate any positions within the next 72 hours.
I wrote this article myself, and it expresses my own opinions. I am not receiving compensation for it (other than from Seeking Alpha). I have no business relationship with any company whose stock is mentioned in this article.