A few days ago I wrote an article on the Infrastructure REITs and I explained that the "infrastructure universe spans a broad range of subsectors"…and "over the next five years, wireless data usage is projected to grow at a compound annual growth rate of 57%."

In the 2016 Annual Report, American Tower's (AMT) CEO, James D. Taiclet, Jr., explains that "the mobile phone has emerged as an indispensable part of our daily lives. It has evolved from a simple talk and text device to a multifunctional necessity capable of internet access, entertainment, travel, health monitoring, document delivery and personal navigation, among countless other functions. As these handsets and their capabilities have grown and evolved, so too have the mobile networks upon which they rely."
As evidenced by the chart below, mobile data usage is expected to continue to grow as advanced device penetration rises: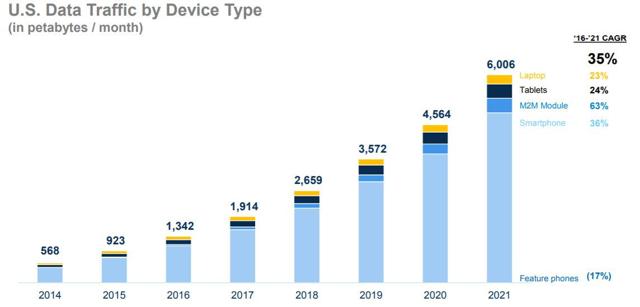 Network deployments will consist of multiple layers - traditional macro cell towers provide a blanket of coverage, while underneath this umbrella, a combination of other technologies is deployed to increase network capacity, particularly in dense urban areas.
Macro sites will continue to provide wide area coverage for high mobility users and be the core of wireless networks. Multiple solutions including DAS, Rooftops, Wi-Fi and Small Cell networks will complement the coverage provided by towers.

Tower sites continue to be the preferred solution, as they provide the most technologically efficient and cost-effective option for coverage and capacity requirements.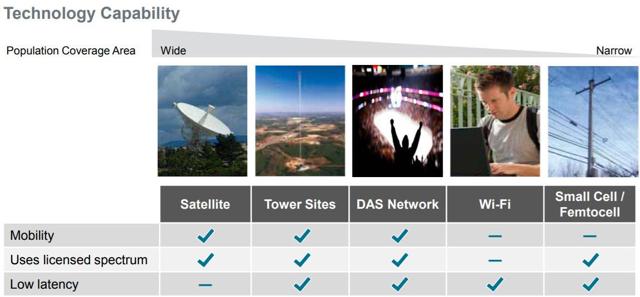 As devices become more advanced, the increasing demand for high-bandwidth applications and higher quality of service result in a narrower range at which signals can be transmitted. As a result, carriers are investing in denser networks.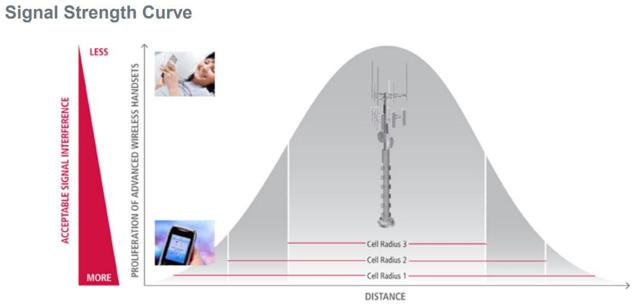 When towers reach their capacity, there are multiple options to accommodate future tenants
1. Height Extension › Allows for more equipment and more tenants
2. Multiple Antenna Mounting Scenarios › Options include whips, panels, microwaves and various combinations determined by internal RF engineering
3. Port Hole Additions › Additional entry and exit port designs accommodate additional coaxial cables
4. Tower Reinforcements › Adds structural strength to accommodate additional tenants
5. Strengthened Foundation › Increases load capacity of the tower
6. Backup Power Generator › Provided by American Tower, maximizes compound space
7. Stacked Shelters › Shelter stacked atop an existing shelter using a steel platform
8. Extended Ground Space › Where space allows, expanded to accommodate more equipment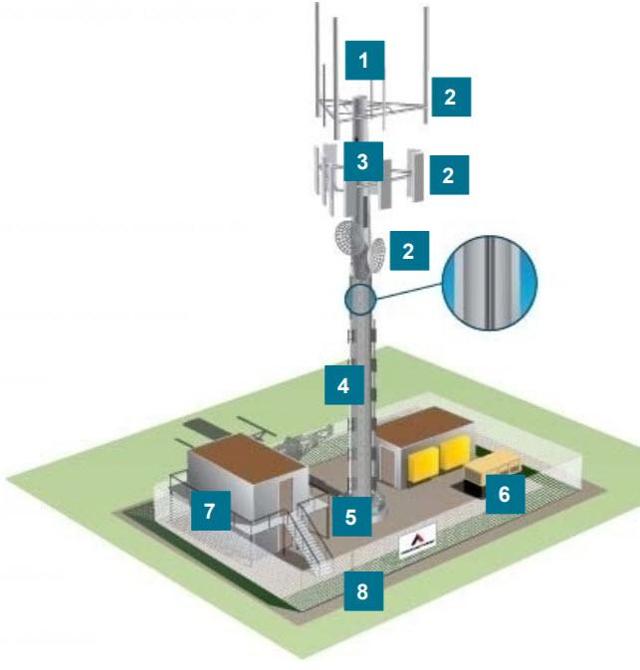 Cell Tower REITs are more than towers tough, they are a network of connectivity so when towers are not available, they provide a number of alternative in-building and outdoor solutions that keep people and businesses connected, no matter where activities take them.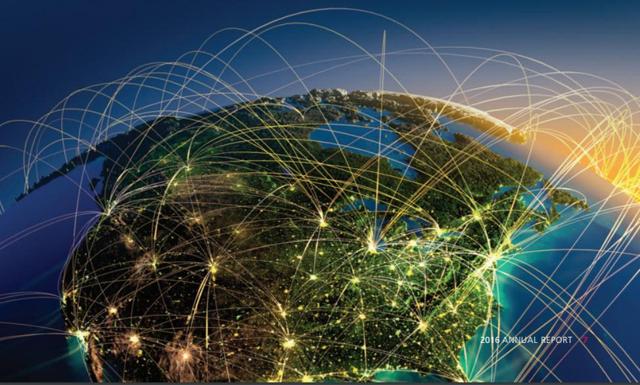 The International Cell Tower REIT
Founded in 1995, American Tower is the fastest-growing player in the world of telecommunications infrastructure. The Boston-based company started out as a subsidiary of American Radio and expanded operations in Mexico, Brazil, India, Chile, Colombia, Peru, Ghana, and South Africa.
The company announced its intentions to become a REIT in 2010, and after obtaining a private ruling letter from the IRS, the company officially converted to a REIT in January 2012. In the same year, AMT reached a historic milestone of 50,000 communication sites (and also launched operations in Uganda and Germany).
AMT grows to meet demand as the demand for mobile device connectivity is exploding and more sites will be necessary to keep people connected.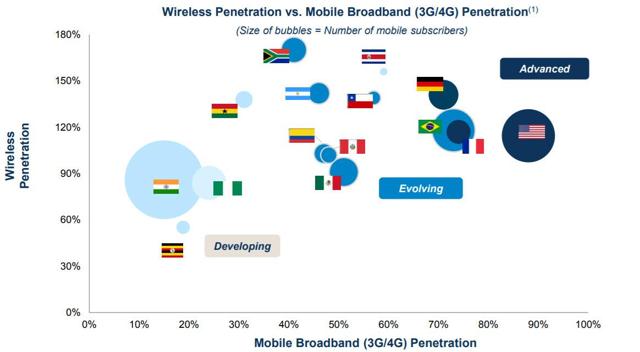 AMT's direct peer, Crown Castle (CCI), was a few years late to the REIT game as the company opted to delay the change until it had exhausted all of its net loss carryovers (an accounting adjustment that allows companies to use past operating losses to offset current tax obligations).
CCI began operating as a REIT on January 1, 2015, and the company owns, operates and manages approximately 40,100 towers and 27,500 route miles of fiber primarily supporting small cell networks in the United States. See my recent article on CCI here.
AMT has a market cap of around $57 billion and CCI has a market cap of around $36 billion; combined, these two REITs are larger than Simon Property (SPG) and all of the Infrastructure REITs (note: LMRK is not a REIT).

CCI invests solely in the US (40,151 towers) and AMT invests globally with over 147,000 communications sites leased to wireless service providers, broadcasters and other communication service providers. The portfolio includes over 40,000 properties in the US and more than 107,000 sites in international markets. Approximately 99% of the total revenue for Q-17 was generated from leasing these properties to tenants.
Internationally, AMT invests in Advanced Wireless Markets (Germany and France), Evolving Wireless Markets (Argentina, Mexico, Brazil, South Africa, Chile, and Colombia) and Developing Wireless Markets (Peru, India, Ghana, Uganda, Costa Rica and Nigeria). AMT's International Exposure provides access to significantly less mature wireless markets.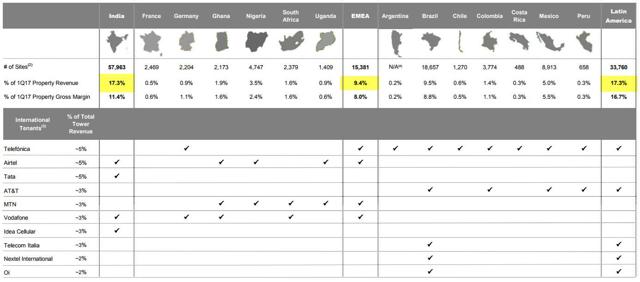 Lower cost smartphone availability is increasing. Emerging markets consumers can now get 70% of a high-end smartphone for 30% of the cost. Increasing availability of cheaper smartphones in Emerging Markets should fuel increased Mobile Data Use.
In late 2015 AMT acquired a 51% interest (for INR ~76 Billion) in Viom (based in India) and in December 2016 AMT announced it was acquiring FPS Towers in France.
Just a few days ago AMT said it was buying phone towers from Mexico's Axtel (OTC:AXTLY) - part of Alfa (OTCPK:ALFFF) for $56M. AMT's MATC Digital unit will take over 142 towers in the deal, and Axtel will rent them back for 15 years.
As AMT's CEO, James D. Taiclet, Jr., explains (in 1016 Annual Report),
During 2016, we meaningfully enhanced the scale of our business in a number of these markets, particularly through the acquisition of a majority stake in Viom Networks Limited in India. This transaction nearly quadrupled the size of our portfolio in that country, positioning American Tower as the largest independent tower company in the most populous free-market democracy.

In 2016, we took important steps to expand and further diversify our portfolio and position ourselves for long-term growth, including several strategic acquisitions and the strengthening of our capital structure. Further, we grew our common stock dividend by approximately 20% and delivered another year of double-digit growth across key financial metrics.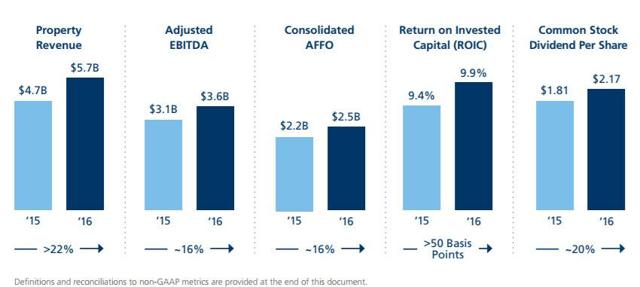 The Growth Machine
U.S. mobile data usage continues to skyrocket, and the average U.S. smartphone user now consumes more than 4.4 gigabytes of mobile data per month, up over 400% from just three years ago.
Further projections suggest that average smartphone consumption is growing another 200%, reaching more than 14 gigabytes per month by the end of this decade. To serve this demand with 4G technology, which is largely delivered through macro tower sites, AMT's tenants continue to collectively invest around $30 billion per year to improve the quality and expand the capacity of their mobile networks.
AMT expects similar levels of wireless-industry network investment to continue for many years to come based on the limited options for wireless operators to address the exploding demand for mobile bandwidth and signal quality, which are inherently limited by the physics of radio-wave-frequency transmission (5G for its first years of wide scale deployment in the 2020s is likely to be limited to an effective transmission radius of 100 to 200 yards). 4G will remain critical, even post-5G introduction: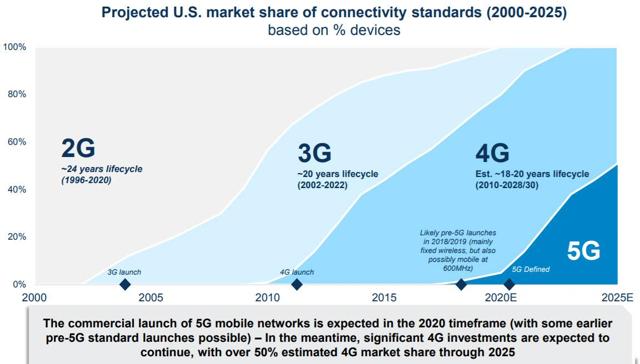 During Q1-17 AMT's property revenue grew nearly 26% to $1.59 billion and adjusted EBITDA grew nearly 20% to approximately $998 million. The consolidated adjusted funds from operations (or AFFO) increased by nearly 20% to approximately $721 million and over 19% on a per-share basis.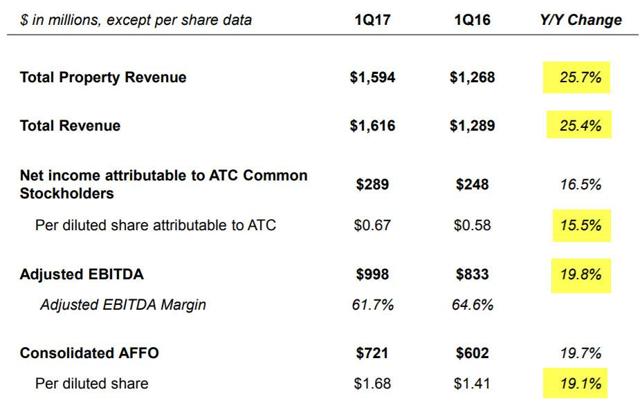 AMT's net income attributable to common stockholders increased by more than 16% to $289 million or $0.67 per diluted common share. AMT grew its common stock dividend by about 22%.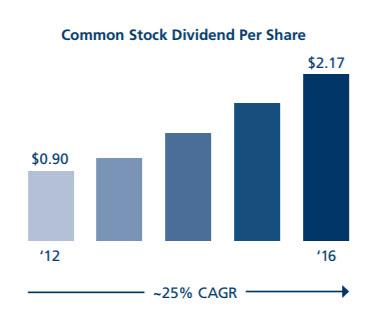 Fueling the Growth
AMT deployed approximately $1.2 billion of capital in Q1-17, including over $500 million for acquisitions and $225 million of stock repurchases. The company spent over $150 million for discretionary CapEx to build new sites, enhancing the capacity of existing sites, strategically investing in land, and to bring newly acquired sites up to AMT standards with startup CapEx.
AMT also spent about $24 million on nondiscretionary maintenance and corporate CapEx, representing less than 1.5% of consolidated revenues for the period.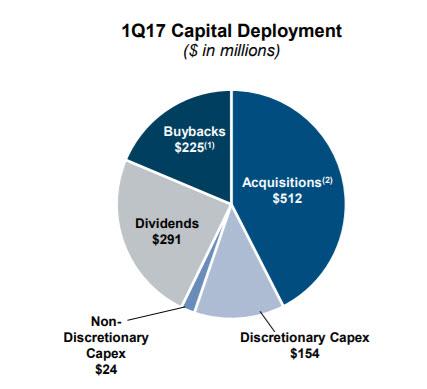 The strength of AMT's capital deployment strategy is evidenced by its strong track record of growth across key financial metrics, as well as a rising return on invested capital across the business.
In both the U.S. and international operations, ROIC expanded in Q1-17: U.S. ROIC increased about 0.6% year-over-year to 11.3% (despite the non-recurrence of $31 million in decommissioning revenue from the first quarter of 2016) and international ROIC rose to 10.1% (primarily driven by continuing solid organic new business growth).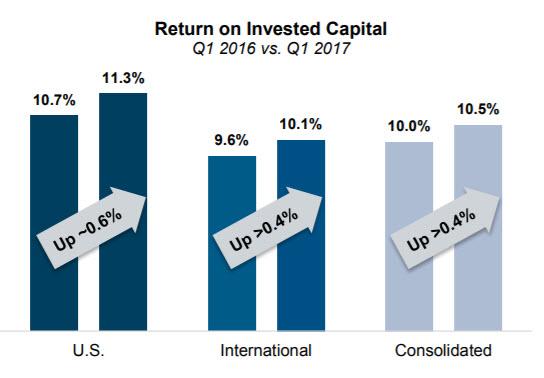 AMT's consolidated return on invested capital expanded to 10.5% in the quarter, up over 40 bps year-over-year. This reflects the company's strong Q1-17 results, the benefit of increased net straight-line recognition for amended MLA, as well as seasonally low maintenance CapEx and cash taxes. For the full year (even without the benefit of this seasonal favorability) AMT expects consolidated ROIC to be above 10%.
AMT's capacity for discretionary capital allocation continues to grow, and the company expects to use that capacity to help drive compelling total returns for stockholders. Given the more than $4 billion in adjusted EBITDA at midpoint of outlook, AMT now anticipates having about $1.5 billion in incremental borrowing capacity for the year, which is about $600 million higher than the initial outlook.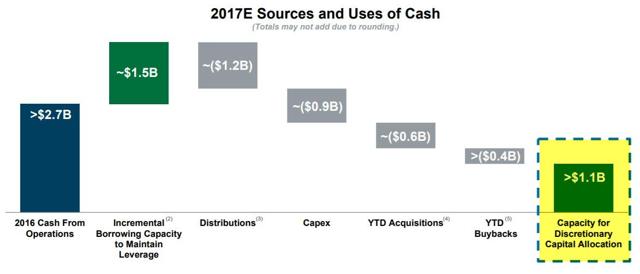 In short, AMT is well-positioned to invest in growth, return cash to stockholders through share repurchase program and continue to grow common stock dividend.
AMT expects the vast majority of this incremental capacity to flow through to discretionary capital allocation. About $125 million of that total has been earmarked for the entrance into Paraguay, with more than $400 million having been spent for share repurchases year-to-date. That still leaves AMT with over $1.1 billion available to allocate at its discretion between additional acquisitions and share repurchases.
AMT expects the increase in adjusted EBITDA will translate into higher consolidated AFFO and consolidated AFFO per share. In Q1-17, the company raised its outlook for consolidated AFFO by $55 million (or about 2%) and expects to generate consolidated AFFO of over $2.8 billion for the year. AMT also raised expectations for consolidated AFFO per share by 2% and expects to generate over $6.50 of consolidated AFFO per share at the midpoint of the outlook.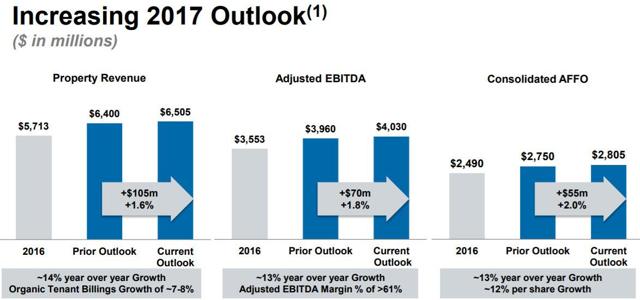 The Smartest Infrastructure REIT
Now let's take a closer look at a few metrics to compare AMT with other Infrastructure REITs, starting with dividend yield:

As you can see, AMT's dividend yield is modest, especially when you compare the company to CorEnergy (CORR) – my recent article here – and Uniti (UNIT) – my recent article here. Let's now compare the P/FFO multiple for these REITs:

Once again, AMT is screening "expensive" based on P/FFO.
However, before we immediately write off this REIT (based on valuation), let's take a closer look at the growth opportunity. As you can see below, AMT is projected to generate strong double-digit FFO/share growth:

I have been trying to take a nibble on AMT for quite a while, but the train has left the station. Here's a snapshot of Total Returns YTD:

Perhaps a better way of saying it is that AMT is "priced for perfection" and as much as I would like to own this REIT, I must wait on an adequate "margin of safety."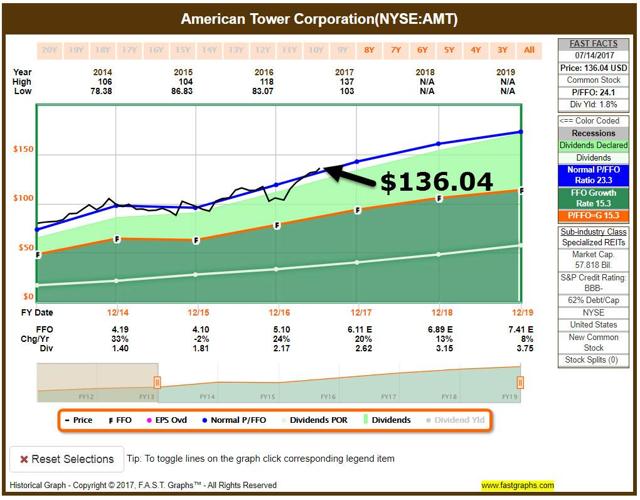 Here's a list of AMT's top owners, many of which also appear on the list of Simon's top owners: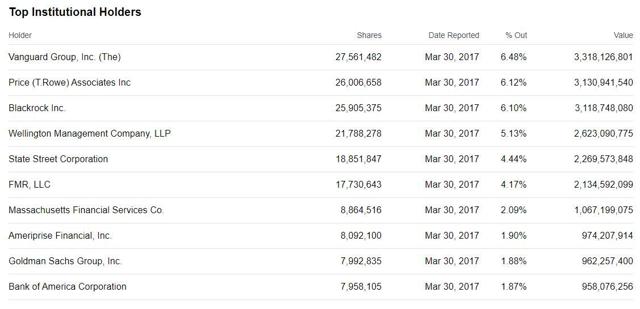 What does that mean?
There's a better way for "average Joe and Jane" investors to invest in cell towers… stay tuned…
Update: Landmark Infrastructure May Soon Get The Shelf Space It Deserves.
For more information on REIT Investing, please follow me on Seeking Alpha. Have a great week!
To learn more about my REIT Beat service, click here. For a limited time, I am providing new subscribers with an autographed copy of The Intelligent REIT Investor. This is a limited offer, so don't miss out!
Brad Thomas is a Wall Street writer, and that means he is not always right with his predictions or recommendations. That also applies to his grammar. Please excuse any typos and be assured that he will do his best to correct any errors if they are overlooked.
Finally, this article is free and the sole purpose for writing it is to assist with research while also providing a forum for second-level thinking. If you have not followed him, please take five seconds and click his name above (top of the page).
Disclosure: I am on the Advisory Board of NY Residential REIT, and I am also a shareholder and publisher on theMaven.
Sources: FAST Graphs and AMT Investor Presentation.
Other REITs mentioned: CCI, SBAC, CORR, UNIT, LAMR, and OUT.
Disclosure: I am/we are long APTS, ARI, BRX, BXMT, CCI, CCP, CHCT, CLDT, CONE, CORR, CUBE, DLR, DOC, EXR, FPI, GMRE, GPT, HASI, HTA, IRM, JCAP, KIM, LADR, LTC, LXP, O, OHI, PEB, PK, QTS, ROIC, SKT, SNR, SPG, STAG, STOR, STWD, TCO, UBA, UNIT, VER, VTR, WPC.
I wrote this article myself, and it expresses my own opinions. I am not receiving compensation for it (other than from Seeking Alpha). I have no business relationship with any company whose stock is mentioned in this article.