As you know, I spend most of time writing on REITs, and occasionally I will get bored and write on a C-Corporation. However, I decided that I would take a new path today and write about a Master Limited Partnership (or MLP).
Don't worry, I'm not going to invade on the more volatile MPL sector - I don't particularly care for "partnerships" that report to investors that receive K1 forms rather than the 1099s - and I am not particularly keen on external management.
However, as you may know, I am covering the Infrastructure REIT sector, and many of my followers have requested that I take a closer look at Landmark Infrastructure (NASDAQ:LMRK).
On the recent earnings call, LMRK's CEO, Arthur Brazy, explained that "to complement our core business, the Partnership has taken some major steps to simplify certain tax requirements that affect unit holders and has expanded its business strategy to take advantage of certain market opportunities."
He went on to explain that LMRK has proposed changes to its legal structure that contemplates moving the Partnership's assets under a subsidiary that is intended to be taxed as a REIT. Brazy said that:
we decided to make this change based on feedback from our investors, and it's specifically designed to broaden our investor base by substantially eliminating unrelated business taxable income, otherwise known as UBTI. It also significantly simplifies state income tax filings for the unit holders.

With this change, we are not eliminating the Partnership structure since that will continue to give us operating flexibility. But we do believe the change to our legal structure will be greatly beneficial to both our existing and new unit holders, and we anticipate the new organizational structure will be implemented shortly after the Partnership holds its special meeting in the third quarter of 2017.
LMRK has traditionally invested in mission-critical wireless and communications infrastructure assets, and on the recent earnings call, the CEO explained that the company is positioned to "provide solutions to the owners of critical operating assets in the utility, smart city transportation and telecom industries, bringing high-speed connectivity to existing sites and surrounding locations and serving multiple customers who require that connectivity, including global network operators, utilities and commercial users…"
He adds that as "data consumption continues to grow exponentially in the connected world, the Internet of Things develops faster and faster, we believe expanding and densifying existing network infrastructure will present very meaningful opportunities to the Partnership."
Here's a snapshot of LMRK's partnership milestones, beginning with the IPO in November 2014 and ending with the proposed REIT subsidiary announcement in April 2017: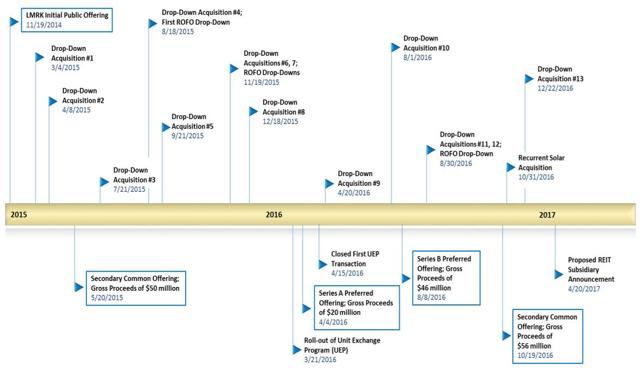 The Overview of Assets
LMRK's real property interests underlie its tenants' operationally essential infrastructure assets in the wireless communication, outdoor advertising, and renewable power generation industries. Effectively all of the company's leases are triple, and its organic growth is through contractual rent escalators, lease modifications, and renewals (99%+ property operating margins, no maintenance capex).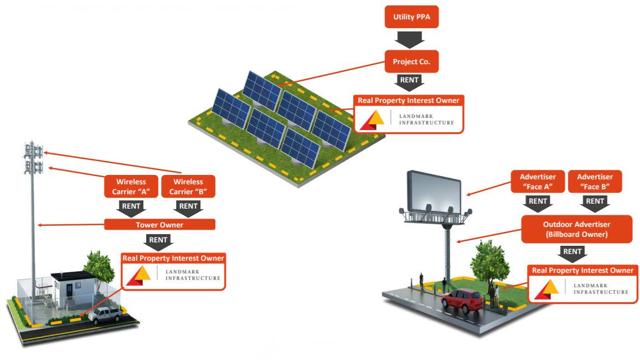 LMRK sees many opportunities internationally as well as with operating partners that have a unique expertise and experience in industry relationships that complement the company's efforts at the Partnership and the sponsor.
Within the wireless sector, LMRK's Partnership sponsor and Ericsson recently announced the selection of Ericsson to deploy the Zero Site microgrid solution across North America.
The self-contained, neutral-host smart pole is designed for carrier and other wireless operator colocation, and the Zero Site is designed for macro, mini macro, and small cell deployments and will support IoT, carrier densification needs, private LTE networks, and other wireless solutions.
Ericsson microgrid includes battery storage applications and grid-control software. The Partnership will selectively deploy the Zero Site solution on its existing real estate interests, along with new acquisition opportunities.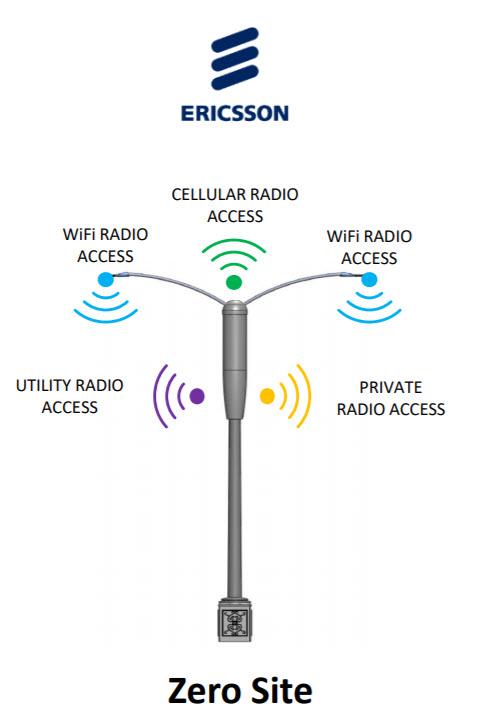 LMRK's asset portfolio represents less than 1% of the total U.S. market. The market is highly fragmented, as most individual property owners in this industry have only 1 or 2 locations (the #1 cellular tower company and the #1 billboard company own 10% or less of the land under their assets).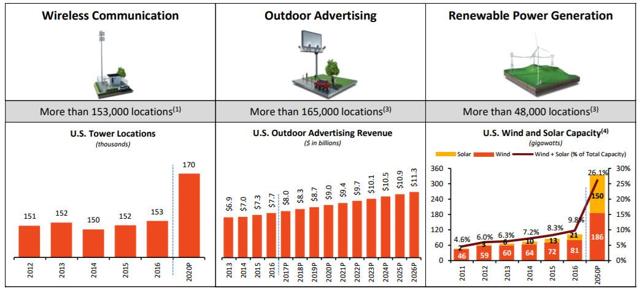 This is a growth-oriented MLP formed by Landmark Dividend LLC (the "Sponsor") to acquire, own, and manage a diversified, growing portfolio of real property interests. As you can see below, America Tower (NYSE:AMT), Crown Castle International (NYSE:CCI), and Outdoor Media (NYSE:OUT) - all REITs - are tenants of LMRK: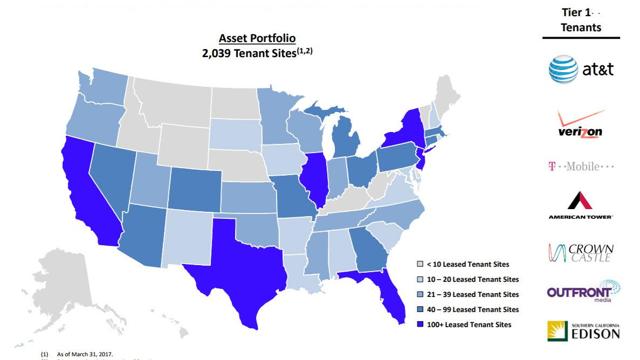 The company's diversified platform provides stable and predictable distributions. Many of the locations/sites are difficult to replicate, since they are located in major population centers (87% of revenues from Tier 1 tenants for their essential operations). The portfolio consists of 2,039 tenant sites diversified across 50 states, Washington, D.C., and various international locations.
No Cap Ex + High Dividend = Happy Investor?
The true value proposition for LMRK is that the company has no property tax or insurance obligations and no maintenance capital expenditures. The portfolio is 96% occupied (99% historical lease renewal rate) and has no commodity exposure. The company's average lease term is 25 years: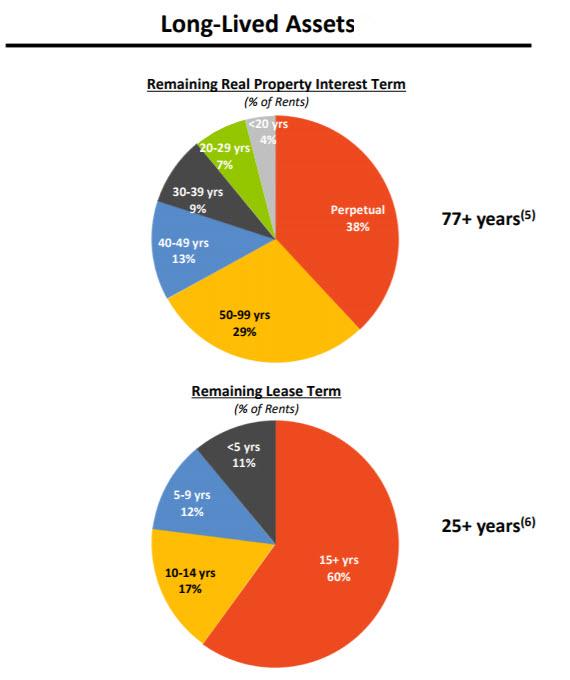 LMRK's underlying properties are operationally critical assets:
Wireless - Highly interconnected networks; Growing capacity/coverage
Billboards - Key traffic locations, favorable zoning restrictions with "grandfather clauses"
Renewables - Solar/wind corridors, proximity to transmission interconnects
The company's tenants make significant investments: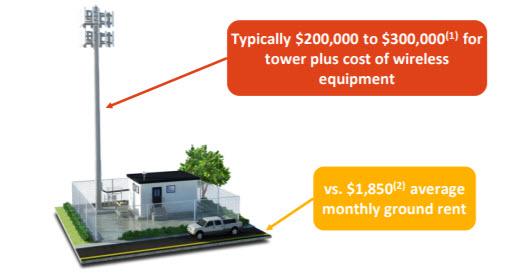 Most all the properties are located in major markets: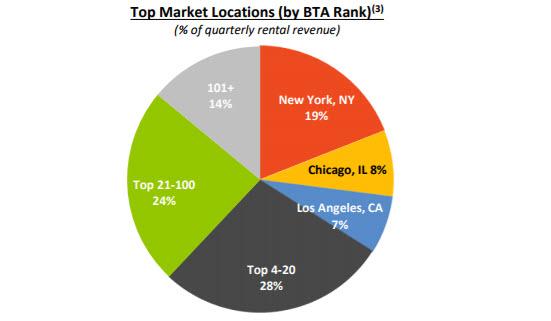 The properties are difficult to replicate, with significant zoning, permitting, and regulatory hurdles in finding suitable new locations, including the time and cost of construction at a new site. Vacating tenants must often return the property to its original condition.
As viewed below, LMRK's platform is highly desired by many Tier 1 tenants (many are large, publicly traded companies). No single tenant accounts for more than 15% of revenue: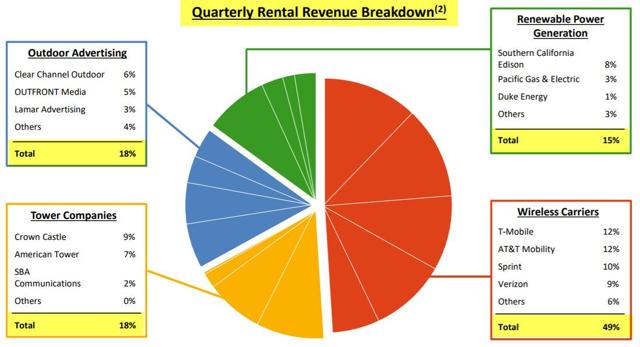 What Does This REIT Subsidiary Mean?
As I began to research LMRK, it became clear to me that this MLP is somewhat of a Realty Income (NYSE:O) that invests in outdoor, cell towers, and renewable energy - all in a Net Lease wrapper. There is certainly a diversified platform, but there are risks...
First off, the ownership structure is much more complicated than that of Realty Income. LMRK's general partner and affiliates have conflicts of interest - LMRK and affiliates own a 24.4% limited partner interest in the company and control the general partner.
Also, unlike the holders of common stock in a corporation, unitholders have only limited voting rights on matters affecting the business, and therefore, limited ability to influence management's decisions regarding the business. For example, unlike holders of stock in a public corporation, unitholders do not have "say-on-pay" advisory voting rights.
Unitholders did not elect the general partner or the board of directors of LMRK's general partner and will have no right to elect the general partner or the board of directors of the company's general partner on an annual or other continuing basis.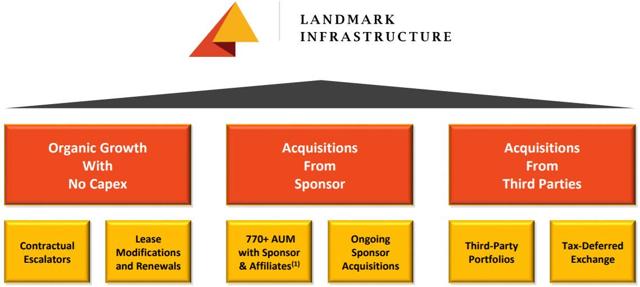 According to company CFO George Doyle, there "is some added flexibility by being an MLP. The REITs can generally only own 20% of their assets in a taxable REIT subsidiary. That's one of the things that we have flexibility over, because we can create essentially a TRS directly under the MLP.
We're not subject to that 20% limitation, and then is are a few other advantages as well. So we think that for now, it's a great structure. And we may never need that added flexibility, but we have it, and it was easier to basically create the REIT underneath the MLP at this point in time than it was to contemplate full REIT conversion."
LMRK believes that its "aligned sponsorship model" will drive growth. Given its substantial cash investment and significant ownership position in LMRK, the company expects that its strategic Sponsor will promote and support the success of the business (the Sponsor contributed ~$60 million at the IPO, invested ~$39 million in cash and ~$21 million in rollover equity, and the Sponsor owns LMRK's General Partner, all of the IDRs, and a 15% LP interest).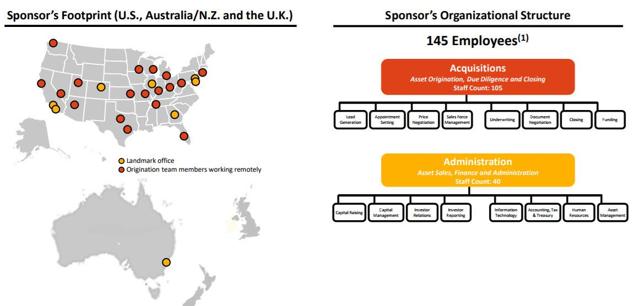 As noted above, LMRK plans to form the REIT subsidiary for the primary purpose of eliminating unrelated business taxable income, otherwise known as UBTI. It also significantly simplifies state income tax filings for the unitholders. Keep in mind, this structure also creates complexity, especially as it relates to the management structure.
I would much prefer to see LMRK convert to a REIT or spin-off individual REITs specialized in their respective businesses. I certainly see the value of the Net Lease model in which the company can structure sale/leasebacks to create investment spreads, but the most successful Net Lease REITs will always rise to the top when they achieve the lowest cost of capital.
Drill Down to Dividends
As you can see below, LMRK has one of the highest dividend yields in the peer group:

On April 20th, the Partnership announced its Q1-17 cash distribution of $0.3525 per common unit, or $1.41 per common unit on an annualized basis. This distribution is 6.8% higher than the Q1-16 distribution of $0.33 per common unit and marked the 9th consecutive quarter that the Partnership has increased its quarterly distribution since its IPO in November 2014.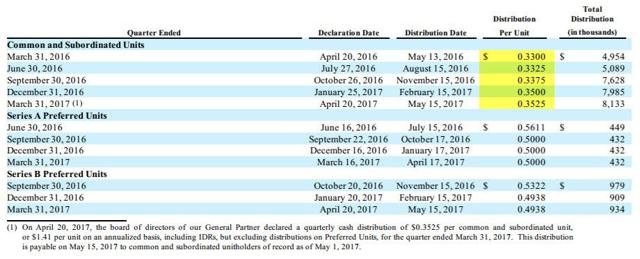 However, LMRK's coverage ratio (defined as distributable cash flow divided by distributions declared on the weighted average common and subordinated units outstanding during the quarter) was 0.8x in Q1-17. The coverage ratio has been temporarily impacted by the common unit offering in October 2017.
The company expects the coverage ratio to improve in Q2-17, based on the acquisitions completed in Q1 and Q2. Also, LMRK acquired several assets over the last 9 months, where the lease has not started and revenue has not been recognized.
Again, while the company is like Realty Income, in terms of its Net Lease structure, it's important to note that LMRK is exposed to considerably more dividend risk. Nonetheless, its acquisitions, combined with organic portfolio growth, are expected to drive distribution growth of 10% over Q4-16 - distribution of $0.36 per common unit by Q4-17.
Now let's examine LMRK's P/EBIT multiple compared with other REITs (using P/FFO):

In closing, LMRK recently proposed changes to its organizational structure as the company contemplates moving the Partnership's assets under a REIT subsidiary. The company believes that this move will simplify (no longer K-1) the business and reduce complexity (or the UBTI).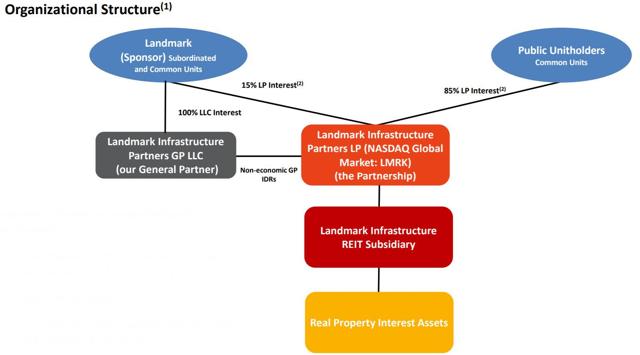 LMRK has returned ~14% year to date:

It is expected to generate outsized growth in 2018 and 2019, and by simplifying the business (forming a REIT subsidiary), investors could see value unlocked. As I said, I am not a big fan of external management, but remember, LMRK has a "NO CAP EX model".

The Bottom Line
Landmark Infrastructure may soon get the shelf space it deserves. By forming a REIT subsidiary, the company will open the doors for dedicated REIT investors to tap into the growing demand of wireless communication, outdoor advertising, and renewable energy. I can now see why I have received positive emails from so many readers and subscribers, and I can definitely see this sleepy little MLP becoming the next Realty Income... (remember, the lowest cost of capital is essential in the net lease sector).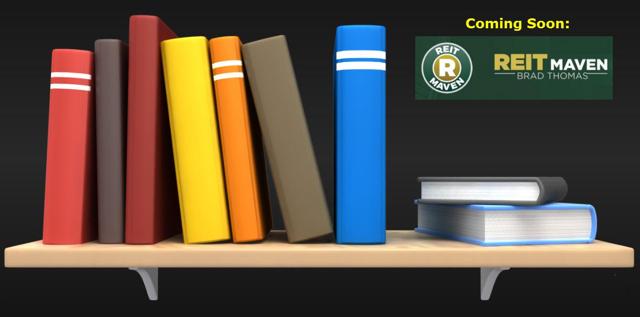 Note: Due diligence is especially important when considering an investment in these yield vehicles. Distributions depend largely on cash flow rather than earnings, requiring a valuation discipline that goes beyond the dividend yield. Investors should also be comfortable with the occasional secondary offering, which can cause volatility in share prices.
For more information on REIT Investing, please follow me on Seeking Alpha. Have a great week!
To learn more about my REIT Beat service, click here. For a limited time, I am providing new subscribers with an autographed copy of The Intelligent REIT Investor. This is a limited offer, so don't miss out!
Brad Thomas is a Wall Street writer, and that means he is not always right with his predictions or recommendations. That also applies to his grammar. Please excuse any typos, and be assured that he will do his best to correct any errors, if they are overlooked.
Finally, this article is free, and the sole purpose for writing it is to assist with research, while also providing a forum for second-level thinking. If you have not followed him, please take five seconds and click his name above (top of the page).
Disclosure: I am on the Advisory Board of NY Residential REIT, and I am also a shareholder and publisher on theMaven.
Sources: F.A.S.T. Graphs and LMRK Investor Presentation and 2016 Annual Report.
Other REITs mentioned: AMT, CCI, SBA Communications Corp. (NASDAQ:SBAC), CorEnergy Infrastructure Trust (NYSE:CORR), Uniti Group (NASDAQ:UNIT), Lamar Advertising Company (NASDAQ:LAMR), and OUT.

Disclosure: I am/we are long APTS, ARI, BRX, BXMT, CCI, CCP, CHCT, CLDT, CONE, CORR, CUBE, DLR, DOC, EXR, FPI, GMRE, GPT, HASI, HTA, IRM, JCAP, KIM, LADR, LTC, LXP, O, OHI, PEB, PK, QTS, ROIC, SKT, SNR, SPG, STAG, STOR, STWD, TCO, UBA, UNIT, VER, VTR, WPC.
I wrote this article myself, and it expresses my own opinions. I am not receiving compensation for it (other than from Seeking Alpha). I have no business relationship with any company whose stock is mentioned in this article.