Last week, I decided to reveal some of the secrets related to my Durable Income Portfolio by focusing on my over-weight REIT positions that I refer to as the "anchors".
In the article, I explained that the so-called "anchors" are the most reliable and predictable dividend payers, the REITs that have long-term lease contracts with the most probable sources of revenue. I include these property sectors in the "anchor" category" net lease, healthcare, and data centers.
I then explained that the "Buoys" are the "REITs with shorter-term leases (that) do not have the same degree of predictability as the longer-term leased companies. There's definitely a trade-off: the shorter duration leases can adjust rents quickly, but the profits are not as reliable."
It's a lot easier to filter out the best "anchors" for the Durable Income Portfolio because these REITs are generally the most stable dividend growers. The "buoys" are harder to source because their sources of revenue are less predictable. In addition, because the leases are shorter term, it's much harder to forecast future dividend growth and performance.
In my quest for outperformance, I am constantly looking for property sectors and sub-sectors that can generate the most stable and reliable dividend growth. As I said, it's harder to pick the stalwarts because the success (or failure) is tied more closely to economic conditions (factors driving rent growth).
Early last year (in 2016), I wrote an article titled, How To Unlock Value In Manufactured Housing. In that article, I explained,
One of the most widely followed of all economic and financial trends is housing. This sector touches everyone, everywhere and was large enough to push the world into a financial crisis. No small feat. Housing also touches multiple REIT sectors in both the equity and mortgage space. As a result, we watch housing trends carefully and try to determine where to invest and when.
I concluded the article as follows,
As a result of the supply/demand balance and the favorable the demographic trends, we believe that the manufactured housing sector is well placed to benefit going forward and potentially produce above average returns for investors.

As you can see, the Manufactured Housing sector has performed well so far in 2017, and I am beginning to wonder why I didn't jump on the train earlier. Note: I do own shares in my "Small Cap REIT Portfolio", and here's how UMH Properties (UMH) has performed since my last article in February: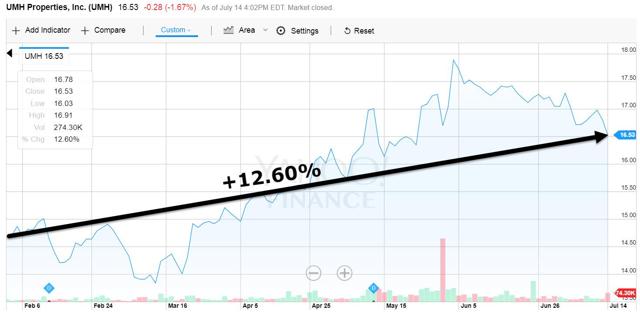 Clearly, manufactured housing could serve as a nice "buoy" for the Durable Income Portfolio, and today, I decided that I would take a closer look at Sun Communities (SUI). In my previous research report on SUI, I explained that I'll "keep fishing in the manufactured housing pond in hopes that we will be able to land a better entry point in the future."
I also pointed out that it was time "to take advantage of a Warren Buffett-inspired affordable housing boom without having to buy shares in Berkshire Hathaway." What I meant by that was that "in 2003, Clayton Homes was acquired by Berkshire Hathaway Inc. in 2003 for $1.7 billion" and that Warren Buffett's ties to Clayton suggest that the Oracle from Omaha could be a REIT buyer, especially now that Berkshire Hathaway (NYSE:BRK.B) has recently dipped a toe into REIT-dom, by accumulating shares in STORE Capital (STOR).
Let's take a closer look at SUI to determine if there are any clues to support the argument that Warren Buffett might extend his reach further into the manufactured housing sector.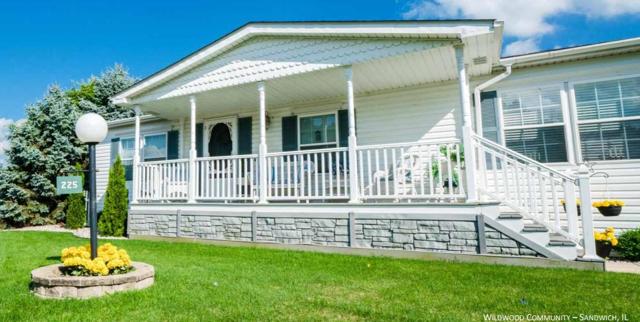 Investing In This Affordable Housing REIT
Sun Communities is the second-largest player in the manufactured housing/recreational vehicle sector. Recently, the company acquired Carefree Communities, the fifth-largest manufactured housing and recreational vehicle community owner and operator in North America, for $1.7 billion. Here's a snapshot of the three REITs that invest in manufactured housing real estate (based in US$ billions):

The Carefree acquisition included 103 manufactured housing communities: 41 MH, 46 RV, and 16 Hybrid with 27,554 total developed sites. Around 36% Manufactured Housing/64% Recreational Vehicle.
The Carefree deal was transformational, as it provided SUI with increased size in the Manufactured Housing sector with $8.475 billion pro forma enterprise value acquiring a portfolio of irreplaceable assets. The company's total enterprise value increased by 25%, the number of communities increased by 45%, and the number of sites increases by 31%.
SUI has also demonstrated a successful track record of strategic acquisitions: Since May 2011, the company acquired over $2.6 billion of communities, increasing its number of sites by 84% and communities by 69%. SUI successfully reshaped its portfolios through strategic expansions, acquiring high-quality assets in key markets.
SUI's portfolio consists of 344 communities and ~120,000 sites across 29 states and Ontario: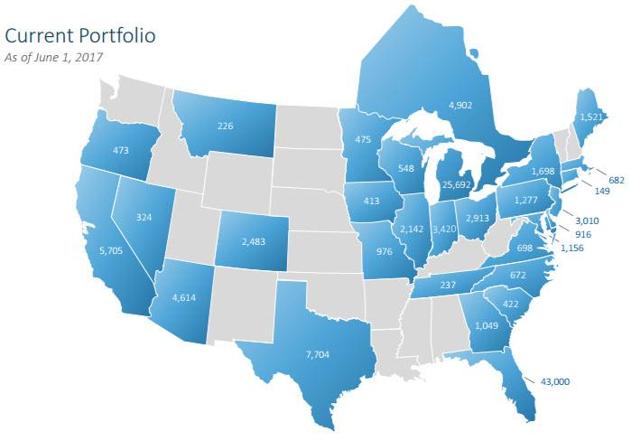 More Room To Run?
The manufactured home and RV community market is thriving. Manufactured home shipments are up 10% over the last year, with average sales price increases of more than 4%.
RV shipments are up nearly 8% year over year, and sales have risen 13% per year since 2009, as stated in an article in Barron's, where it featured Camping World, a national RV dealer and maintenance service provider that is working towards an IPO.

Sun's main constituents for its all age and age-restricted communities, Baby Boomers and Millennials, represent the largest generation groups in the US today.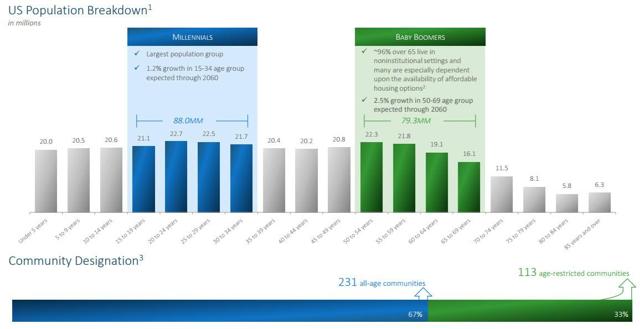 The trends are very strong, and according to the Barron's article, it is expected that roughly 23 million Americans will board an RV this year, and a subset of them will be visiting an SUI community.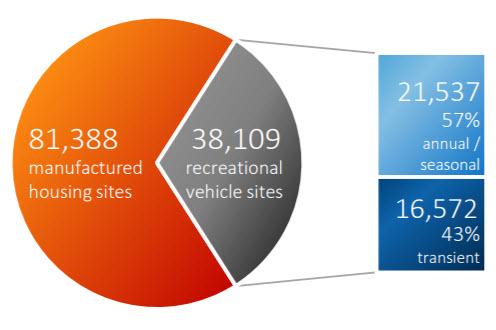 On the manufactured housing side, the strong and stable cash flow characteristics of community ownership have made the radar screens of some of the leading sovereign wealth funds and financial investment firms. These institutional investors place a premium on investments that can provide a reliable income stream for their pensioners, partners, and investors.
It has taken a while for the broader market to come to appreciate the tremendous growth characteristics in the manufactured housing industry, that fundamental characteristics of high consumer demand and constricted supply result in a steady cash flow with opportunity for continued growth.
The average cost to move a home ranges from $4K to $10K, resulting in low move-out of homes, and the tenure of homes in SUI's communities is 44 years. The tenure of residents in SUI's communities is approximately 13 years.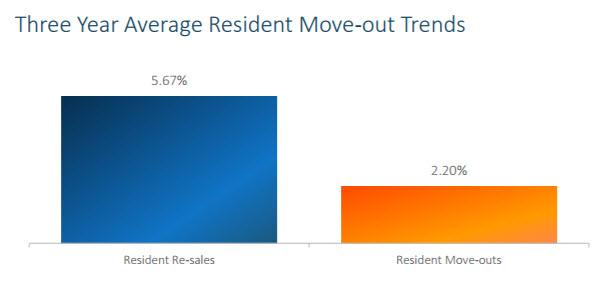 The Balance Sheet
At quarter end, SUI had $3.1 billion of debt outstanding with the weighted average interest rate of 4.45%, and a weighted average maturity of 8.2 years. SUI has no meaningful short-term debt maturities. The company has only $4 million of debt maturing in the remainder of 2017.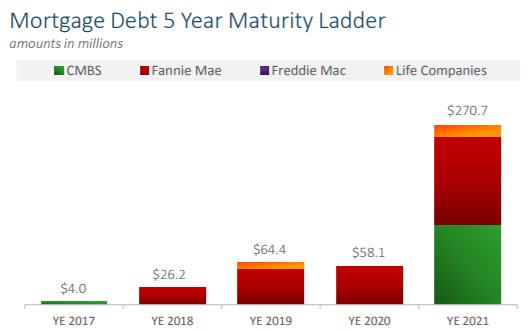 SUI finished the quarter with roughly $11 million of cash on hand and $272 million of capacity on its line of credit. The debt ratios have continued to improve reflecting the additional quarters of Carefree in the company's trailing 12-month EBITDA.

SUI's net debt to trailing 12-month EBITDA of 7x at the end of the first quarter has improved on a sequential basis and 2.1x better as compared to June 30, 2016, when SUI closed on Carefree.
This puts SUI on track to achieve its expected leverage range of mid-6x net debt to EBITDA by mid-2017. Recently, the company completed the refinancing of its existing line of credit, increasing the size by $200 million to $650 million and improving interest rate spreads.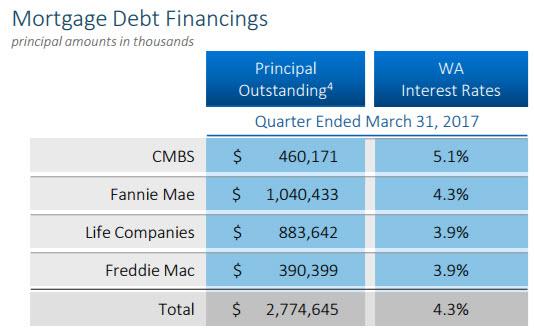 On May 25th, SUI launched a 4.2 million share common equity offering which generated roughly $360 million. SUI has a 29% debt capitalization and all preferred OP units make up 3% of the capital stack.
SUI also has a unique but beneficial OP unit structure. This always helps the company to make acquisitions as a "tax-deferred" option for sellers. This could become an even bigger part of SUI's capital structure if Congress eliminates the 1031 exchange (the jury is still out, and I will be writing on that subject later in the week).
The Latest Earnings
In Q1-17, SUI's total revenues increased by over 34% as compared to the same quarter in 2016, reflecting both the contribution of Carefree as well as sustained strength across multiple revenue streams of the platform.
SUI added 687 revenue producing sites during Q1-17 which boosted total occupancy to 95.9%, up 40 bps from the prior year. Additionally, SUI sold 826 homes in the quarter, up 8% on a year-over-year basis. Of these, 240 or approximately 30% of total sales were former occupied rental homes.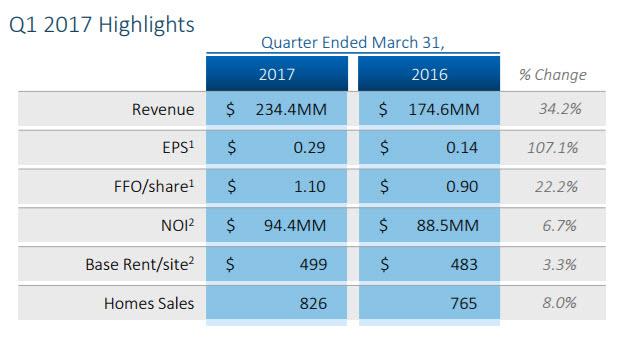 SUI's Same Community results were strong across the board, with NOI increasing by 6.7%. Same Community revenues were up 5.2% on occupancy growth of 170 bps and monthly base rent growth of 3.3%.
Metrics across SUI's portfolio in terms of product type were consistent with the MH Same Community revenues, up 5.2%, while RV Same Community revenues were up 5.8%.
SUI reported $1.10 of FFO per share on the diluted basis, up 22% over Q1-16, reflecting the addition of Carefree and that strength of the Same Community portfolio.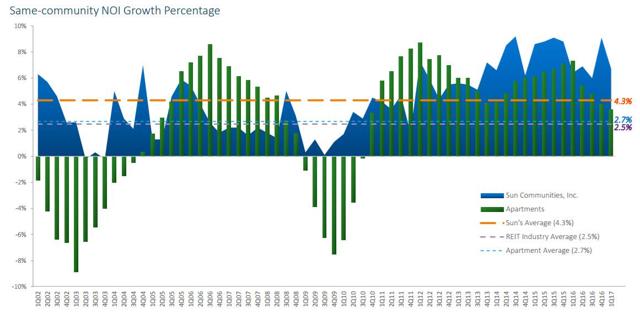 SUI expects to be within its original guidance for property operating and maintenance and real estate taxes by year-end. The company reiterated the previous FFO per share guidance for the year in the range of $4.16 to $4.24 per diluted share with full-year Same Community NOI growth in the range of 6.4% to 6.8%. For Q2-17, SUI anticipates FFO per diluted share to be in the range of $0.93 to $0.95.
Consistent and Predictable Model
As illustrated below, manufactured housing is one of the most recession-resistant sectors of the housing and commercial real estate sectors and has consistently outperformed multi-family in same community NOI growth since 2000.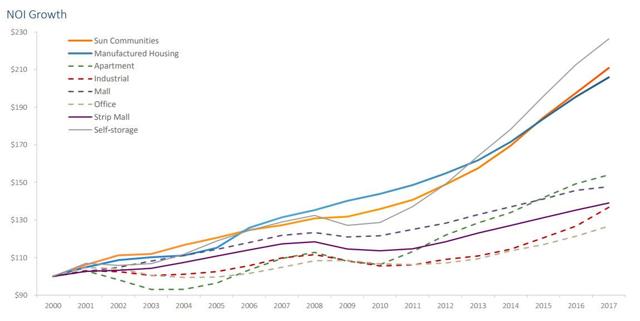 SUI's manufactured homes provide nearly 15% more space at over 30% less cost per square foot: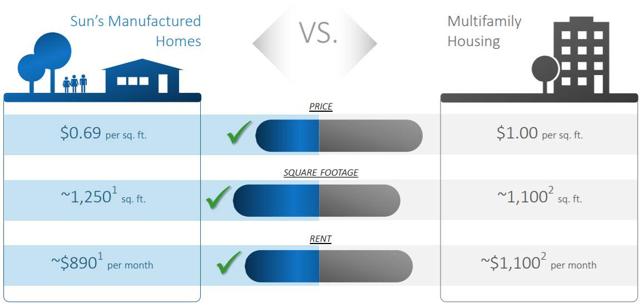 SUI's communities offer affordable options in attractive locations:

It's plain to see why Berkshire Hathaway has a stake in the manufactured housing sector, as it is the most affordable sector of housing:

Is There a Satisfactory Margin of Safety?
I know that Warren Buffett would not invest in any company unless there is an adequate margin of safety. I consider SUI a top-performer in the manufactured housing sector, but it's important to understand the share price and other relevant valuation metrics. Let's examine the dividend yield:

Now, let's examine the payout ratio:

Now, let's examine the P/FFO multiple: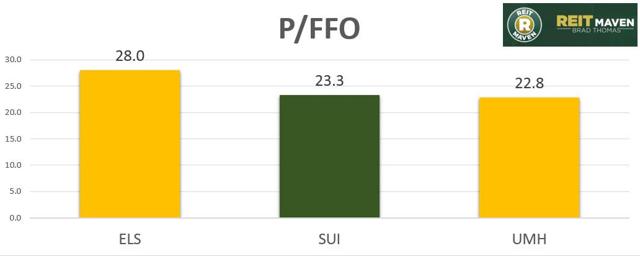 Now, let's examine the forecasted FFO/share for SUI and the peers:

Now, let's examine SUI's share price since 2000: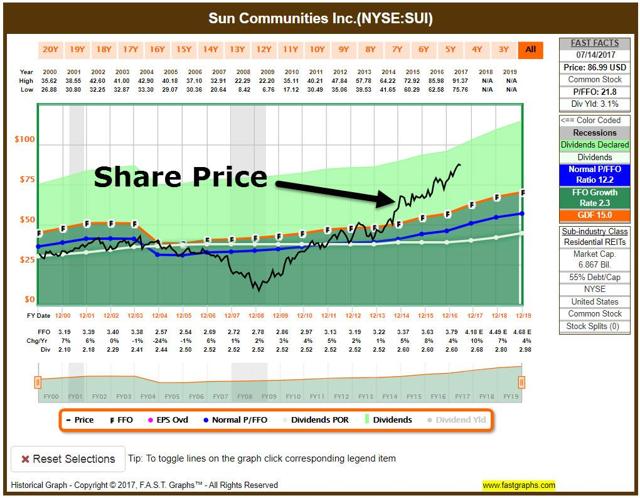 As you can see, SUI has maintained consistent FFO and Dividend per share growth, but shares have become extremely expensive over the past few years.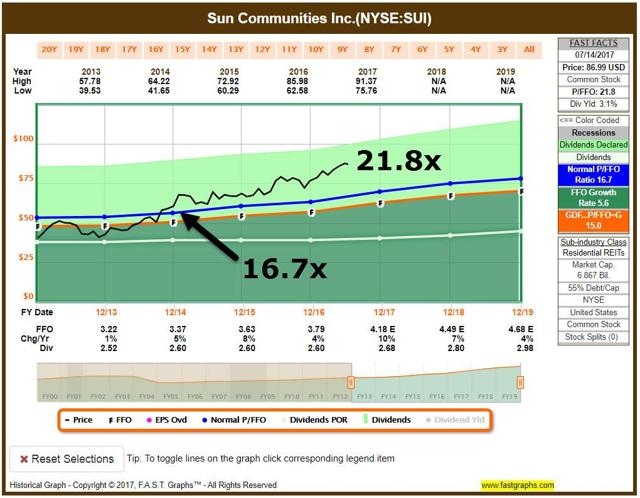 Although SUI is priced for perfection, I will continue to monitor the company hoping for a pullback. I am also interested in the new community being developed in Myrtle Beach, SC. Subsequent to quarter end, SUI closed on a fully entitled 194-acre parcel of land and is expected completion of Phase 1 (that includes the first 435 sites and the amenity core) by June of 2018.
I like Warren Buffett's advice when it comes to being a patient investor.
Successful Investing takes time, discipline and patience. No matter how great the talent or effort, some things just take time: You can't produce a baby in one month by getting nine women pregnant.
For more information on REIT Investing, please follow me on Seeking Alpha. Have a great week!
To learn more about my REIT Beat service, click here. For a limited time, I am providing new subscribers with an autographed copy of The Intelligent REIT Investor. This is a limited offer, so don't miss out!
Brad Thomas is a Wall Street writer, and that means he is not always right with his predictions or recommendations. That also applies to his grammar. Please excuse any typos and be assured that he will do his best to correct any errors if they are overlooked.
Finally, this article is free and the sole purpose for writing it is to assist with research while also providing a forum for second-level thinking. If you have not followed him, please take five seconds and click his name above (top of the page).
Disclosure: I am on the Advisory Board of NY Residential REIT, and I am also a shareholder and publisher on theMaven.
Sources: FAST Graphs and SUI Investor Presentation.
Other REITs mentioned: (NYSEMKT:UMH) and (ELS).
Disclosure: I am/we are long APTS, ARI, BRX, BXMT, CCI, CCP, CHCT, CLDT, CONE, CORR, CUBE, DLR, DOC, EXR, FPI, GMRE, GPT, HASI, HTA, IRM, JCAP, KIM, LADR, LTC, LXP, O, OHI, PEB, PK, QTS, ROIC, SKT, SNR, SPG, STAG, STOR, STWD, TCO, UBA, UNIT, VER, VTR, WPC.
I wrote this article myself, and it expresses my own opinions. I am not receiving compensation for it (other than from Seeking Alpha). I have no business relationship with any company whose stock is mentioned in this article.