When Buffett acquired Benjamin Moore in 2000, Buffett assured the independent dealers that they will not sell their paint through rivals Home Depot (HD) and Lowe's (LOW). In 2012, the CEO almost ruined Buffett's promise, which was later halted, creating distrust and turmoil at Moore. Between 2000 and 2013, Moore paints rose only 40% while Sherwin-Williams (SHW) boosted its revenues 104%, and Valspar boosted revenues 196% in the same period. Buffett later acknowledged, "Sherwin-Williams has done a better job."
Sherwin-Williams has an outstanding track record, and we are confident that its recent acquisition of Valspar (shares delisted from the NYSE as of 6/1/2017) for $113 per share will create tremendous value for shareholders over the next decade. This deal has created the largest coatings company in the world, management has communicated run-rate synergies of $320 million in the areas of sourcing, SG&A, and process efficiency savings within three years. The second quarter ended June 30, 2017, financial results will be announced on Thursday, July 20, 2017, and Sherwin-Williams will provide a combined company outlook for the third quarter and full year 2017.
Sherwin-Williams was founded by Henry Sherwin and Edward Williams in 1866 and has grown to become the largest coatings manufacturer in the United States and the third-largest worldwide. It is a global leader in the manufacture, development, distribution, and sale of paint, coatings, and related products to professional, industrial, commercial, and retail customers. Its brand portfolio includes names such as: HGTV Home, Krylon, Minwax, Thompson's, Water Seal, and many more. The company operates under four reportable segments: Paint Stores Group, Consumer Group, Global Finishes Group, and Latin America Coatings Group.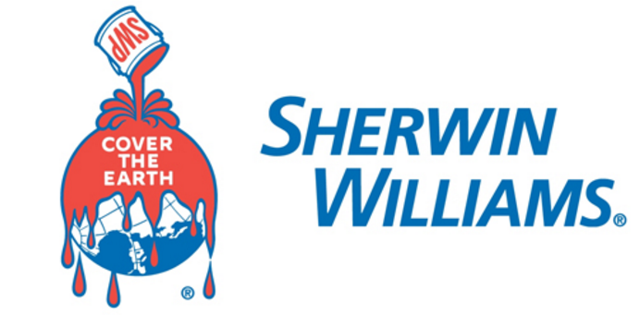 For the fiscal year 2016, total sales grew 4.6% and income grew 3%. Below, I will detail the main drivers of business performance and forward implications by segment as outlined in the latest 10-K annual report.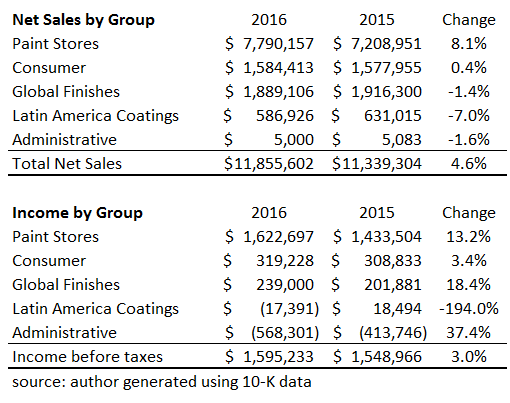 Paint Stores Group: 65.7% of Sales
This group is the largest operator of specialty paint stores in North America. In 2016, same-store sales grew 5.3% in the year, and segment profit increased 13.2%. Per the latest 10-K annual report, this group grew architectural paint sales volumes at a rate more than double the rate of U.S. market growth. During the year, 94 new stores were opened (11 more openings that in 2015) bringing the total store count in the US, Canada, and Caribbean at year-end to 4,180 stores. In 2017, management plans to open an additional 90 to 100 stores, and it remains confident in reaching its milestone of 5,000 locations in North America.
In 2016, the company introduced Paint Shield® microbicidal paint, the first EPA-registered paint that kills up to 99.9 percent of certain bacteria, including staph and E. coli, on painted surfaces within two hours of exposure and continues to kill 90 percent of bacteria for up to four years when the surface integrity is maintained.
J.D. Power 2016 Paint Satisfaction Study ranked Sherwin-Williams "Highest in Customer Satisfaction Among Paint Retailers."
Consumer Group: 13.4% of Sales
The consumer group supplies branded and private-label products to retailers throughout North America and supports other businesses with new product R&D, manufacturing, distribution, and logistics. This consists of 65 manufacturing plants and 33 distribution centers. This group also reduced recordable injuries by 17% to a new record low.
Sales were flat as domestic retail account sales gains were offset by weak demand for stains and sealer products in Europe along with unfavorable currency translation. Segment profit increased 3.4%, and segment operating margin increased due to volume-driven operational efficiencies and SG&A expense control.
Sherwin-Williams total company operating margin shown below has been on a steady uptrend, surpassing its own five-year average.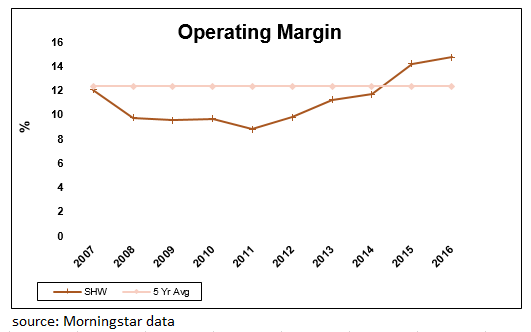 The latest edition to the HGTV HOME® by Sherwin-Williams is the INFINITY® paint line which was introduced in Lowe's stores nationwide. This is a one-coat paint and primer with exceptional coverage and hiding characteristics for both interiors and exteriors. Management expects this partnership with Lowe's to be a significant growth opportunity in years ahead to drive more volume through its paint department.

Global Finishes Group: 15.9% of Sales

This group manufactures and sells industrial coatings, automotive finishes, and protective and marine coatings to a customer base in more than 100 countries globally. Net sales decreased 1.4% (2.6% decreased due to currency devaluation), and profit grew 18.4% benefiting from expense management and declining raw material costs.
Additionally, management has made some key changes to its R&D capabilities in 2016. The technical organizations (finishing, wood coatings, protective, marine, automotive) were consolidated into one R&D organization to better leverage successful technologies across all product categories, accelerate new product innovation, enhance quality and consistency, and develop a global industrial color strategy. In an effort to move resources closer to customers, global application centers equipped with the most advanced coatings application equipment and technologies have been built in Ohio, North Carolina, and Sweden. This will enable Sherwin-Williams to better replicate customers' production lines and optimize formulas to their real-world application conditions.
Latin America Coatings Group: 5% of Sales

The Latin America Coatings group faced many challenges in 2016, including currency translation which decreased sales in US dollars by 13.5% in the year. Total sales decreased 7% for the year which selling price increases were unable to offset. At year-end, there were 339 stores in operation, a decrease of 48 locations. However, the dedicated dealer program was expanded adding 11 in Argentina and 50 in Mexico for 638 total dealer locations. The product portfolio in this region has been expanded to include Superpaint®, Design, Spazio®, and Classic paint lines sold exclusively through company-operated stores and through dedicated dealers. Also, Loxon® paint was introduced in Argentina which will enable Sherwin-Williams to better serve customers who demand consistent quality, application, and performance.
Outlook:
Management expects that average raw material costs for the paint and coatings industry to be up low-single-digit range in 2017. This will hinder short-term profitability as roughly 85% of the cost of goods sold for paint products is raw materials.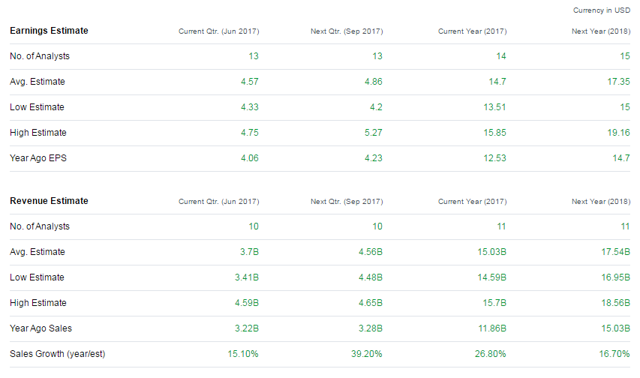 Source: Yahoo Finance
Analyst expectations remain optimistic from a sales and earnings perspective. However, the combined company outlook released in just a few days on Thursday, July 20th, is what investors will really want to pay close attention to.
Our Take:
Our take is that Sherwin-Williams is a great business but trades at a hefty price currently. In paint contracting, the majority of the cost is labor, and thus most contractors are insensitive about the price of paint. In fact, higher quality paint reduces application and re-work time which saves on labor cost. This company's reputation speaks for itself. The coverage, durability, cure time, and ease of application make this paint supreme. Homeowners often paint as an easy and low-cost way to increase the value of their home prior to a sale. This company has recovered extremely well out of the recession, and we are especially impressed with how well management has deployed capital.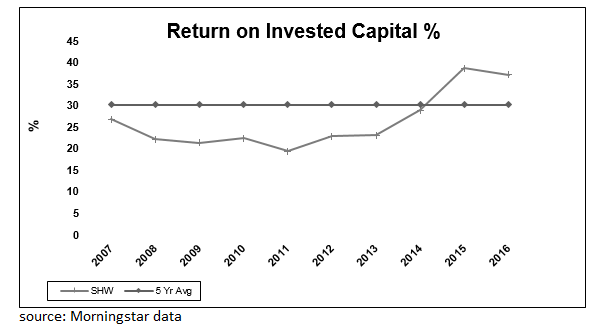 The chart above reflects a healthy trend in return on invested capital which implies a wide economic moat over competitors. We hope that the challenges this company faces in the coming year will present a buying opportunity, as the current price of Sherwin-Williams is above our fair value estimate of 325. This paint company currently trades at a PE of roughly 28 and a PEG of 2. Should share prices go south, we will happily pick up shares at or below our fair value estimate. Stay tuned, and thanks for reading.
Disclosure: I/we have no positions in any stocks mentioned, and no plans to initiate any positions within the next 72 hours.
I wrote this article myself, and it expresses my own opinions. I am not receiving compensation for it (other than from Seeking Alpha). I have no business relationship with any company whose stock is mentioned in this article.