PepsiCo (PEP) is a great investment and is headed higher. Despite what sell side analysts trying to invoke fear will say, PepsiCo is a great investment.
The issue most investors have, is that they lose site of the real reason they buy a stock like PepsiCo in the first place. Short-term desire clouds judgment. PepsiCo is a wide-moat consumer packaged goods company with distribution channels comparable to only Coca Cola (KO) and Mondelez (MDLZ); let us remind you why you should be a buyer of PepsiCo on any weakness.
Just take a look at PepsiCo's chart: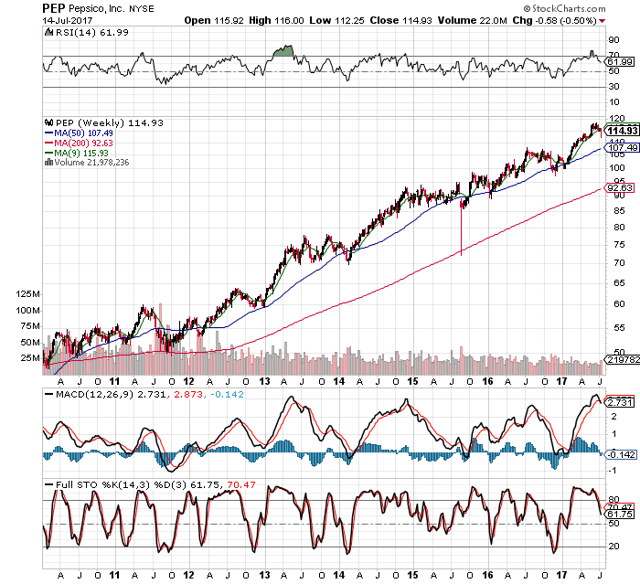 In the simplest method of technical analysis, take a look at the chart above. Since 2010, how often has PepsiCo looked severely overextended past its moving averages? I'll answer that question for you, hardly ever. Since 2010, PepsiCo has been on a tear delivering over a 100% return in stock price alone, without factoring the consistent dividend that has been increased for 44 straight years.
We use PepsiCo to bring balance to our portfolio. It is a defensive position to deliver consistent dividend income and safe growth quarter after quarter. Instead of sitting on a lump sum of cash, we would rather have a position in PepsiCo where we can get a consistent return without the risk exposure of a growth stock.
PepsiCo's Q2 earnings reported on July 11th, verified our investment thesis once again. PepsiCo delivered a solid $0.10 beat on non-GAAP EPS and raised full year guidance from $5.09 to $5.13. Revenue grew at 2%, driven by Frito-Lay North America, the largest segment (+3% Y/Y); Europe Sub-Saharan Africa operations were also strong (+6%).
So if PepsiCo's quarter was so terrific, why did the stock price pull-back over 1%, not increase? The answer is because PepsiCo is currently fairly valued.

PepsiCo is currently valued at 24.1x earnings and 22.1x forward earnings. Unless we miraculously saw a spike in revenue growth that analysts failed to take into account, there was little upside for PepsiCo's stock to run higher.
We do not trade PepsiCo though, we simply own it. We understand that there will be periods of growth followed by periods of consolidation with this company.
Analyzing PepsiCo's P/E ratio, one might think that with net revenue forecasting a five-year CAGR of around 3%, how can PepsiCo possibly trade at 24.1x earnings. Well PepsiCo deserves to trade at a market premium because it is the top managed consumer packaged goods stock on the market. Indra Nooyi, is an outstanding CEO and continues to make excellent cheap acquisitions that pay off years down the line. The balance sheet also remains solid and cash flow consistent to support the company's dividend.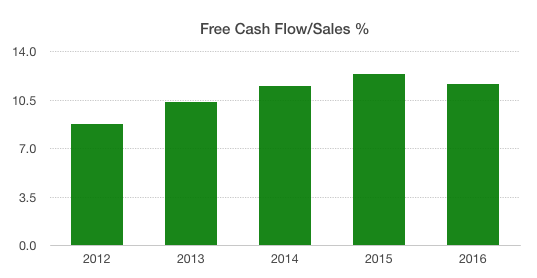 Do not overthink PepsiCo. As long as the company continues to deliver you want to own this stock. Do not buy now while the multiples leave little upside room, but be patient. When the stock pulls back to the 50-week moving, average like it typically will about once per year, initiate a position and hold it. That's it.
In the worst economies people will eat, and in the best economies people will still eat the same amount. So stop overthinking, and buy PepsiCo on the next pullback.
Click the "Follow" button next to our name at the top to read our future analysis. If you have any questions for us or would like us to cover a company, please comment below or message us directly. Thank you for reading!
Disclosure: I am/we are long PEP.
I wrote this article myself, and it expresses my own opinions. I am not receiving compensation for it (other than from Seeking Alpha). I have no business relationship with any company whose stock is mentioned in this article.