Each week, we publish a summary outlook for gold and the SPDR Gold Trust (GLD). We also publish a daily report for our subscribers which touches on each of the five categories in the table below. During the course of the week, gold received several upgrades in our matrix. The short-term trend appears to be turning up, the commercial positioning became more bullish, and our value indicator went from cautionary to neutral. We believe that gold has bottomed out here. Will the reversal take time or not?

Technicals and Key Levels
On a monthly or weekly chart, gold remains in a downtrend, or at best in a trading range with uptrend support. The key support level at the moment is $1,180 for gold (a little over $112 for GLD), and the key resistance level is $1,300 for gold (which is near $123.60 for GLD). We can envision a trading range between $1,200 and $1,300 for gold for the foreseeable future. World events could change this, with most pressure to the upside.
The Fibonacci retracement of GLD from the 2016 lows to the summer 2017 highs suggests that the areas of $116 and $120 are additional key levels for GLD, which also happen to be nearby the 100 week and 50 week moving averages, respectively.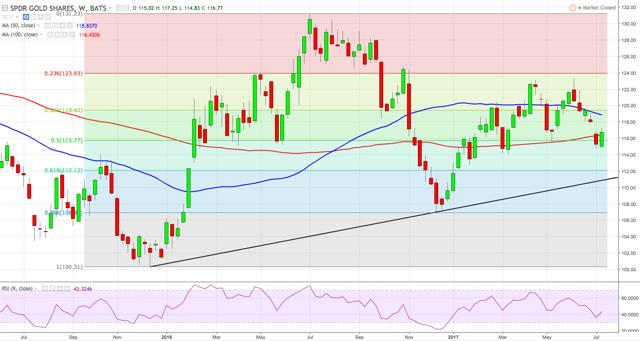 We view last Friday's price action in gold to be significant. Gold broke out of a regression downtrend channel that had a 95% P-value (meaning a very accurate regression). In the process, it also broke above a trend line that also happened to be a neckline of a inverse head and shoulder pattern. If this pattern holds, then the price target of the upward move will be the same distance from the neckline as the bottom of the head is from the neckline. This would place the price target near $1,247 in gold (about $118.50 in GLD).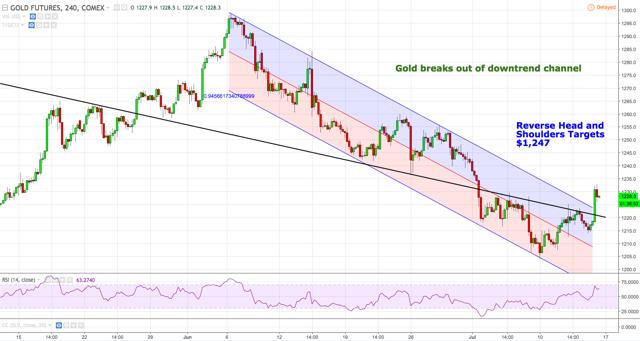 Precious Metal COT Report
This week's COT report was very bullish for both gold and silver. Through July 10th, commercial banks continued to rapidly reduce their net short position, while hedge funds rapidly reduce their net long position.

The "smart money" commercials have reduced their net short position in COMEX gold futures to its lowest level since early 2016. Below, the reader can see how the value of GLD tends to peak at the same time that commercial short interest peaks, and the value of GLD tends to bottom out when the commercial short interest bottoms out.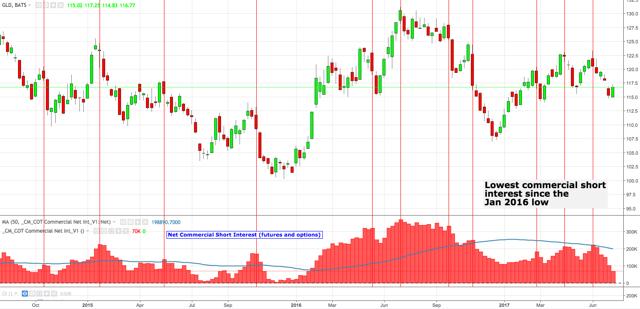 Meanwhile, managed money investors have reduced their net long position to their lowest levels since early 2016. The reader can see that the bottoming out of managed money investments can take a while (as in late 2015), or reverse suddenly (as in early 2017). The COT report, therefore, is better as a medium-term indicator than as a "trading indicator." On the other hand, the current COT report has a lot of red meat for gold bulls.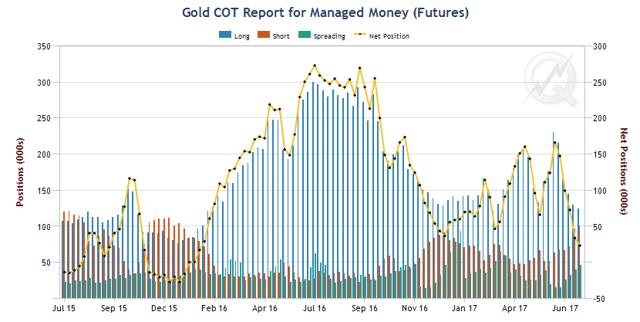 Source: CMEGroup
In a related point that many will consider very bullish, the COMEX bullion banks currently report that they have more gold and silver in their vaults than they have short obligations to deliver. In other words, gold and silver on the COMEX are not currently fractionally reserved. If the price of gold and silver were to skyrocket tomorrow, then the banks will likely be net long. This is an incredible development.

Gold Value Indicator
Our proprietary value indicator assumes that the value of GLD will mean-revert to the value of other for "safe haven alternatives" such as the JPYUSD currency pair and TIPs. At the moment, we view this indicator as neutral.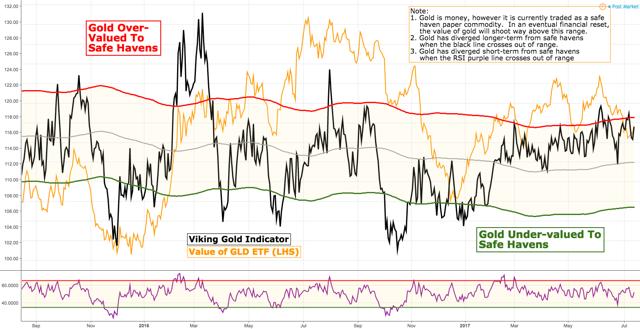 Our premium subscribers receive daily on our proprietary indicators for gold, silver and miners. If you click the links at the top or bottom of this article, you can learn more about our premium service.
Thanks for any feedback below. If you liked this article, please hit the follow button!
Note all charts were created on the TradingView website, and the tables were created by Viking Analytics if not otherwise credited.
Disclosure: I/we have no positions in any stocks mentioned, and no plans to initiate any positions within the next 72 hours.
I wrote this article myself, and it expresses my own opinions. I am not receiving compensation for it (other than from Seeking Alpha). I have no business relationship with any company whose stock is mentioned in this article.