Verizon Is Noticeably Undervalued, Buy Before Earnings
Summary
Verizon is currently undervalued in two models and and is primed for a long position, because of undervaluation and sector growth.
The company's equilibrium is increasing, suggesting real, bubble free, growth.
Verizon is leading all competitors in total cell phone service subscribers.
By Eric Mason
As telecommunication companies diversify, the modeling approaches must diversify with them. Two independent and mutually exclusive models show Verizon (NYSE: NYSE:VZ) is undervalued. By using a dual model approach an investor gains a vantage point from two major sectors in which Verizon operates: cellular service and general tele-broadcasting services.
The first model used is a multivariate regression using the share values of T-Mobile US, Inc (NasdaqGS: TMUS), AT&T Inc. (NYSE: T), Sprint Corporation (NYSE: S), and United States Cellular Corporation (NYSE: USM) against the share value of Verizon. This model yields a statistically significant model with a Significance F value of effectively 0, meaning the model has a virtually 0% chance of just being the product of chance. The model processes 6,290 data points in to 1,258 observations, over the course of five years. Results are indexed.
Verizon is the largest cellular provider in the United States, with T-Mobile, AT&T, Sprint, and U.S. Cellular making up the remaining firms in the top 5, in terms of subscribers.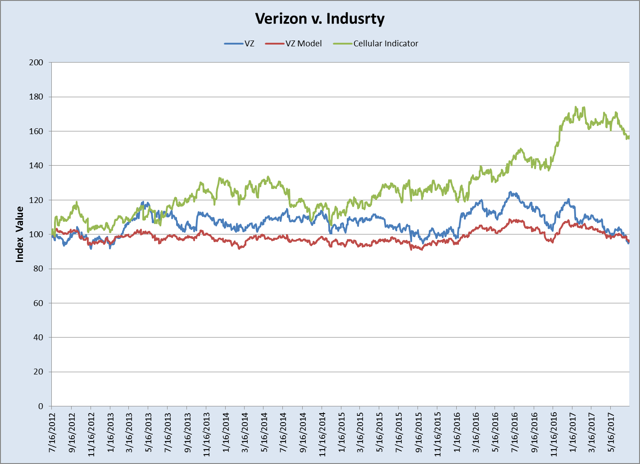 In regards to this model, the behavior of the data series suggests that this is a lower bound. In other words, the modeled price should be consistently below the observed price; when the observed price begins to approach the modeled price this is an indication of undervaluation. Verizon has been steadily marching towards its modeled price. This march, when combined with the previous postulate, should signal to an investor that Verizon is a stock to watch.
While the graphic representation of Verizon, above, shows that Verizon has been underperforming relative to the other cell phone providers, but when compared to its current share price it is appropriately priced, leaning towards undervalued. As the next model will elaborate further, there are two sides to gauging Verizon current share valuation.
Verizon is a diverse company. That diversity demands a diverse analysis. To gain further insight, Verizon needs to be compared to other firms in telecommunication and tele-broadcasting.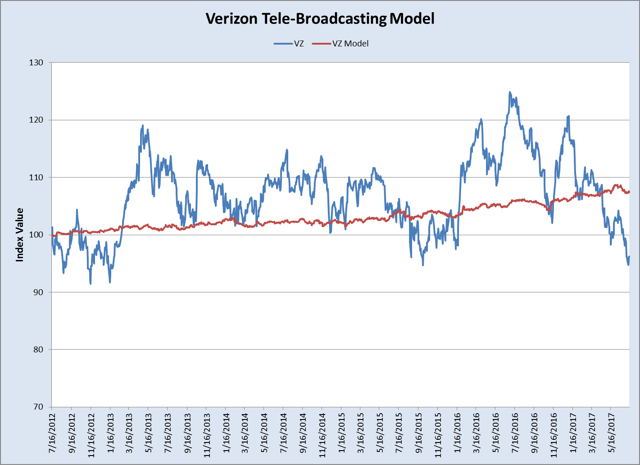 The modeled Verizon price is calculated through a regression of share values from Comcast (NasdaqGS: CMCSA) and Dish Network (NasdaqGS: DISH). As with the previous model, this system yields a statistically significant model with a Significance F value of effectively 0. More importantly, this model illustrates to an investor that Verizon is undervalued, just as the previous model shows.
This model does feature fewer data points than the previous model; this model uses 3,774. Though, the total number of observations is the same and this model is performed over the same amount of time. Results are indexed.
This model articulates the relationship between the observed Verizon share value and its equilibrium. When referencing a stock's equilibrium, this is referring to the inherent price point of where the supply of the stock matches the demand for the stock. This is an important relationship because it helps convey, in the short run, what is the appropriate stance to take on the stock. This model is far more vocal than the first in its announcement that Verizon is undervalued. The model shows a mean undervaluation of 13.62%, this is substantially above the margin of error for the model.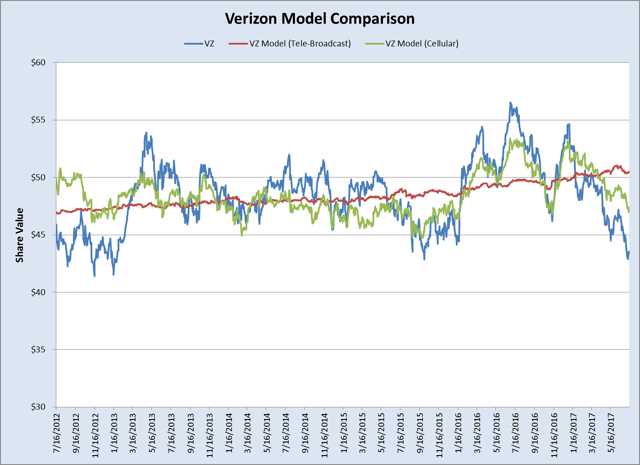 When the models are observed in one picture, as above, there is clearly consensus that Verizon is, at least, computationally undervalued; while the tele-broadcast model demonstrates an undervaluation beyond the margin of error, the cellular model mean shows an undervaluation of 8.12% which is with in the extreme upper bound of a reasonably margin of error.
When looking at the mosaic of the models and Verizon share value, there is an agreement among the data the Verizon is undervalued. While this undervaluation is not as dramatic as some investors may like to see to convince them to make an actionable decision, the undervaluation is supported by two models using mutual exclusive independent variables. This should reassure the risk adverse investor.
Moreover, this dual model analysis introduces some interesting advantages from singular perspective modeling. The main advantage is the noticeable agreement between the two conclusions reached across investigations into two different industries. The second, and more nuanced, benefit is the two models come to their agreement through two different methods. The cellular model presents an accurate model in regards to sensitivity, which mimics market movements far better than the tele-broadcast approach. The tele-broadcast method presents a beautiful example of the market equilibrium of Verizon. Knowing the market equilibrium offers the investor the ability to discern genuine growth, if the equilibrium moves upwards this should signal real growth, as opposed to asset bubbling. When both these numerical systems are combined, it is possible to examine both sides of the Verizon coin.
When all the data presented is considered, the end product is Verizon is positioned in the buy side. The analyses indicate an undervaluation, and by a noticeable margin; the cellular model offers this undervaluation on the cusp of the margin of error of the model, but the tele-broadcast model supports this undervaluation through its own projection of a 13.62%. This is beyond the margin of error.
In closing, investors should consider buying Verizon to exploit this misvaluation.
This article was written by
WappCap is a stock analysis and research company headed by James LePage (Co-Founder of ShareClub), alongside a team of financial professionals. We write about undervalued, unknown stocks with high return potential. Our articles are meticulously crafted to help you make the decision to invest (or not) in a security, utilizing original analysis, valuation models, and industry experience. Check out our TipRanks analyst rating - we're currently near the top 100 analysts out of over 6,000, and have a return rate of over 30% in 1 year!
Analyst's Disclosure: I/we have no positions in any stocks mentioned, and no plans to initiate any positions within the next 72 hours.

Business relationship disclosure: This article was written by a third party.
Seeking Alpha's Disclosure: Past performance is no guarantee of future results. No recommendation or advice is being given as to whether any investment is suitable for a particular investor. Any views or opinions expressed above may not reflect those of Seeking Alpha as a whole. Seeking Alpha is not a licensed securities dealer, broker or US investment adviser or investment bank. Our analysts are third party authors that include both professional investors and individual investors who may not be licensed or certified by any institute or regulatory body.