Welcome to the weekly recap edition of Oil Markets Daily!
WTI finished the week higher by 5.22%.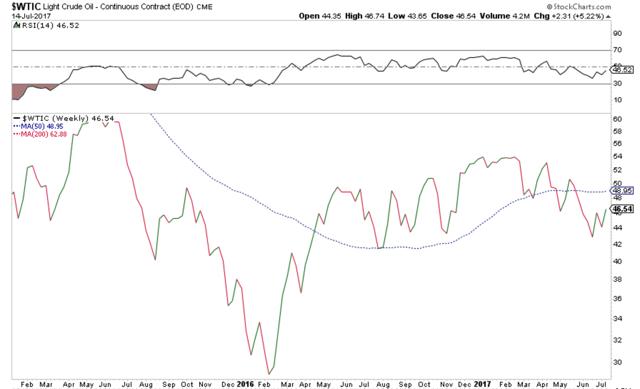 Oil prices moved higher again this week; as we have said, last week's sell-off was likely the result of quarter-end volatility. In the highly anticipated CFTC position disclosure report, money managers increased net-long positions in WTI by 30 million bbls. Position breakdown saw longs decrease positions by 3 million bbls while shorts covered roughly 32 million bbls.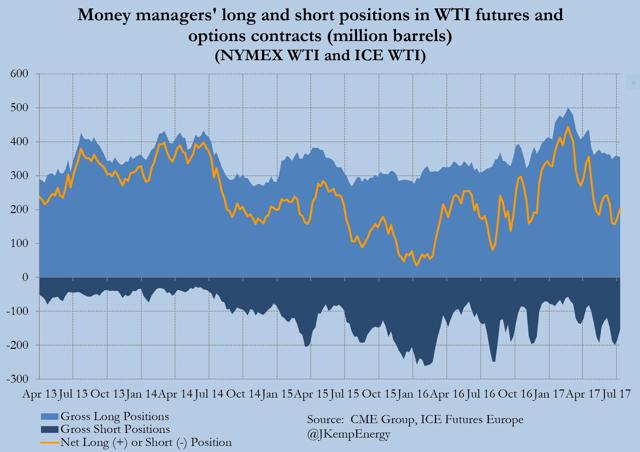 Source: John Kemp
This week, we saw EIA report another bullish crude storage report as we detailed here. In addition, we saw IEA publish its July oil market report on Thursday where the agency raised 2017 global oil demand growth forecast from 1.28 million b/d to 1.41 million b/d. These bullish fundamental headlines saw WTI recover back above $46, but still far below where prices were at the start of the year.
Second Half Of 2017 Will Surprise
The first half of the year was not kind to oil bulls. A smooth recovery from Libya saw production increase from just under 700k b/d to the reported 1 million b/d today. Nigeria also saw close to 200k b/d of production recovery putting unexpected production increase to 500k b/d since the start of the year.
OPEC's ramp in production in October and November prior to the 1.8 million b/d cut agreement pushed global inventory higher in January, and the global rebalancing started on the wrong foot.
Despite these issues plaguing short-term oil market fundamentals, the global rebalancing continues earnestly. IEA reported that the OECD storage surplus to the five-year average will fall below 260 million bbls in June. However, in the bears' defense, the five-year average is moving higher due to elevated inventory in 2015 and 2016 skewing the figure. Nonetheless, storage has declined counter-seasonally with the biggest declines coming in the second half of 2017.
With oil prices lingering around $46/bbl at the moment, the complacency in the market continues to hold onto the rhetoric that 1) US shale production growth will push global balance into oversupply in 2018 and 2) OPEC's production cut is not working.
We find the market's current thinking completely flawed. As we had said in June, two weeks of bad storage data does not make a new trend. And looking at the recent EIA US oil storage data, we can safely say that the rebalancing trend continues.
In the second half of 2017, there are several surprises in store for the complacent oil markets:
1) Consensus seems to think that Libya and Nigeria's oil production will remain around the current level despite historic evidence of frequent disruptions and chaotic geopolitical risk factors involved.
2) US shale production growth could surprise to the downside, leaving the market wondering about the aggressive growth rate assumptions. As we have said in the past, if US shale producers spent within cash flow at $50/bbl WTI, US oil production growth would be flat y-o-y. Think about that for a second.
3) OPEC's domestic demand rise will push exports naturally lower and with less OPEC storage to export out of, global storage will fall even faster.
4) Global oil demand growth could outpace the 1.41 million b/d revision by IEA. As we have said in the past, emerging market trade flows have a direct correlation to oil demand growth. The figure is closer to 1.57 million b/d to 1.65 million b/d with a surprise to the upside given the latest trade flow data out of China.
Bottom line
The bottom line is this: Oil market fundamentals for the second half of the year will see demand outstrip supply by 1 million b/d, and possibly more if demand surprises to the upside as emerging market trade flows indicate. In addition, the consensus's wildly bullish shale production growth forecast could disappoint leaving the oil market fundamentals much tighter than what the consensus is projecting. Lastly, volatile oil production in Libya and Nigeria are approaching their peak, leaving nothing but downside surprise for the second half.
We continue to expect WTI to finish the year at or above $60/bbl.
If you would like to read more in depth oil market research, we think you will find great value joining the HFI Research community. You can see here for more info.
Disclosure: I/we have no positions in any stocks mentioned, and no plans to initiate any positions within the next 72 hours.
I wrote this article myself, and it expresses my own opinions. I am not receiving compensation for it (other than from Seeking Alpha). I have no business relationship with any company whose stock is mentioned in this article.