Welcome to the weekly recap edition of Natural Gas Daily!
Natural gas prices finished the week up 4.05%.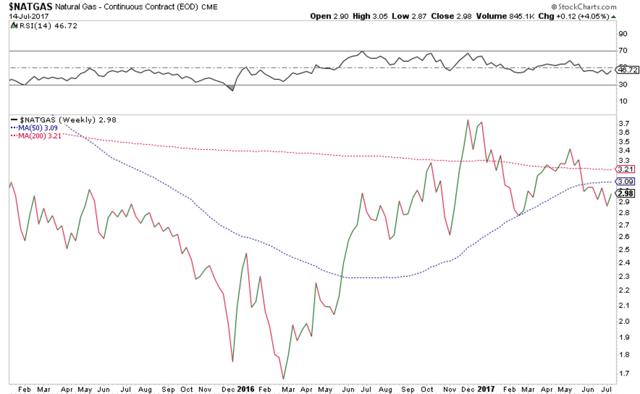 Natural gas prices started the week only inching higher by 2% on Monday. In our premium natural gas fundamentals report, we cited traders that were very frustrated with the market. The weather model revisions over the weekend were very bullish with broad reductions in injection forecasts for the next three weeks.
On Tuesday, natural gas started to really take off as power burn was making year-over-year gains versus 2016 levels. The bullish fundamentals from a combination of falling Lower 48 gas production and much better-than-expected power burn demand saw the sentiment flip.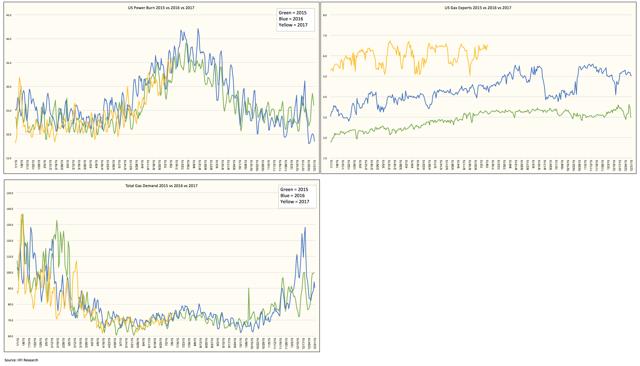 Source: HFI Research (Above charts were posted on 7-11-17 for HFI Research subscribers.)
Looking back at this week's fundamentals, we noted in Friday's "Natural Gas Storage Forecast For Next Week" that the 2.9 Bcf/d increase in power burn demand w-o-w pushed overall demand much higher, while a 0.6 Bcf/d decrease w-o-w in Lower 48 production helped push weekly implied injection to 29 Bcf.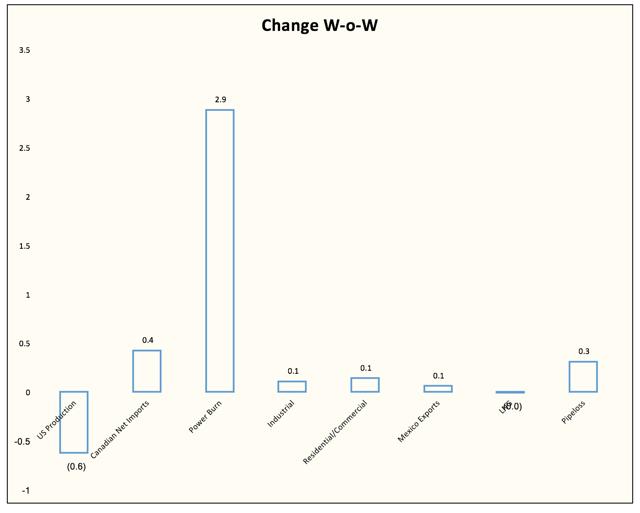 Source: HFI Research
With natural gas prices hovering just below $3/MMBtu, consensus has recently revised down its November 2017 EOS forecast from over 3.86 Tcf two weeks ago to 3.786 Tcf on Friday.

The recent decrease highlights the tightening fundamentals the market is seeing, and the biggest contributor to this has been the low natural gas prices.
Going forward, traders and analysts will be watching Lower 48 production closely. ETP's Rover phase 1 should be online sometime in Q3 (was expected to be online July 1, but operational delays are making start-up date uncertain). Everyone will be watching closely just how fast the 1.9 Bcf/d of capacity gets filled. The bears are currently arguing that the increase in takeaway capacity will get filled by producers right away, while the bulls believe that the current capex plan from natural gas producers will see the capacity fall short of expectations.
We discussed this in detail in a special report published last weekend titled, "Special Report - Long-Term Natural Gas Trend Outlook." If you would like to be part of the HFI Research community, you can see here for more info.
Disclosure: I/we have no positions in any stocks mentioned, and no plans to initiate any positions within the next 72 hours.
I wrote this article myself, and it expresses my own opinions. I am not receiving compensation for it (other than from Seeking Alpha). I have no business relationship with any company whose stock is mentioned in this article.