We've all read the numerous articles that point out how Tesla's (TSLA) market capitalization has surged from $27 billion in November 2016 to more $60 billion in June 2017, and how Tesla is now worth just as much or more than Ford (F) and General Motors (GM) even though it produces only a fraction of the cars.
The following graph illustrates the change in market capitalization for the three companies identified above during the last eight months: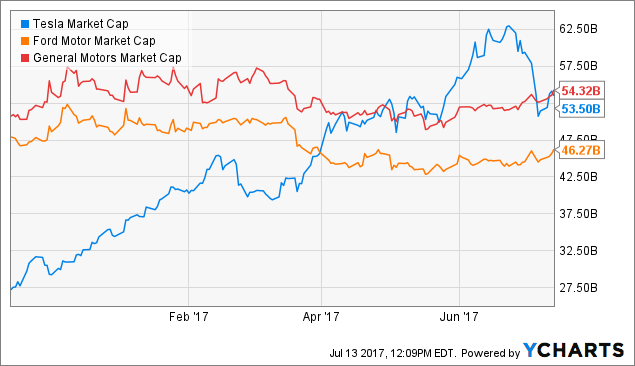 TSLA Market Cap data by YCharts
I will discuss in a subsequent article why I believe this is warranted, but this article will explore why many companies similar in valuation or smaller than Tesla, including Ford and General Motors, are included in major equity market indices such as the S&P 500, but Tesla is not.
Why is this important?
Inclusion in an index sure spurs a lot of news articles, but studies reach varying conclusions as to its effect. Some studies show permanent value creation as a result of being included in a major index potentially for the following reasons:
The excess demand due to indexing (Shleifer, 1986, Beneish and Whaley, 1996, Lynch and Mendenhall, 1997, Wurgler and Zhuravskaya, 2002),
the increase in expected future cash flows because inclusion in the index is perceived as a positive signal about the prospects of the firm (Jain, 1987, Dhillon and Johnson, 1991, Denis et al., 2003),
the decrease in the required return due to improvement in liquidity (Erwin and Miller, 1998, Hegde and McDermott, 2003), and
the rise in investor awareness (Chen et al., 2004).
On the other hand, the following is what the Federal Reserve Bank of New York concludes:
We find that the firms included in the S&P 500 index are characterized by large increases in earnings, appreciation in market value, and positive price momentum in the period preceding their index inclusion. [...] Nonevent firms with similar performance experience similar appreciation in value and changes in comovement coincident with the event firms. Contrary to the consensus in the literature, our results indicate that – after accounting for the firms' extraordinary preinclusion performance – index inclusion has no permanent effect on value and comovement.
In other words, many studies agree that prospects of being included in a major index affects the price action in a given stock in the short term, but it is unclear if this effect is temporary or permanent.
The eligibility criteria for the S&P 500 index
There are five main criteria for inclusion in the index:
The company should have a market capitalization of $6 billion or more,
the stock should trade a minimum of 250,000 shares in each of the six months leading up to the evaluation date,
the company should be domiciled in the US,
the company should have a public float of at least 50% of the stock, and
the sum of the most recent four consecutive quarters' Generally Accepted Accounting Principles ("GAAP") earnings (net income excluding discontinued operations) should be positive as should the most recent quarter.
Readers can find further detail on each of the above five criteria, and others, in this document.
Why is Tesla not included in the S&P 500?
Although Tesla currently has a market capitalization of $53 billion, which satisfies criterium #1 above, approximately 10 million shares are traded in the stock daily on average, which satisfies #2, it is domiciled in the US, which satisfies #3, and its public float of ~122 million shares makes up more than 73% of its shares outstanding, the company is not yet GAAP profitable:

As the above graph illustrates, the company has had only one quarter in the last eight that resulted in GAAP profits.
When will Tesla become GAAP profitable?
As the company will be heavily investing in R&D and SG&A in the coming quarters, I do not expect the company's GAAP results to turn positive until the second half of 2018, which is when I expect the Model 3 to achieve meaningful gross margins at 10,000 per week volume.
The following graphs present my projection of the company's quarterly GAAP revenue and income/loss results through 4Q18:


Source: Author's detailed projections
My primary revenue assumptions are:
A slight decline in Model S and Model X unit sales throughout 2H17 due to a potential short-term Osborne effect from the Model 3 rollout, followed by a gradual and slight increase in unit sales of higher end units as Model 3 expands Tesla's brand value and brand awareness across the company's geographic markets. In total, I project ~160,000 Model S and Model X unit sales through the next six quarters.
37,000 Model 3 units sales in 2017, ramping up to 5,000 per week in early 1Q18, and 10,000 per week by 4Q18.
A gradual ramp up of Tesla Energy revenue up to 15% of total revenue by 4Q18, divided somewhat evenly between the company's residential and commercial/utility segments.
$1 billion revenue from Enhanced Autopilot option in 2018.
$1 billion revenue from Tesla Semi in 2H18.
No revenue from Full Self-Driving option until 2019.
No revenue from Model Y, Tesla Pickup, or any other products or services until 2020.
My primary gross margin assumptions are:
Gradual increase to 30% for both Model S and Model X by 1Q18 as the company limits unit growth and focuses on optimizing existing production lines for margin expansion.
Negative 5%, 0%, 10%, 15% and 20% for 3Q17, 4Q17, 1Q18, 2Q18, and 2H18, respectively, for Model 3 as the company ramps up to 5,000 per week by 1Q18 and to 10,000 per week by 4Q18.
Tesla Energy margins generally in line with Tesla Automotive margins.
My primary operating expense assumptions (developed after researching how operating expenses as a percentage of revenue trended as Apple (NASDAQ:AAPL) rolled out its first iPhone and other mega-cap companies grew throughout their histories) are:
Gradual decrease in R&D expense as a percentage of revenue from 16% in 2Q17 to 10% in 4Q17, and as the company continues to invest in innovation but revenue growth rate accelerates faster in 2018.
Gradual decrease in SG&A expense as a percentage of revenue from 24% in 2Q17 to 10% in 4Q18 as the company's revenue ramps up significantly with the Model 3.
Bottom Line
Although Tesla's top line growth will substantially accelerate in the coming quarters as the company ramps up Model 3 production, I expect the company's profitability to remain muted until the second half of next year. Even though I project GAAP profits starting in 3Q18, due to the specific language in the profitability criterium for addition to the S&P 500 index, Tesla is unlikely to be added to the index until 4Q18.
Premium research
If you are interested in learning about my investment methodology as well as high-quality research on Tesla supported by detailed financial projections by product and service line, you can sign up for Tesla Forum here. I am confident that you will find my research to be very insightful, and I look forward to answering your questions.
Disclosure: I am/we are long TSLA.
I wrote this article myself, and it expresses my own opinions. I am not receiving compensation for it (other than from Seeking Alpha). I have no business relationship with any company whose stock is mentioned in this article.