Recent Business Highlights
Mosaic's (NYSE:MOS) 2017 Q1 results were particularly uninspiring due to a range of most unusual and unlikely factors affecting its performance, from mechanical failure near Esterhazy to excessive rainfall as well as other logical issues. It really was the perfect storm.
Mosaic has for all intents and purposes two main segments - phosphates and potash segments. Its phosphate segment which accounts for practically half of the company's performance delivered weak top line numbers. Its gross margin for this segment was $57 million versus $64 million in the same period ago (-11% YoY). However, in this instance, possibly more relevant is management's commentary on phosphate outlook. Management stated that it felt that the market is starting to demonstrate positive developments, so in spite of weak pricing in the quarter, with phosphate's average realized price of $327 per tonne compared with $355 per tonne in the same period a year ago, its volume was up moderately from 2.2 million tonnes to 2.3 million tonnes. Therefore, to Mosaic's management's credit, it was able to keep strong controls of its cost and this was reflected lower down its P&L statement, with its operating earnings coming in nearly flat in both its 2016 Q1 and 2017 Q1 results - at approximately $17 million.
Moving on to the other segment which accounts for nearly half of its operating earnings is its potash segment. This segment had higher net sales driven by higher volume but offset by lower average realized prices. Not surprisingly, just like Potash Corp. (NYSE:POT), it had a higher average selling price in North America, but its international average selling price come under pressure.

As the table above shows, while Mosaic's potash average selling was $172 in 2017 Q1, management estimates that realized potash prices in the second quarter of 2017 are expected to be in the range of $170-$180, thus, most likely implying a small increase in average realized prices for potash. At the heart of it, Mosaic's management concluded that it expects the potash market to gradually improve in the near-term, which was also a positive.
As for the third and smallest segment, International Distribution, it serves as a distribution outlet for its Phosphates and Potash segments, to South America and the Asia-Pacific regions, and since it is not a meaningful contributor towards its consolidated bottom line I have not given it any space in the article.
Financials

Source: morningstar.com; author's calculations
In my last Mosaic article, I felt that Mosaic offered investors a margin of safety at the price it traded at then, with a dividend yield of just over 3%. However, since that article, the dividend has been cut. Nevertheless, while its current dividend is not particularly big and certainly not a reason for a dividend-seeking investor to purchase MOS shares, it's in line with the dividend yield from the S&P500.
On the other hand, and somewhat troubling, is that this business needs to have persistent cash reinvestments in the business. Nearly $1 billion in cash each year is reinvested back into its business. Taken together with a company that has a net debt position of $3 billion, this makes its financial position precarious.
Valuation Relative to its Peer Group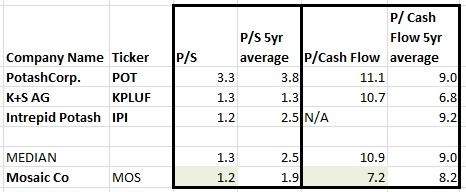 Source: Morningstar.com; author's calculations
While the peer group's P/Cash Flow is higher than its 5-year trailing average, its really a false signal as its peer group's results have had their operating cash flow come down over the past trailing 12 months. A more a reliable indicator on this occasion comes from the peer group's P/Sales ratio, which appears to emphasize that the group is currently trading out of favor with the investment community. However, Mosaic is not really trading at a no-brainer price, particularly if one considers its debt position.
DCF Analysis
The fact that there is only a small margin of safety in this investment repeats itself if one performs a DCF analysis. I used its normalized $865 million in FCF and grew it off this depressed base by 5% over the next 5 years. I then leveled this growth at 2% - in line with inflation. Then, I discounted this cash back at 10% - which is a standard discount rate.
This brought the DCF to approximately $12 billion, which is somewhere between 35%-40% upside potential, reinforcing my conclusions in the section above, which are, that while Mosaic is trading slightly cheaper than its 5-year trailing average, it is basically priced with only has a small margin of safety.
Investment Risks
It's trite to even comment on this up risk, but Mosaic is a commodity company that is largely exposed to macroeconomic factors that are totally outside of management's control. Therefore, investors should demand a larger margin of safety before considering investing in these sorts of commodity exposed companies.
Moreover, Mosaic sells products in global markets that face strong competition from other crop nutrient producers, such as the new parent company of Potast Corp. and Agrium, which will most likely be formed by the end of 2017 and will be called Nutrien. This new company will be the world's largest potash miner and will serve many of the same markets Mosaic does.
Conclusion
All in all, I conclude that there is some upside potential of 35%-40% in Mosaic and it could certainly be trading for around $30-$35 dollars per share over the next 2-3 years. Nevertheless, it's worth repeating that investors should be aware that this is a capital intensive business and that it does have a partially constrained balance sheet and if its debt were to meaningfully rise, investors might decide to be extra cautious of that and act appropriately.
Please do your own due diligence to reach your own conclusions. If you have enjoyed reading this article, please click "Follow" to get more articles of mine in real time.
Disclosure: I am/we are long IPI.
I wrote this article myself, and it expresses my own opinions. I am not receiving compensation for it (other than from Seeking Alpha). I have no business relationship with any company whose stock is mentioned in this article.