Bank of Canada's July 12th announcement that interest rates will rise by a quarter-percentage-point on Wednesday July 13th, has sent the Canadian dollar soaring against the U.S. dollar. To truly digest the significance of this news, consider that this is the first interest rate increase for Canada in seven years.
With rising interest rates, comes renewed global confidence in the strength of Canadian economy. More international investors will now be interested in investing in the Canadian market, and as a result, the Canadian dollar is now showing real signs of lasting strength for the first time in more than 5 years.
Canadian dollar used to be on par with U.S. dollar, and at times slightly stronger than U.S. dollar in 2011.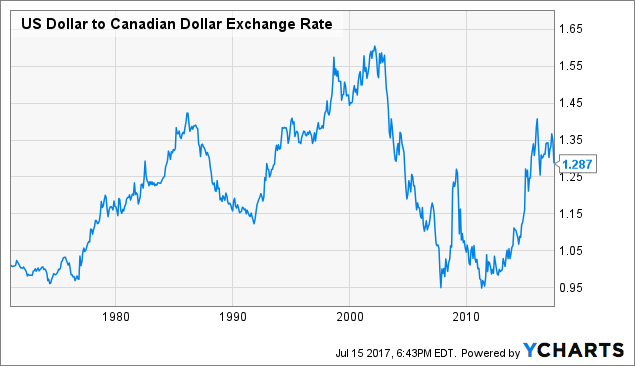 Furthermore, Crude oil is trading for less than half of what it used to 5 years ago, and while it is impossible to predict oil prices, it is more likely than not to increase in the future. Lower U.S. stockpile has already pushed oil prices higher. And there is the looming possibility of another conflict in the middle East, which could instantly lead to much higher crude oil prices. Canadian dollar has always favoured higher oil prices.
In short, Canadian dollar is on the rise, and very likely to continue this trend.
What can you as an investor do? If you find yourself mostly exposed to American market and stocks, as most American investors are, this may be an excellent time for you to diversify into the Canadian market. You can of course do so in Canadian dollars, but non-Canadians often don't know that they can invest in many of Canada's largest companies and banks using U.S. dollars. I recommend either buying low-fee index ETFs, or Canadian banks (many of which are also traded in American markets). Please keep in mind that some ETFs are currency-hedged and others are not (read more about currency-hedged ETFs here). Bank stocks benefit from rising interest rates, and Canadian banks are looking particularly strong right now.
Here are some of my recommendations:
Canadian Banks: Royal Bank of Canada (RY) and Toronto Dominion Bank (TD)
Both of these banks are terrific Canadian investments, and available on the New York Stock Exchange. The Royal bank has been growing steadily over the years (with a net income rise of 8.2% yoy in its most recent quarter). I would consider it a safe investment, a company that has been consistent with its results, and pays a solid dividend of 3.43%. Toronto Dominion Bank may be slightly more risky, but with higher risk comes higher rewards. It has a dividend of 3.59%, and their expansion into the United States has been particularly successful.
ETFs Invested in the Canadian Market: iShares MSCI Canada ETF (EWC)
The MSCI Canada Index is among the most popular ETFs with exposure to Canada with a market cap of 3.12B. It is one of the most liquid Canadian ETFs. It is also available in a currency-hedged format, the iShares Currency Hedged MSCI Canada ETF (HEWC), but its currency-hedged twin trades with very low volume, and I cannot recommend it. Note that both Royal Bank of Canada and Toronto Dominion Bank are among EWC's top holdings, so it is unnecessary to invest in both the banks and the ETF, as you may be overexposing yourself to Canadian financials then. It's all about diversification!
If you know of other good low-fee ETFs with high liquidity invested in the Canadian market, feel free to share it with us in the comments below.
Disclosure: I am/we are long RY.
I wrote this article myself, and it expresses my own opinions. I am not receiving compensation for it (other than from Seeking Alpha). I have no business relationship with any company whose stock is mentioned in this article.