AB-InBev (BUD) has – as promised – become a dominant force in the global beverage industry. The company's ability to produce cash has always been a huge consideration of investors as stocks like BUD tend to operate a bit like utilities in the sense that capital returns are tremendously important to shareholders. To that end, BUD has ramped its dividend spending since the company was formed several years ago and in this article, I'll quantify what it's been able to do and what the future may look like.
I'll be using data from Morningstar and note that we'll begin with 2010, the first full year the company operated in its current form.
Here's a quick look at the per-share payout BUD has produced over that time frame, and as expected, growth is quite impressive.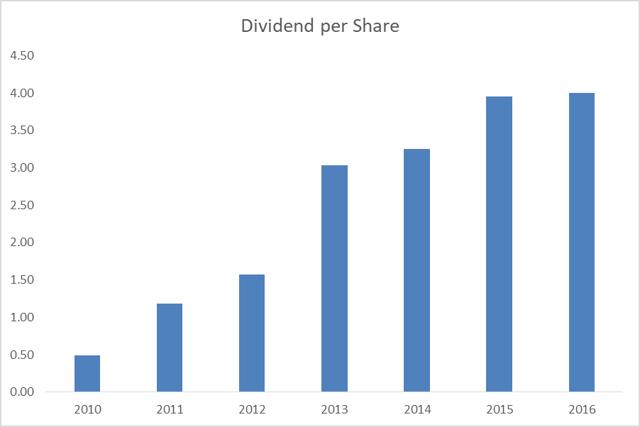 The dividend began as just an annual payout that was successively increased by leaps and bounds until BUD went to a more traditional payout schedule a couple of years ago. Starting from nothing at the time of the merger between Interbrew, AmBev and Anheuser Busch in 2008 - forming the company we know today - BUD has its payout up to four bucks per share annually, tremendous growth by any measure. But if we look at each year's increase, we can also see what I believe is an issue going forward from here, and that is a lack of available cash to continue these increases.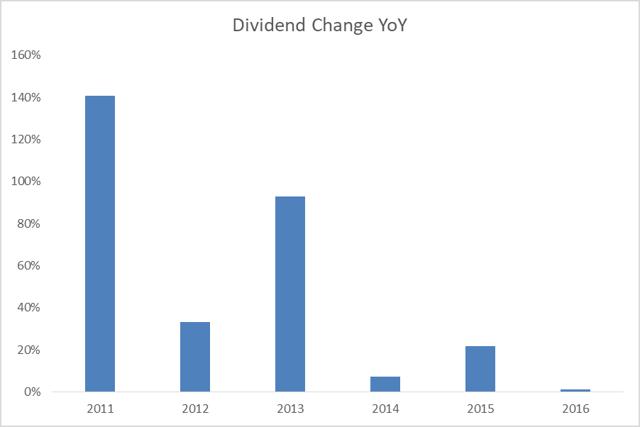 These early increases are huge but quite irregular as well. We saw 2011 and 2013 both roughly produce double the prior payouts, respectively, with the other increases coming in much more diminutive packages. Indeed, last year's increase was a token bump that can be measured in bps instead of percentage points. And while the yield is still very high at nearly four percent even with this tiny increase, there is good cause for BUD being so cautious with its dividend increases these days.
The reason is because any dividend must be financed by free cash flow, and BUD has a bit of a problem these days with respect to financing its dividend. The chart below plots the cost of the dividend against the company's FCF from 2010 to 2016, and I'm afraid the results aren't particularly good.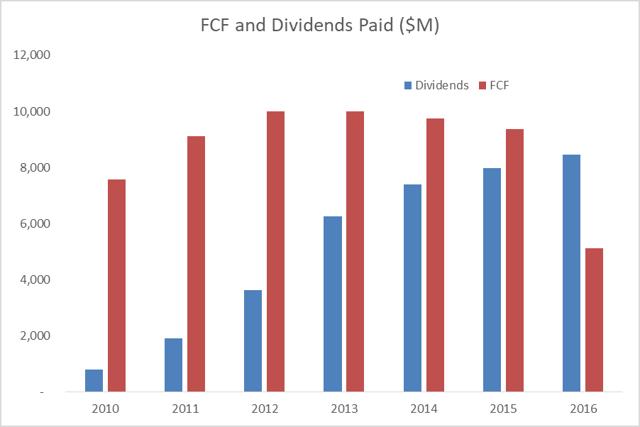 There are two things to notice here: the cost of the dividend and declining FCF. The cost of the dividend has obviously skyrocketed since BUD began paying shareholders, as we saw the per-share payout amount soaring. The other piece of the equation is that BUD's share count continues to rise, so its dividend cost increases are exacerbated by not only a higher per-share payout but also the fact that it is paying the dividend to more shares as the years go by. This increases the cost of the dividend without the same level of benefit to each individual recipient, which isn't a perfect situation to be sure.
The more concerning thing for me are the red bars that show that BUD's FCF actually peaked back in 2012 and has been dwindling ever since with last year's total coming in at just over half what it was in 2012. That's ugly, and while BUD's FCF is a bit messy thanks to its proclivity to constantly buy other companies, this has to concern shareholders. Even if you assume BUD can get back to $10B or so in annual FCF, its dividend is rapidly approaching that level, and given that BUD does like to buy other companies, its debt problem is only going to get worse; there's no way around it. BUD, during this time frame, has been a net issuer of about $75B in debt, and while it isn't like it cannot afford to service that debt, over time, it simply cannot keep up this pace. This is particularly true if it funnels 100% or more of its FCF to the dividend; there's simply nothing left to finance anything else and debt is the only real option.
To illustrate this point, the chart below shows BUD's dividend cost as a proportion of FCF for each year to show just how razor-thin the proverbial ice is that BUD is skating on right now.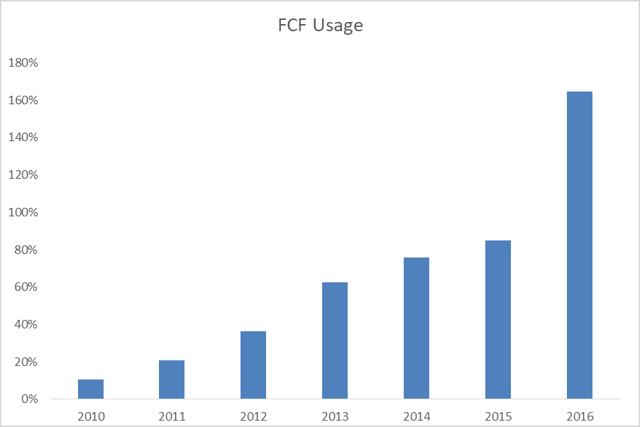 Last year's FCF number was muddied by the company's most recent, gargantuan acquisition of SABMiller, but under more normal circumstances, BUD was still using in excess of 80% of its FCF to pay the dividend. As I said, even if you assume that BUD can get to $10B in FCF, the dividend was $8.5B last year and will almost undoubtedly be even more this year due to a rising share count, plus whatever increase BUD comes up with, if it chooses to boost the payout. The danger zone for me is 80%+, and BUD is already well within that, meaning that it could certainly be using up 100% of its FCF in very short order unless something drastically changes for the better.
Going forward, even if the SABMiller buy produces some synergies, BUD's dividend is in a huge financing hole. Things like cutting some redundant staff will help with profit margins and should help boost FCF over time, although the size of SABMiller is still small relative to the rest of the company. In addition, there may well be some manufacturing synergies down the road but that is just speculation at this point given the early stage we're in. Mega-mergers like these typically have some cost savings built in - which is what makes them attractive in the first place - but at the same time, this is an enormous company and enormous companies aren't always the fastest in achieving cost savings. And I'll reiterate that while SABMiller was certainly a huge purchase, it represents only a fraction of the combined company, so BUD is operating mostly in a business-as-usual state. That keeps a lid on potential gains from the merger simply due to the size of the impact.
With the way BUD likes to acquire competitors, spending all of its FCF on the dividend is the wrong thing to do. The problem is that it has already committed to a $4 dividend and cutting it would be seen as a disaster given the importance of the payout to the stock. In short, dividend growth from here is going to be unbelievably challenging for BUD to finance and considering it is already so heavily leveraged, I'm not even sure it could borrow for very long without financing costs eating into its margins even more than it already does. If you want to roll the dice on a flashy current yield, this BUD is for you. But if you want a well-financed dividend with some room for future growth, run as quickly as you can from this one.
Disclosure: I/we have no positions in any stocks mentioned, and no plans to initiate any positions within the next 72 hours.
I wrote this article myself, and it expresses my own opinions. I am not receiving compensation for it (other than from Seeking Alpha). I have no business relationship with any company whose stock is mentioned in this article.