Home builders Lennar (LEN), PulteGroup (PHM) and Tri Pointe Group (TPH) and Toll Brothers (TOL) have done well year-to-date, up 26%, 31%, 17% and 28% respectively. The effort easily outstrips that of the S&P 500, which is up 8.9% through Friday's market close (14 July). Investors have bid up the sector based in large part to a variety of underlying fundamentals that have traditionally defined a strengthening economy. Job creation remains strong with roughly 16 million positions being created since October 2009. The unemployment rate at 4.4% through the end of June is slightly more than 5 ½ percentage points below its peak in 2010 and is at a 10-year low. Involuntary part-time workers in the labor force now number close to pre-recession levels. Claims for unemployment insurance are at 50-year lows. Household net worth hit $94.83 trillion through the end of the 1st quarter 2017, 66% higher than the $56.21 trillion trough hit in the darkest days of the Great Recession of 2007. Disposable income is up to $14.34 trillion in disposable income—a 34% increase over 2008. Corporate spending on structures and equipment has picked up in the first six months of the year after a string of negative posts through much of last year. Inflation remains literally locked at historically low levels as the supply of oil continues to exceed demand while at the same time depressing prices at both the wholesale and retail levels in the greater economy. Markets continue to rack up new records as a result as capital moves out of fixed income instruments and into the greener pastures of equity markets across the globe.
Figure 1: Tri-Pointe Group, Lennar (LEN), Toll Brothers (TOL) and PulteGroup (PHM) Year-to-Date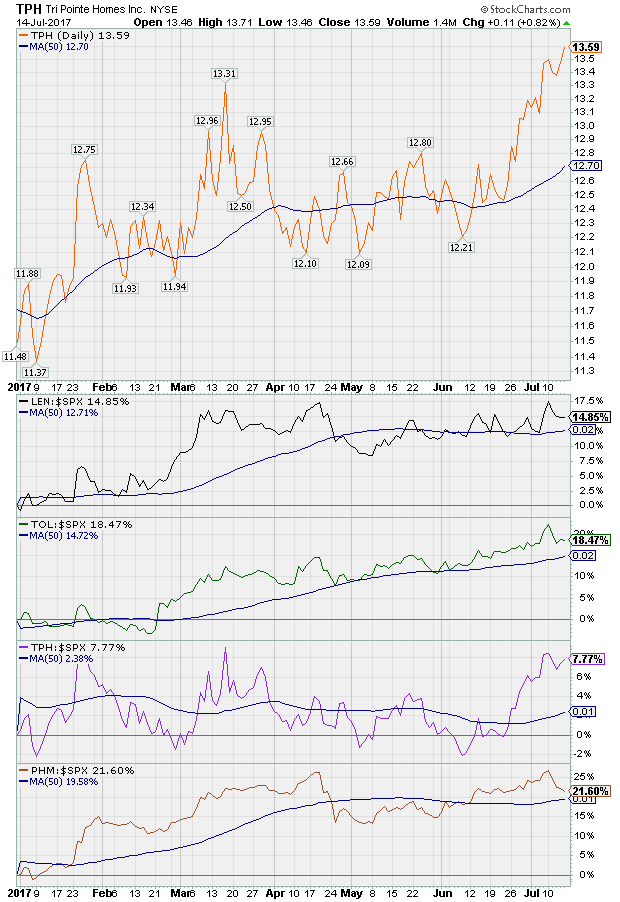 That said, the outsized valuations of home builders appear highly vulnerable to a market correction. The average selling price for a new home in May tipped the scales at a record-breaking $406,400 with the median price at $345,800 which skews the new home market toward the higher end buyers. While the same proportional market skew was present in 2005 when home building logged its peak year, the economic headwinds that characterize the sector today were then largely absent. New home sales posted an annualized 610,000 units in May, up 2.9% on April and exceeding May 2016 sales by 8.9%, but remain a fraction of the 1.385 million annualized unit sales of July 2005. Strong headwinds around desirable land, skilled labor shortages, rising material costs—even US tariff regimes on Canadian timber—now apply downward pressure on margins while at the same time driving new home prices further afield from the financial means of working households who pocketed a 2.50% increase in wages through the end of May YOY. Headline CPI inflation grew at 1.6% through the end of June, unchanged from May's post—a scant 0.90 percentage point difference. New home prices soared 10.52% in May MOM and just over 16% YOY.
As short-term interest rates rise with each hike of the federal funds rate, the unwinding of the Fed's $4.5 trillion balance sheet that is slated to begin by year's end spells the beginning of what is billed as a glacial but nonetheless methodical close to an era of historically low borrowing costs across the economy. Rising interest rates offers up a stiff headwind to potential home buyers that are forced to turn to the credit markets to finance their purchases.
Figure 2: West Texas Intermediate Crude and Headline PCE Inflation Since June 2014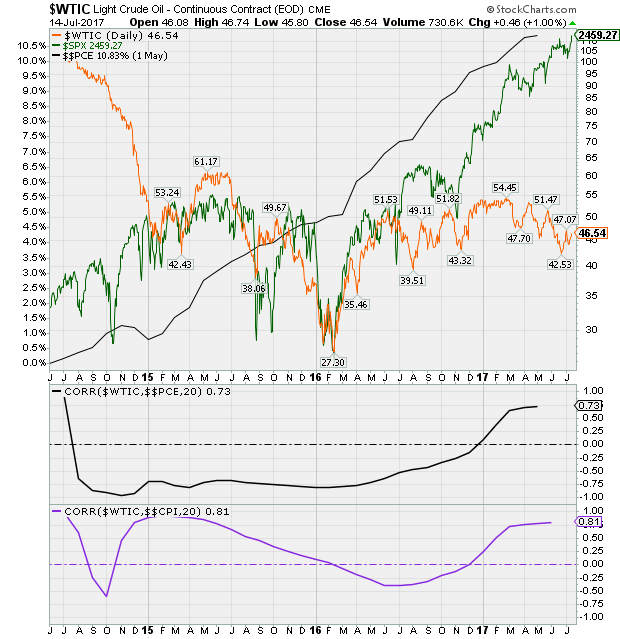 Stubbornly low inflation, however, raises concerns about the likelihood of further hikes in the federal funds rate this year concerns that Janet Yellen readily acknowledged in her semi-annual review of monetary policy report before the House Committee on Financial Services (11 July 2017). Yet the federal funds rate arguably remains below a neutral rate that is neither expansionary nor contractionary which makes the Fed's push to bring the two rates into a rough equilibrium persuasive to what appears to be a working majority of voting FOMC members—despite the 97-basis point spread between the 2-year and 10-year notes falling well below current inflation measures. Markets largely shrugged off the Fed's March and June hikes of short-term interest rates, a ready signal that investors acknowledge an overabundance of liquidity in the financial system—which places further Fed pullbacks firmly in play until rough equilibrium is achieved.
Price inflation, however, remains more curious. Falling headline and core inflation measures since February complicates the Fed's interest rate normalization schedule—or does it? While the Fed continues to point to temporary conditions as the root cause of the current weakness such as unexpected declines in pervasive cell phone contracts and prescription drug pricing, soft crude oil prices appear to be a growingly more persuasive cause. From WTI peak on 20 June 2014 at $107.26/barrel, it took roughly two years for the impact of lower oil prices to migrate through the supply chains in the greater economy to where today the price of WTI and headline PCE inflation to arrive at a correlation of 73. For headline CPI, which uses slightly different weightings for shelter costs, the correlation is even higher at a reading of 81 (see Figure 2, above). Weak crude oil prices will likely mitigate against abrupt upward price movements that would otherwise occur under more historical conditions, allowing the Fed to put its balance sheet reduction schedule into motion. The first stage of the Fed program is to not reinvest the first $6 billion of maturing Treasury and the first $4 billion of maturing mortgage backed securities, thus reducing the flow of liquidity into the greater economy. It is a first but not insignificant step along the path of shrinking its $4.5 trillion portfolio.
While the Federal Reserve remains out in front of much of the world in the pursuit of economic normalization, recent statements from the Bank of Canada, Bank of England, the European Central Bank and the Peoples Bank of China now confirm a delicate shift of central banks' policy away from uber-stimulative monetary policies of the past decade. The reasons behind this shift vary from jurisdiction to jurisdiction. Inflation, growth and interest rates however remain key. On Wednesday, the Bank of Canada raised its main lending rate 25 basis points, the first rate increase for that country in seven years—despite a 1.3% headline inflation rate through the end of May. With the rate increase, the Canadian dollar went from the poorest to the best performing currency in the G10—literally overnight. The seeming coordination of the efforts is more coincidental than reflective of broadly based trends around synchronous growth, unwinding asset purchase programs, inflation expectations and market volatility that appear to be coming together across the G1-10 economic divide. The Bank of Japan now stands alone as the only major central bank still umbilically tied to buying government debt and keeping the monetary punch bowl filled to the brim.
In the meantime, new home prices will likely to drift higher on cost particulars alone. Falling demand due to the steady upward creep of interest rates will further squeeze mass market appeal for the new home market as builders move further up market to bolster margins. Global stocks have soared on a combination of steady economic growth juiced by extensive monetary stimulus. With changing central bank priorities, economic growth will slowly lose a long-standing downside put. Market risk will slowly rise as speculative impulses are curtailed. Few expect a major market meltdown as a result. That said, a market that keeps pushing record highs higher becomes all the more vulnerable to downside risk as active central bank support for the greater economy begins to fade. Equity prices are at all-time highs. Equity returns will likely become more muted while market volatility increases as investors attempt to digest ongoing central bank intentions after a decade of easy money and rock bottom borrowing costs. Emerging market bond and equity markets remain on high alert. Historically, rising rates tend to put downward market pressure on equity shares. Sectors such as technology and healthcare that have led most of this year's market rally will come under pressure as yields slowly begin to rise since future profits that once commanded premium valuations in low interest rate environments fall to more historic norms. Bond prices will fall as capital gains on the price side are squeezed out of the equation. Yields will rise as financial conditions tighten. Home builders are on the wrong side of both of these variables.
Disclosure: I/we have no positions in any stocks mentioned, and no plans to initiate any positions within the next 72 hours.
I wrote this article myself, and it expresses my own opinions. I am not receiving compensation for it (other than from Seeking Alpha). I have no business relationship with any company whose stock is mentioned in this article.