I have been bullish and bearish on Caterpillar (CAT) at different times in the past few years, but to be fair, I've tilted towards the latter. CAT shares have flown in the past several months on the hopes that its dreadful downturn in revenue and profits has ended, and to its credit, CAT is performing much better than it was even a year ago. But one thing that never wavered – and is a huge part of the bull case – is the dividend. CAT has always been a very strong stock when it comes to capital returns and the dividend is the most noteworthy piece of that. In this article, I'll take a look at CAT's dividend to see how well-financed it is and how much room for growth there is from here.
I'll be using data from Morningstar for this exercise.
Let's begin by taking a look at CAT's per-share payout over the past decade to get an idea of where the dividend has come from.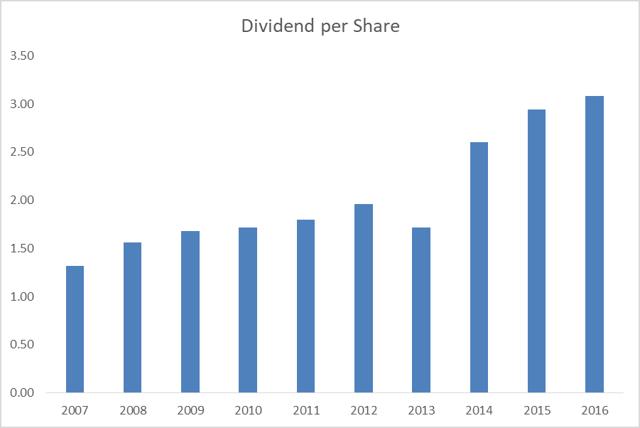 The first thing I'll point out is that 2013 looks like a decline in the dividend, and technically, it did. The fiscal cliff debate was alive and well at that time and a looming hike in the tax rate on dividends inspired CAT and many others to bring forward the Q1 2013 dividend into 2012. Thus, 2012's dividend looks inflated while 2013 looks like a decline despite a raise in the payout. That little bump is immaterial to this work, but it is worth noting since it does look a bit funky.
Now that we've got that out of the way, how has CAT done with improving its payout over time? The dividend in 2016 was 2.3X what it was in 2007 and that's pretty stellar. That's a strong build in the payout for any company, but if you consider CAT's ultra-cyclical nature and the fact that it experienced two pretty nasty downturns in this period, that level of growth is tremendous. CAT's average bump during this time frame is in the double digits, and again, that's exemplary considering what it endured during that time frame. Let us not forget that CAT's revenue in 2012 was $66B, and last year, it was just $39B. Similarly, it made $5.7B in 2012 and lost money last year. The downturn in heavy machinery due to a global slowdown in demand has taken an enormous toll on CAT, but it has endured to say the least.
Given the terrible environment for revenue and profit that CAT has endured, how has it paid for all of these dividend increases? After all, its earnings have been lumpy, to put it mildly. The good news – and the reason CAT is able to pay so much in terms of the dividend – is that its FCF is very strong, and comes in higher than net income on average. That means CAT's earnings are high quality and it is critically important in terms of being able to finance capital returns. Let's take a look at CAT's FCF against the cost of the dividend over the past decade to get an idea of how well it has done financing its payout.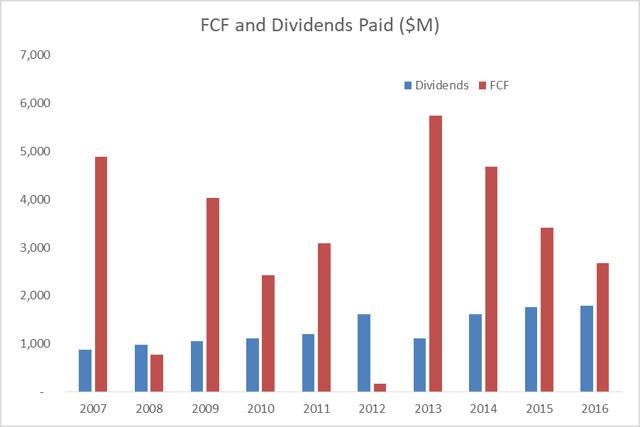 This is about as lumpy as it gets in terms of FCF, but expecting anything different would be imprudent given CAT's business. It is one of the most cyclical stocks I know of - as it relies upon boom/bust cycles of commodities for much of its revenue base - and that means sizable moves up and down are a normal part of its business cycle and that, in turn, translates to messy FCF. But messy is okay so long as on average, it is much higher than the needs of the dividend and in general, it is.
Over this time frame, CAT has produced $32B in FCF against just $13B in dividend expenditures, leaving a sizable FCF surplus. Of course, the dividend isn't the only thing CAT needs FCF for – the buyback and running the business come to mind – but it is the most high-profile thing on which it spends cash. Obviously, not every year's dividend is covered by FCF as 2008 and 2012 both saw deficits. But those years' deficits are dwarfed by enormous surpluses in boom times, and as I said, overall, CAT's dividend is well financed despite its cyclical nature.
I will caution that since 2013, CAT's FCF has declined meaningfully each year and that's concerning. The environment has been tough for CAT in that period, but it has also been engaged in cutting plants and staff down to the bare bones, so I'd expect that when/if things improve, its FCF would rebound. Just how much remains to be seen, but one thing is for sure: CAT cannot afford another couple of years of declines like what we've seen in the past three years. I don't believe CAT will see more declines like what we've seen for the past few years as global demand seems to have at least bottomed, but we haven't yet seen a turn higher. CAT's FCF for this year is going to be very interesting, and when it reports for Q2, we'll get a read on what the first half of the year looked like. If you're long, you'll want to pay close attention to that during the report.
On the whole, CAT's dividend looks fine to me. It is far messier than what dividend investors are accustomed to in terms of FCF financing but messy is okay so long as the surpluses are materially different than the deficits and in CAT's case, they certainly are. The valuation is stretched here in my view and that has sent the yield down below 3%, which pales in comparison to what it yielded in the past couple of years.

Chart: Simply Wall St.
That makes me cautious as well, but on the whole, CAT looks like its dividend growth machine is alive and well pending future developments. The only thing that could derail CAT's dividend growth is a continued slide in FCF, and while that's a possibility, I have to think that the cuts in input costs we've seen in the past couple of years will help CAT keep a surplus instead of a deficit with respect to FCF. In other words, despite my reservations about the valuation, CAT still looks like a solid dividend growth candidate going forward.
Disclosure: I/we have no positions in any stocks mentioned, and no plans to initiate any positions within the next 72 hours.
I wrote this article myself, and it expresses my own opinions. I am not receiving compensation for it (other than from Seeking Alpha). I have no business relationship with any company whose stock is mentioned in this article.