How long is Starbucks (SBUX) going to consolidate sideways before it finally breaks free? It has been nearly two years since we've seen Starbucks stock trade outside of the range of $52 to $62 per share.
Finally in late May to early June, we saw Starbucks stock breakout above $62 and nearly hit $65 per share. The excitement was short lived though, and Starbucks pulled back within the range that its shareholders are too familiar with.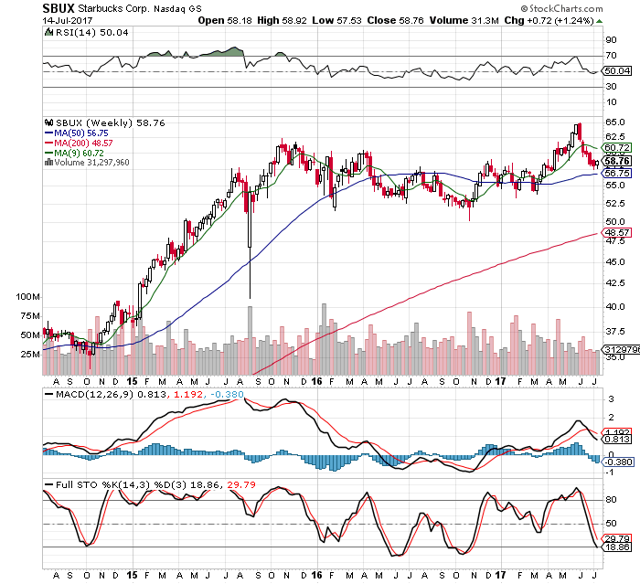 Starbucks' breakout above $64 was related to rumors that comparative same store sales were strong and that the company had made necessary changes to improve customer throughput. However, the June pullback began after there were whispers that Starbucks comp sales were going to be more in the neighborhood of 3% when analysts would like to see 3.6 to even 4%.
In order for Starbucks stock to break this range that has frustrated its shareholders, it must report positive data on comp sales when the company has its Q3 earnings call. CEO, Kevin Johnson said that for Starbucks 2017 would be a tail of two halves. He stated, "With our US business accelerating throughout the quarter and strong performance in China, we are poised to deliver strong revenue growth in the second half and into the future." If Johnson's bullish rhetoric bears weight and comes to be Starbucks stock has some room to run.
As an investment, Starbucks is trading exactly where we want it. The risk to reward ratio with the stock trading below $60 per share is very favorable. Analyzing the chart, $52 has been the lowest price the public has allowed shares of Starbucks to trade before the buyers come in and move the stock north. As time goes on though, this channel that the stock is stuck in will be short lived. Starbucks is still executing on all levels and remains one of the most compelling growth stories in the global consumer space today.
The strength of Starbucks brand makes it much more than a retail story and we think in the future, investors will be looking back at this level and realizing that this price range represented an excellent level for an entry. Long-term the brand, channel, and geographic growth potential of Starbucks is huge. In the near future we should see brands like K-Cups and Nespresso supporting channel diversification and in the long run brands such as Teavana should begin to blossom to become greater contributors to Starbucks cash flow.
Kevin Johnson's background working as an executive for both Juniper Networks (JNPR) and Microsoft (MSFT) almost fits perfectly for the future evolution of Starbucks mobile and digital platforms. How Starbucks will be able to improve and better monetize its mobile and digital platforms will be fun to watch.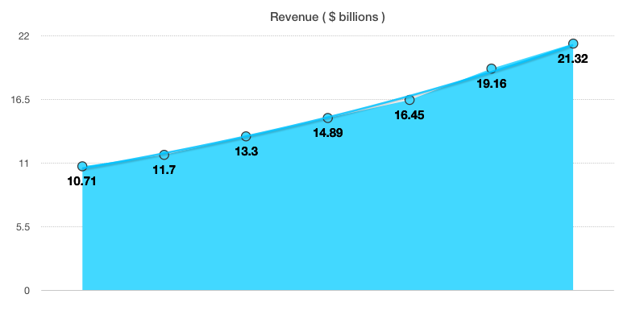 Morningstar is forecasting average annual revenue growth in the high-single-digit range and cash flow growth in the mid-to high teens over the next decade. Currently trading at 24x forward earnings, Starbucks represents a low risk, high reward play here and an opportunity to go long. Our fair value estimates are $70 per share for Starbucks. This price value represents fiscal 2018 P/E of 28x earnings, and value/EBITDA of 16x.
If you are looking for a quality growth company, trading under fair value, with a large moat, Starbucks is right where you want it.
Click the "Follow" button next to our name at the top to read our future analysis. If you have any questions for us or would like us to cover a company, please comment below or message us directly. Thank you for reading!
Disclosure: I am/we are long SBUX, MSFT.
I wrote this article myself, and it expresses my own opinions. I am not receiving compensation for it (other than from Seeking Alpha). I have no business relationship with any company whose stock is mentioned in this article.