I last wrote about Brandywine Realty Trust (NYSE:BDN) 6-months ago in which I was bullish about its long term growth prospects. Since that time, BDN share price has grown over 7% and it has paid two dividends of $0.16 for a total return of 8.8%. Those with some patience were able to purchase BDN during to March dip, achieving an even better return over a shorter period.
BDN has not been a top performer, but it has offered growth and a respectable dividend. It also continues to offer some intriguing possibilities for mid-term growth.
FMC Tower
Much of my previous article focused on the FMC Tower, a 49-story mixed use skyscraper. The project has been moving along on schedule and 96% of the 622,000 SF of office space is now leased.
In addition to the office space, 151 of the 268 residential units are currently in service. The remaining units should be placed into service the beginning of 2018.
The major leases at FMC Tower include a 16-year 280,000 SF lease with FMC Corporation (NYSE:FMC), a 20-year 100,000 SF lease with the University of Pennsylvania and an agreement with AKA to develop and manage the residential section.

FMC contributed $2.7 million in NOI the first quarter. That number should rise throughout the year and eventually reach around $8 million per quarter by Q1 2018.
Decreasing Capital Costs
With plenty of cash on hand, BDN took the opportunity to retire their only remaining preferred shares in April. This will have an impact on Q2 FFO of $0.02/share, however long term it will increase cash flow available to common shareholders by $1.72 million per quarter.
Thanks to their strong liquidity, BDN did not need to issue any debt to make this move. They did not even need to draw on their $600 million revolver and still have over $100 million in cash on hand.
BDN has a $300 million note at 5.7% interest expiring in 2017 and a $325 million note at 4.95% interest expiring in 2018. Both are above their average interest rate, and with their strengthening balance sheet, it is reasonable to expect that both will be refinanced at lower rates.
Looking Forward
Management has guided for another development start costing around $50 million this year. They have not announced anything official and have several irons in the fire. However, Jerry Sweeney suggested that Austin was the most likely location in the most recent conference call.
Developing can be a risky business, and BDN will wait for firm leasing commitments before breaking ground. The upcoming conference call should produce more light on the subject of what might be next.
One contender is 405 Colorado St,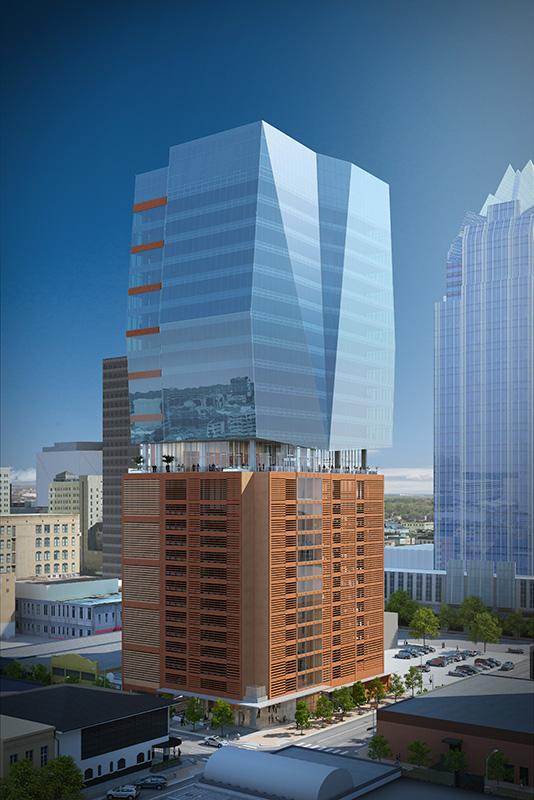 This building has been in pre-development for a couple of years. As planned, it will include over 195,000 SF office space, 3,600 SF retail space and a 12 level parking garage.
The concept fits well with BDN's focus on building unique, visually appealing and highly modernized trophy office buildings. The future of BDN is a REIT which focuses on a handful of markets, Philadelphia, Austin and Washington DC. Within those markets, BDN seeks to dominate in buildings that define the skyline.
Austin has had a thriving local economy which has brought high population growth and demand for office space. Office demand has primarily been driven by tech companies such as Google (NASDAQ:GOOG), Apple (NASDAQ:AAPL), Oracle (NYSE:ORCL), IBM (NYSE:IBM) and Amazon (NASDAQ:AMZN). BDN already has a strong relationship with IBM in Austin.
With Class A office space leasing for over $40/SF in Austin and vacancy rates at 6%, it is quite feasible for this project to provide a stabilized cap rate in the 8-9% range.
All of BDN's development projects that have broken ground will be completed by Q2 of 2018. Schuylkill Yards, which I discussed in my previous article, will not break ground until the end of 2018 or maybe 2019. To maintain growth, BDN will need to start another development late this year or early next year.
The upcoming conference call might provide more clues, but an official announcement will not be made until agreements are signed. I believe it is more realistic to expect an official announcement in the fall.
Conclusion
BDN has offered several opportunities for favorable entry points this year and has had respectable growth in an environment that has been a bit of a roller coaster for REITs in general. Progress on their 2017 developments has been going according to schedule and both the top and bottom line should continue to see growth as the year goes on.
Additionally, cash flow has been improving through financial moves like redeeming the preferred shares and refinancing. BDN is well positioned to handle any cash needs and start new projects.
Investors should keep an eye on development starts, currently, there is a gap from the second half of 2018 to the second half of 2019 where there are no completions scheduled. It would be a big positive for BDN to announce a development that would start later this year and start producing revenue the end of 2018. I expect that announcement to be made, but clearly, there is no guarantee.
Since my last article, I took the opportunity to go long BDN during the March dip. My expected investment horizon is 5 years.
Sources: SEC Filings, FMCtower.com, 405 Colorado.com
Disclosure: I am/we are long BDN, AAPL. I wrote this article myself, and it expresses my own opinions. I am not receiving compensation for it (other than from Seeking Alpha). I have no business relationship with any company whose stock is mentioned in this article.