As regular readers know I reside in Colombia and for some time have been monitoring the development of the Buritica gold ore body located near Colombia's second largest city Medellin by Canadian junior gold miner Continental Gold (OTCQX:CGOOF). There are signs that while this project appeared high risk at the time of inception that much of that risk has dissipated leaving the miner significantly undervalued.
The recent dip in gold which now sees Continental Gold's share price down 17% for the year to date has provided a handy entry point for investors. It is also worth noting that this performance is far better than the VanEck Vectors Junior Gold Miners ETF (GDXJ) which is down 35.5% for the same period.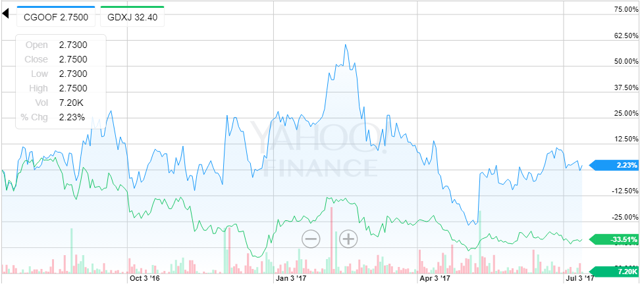 Source: Yahoo Finance.
This can be attributed to the high quality of the Buritica project which is Continental Gold's primary asset and for the reasons explained in this article I expect Continental Gold to perform strongly over the medium to long-term as well as significantly outperform the Junior Gold Miners ETF.
Nonetheless, despite the quality of its core asset and the considerable potential that Continental Gold possesses it has attracted substantial negative attention which still weighs on its share price. The majority of that sentiment stems from a negative view of Colombia as well as an overbaked perception of risk relating to the project and its location.
There however been a number of events which when coupled with the solid underlying fundamentals for the project indicate that the market has mispriced Continental Gold because of an overbaked perception of risk. This leaves it significantly undervalued making it an attractive investment.
What is Buritica?
The Buritica gold deposit is located near the town of Buritica in the Colombian department of Antioquia and is located 72 km to the north of Medellin the Andean nation's second largest city.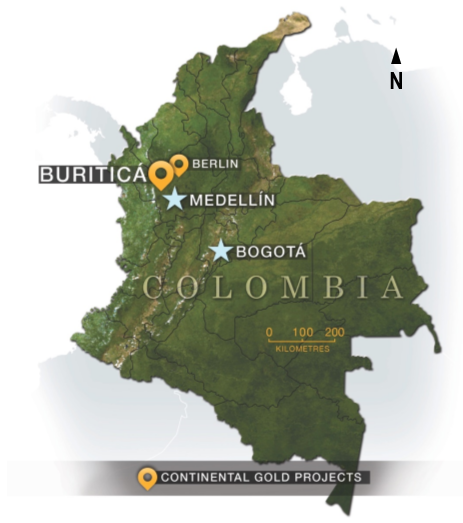 Source: company filings.
The project is 100% owned and consists of 70,764 hectares along with another 48,437 hectares for the Berlin project which currently has a value of nil because of previous security issues within the area.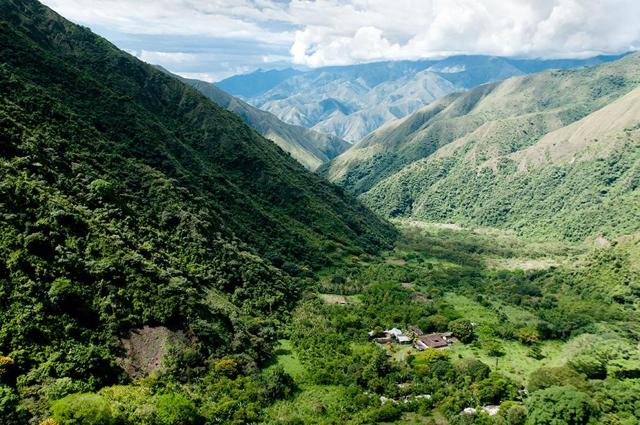 View of the Higbra Valley showing the site of the Buritica mine. Source: Paisminero.
The deposit is considered to be among some of the largest high-grade discoveries made in recent times. It has assessed measured and indicated gold resources of 4.5 million ounces and 3.71 million ounces of proven and probable reserves, which with an ore grade of 8.4 g/t makes it one of the highest-grade projects under development at this time.
As the graphic highlights, the ore grade and quality of the project place it in the same league as Lundin Gold's (OTC:FTMNF) Fruta del Norte project in Ecuador, which I wrote on earlier this month and is another junior miner which I am bullish on..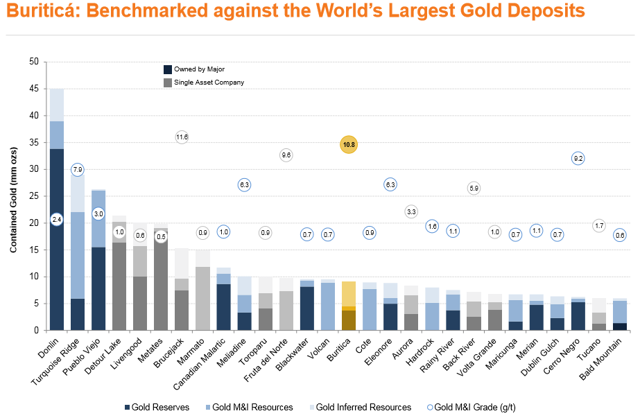 Source: company filings.
Because of the high ore grade and low costs associated with operating in Colombia, the project has impressive life-of-mine all-in sustaining costs of $490 per ounce. Those costs are broken down in the graphic below: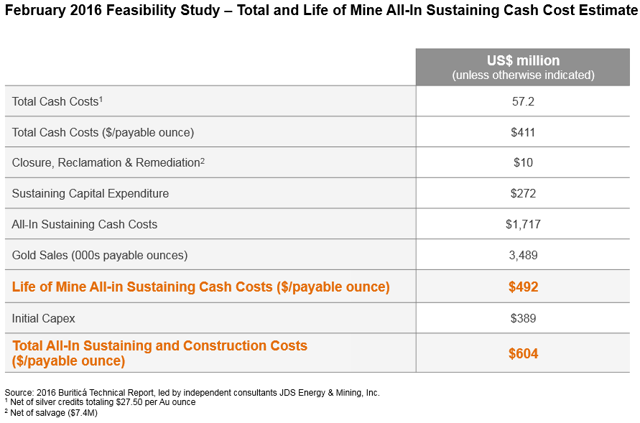 Source: company filings.
These forecast AISCs are among some of the lowest in the industry as the graphic illustrates: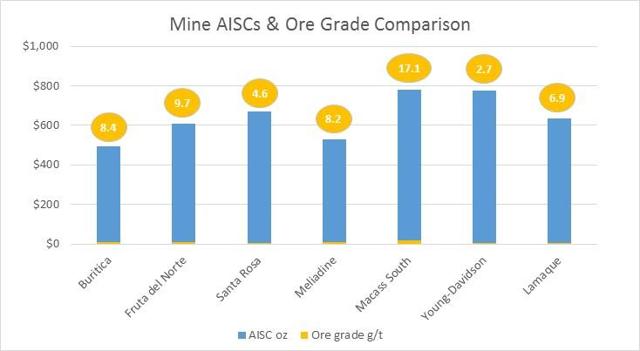 Source: company filings.
Because of these characteristics, the project offers a rare combination of scale and grade that makes it highly profitable. Importantly, many of the risks associated with getting the project to production have significantly decreased or been eliminated altogether.
Financing has been completed
One of the single greatest risks was an inability to secure backing for the project but in May 2017 industry heavyweight Newmont Mining (NEM) acquired a cornerstone stake in the project. The miner purchased 37.38 million common shares in Continental Gold at CAD$4 per share giving a total investment of $109 million, giving it 19.9% of Continental Gold. The proceeds of that investment will be used to fund the development of the Buritica mine.
Continental Gold also has a $250 million credit facility with Red Kite Mine Finance which has an effective cost of 12% and gives Red Kite a 4.6% stake in Continental Gold.
It also has option to obtain further financing of $61 million if required. This along with cash and cash equivalents of $22.5 million at the end of the first quarter gives Continental Gold a comfortable buffer with which to absorb cost blowouts and other related issues that could see the initial pre-production budget of $389 million exceeded.
Geopolitical risk has significantly decreased
What many investors have failed to come to terms with is that geopolitical risk in Colombia has fallen significantly in recent years, especially with the peace deal between the government and largest armed group the FARC being finalized in 2016. The FARC have now officially demobilized with the historic date being reached on 27 June 2017. This significantly reduces much of the security risk associated with operating in Colombia.
Colombia's government has also adopted a very pro-business approach in an attempt to obtain greater foreign direct investment, particularly in the wake of the prolong slump in crude. The oil industry is a key export earner for Colombia with petroleum and related products making roughly 60% of all exports. It is also an important driver of economic growth being responsible for 6% of GDP and generating a considerable portion of government revenue.
Since the oil slump began Colombia's economy has been suffering from declining growth. During 2013 GDP expanded by 4.9% year over year but in 2016 plunged to less than half of that figure to 2% and is expected to be 2.5% for 2017, although given the recent sustained weakness of crude it will more than likely be lower.
In fact, by 2016 GDP according to data from the World Bank had fallen by 26% compared to 2013, highlighting the harsh impact of weaker oil prices on Latin America's fourth largest producer of petroleum.
The slump in crude has triggered a sharp shortfall in government revenue creating a 3.9% fiscal deficit in 2016 despite tax reform boosting tax revenues and the deficit is expected to be 3.5% in 2017, although it will more than likely widen because of lower than projected oil prices. This has forced the Santos government to look elsewhere to boost revenues, particularly with it committed to investing heavily in the 4G roads program to improve the transportation network of the infrastructure poor Andean nation.
Gold mining certainly is an attractive opportunity with Colombia being widely recognized for its considerable gold reserves. In its National Mining Development Plan, the Colombia ministry of mining and energy stated:
In 2019 the mining industry in Colombia will be one of the most important in Latin America and will significantly expanded its participation in the national economy.
The sharp decline in oil revenues and the impact the prolonged slump in crude is having on the economy has only sharpened that desire. For these reasons Colombia is focused on attracting greater investment in mining and for precious metals in particular.
Mine development is on schedule
The Buritica mine will be a conventional underground operation utilizing the longitudinal bench and fill method of long-hole stopping. The process plant will comprise a conventional crushing, grinding, gravity and cyanidation circuit.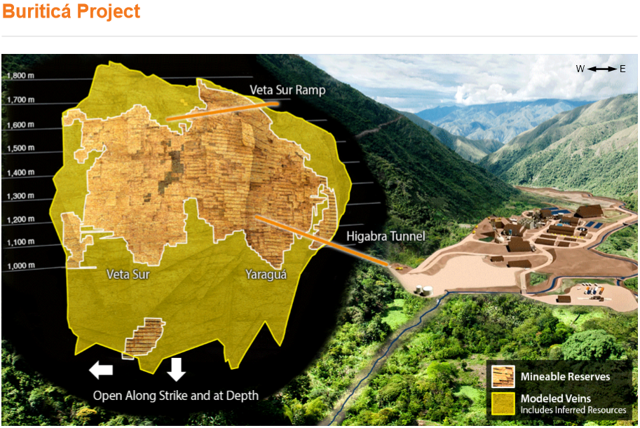 Source: Company filings.
It is forecast that the mine will have a 14-year life based on existing 2P reserves, produce 3.5 million ounces of gold and commence production in 2020. The total cost of developing the mine and bringing it to production is $389 million and is broken down as shown below: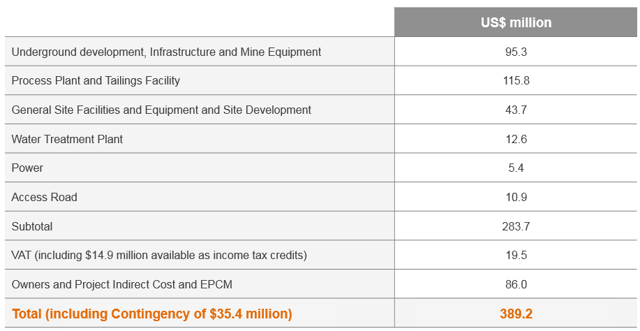 Source: Company filings.
As mentioned earlier Continental Gold has $22.5 million of cash and the ability to further financing of up to $61 million if required.
The Buritica project was permitted in November 2016 by the Colombian National Authority of Environmental Licenses or ANLA and the Mining Technical Work Plan was approved by the Secretary of Mines of Antioquia in December 2016. By the end of 2016 sufficient progress had been made to upgrade the mine's status to construction in progress.
Furthermore, as at the end of the first quarter 2017 several key steps had been completed so that mine construction activities can commence:
Construction management and engineering and procurement contracts were awarded to Merit Consultants International Inc. and M3 Engineering & Technology Corp.
Construction for the first phase of the six-kilometer access road connecting the Buriticá property entrance to the future plant and infrastructure site in the Higabra valley was completed.
The second phase of the access road commenced and is forecast to be completed in Q4 2017.
The project is on schedule for first production to commence in early 2020.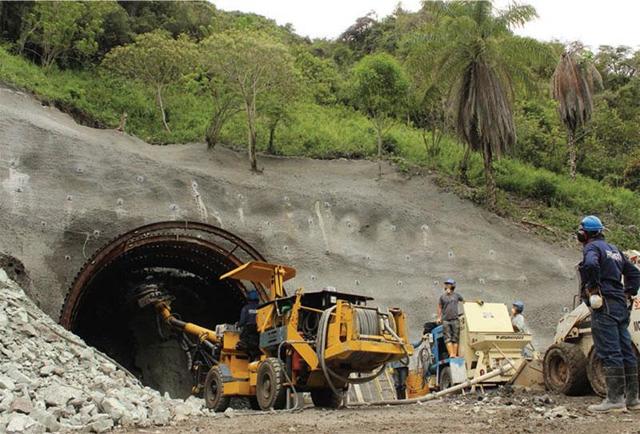 Buritica mine under construction. Source: Continental Gold.
It should be noted that the company is able to defray some of the costs involved in developing the mine by producing gold from its small-scale mining operation based on extracting gold from development work and drifting in ore. For the first quarter 2017 it produced 1,495 ounces of gold from these operations which realized net-income of $2.2 million.
Substantial exploration upside
One of Continental Gold's core strengths is the considerable exploration upside possessed by the company. The Buritica project holds considerable potential for the addition of further proven and probable reserves. It has 4.5 million gold ounces of inferred reserves and a large portfolio of further drilling opportunities which over time should see gold reserves grow.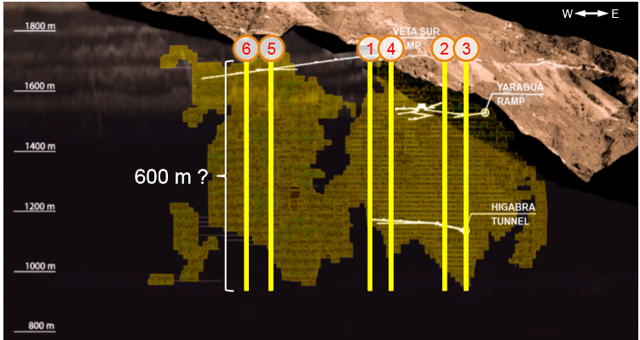 Source. Company filings.
Not only does Continental Gold have the Buritica project there are also the Berlin, Dojura and Domincal projects which have been held on the books at nil value because of the security issues that have prevented exploration of those properties.
However, the peace deal and demobilization of the FARC now allows Buritica to consider exploring those properties and it began reconnaissance exploration at Berlin during the first quarter of 2017. The property consists of 48,437 hectares and is located across a large-scale gold vein system and between 1930 to 1946 it had an operational gold mine that is estimated to have produced 400,000 to 700,000 ounces of gold.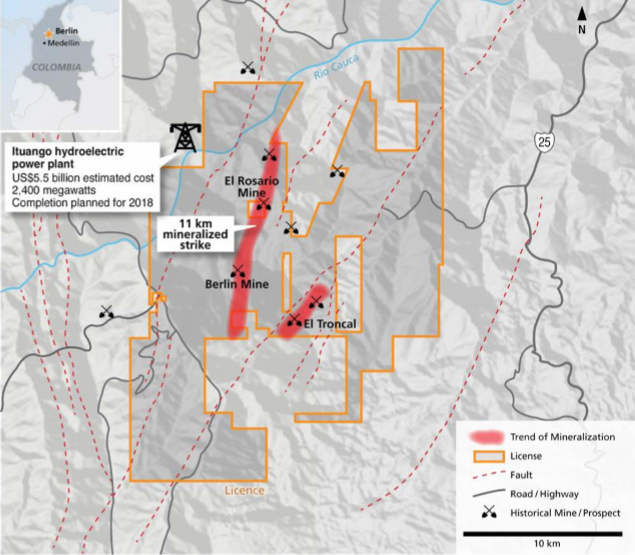 Berlin property. Source: company filings.
The geology of Berlin creates considerable potential for further gold discoveries that would boost Continental Gold's reserves and resources.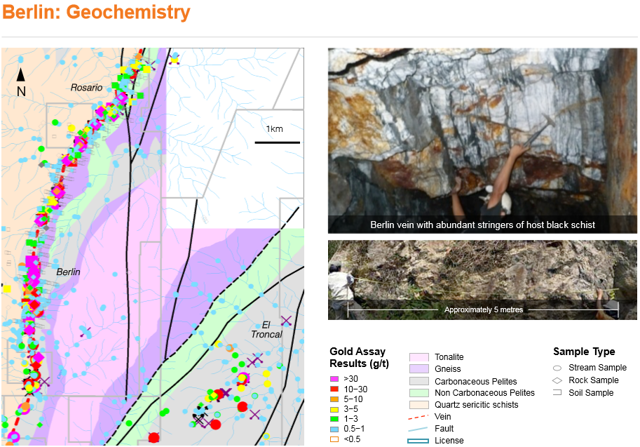 Source: company filings.
As a result, the company has formalized a drilling plan which has a considerable inventory of drilling targets that are expected to yield further gold discoveries.
Finding Continental Gold's indicative fair value
To gain a better understanding of Continental Gold's fair value per share I have reviewed the original NPV-5 calculations and base case assumptions to determine its fair value. I have taken that data and used an industry standard NPV-5 methodology along with the following assumptions to calculate the junior miner's indicative value per share:

After considering these assumptions and valuing its cash flows over a 14-year period then deducting debt, pre-production capex, estimated taxes and AISCs I have determined an indicative value per share of $4.70 per share as the table indicates.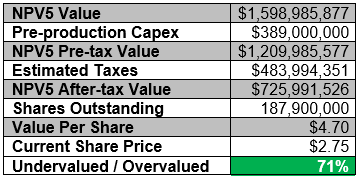 This illustrates that at an assumed gold price of $1,200 over the course of the valuation period that Continental Gold is 71% undervalued, highlighting the considerable upside on offer for risk tolerant investors.
Nonetheless, that valuation is sensitive to a range of factors, key being the assumed price of gold. That sensitivity is illustrated in the table below:

Clearly, if the average price of gold falls below the $1,200 per ounce assumed for the base case then Continental Gold's fair value also decreases, although the opposite occurs should gold rise over the course of the valuation period.
Bottom-line
Continental Gold has to be one of the most attractive junior gold stocks available. Not only does it have the high-quality Buritica project under development which will produce first gold in 2020 but it also has a portfolio of other potential projects that give it further considerable exploration upside.
At this time Continental Gold is very attractively priced, offering investors potential upside of up to 71%. Now that the demobilization of the FARC is complete and the government is focusing on controlling artisanal gold mining along with an overall improvement in the security situation, Continental Gold is in the position to realize the upside held by that additional acreage. Those assets will enhance Continental Gold's value over time.
Investors should note that Continental Gold trades on the TSX under the listing of CNL which is far more liquid than its U.S. OTC stock with an average volume of around 957,000 shares traded over the last three months.
Disclosure: I/we have no positions in any stocks mentioned, but may initiate a long position in CGOOF over the next 72 hours.
I wrote this article myself, and it expresses my own opinions. I am not receiving compensation for it (other than from Seeking Alpha). I have no business relationship with any company whose stock is mentioned in this article.
Editor's Note: This article covers one or more stocks trading at less than $1 per share and/or with less than a $100 million market cap. Please be aware of the risks associated with these stocks.