Last week, I discussed the possibility of Apple's (NASDAQ:AAPL) next high-end phone going for more than $1,200, a rumor that's been circling due to certain components being in limited supply. We've been hearing a lot of analysts recently talking about a potential delay, and more and more on the Street are starting to discount the notion of a supercycle. With everyone waiting for Apple to finally deliver on a major smartphone upgrade, it may be fair to wonder if this year could mark a turning point.
We're still a couple of weeks away from Apple's earnings report, but the Street is becoming more and more negative about the September quarter. It's still unclear when the next set of iPhones will launch, and if only two of the three rumored devices come in September, it will push forward significant revenues to the December period. Just look at how the revenue growth estimate has dropped in the last few months for the September ending fiscal Q4 period:
May 4th: $50.87 billion, 8.6% increase
June 5th: $50.64 billion, 8.1% increase
June 8th: $50.57 billion, 7.9% increase
June 11th: $50.52 billion, 7.8% increase
July 17th: $50.23 billion, 7.2% increase
We've already seen evidence of local brands taking share in China, the market that Tim Cook believes is most important to Apple's future success. According to Kantar, iOS market share for the three months ending in February 2017 was just 13.2%, down 8.9 percentage points from the year-ago period. This was the lowest figure for urban China since July 2014, with Android phones gaining more than Apple lost in terms of percentage points.
However, I'm a bit more worried this year about tech giants Samsung (OTC:SSNLF) and Alphabet/Google (GOOG, GOOGL). Last year, Samsung had a disaster on its hands with the exploding Note 7, so obviously the company wants to make up for it this year. Samsung is going big with the Note 8, not only in terms of a rumored huge 6.3-inch screen but potentially trying to jump ahead of Apple in terms of a late August announcement. I would expect Samsung to make this phone truly spectacular, perhaps even sacrificing some margins in an effort to steal market share.
I'm also very curious to see what kind of effort we get from Google. While I continue to talk about the first-edition Pixel being a flop, I think the tech giant is going to have a much more impressive offering this time around. The latest round of rumors suggest that the phone will have an "always on" display mode, and perhaps a squeezable frame similar to the HTC U11. If Google can get annual sales of this device into the 5-10 million unit range, it can start to take small bites from Apple. Remember, Apple's iPhone went from 1.4 million units in fiscal 2007 to 11.6 million the next year. Google doesn't even need that trajectory to make a difference moving forward.
This year, Apple also faces a bit of pressure, and perhaps this is the highest we've seen expectations since the iPhone 6. The success of that device bought Apple some time, so the following year there wasn't that much pressure to deliver with the 6s line. Last year, expectations became a bit muted when it was determined that the highly anticipated phone wouldn't be coming until this year. Additionally, there was less pressure to deliver, thanks to Samsung's troubles. The other item is high investor expectations, given Apple shares have risen to new all-time highs before this year's launch, as seen below.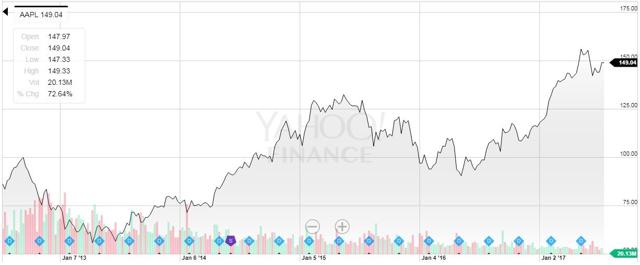 (Source: Yahoo Finance)
With expectations now coming down for this year's iPhone launch, one must wonder if this was Apple's last chance to make a big splash. Samsung is looking to recover from last year's Note debacle, and Google is looking to increase market share from last year's Pixel launch. Everyone has been waiting for Apple's next big device to spark a massive supercycle of upgrades, so if not now, then when?
Disclosure: I/we have no positions in any stocks mentioned, and no plans to initiate any positions within the next 72 hours.
I wrote this article myself, and it expresses my own opinions. I am not receiving compensation for it (other than from Seeking Alpha). I have no business relationship with any company whose stock is mentioned in this article.
Additional disclosure: Investors are always reminded that before making any investment, you should do your own proper due diligence on any name directly or indirectly mentioned in this article. Investors should also consider seeking advice from a broker or financial adviser before making any investment decisions. Any material in this article should be considered general information, and not relied on as a formal investment recommendation.
Editor's Note: This article discusses one or more securities that do not trade on a major U.S. exchange. Please be aware of the risks associated with these stocks.