Acacia Communications (ACIA) is looking like a low-risk, high-reward opportunity after reaching new lows in both operating results and stock price after an extremely underwhelming Q2 due to a slowdown in demand from China and a product quality issue. The company reported preliminary Q2 results Friday and, despite the bar being set low in the Q1 earnings report, which I discussed in an article on ACIA here, Acacia still underwhelmed expectations. But I think guidance for Q3 shows a promising recovery and I'm jumping in on ACIA on the prospects of growth and strong profit margins out of the trough that is Q2.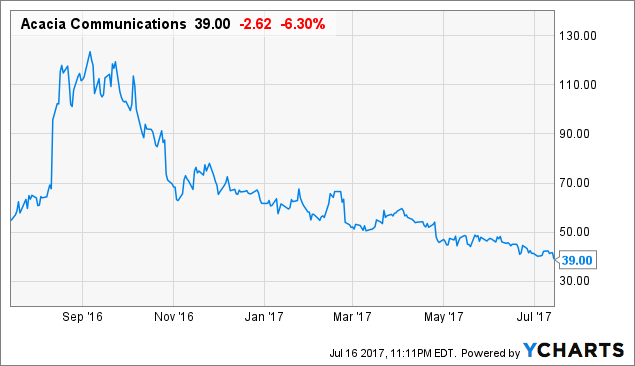 ACIA
data by
YCharts
Let's not kid ourselves - Q2 was a train wreck, a disaster, a catastrophe, and any other word that describes an event of profoundly negative impact. First, Acacia issued Q2 guidance during the Q1 report that indicated a sharp slowdown in Chinese demand for optical products: revenue down 22.5% YoY and EPS down 63%. Then during the quarter, the company announced a quality issue traced back to a circuit board cleaning process would further hurt revenue in the quarter. This culminated in Q2 results of about $78 million in revenue and $0.185 in EPS at the midpoints of expected ranges, down 32% and 75%, respectively.
The takeaway here is that Q2 was a perfect storm of negative catalysts. The combination of factors has led to some pretty sizable underperformance by ACIA stock over the past three months: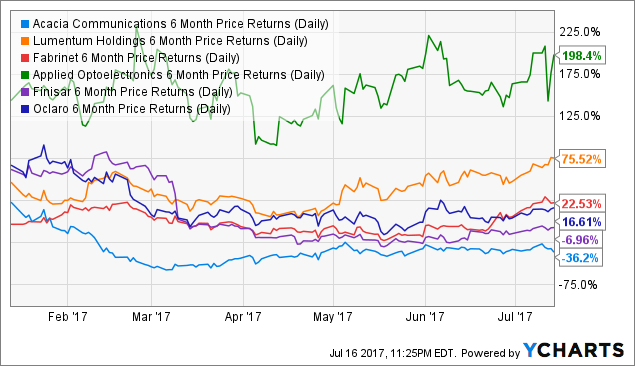 ACIA 6 Month Price Returns (Daily)
data by
YCharts
Acacia's performance in Q2 is made even more disheartening by the explosive growth in earnings and revenue seen by other optical companies like Applied Optoelectronics (AAOI), whose impressive preliminary Q2 results I discussed here. The question now is where do investors go from here?
I think ACIA shares are now hitting a trough and will recover sharply due to the return of strong growth in the coming quarters, the return of healthy profit margins, and the ongoing expansion of the demand for 100G solutions China and around the world.
Needham analyst Alex Henderson, who called the optical boom back in late 2015, and has in my experience been spot-on since that time in predicting and analyzing industry trends, stated that China appears to have troughed. While this may be true, we must conduct further due diligence to verify the claim. Here's where Acacia's Q3 guidance comes in.
The company is guiding for Q3 revenue between $95 million and $110 million and EPS between $0.25 and $0.40, which are wider ranges than ACIA investors are accustomed likely due to management's uncertainty over when the quality issue will be completely remediated. At first glance, these numbers are not much better than Q2's, with 24% and 68% expected YoY declines in revenue and earnings for Q3, respectively. Additionally, non-GAAP profit margin in the third quarter is expected to be about 12.6%, which is a far cry from the robust 30.2% margin from Q3 2016.
However, I think these numbers also should instill some optimism for the coming quarters. First off, while sequential revenue growth between Q2 2016 and Q3 2016 was just 16.4%, Acacia's Q3 guidance indicates sequential growth between Q2 2017 and Q3 2017 of 31.4%, nearly double last year's Q2-Q3 growth. This indicates a sharp recovery from Q2 is underway, and management's usually conservative guidance might be low-balling the magnitude of this rebound.
Further, Acacia management stated explicitly in the Q1 conference call that its China customers "anticipate conditions to improve" in 2H 2017 and into 2018 due to the long-term demand for 100G, shown here: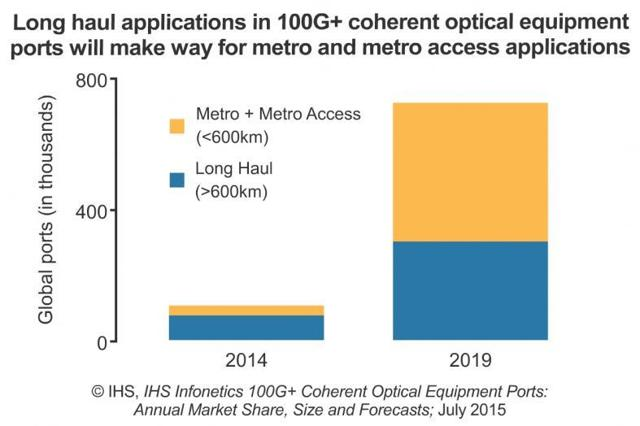 Acacia is in the thick of this upgrade cycle and is positioned to reap the benefits of the industry trends over the coming quarters and years. The China slowdown hit Acacia especially hard because it derives 41% of its revenues from Chinese telecom giant ZTE, but the country still has a massive amount of unfilled 100G capacity in the metro and datacenter that will drive demand. These factors combined point toward a recovery in China demand sooner rather than later, if it isn't already underway, which I think should lead to significant change of fortunes for ACIA shareholders soon.
From a valuation standpoint, ACIA right now seems expensive because of the abysmal growth, EPS, and profit margin performance in Q2 and Q3. However, I think Q4 2017 and to a greater extent FY2018 will return Acacia to normalcy and the benefits that affords. For example, ACIA is trading at a trailing P/E of below 11, which is well below its peers in the industry, but a forward P/E well above its peers: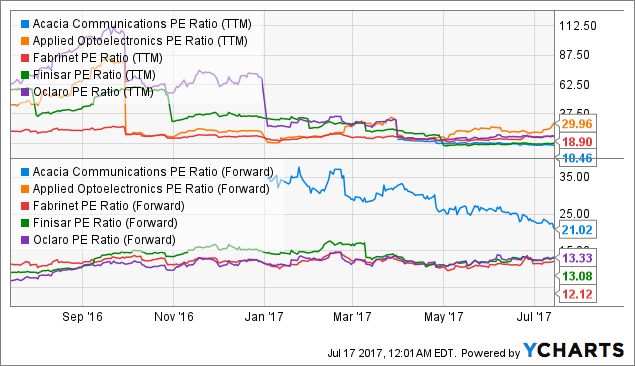 ACIA PE Ratio (NYSE:
TTM
) data by
YCharts
What this indicates to me is that if Acacia were to return to prior form it would be undervalued relative to its peers, which is to say nothing of what would happen if Acacia exceeds its prior form. I think with a recovery from the softness of Chinese demand and a well-executed remediation of the quality issue that hurt Q2 results, Acacia could easily bring itself back up to previous results on the back of a sharp rebound in the Chinese market as evidenced by the expected sequential revenue growth between Q2 2017 and Q3 2017 and by the demand trends of the optical communications industry as a whole.
I am re-iterating my strong buy rating on the stock, except this time I'm putting my money where my mouth is. I've initiated a position in ACIA and will monitor the situation in China closely to gauge what can be expected come Q4 2017 and FY2018. I think a return to prior form, even without any improvements, can yield substantial gains for investors that jump in at current levels.
If you want to stay up-to-date on my articles, you can do so by clicking "Follow" at the top of this page or by going to my author page.
Thanks for reading!
Disclosure: I am/we are long FN, ACIA.
I wrote this article myself, and it expresses my own opinions. I am not receiving compensation for it (other than from Seeking Alpha). I have no business relationship with any company whose stock is mentioned in this article.