Ted and Mary have returned to teach you a thing or two about retirement.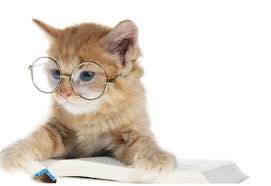 The couple were sad to hear so many of their friends were trying to sustain a 14% return. They knew if they didn't share their insight, it was possible their friends were going to pay for the insane amount of volatility and risk in their portfolio. Ted and Mary have done a lot of researching on Seeking Alpha the last several years and have learned a thing or two about retiring. Their goal is to teach their friends how to build an income portfolio without risking significant losses to their income stream.
Ted and Mary are retiring at 60 with $1,500,000. They own four cats they need to take care of and also have enough money to sell their current home for $295,000 and buy a similar one in…
For starts, Ted and Mary show where they plan to live
Ted and Mary chose to live in Colorado Springs for several reasons, the first being they believed the cost of living wasn't too expensive. Here's a photo from the Best places website: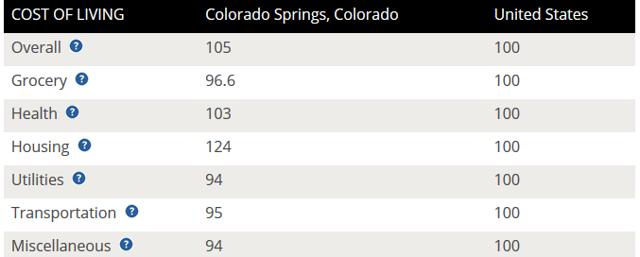 Ted and Mary know that the cost of housing has been on the rise in Colorado Springs - perhaps, in part, because of my wonderful retirement articles. However, they really like the area and believe housing prices aren't likely to start going down. This makes them fine with investing in a new home.
Climate
There are an average of 243 sunny days a year in Colorado Springs. This is something that Ted and Mary have decided they are looking for when looking where to live. They also like that even during cold months, there are some relatively warm days. Here's a graph from the AccuWeather website: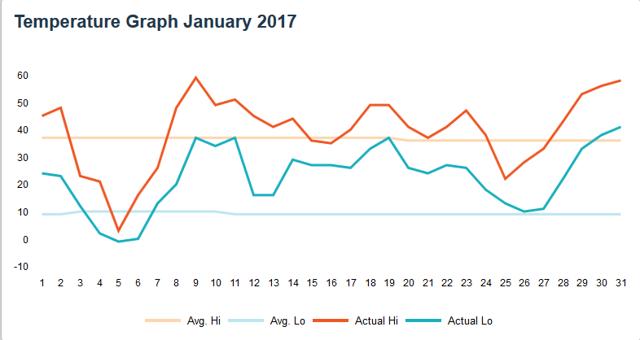 Awards & rankings
Ted and Mary wanted to live in a top city for health. They also own 4 cats and wanted a pet-friendly city. They were pleased to find that Colorado Springs has had many awards and high on city rankings. Here's a list of times they've placed in the top 5 from the VisitCOS website: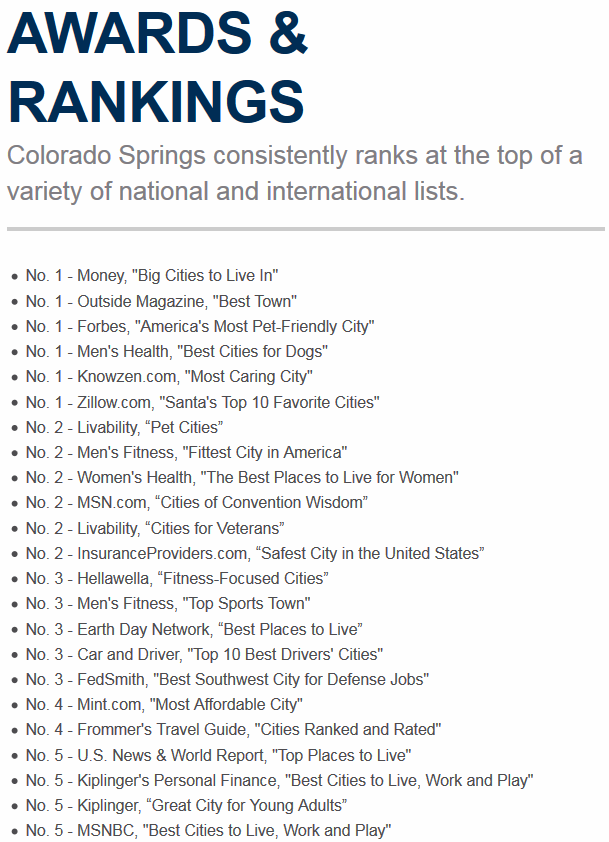 Ted and Mary were happy to find Colorado Springs a place of fitness and ranked so highly as a pet-friendly city. Still, with Colorado Springs being such a great place for dogs, they do hope this doesn't happen: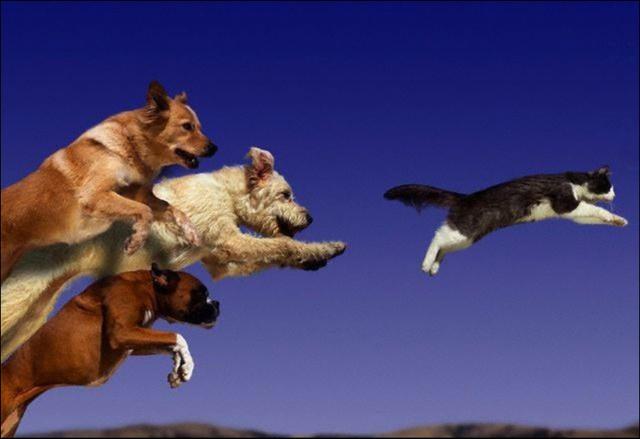 Investment strategy
Ted and Mary know that there could be a market panic looming around the corner. It could even be another recession. However, Ted and Mary know that they could easily live to see 90. They want to make sure they are invested in companies where they can stay invested even if the market comes down by 30%-40%. So there are several things that Ted and Mary want to watch out for:
They want their portfolio invested in large cap companies, which have a record of raising their dividends even through rough times. While smaller companies may go under during a recession, proven companies have a much better shot at weathering a storm. Even though they may take a large stock price hit, Ted and Mary know the companies shouldn't take too long to jump back. They want some of their portfolio in high income investments to help with their income.
They've found that preferred shares can have a high yield, which is perfect for what they are looking for. Preferred shares tend to have a lot more protection compared to the common shares. If a company they were invested in had to liquidate, preferred shareholders would get paid before common stock. To be clear, liquidation is still a very negative event for preferred shareholders in the vast majority of cases. Ted and Mary want a portion of their portfolio invested in bonds.
The income won't be very high and bonds won't go up very much in the long run compared to stocks, but bonds have been an intelligent decision for investors in the past. Their plan is to have some money in bonds and then reinvest it into the market in the event of a market panic. The couple also want some broader exposure to the market and plan to do it with a few select ETFs.
ETFs are a great addition to a portfolio for investors who want broad sector exposure and aren't comfortable picking their own stocks. It's also difficult to hold a lot of investments and plan out what allocation you want. Ted and Mary want their portfolio to be adequately diversified. They believe it's a great strategy to not be too overweight in any one company.
The dividend champions
Ted and Mary have decided to pick their favorite 30 dividend champions. Here's the list with their dividend yields:
| | | |
| --- | --- | --- |
| Ticker | Name | Div Yield |
| (NWN) | Northwest Natural Gas Company | 3.12% |
| (PG) | Procter & Gamble Company (The) | 3.17% |
| (EMR) | Emerson Electric Company | 3.19% |
| (MMM) | 3M Company | 2.22% |
| (VVC) | Vectren Corporation | 2.87% |
| (CINF) | Cincinnati Financial Corporation | 2.75% |
| (KO) | Coca-Cola Company (The) | 3.31% |
| (JNJ) | Johnson & Johnson | 2.53% |
| (CWT) | California Water Service Group | 1.93% |
| (TGT) | Target Corporation | 4.66% |
| (SWK) | Stanley Black & Decker, Inc. | 1.59% |
| (MO) | Altria Group, Inc. | 3.30% |
| (SYY) | Sysco Corporation | 2.61% |
| (BKH) | Black Hills Corporation | 2.63% |
| (UVV) | Universal Corporation | 3.37% |
| (WMT) | Wal-Mart Stores, Inc. | 2.67% |
| (PEP) | PepsiCo, Inc. | 2.80% |
| (XOM) | Exxon Mobil Corporation | 3.79% |
| (MCD) | McDonald's Corporation | 2.42% |
| (NNN) | National Retail Properties | 4.63% |
| (O) | Realty Income Corporation | 4.52% |
| (LOW) | Lowe's Companies, Inc. | 2.16% |
| (KMB) | Kimberly-Clark Corporation | 3.12% |
| (ED) | Consolidated Edison, Inc. | 3.42% |
| (T) | AT&T Inc. | 5.40% |
| (TROW) | T. Rowe Price Group, Inc. | 2.84% |
| (CVX) | Chevron Corporation | 4.14% |
| (PM) | Philip Morris International Inc | 3.49% |
| (VZ) | Verizon Communications Inc. | 5.30% |
| (HP) | Helmerich & Payne, Inc. | 5.06% |
Ted and Mary considered some runner ups in the technology industry. Apple (AAPL), Microsoft (MSFT), Intel (INTC), Nvidia (NVDA), International Business Machines Corporation (IBM) were the choices the couple were going to go with. However, with the technology sector ETFs going up by 30% over the last year, Ted and Mary planned to sit out of the technology sector for now.
If the sector as a whole were to drop a material amount, they would take money out of bonds and put it into tech. Ted and Mary also knew they were going to invest in some dividend ETFs for more market exposure. This would give them at least a little allocation to technology.
Here's their income from the dividend champions: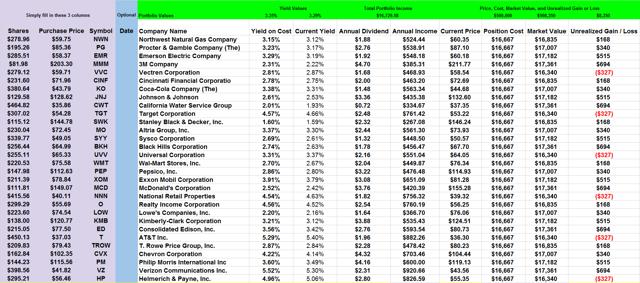 $500,000 was put into this portion of Ted and Mary's portfolio and will bring in $16,729.58. They know that with the market being inflated they could see a material drop in prices. However, they suspect at least most of the companies will be able to continue paying out their dividends without making a cut.
The ETFs
| | |
| --- | --- |
| Ticker | Name |
| (VIG) | Vanguard Dividend Appreciation ETF |
| (VYM) | Vanguard High Dividend Yield ETF |
| (VDC) | Vanguard Consumer Staples ETF |
| (SPHD) | PowerShares S&P 500 High Dividend Low Volatility Portfolio ETF |
| (VWEAX) | Vanguard High Yield Corporate Fund |
| (HYG) | iShares iBoxx $ High Yield Corporate Bond ETF |
| (SCHD) | Schwab US Dividend Equity ETF |
This will give Ted and Mary some defensive allocations through ETFs. They also chose HYG and VWEAX for some bond exposure. The Vanguard Consumer Staples ETF was chosen for its defensive nature and historical ability to do well in the market comparatively to other sectors.
The income they will be making from the ETFs is $8,484.47 as shown below:

The preferred shares
Here are the list of the exceptionally high yield investments:

Most of the income from the portfolio will be coming from these allocations. They will be getting $42,203.99 from a 3rd of their portfolio. As you can tell, they did choose to select Washington Prime Group (WPG) because they believe it is undervalued. Even in the event of a market panic, WPG should see wild swings in share prices. The underlying company is materially stronger than the share price suggests. Notice the column all the way on the right where WPG comes in at 10.97% for the percentage of income. Most of this section consists of mortgage REIT preferred shares. The WPG allocation is mostly for this greedy cat: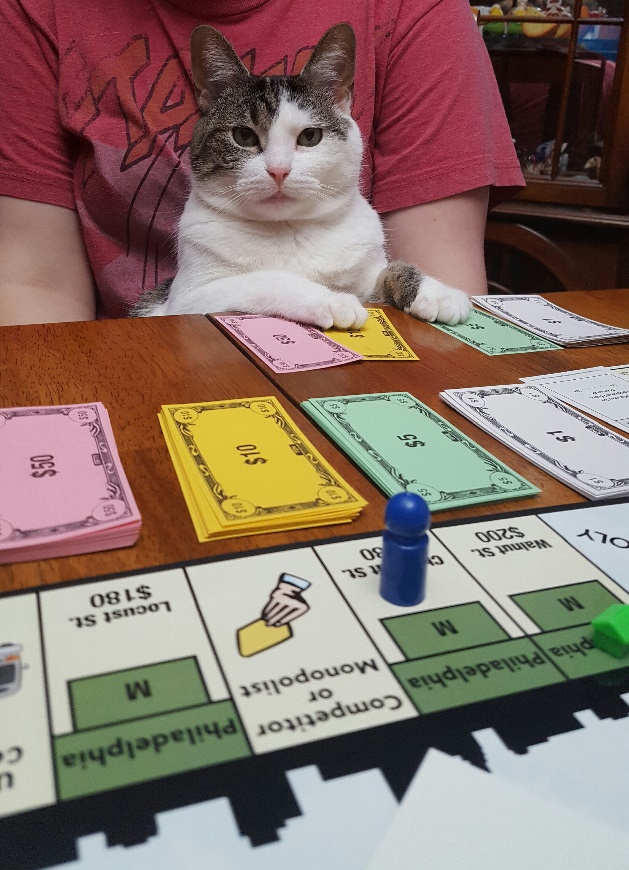 That cat is a landlord.
The preferred shares generally pay out a lower yield than the common stock, but there is far less risk and volatility. For them to lose these dividends, the company would have to buy back the shares in which case they could allocate the funds to a different preferred share. In the event of a liquidation, preferred shares get paid before common shareholders. Also, preferred share dividends will not go down unless the common stock dividends goes to zero. These are all reasons Ted and Mary are comfortable allocating a significant portion of their portfolio to these high yields.
Investors in preferred shares also need to be very attentive to call risk.
Safe investment
Here's where Ted and Mary decided to put the last of their cash for an emergency or to reinvest if there was a significant market panic:

The Schwab US Aggregate bond ETF (SCHZ) will only be bringing in $5,754.72 and won't have the benefit of the dividend champions, which can have a significant price boost over time. However, the Schwab fund allows them to still be creating income in their portfolio very safely. It's also what they're going to be using as their emergency fund.
Total income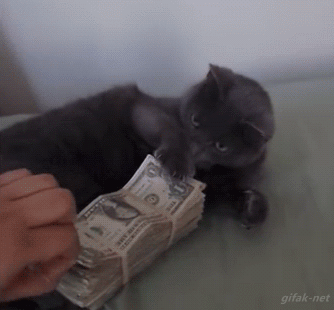 Their total income to live on will be $73,172.67.
This is plenty to live on when living in Colorado Springs.
Even with one of Ted and Mary's cats being extremely greedy.
Those cats are so greedy, they are stealing Ted and Mary's Social Security checks. Therefore, for one week, Ted and Mary had to create a plan with no social security payments. It would have been easier if they had simply used direct deposit.
Conclusion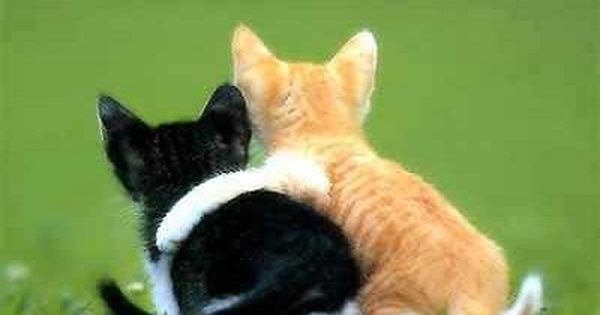 Ted and Mary want all their friends to understand their importance of having a plan during retirement. Understanding how much income you're going to need and where to get it is something Ted and Mary planned for. The couple know that getting an income stream from several different sources is a good way to have a diversified portfolio.
They also tried to pick investments that would survive in a major recession. Preferred shares may be risky during a recession if the company has to liquidate, but there's a good chance (not a certainty) they will get at least a portion of their investment back. This will allow them to reinvest it elsewhere and then plan around the difference in income.
In the end, the cats survived, because… well…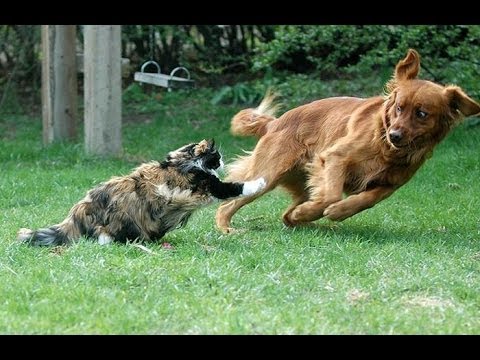 Click The Mortgage REIT Forum to sign up for:
Stable dividend yields over 7%.
Best research on preferred shares.
Opportunity for capital appreciation.
Clear buy and sell target prices.
Sign up before August 1st, 2017 to lock in at $340/year.
Disclosure: I am/we are long MO, WMT, TGT, PM, WPG.
I wrote this article myself, and it expresses my own opinions. I am not receiving compensation for it (other than from Seeking Alpha). I have no business relationship with any company whose stock is mentioned in this article.
Additional disclosure: No financial advice. Investors are expected to do their own due diligence and consult with a professional who knows their objectives and constraints. CWMF actively trades in preferred shares and may buy or sell anything in the sector without prior notice. Tipranks: No ratings in this article.
Editor's Note: This article covers one or more stocks trading at less than $1 per share and/or with less than a $100 million market cap. Please be aware of the risks associated with these stocks.