Last October, I wrote an article recommending NextEra Energy (NEE) based on its ownership interests in south Texas natural gas pipelines and its status as the world's No. 1 generator of wind and solar energy. Shares are up 14% since that article, and the company currently pays a $3.93/share annual dividend (2.8%). Despite the new "pro coal" and "anti-renewable energy" Trump administration, NextEra -- the fastest growing U.S. utility company -- continues its rapid deployment of renewable energy assets. A week ago, affiliate Florida Power & Light announced it had installed 1 million new solar panels in Florida. This is part of a major expansion project of solar energy in the state of Florida, with another 1.5 million solar panels expected to be installed by early 2018. By the end of 2018, FPL is expected to have over 1 GW of solar power generating assets in Florida.
The solar initiatives by FPL, combined with the growth projects at the company's MLP -- NextEra Energy Partners (NEP), which I've also covered and recommend -- ensure NEE's leading role in the global deployment of renewable energy assets. In fact, NEE and its affiliates have more wind generation capacity than all but six countries: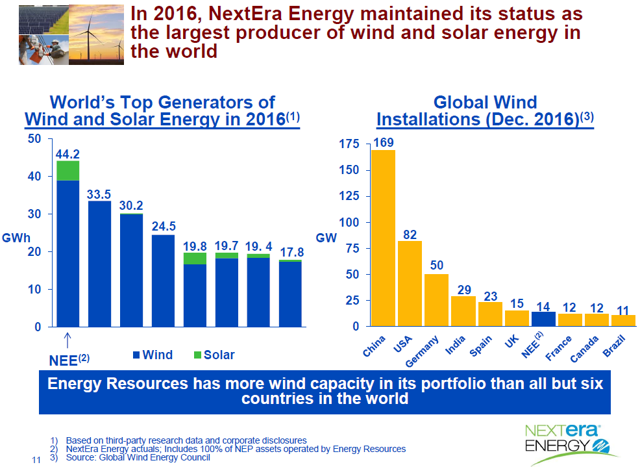 Source: June Presentation (available here).
For those investors who feel as if there are no profits in renewable energy, it is important to note NEE grew adjusted EPS at a 8.1% CAGR from 2004-16 while growing the dividend at a 8.5% CAGR during that time frame. And it did so while investing $9.6 billion last year -- the third highest amount of U.S. capital investment across all industries. As a result, NEE's total returns profile has trounced that of both the S&P utility index and the S&P 500 over the past one-, three-, five-, and 10-year periods: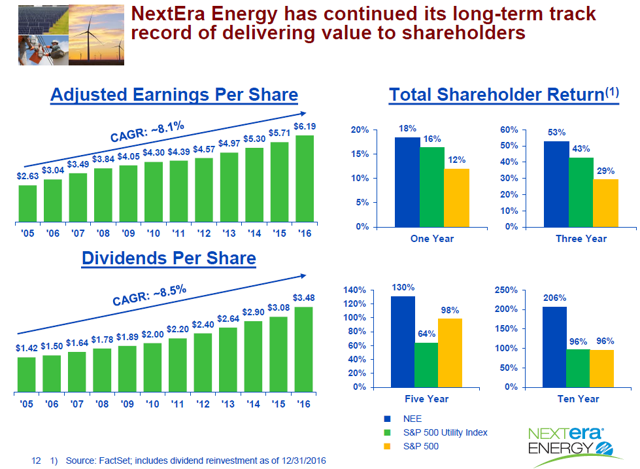 For Q1 2017, NEE reported net income of $1,583 million, or $3.37 per share, compared to $653 million, or $1.41 per share, in the first quarter of 2016. On an adjusted basis, NextEra Energy's first-quarter 2017 earnings were $820 million, or $1.75 per share, compared to $732 million, or $1.59 per share, in the first quarter of 2016. You can view the entire report here.
As a result of its excellent long-term financial performance, NEE has trounced its coal-centric competitors in the utility industry, leaving companies like Southern (SO), American Electric (AEP), and Duke Energy (DUK) in the rear view mirror. In particular, while NextEra was growing profitability by deploying wind and solar assets and investing in clean burning natural gas pipelines, Southern was investing in the supposed "clean coal" (a myth and oxymoron if ever there was one) plant in Mississippi. As I mentioned in a previous article on this supposed "clean coal" plant, why go through all the expense of generating gas from coal (not to mention attempting to clean up the aftermath) when America has all the clean burning natural gas it can use at a very affordable price of around $3/MMBtu?
In the end, sanity ruled the day as Southern recently announced it was throwing in the towel on "clean coal," will run the plant on natural gas, and will likely abandon the "clean coal" effort. As a result, Southern is expected to report a $3.4 billion loss in Q2. Southern's embrace of the bottomless pit of "clean coal" has been the primary reason it has so badly underperformed forward-looking clean energy utility companies like NEE: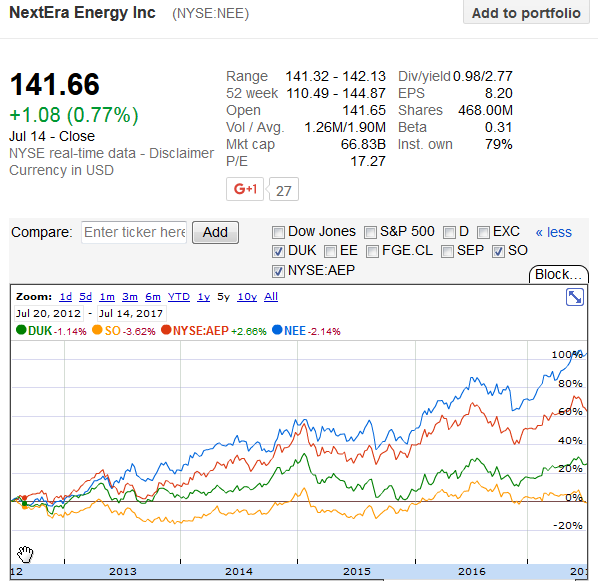 As a result, NEE's stock price has doubled over the past five years, while Southern's has been lucky to remain stagnant during that period.
In the meantime, FPL plans to retire its conventional coal plants as it ramps up solar power generating capacity and deploys more natural gas generation as well. And this is why NEE took a 33% interest in the Sabal Trail natural gas pipeline. Sabal Trail is a joint venture of Spectra Energy Partners (NYSE:SEP), NextEra, and Duke Energy with stakes of 59.5%, 33%, and 7.5%, respectively. With a max capacity of 1.1 Bcd/d, this is a big pipeline. Importantly, it is supported by 25-year contracts. Sabal Trail will be another excellent asset that NEE will likely eventually drop into NEP's natural gas pipelines segment.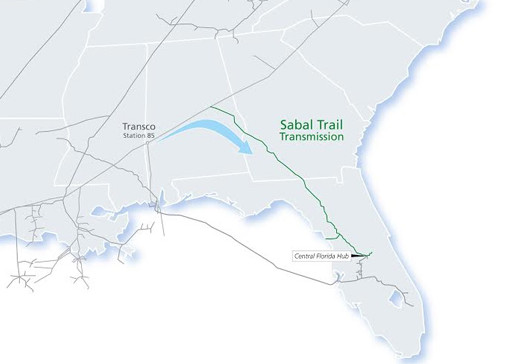 Source: Sabal Trail
Summary and Conclusion
NEE's management has proved itself to be the best in class. The company is the fastest growing utility in the U.S. and continues to invest in profitable clean energy solar and wind projects, as well as building out its inventory of natural gas pipeline assets. The company offers an excellent long-term buy-and-hold proposition for income and excellent total returns. Investors should consider NEE as a core holding in a qualified retirement plan or IRA.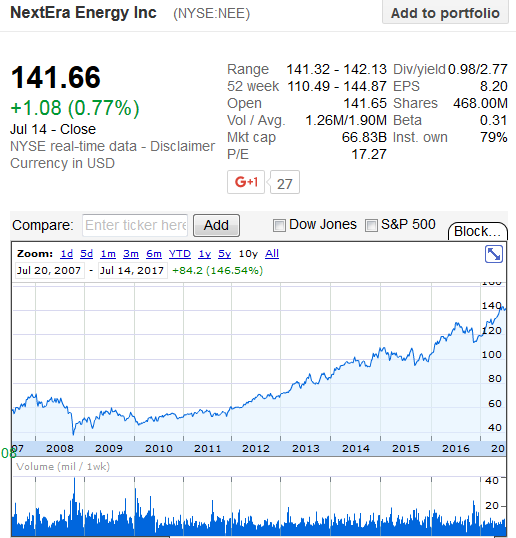 Disclaimer: I am an engineer, not a CFA. The information and data presented in this article were obtained from company documents and/or sources believed to be reliable, but have not been independently verified. Therefore, the author cannot guarantee their accuracy. Please do your own research and contact a qualified investment advisor. I am not responsible for investment decisions you make. Thanks for reading.
Disclosure: I/we have no positions in any stocks mentioned, and no plans to initiate any positions within the next 72 hours.
I wrote this article myself, and it expresses my own opinions. I am not receiving compensation for it (other than from Seeking Alpha). I have no business relationship with any company whose stock is mentioned in this article.