After a six-month convalescence to recover physically from a relentless decade of tennis at the topmost level, Roger Federer returned to Wimbledon. Many doubted that his 36-year-old body could withstand the physical hardship, match after match, day after day for an entire two weeks. Roger stunned the doubters into silence, winning the entire championship without dropping a single set. In my mind, he's secured his place in history as the greatest tennis player of all time.
Western Digital Management must also feel they have been through a battle in the last few weeks, as the acrimonious legal wrangling with Toshiba (OTCPK:TOSBF) came to a head. For detail on the importance of Toshiba Memory (TM) and the jewel FV (Flash Ventures) within it, please see my previous article here. For detail on the watertight legal case WDC holds on securing TM or at a minimum ensuring who acquires it, please see my article here.

On 14th July, a court hearing in San Francisco ended with a judge ordering WDC and its joint-venture partner Toshiba to return on July 28th. During the hearing for Western's request for a preliminary injunction against Toshiba, Judge Harold Kahn of the Superior Court of California for the County of San Francisco proposed an order for the two sides to agree to, but he ultimately told both parties to return to the court on the 28th to discuss the matter further. Note that this date coincides with another important event: Western Digital also is contesting its consent rights in an international arbitration tribunal, and this will first be heard on July 28th also.
As with any legal partial outcome, both companies had their own interpretation.
Toshiba's Interpretation:
California Superior Court Judge Kahn today proposed a "finessed" alternative to issuing a preliminary injunction motion filed by SanDisk, a unit of Western Digital Corporation. In accordance with the judge's proposed order, Toshiba Corporation agreed that there would be no closing of any sale of its memory business before a hearing set for July 28, 2017.
WDC's Interpretation:
The Court of California for the County of San Francisco ("the Court") directed Toshiba Corporation ("Toshiba") not to transfer its interests in its three NAND flash-memory joint ventures ("the JVs") operated with Western Digital's SanDisk subsidiaries without specified advance notice to SanDisk, in order to ensure that the issue is preserved for arbitration. Today's hearing was held in connection with the preliminary injunctive relief proceedings sought by SanDisk related to Toshiba's attempts to transfer its JV interests. Steve Milligan, chief executive officer of Western Digital, stated, "We are grateful for today's directive by the Court, which is a victory for Western Digital, SanDisk and our stakeholders. Our entire goal was to preserve and protect our rights through the binding arbitration process, and that's precisely what the Court has done today. This is the second time this week that the Court has acted to protect SanDisk's rights and interests against Toshiba."
My Interpretation:
Judge Kahn demonstrated incredible wisdom here. He didn't enforce the injunction but asked the parties to agree on a wording that was mutually acceptable. Honourable Kahn is fully aware that an arbitration process is set to begin on July 28, and that's the date he set for the parties to agree. This basically secures the deal for WDC as an arbitration process would take at least a year, and it's a year that beleaguered Toshiba doesn't have – its severely disgruntled shareholders already want blood due to a series of monumental blunders by Toshiba's management, and a year's delay would almost guarantee Toshiba's delisting.
In my opinion, Toshiba is virtually compelled to come to a transaction agreement in principle, and since WDC has already secured a right of veto on who will be the acquirer, this paves the way for TM into WDC's fold.
Note that WDC has already matched the highest bid on offer, as far as the terms have been made public. There is no material reason for Toshiba to resist.
What Does Toshiba Memory Encompass?
One of the most perplexing things about this saga is that we still don't know precisely what TM encompasses. A division in Toshiba called "Storage and Electronic Devices" is the main unit up for sale, but there are elements within it that Toshiba intends to retain. Despite the myriad of suitors and despite scouring all relevant legal documents, it's still not entirely clear to me precisely what Toshiba has put up for sale.

Toshiba's Annual report reveals what this entity represents: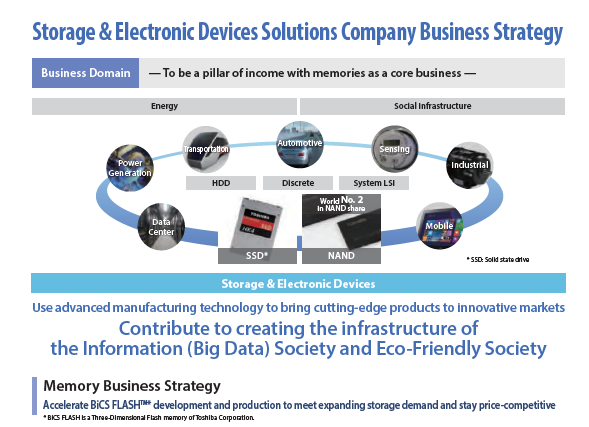 This is my best guesstimate:
-50.1% of the Joint Venture with WDC (via SanDisk), which WDC calls Flash Ventures (FV) and Toshiba calls BiCS Flash, is sold. This produces the wafer and converts it into NAND memory
-The land and buildings that this JV operates from is sold
-The HDD business in Toshiba is retained.
-There is substantial skill and equipment that uses NAND memory to produce devices that fit into Toshiba's other divisions, ie automotive, industrial, infrastructure, power generation, etc. We don't know how much is sold and retained. This leads to the next piece in the puzzle.
Why Toshiba is so reluctant to sell to WDC?
Toshiba would become dangerously dependent on WDC for the NAND (now captive), as Toshiba has significant expertise to use that NAND as a key input and convert it into the numerous devices that slide into Toshiba's other divisions. However, WDC via SanDisk possesses that same expertise and could easily displace the value-add capability Toshiba intends to keep. This is why, in my opinion, Toshiba almost is acting insanely to prevent the sale to WDC. And that's why WDC will have to provide Toshiba additional assurances on supplying NAND to Toshiba as a precondition of the sale of TM.
Conclusion
A game set match victory is almost inevitable for WDC.
With the one exception that Foxconn (with its mighty ally Apple (NASDAQ:AAPL), the only other potential contender, raises the bid in the next two weeks. This is not outside the realms of possibility. However, I believe the enshrined rights that WDC holds on transfer of ownership of FV will prevail, even if WDC is obliged to match the higher ensuing bid.
Once the details of the deal (exactly what is being sold from the Toshiba division called "Storage and Electronic Devices") are fully divulged the market will realize the incredible value placed on FV, of which WDC already owns half. I estimate that 50% of FV will comprise about $14bn of the $20bn price tag touted for TM. Note that WDC already owns the other half of FV, and this will draw investors to WDC. Remember WDC paid a net $13bn for SanDisk in May '16, and FV was estimated to represent at most $8bn of that deal. Now its imputed value, via the coming TM transaction may be as high as $14bn. The path is virtually set (tennis pun intended) to acquire Toshiba Memory, with beleaguered Toshiba seeing no other alternative for a swift resolution that would avoid its delisting. I have the highest conviction that WDC is a strong buy.
Disclosure: I am/we are long WDC.
I wrote this article myself, and it expresses my own opinions. I am not receiving compensation for it (other than from Seeking Alpha). I have no business relationship with any company whose stock is mentioned in this article.
Editor's Note: This article discusses one or more securities that do not trade on a major U.S. exchange. Please be aware of the risks associated with these stocks.